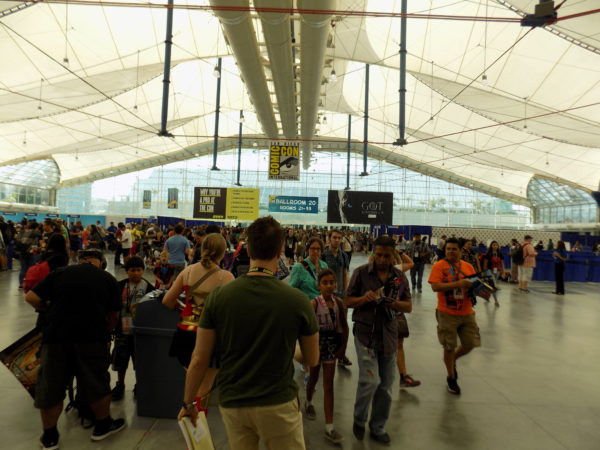 July is the most wonderful time of the year for San Diego, California. It plays host to the mecca of comic books and pop culture in the form of the legendary San Diego Comic Con. From July 19-23, 2017, downtown San Diego was the hottest place in the world as the biggest names in nearly every form of entertainment were present to promote upcoming projects, look back on past favorites, and interact with fans through fun and exciting activities. Since its inception as the Golden State Comic Book Convention in 1970, it has progressively gotten harder and harder for fans to attend as badges tend to sell out within an hour of going on sale months in advance. This year, nearly 170,000 were expected to have gotten in.
And with how packed the San Diego Convention Center got, the name of the game right from the start was planning. Picking which panels or events were most important while also figuring out if certain opportunities would be worth taking. Because without careful planning, one would find themselves running around trying to figure out what they should do next. As such, I pieced together my schedule for the convention in such a way that I got the most enjoyment out of what I wanted and was able to attend. A couple of moments did fall apart here and there, but everything else fell into place and I even managed to get in a few surprises along the way!
---
Unikitty! New Episode Premiere and Q&A
In addition to being far more successful than anticipated, one of the surprises to The Lego Movie was the character of Princess Unikitty. A Master Builder hailing from Cloud Cuckoo Land, she was all about positivity (almost to a point of concern). The popularity of the character was to such a point that Warner Bros. greenlit the creation of an animated series based around her. Simply titled Unikitty!, it will chronicle her adventures and her own friends within Cloud Cuckoo Land as she spreads positivity to everyone against the growing fear of any form of negativity.
---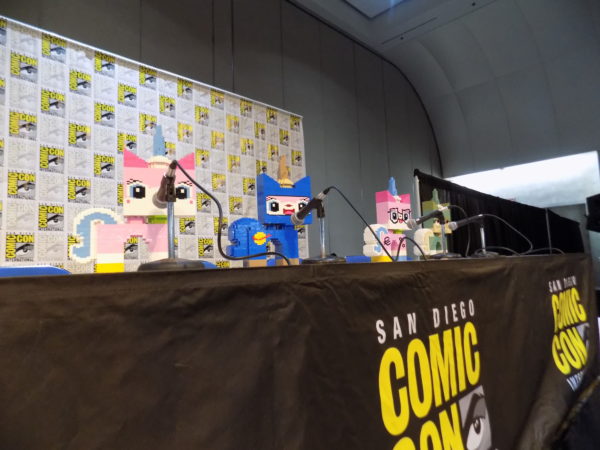 Before the panel proper started, they put out four Unikitty displays built from Lego bricks that were about a couple feet high. Tara Strong, who will voice Unikitty in the new series, came out for a quick cameo to say "Hello!", both as herself and as Unikitty. She couldn't stay for the panel because she had to partake in a signing with the rest of the Teen Titans cast. They then proceeded to air the pilot episode of the series, which revolved around Unikitty celebrating her younger brother Puppycorn's birthday. I thought it played out very nicely and ideally set in place how the series as a whole would be like. The animation was also very nice, as vibrant and colorful as one would expect from a series centered on a character like Unikitty. Personally, I believe this is a series that was best suited for the 11-minute format most animated shows are going for these days.
The panel featured The Mary Sue assistant editor Teresa Jusino as moderator, art director Andrea Fernandez, producers Edward Skudder and Lynn Wang, and voice actor Eric Bauza, who voices antagonist Master Frown. The panel talked about some of the freedom they had being able to build Unkitty's world from the ground up, with Fernandez explaining designs and characters that would be distinct and unique. Skudder noted that the show was set up to allow for them to be able to really explore all types of genres and situations, not having to stick to one storytelling path all the time. Bauza got to talk a bit about how his character's overly negative outlook was an ideal counter to Unikitty's overly positive optimism. Among the questions asked in the Q&A portion did involve how The Lego Movie would be incorporated, with the producers hinting that a future episode may involve characters from the film crossing over.
This turned out to be a pretty nice panel. The pilot certainly played as one would expect and turned out to be pretty good, giving hope that the series will do well when it airs. The panel presented some nice information about what fans will look forward to and expressed great enthusiasm for the freedom they had to go wherever they wanted. Unikitty! will on Cartoon Network sometime in 2018.
---
Justice League Action Video Presentation and Q&A
It had been ten years since the last true animated series on the Justice League aired on television. In the interim, Bruce Timm and his staff in Warner Bros. Animation had been producing direct-to-video films adapting some of the more recent comic book storylines. Then Cartoon Network launched Justice League Action at the end of 2016. Following in the eleven-minute episode format that many animated shows nowadays seem to be operating on, it became an anthology series that allowed for various members of the enlarged cast of DC super heroes to be focused upon within their own little character developing story framed within action sequences and a little more comedy. And while the early Saturday morning timeslot has made it difficult to really build up its fanbase, the series has garnered praise from critics and audiences who have seen it.
---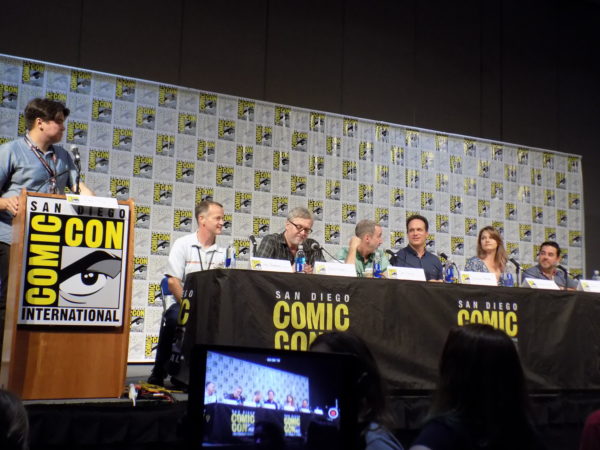 The panel kicked off by airing not just one, but two yet to be aired episodes. The first episode finds Superman, Batman, Wonder Woman, Cyborg, and Booster Gold battling a group of villains in Metropolis, but Batman realizes that something is off about the whole situation. The second episode finds Booster Gold holding fort at the Watchtower, only to be instead running into an unauthroized tour guide that goes about as south as one would expect and then some. The episodes were well received by attendees for presenting a fun adventure story with the first and a nice comedy tale with the second, both certainly giving Booster Gold some spotlight time.
Having aired the episodes, the panel proper began with Comic Book Resources managing editor Albert Ching as moderator and the panelists consisting of voice director Wes Gleason, producers Butch Lukic and Jim Krieg, voice of Booster Gold in Diedrich Bader, voice of Wonder Woman in Richael Kimsey, and voice of Superman in Jason J. Lewis. The producers explained how they wanted to make this Justice League series unique, understanding that it was a tough task to follow in the popular series from ten years before, so the format and the anthology approach allowed for them to accomplish this. Lewis talked about the joy in voicing Superman and working with a growing list of guest actors coming in to voice villains, in particular James Woods as Lex Luthor. Kimsey expressed how honored she was to voice Wonder Woman despite a relatively small body of work and now as the character's popularity was shooting upward as a result of the Wonder Woman movie's success. Bader talked about being able to have fun as Booster Gold as he liked playing dimwitted characters every now and then.
A lot of the fan questions seemed to look upon various characters, even those at the bottom of the barrel, that they would like to see in the show. Lukic commented that, should the show receive a second season, they would consider going further in exploring the library of characters to use. Bader added how fun it would be to voice a character like Penny Plunderer with his son even cosplaying as the character in the audience. But one character they could confirm was Supergirl, which interestingly enough was asked about by a cute little girl cosplaying as the character. Lewis noted that Supergirl will appear in what he considered to be a great episode and Lukic added that she will also show up in the episodes of the web series, which launched on the DC Kids' YouTube channel back in June. This was a nice panel and showed that the show continued to have growing potential into being a big hit for Cartoon Network as the crew liked working on it and audiences were enjoying what's been seen. New episodes of Justice League Action air Saturday mornings on Cartoon Network.
---
Rocko's Modern Life: Return to Earth!
In 1993, Nickelodeon launched their fourth original animated series in Rocko's Modern Life. Created by Joe Murray, it told of an anthropomorphic Australian-immigrant wallaby named Rocko and his various misadventures through day-to-day life within the fictional city of O-Town. The show was a big hit for the network and was recognized for being a rather edgier show similar to Ren and Stimpy by quietly slipping in adult humor and satirical social commentary beneath what was seen as a children's cartoon. After ending in 1996, the show had a lasting legacy with an active fanbase and many of the show's crew going on to develop successful shows of their own such as SpongeBob SquarePants, Camp Lazlo, and Phineas and Ferb. As part of what looked to be a concentrated effort by Nickelodeon in reviving some of their older animated properties, Rocko's Modern Life would be return with a television special subtitled Static Cling.
---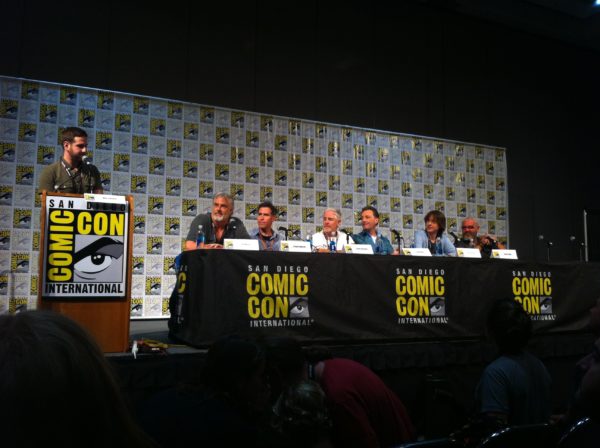 Serving as moderator was Entertainment Weekly managing editor Marc Snetiker and featured series creator Joe Murray, Static Cling co-director and co-writer Cosmo Segurson, and voice cast Carlos Alazraqui (Rocko, Spunky), Tom Kenny (Heffer), Mr. (Doug) Lawrence (Filburt), and Charlie Adler (Mr. and Mrs. Bighead). They quickly noted that it was Alazraqui's birthday, which everyone cheered for. Murray went into discussing some of the original development of the series and the process in bringing both the show back as well as many of the original cast and crew that were available. He noted that how the original series ended, with Rocko, Spunky, Heffer, and Filburt having been rocketed into space, was designed to be the backdoor that led to a return. The twenty plus years since it last aired allowed for them to explore how they would function in an advanced world with smartphones and exuberant caffinated drinks. This was later followed with the screening of a scene of their return, which is now viewable online, to standing cheers as it seemed the show was going to be as wonderful as it was before.
Segurson got to explain a little about getting the resources together and looking for a way to bring back the look, personality, and spirit of the original series while slowly adding in new modern world advancements both in the story and in how the special was being made. But the sheer delight was getting to the cast members, who each got to explain, with some voice acting, how their characters took to the changing world. Alazraqui noted that Rocko would be trying to adapt even though he clearly missed the old ways, Kenny said that Heffer would jump in with the same mindless enthusiasm he always had, Lawrence explained Filburt would embrace the change the most with the new social media approach, and Adler revealed how Mrs. Bighead turned to activism while Mr. Bighead was just as happy as could be when Rocko was gone.
I managed to get in on the Q&A early and asked about what they did to seemingly hide some of the adult humor, noting how as a child most of the references went over my head but as an adult I got a better realization of what they actually meant. This did lead to Alazraqui and Adler doing a delightful new spin on a rather popular scene when Rocko, who was job hunting in one episode, ended up as a phone operator of an implied sort with Mrs. Bighead as a caller. Murray did answer my question, saying that they never really thought too much about who would be watching the show and just went ahead and did what they thought was funny. Some of the questions that followed revolved more around bringing the show back and the creative differences over twenty years ago and now. As this was happening, they were running through a slide of model sheets that showed how supporting and background characters were slightly updated.
This was a really fun panel. It was clear everyone on the panel was having just a good time both reliving such a classic show and getting the chance to do more with it after more than twenty years. Attendees were hooked on every word and were enjoying all that was being presented to them, both on screen and from the panelists. It was certainly fun whenever the cast broke into their voices. Rocko's Modern Life: Static Cling is set to land on Nickelodeon sometime in 2018 as part of the show's 25th anniversary.
---
Rocko's Modern Life Signing
---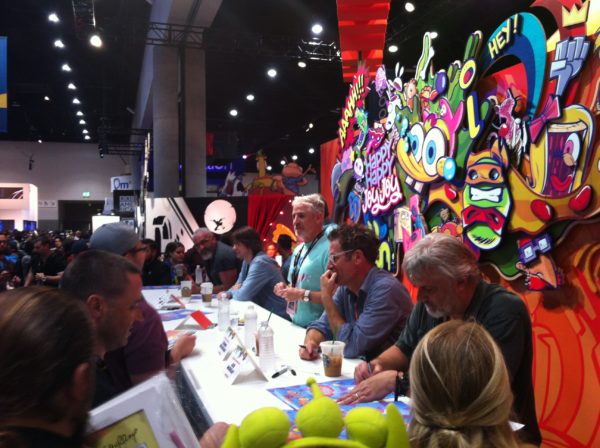 The panel signing would take place in the Nickelodeon booth on the Exhibit Floor. Entry required attendees getting to the booth as soon as the floor opened in the morning to obtain a ticket. Generally the tickets handed out were for signings on the same day, but Nickelodeon would sometimes include half of tickets for signings that would take place the next day. I imagine this set up was to limit overcrowding for the big signings like Tales of the Teenage Mutant Ninja Turtles and SpongeBob SquarePants. I managed to get there early enough for what I figured would be my one shot at getting in on the Rocko's Modern Life signing, which I was able to achieve.
Signings at the Nickelodeon booth were fairly loose, so it wasn't necessarily sign-and-go. This allowed for folks to take selfies with the panelists. The staff did hint that they would like things to move along and they would only allow a Con exclusive poster to be signed. Nevertheless, it was a great chance to meet everyone and say more than just a greeting. A lot of folks, myself included, took full advantage of this to express their joy at meeting Murray, Alazraqui, and Kenny, though we were just as happy to meet Lawrence and Segurson.
With Murray, I got to thank him for making the show in the first place. With Alazraqui, I surprised him by mentioning how I remembered him from one of the early Comedy Central shows Make Me Laugh, where comedians would try to make a series of people laugh and the one to succeed the most was deemed the winner. He was rather humbled that someone remembered that outside of his more recognizable Comedy Central show Reno 911! With Kenny, I noted how I still remember fondly the year he did the Cartoon Voices panel at Comic Con with the late Janet Waldo, Phil LaMarr, and others in a great reading of an otherwise plain Cinderella script, which he also enjoyed.
Adler was one I was looking forward to meeting as much as Murray and Alazraqui. As soon as I got up to him, I told him how much I was a fan of his given he voiced Buster Bunny in one of my all-time favorite animated shows Tiny Toon Adventures. He was very happy to hear that, but also looked to test my fandom by asking about Cow and Chicken. I noted I enjoyed the show and even met creator David Feiss, happening back when I participated in the press day event for Open Season: Scared Silly. He was happily taken aback by this and wanted to get into a conversation with me, but had to settle with noting that he got to officiate Feiss' wedding. Absolute fun to meet everyone.
---
Batman: Mask of the Phantasm, Remastered and Ready for Blu-Ray
---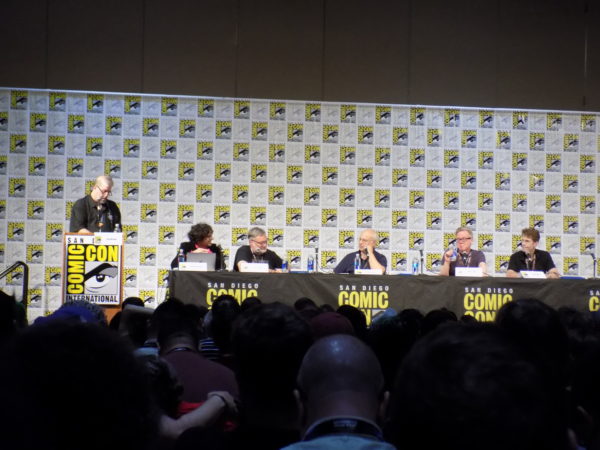 It came as quite a surprise to fans when Warner Archive Collection announced they were releasing Batman: Mask of the Phantasm on Blu-ray as part of the 25th anniversary of Batman: The Animated Series. Often considered one of the best Batman films to date, a panel about the disc was sure to draw interest from fans. I missed the first fifteen minutes of this panel due to the Rocko's Modern Life signing running a little over. But I managed to get in as a great discussion was going on about the making of the film and the process of remastering it for Blu-ray. Director of Publicity for Warner Bros. Animation in Gary Miereanu moderated a panel that included Warner Archive Podcast hosts DW Ferranti and Matthew Patterson, co-writer Alan Burnett, director Bruce Timm, and the voice of Batman himself Kevin Conroy.
When I got in, Timm, Burnett, and Conroy were talking about the making of the film, specifically the sudden shift from Warner Bros. to release it theatrically as opposed to direct-to-video. The filmmakers talked about some of the difficulties they encountered, including an influential film editor suggesting they cut the film to run in chronological order. This was fortunately averted when it was realized through a screening of the cut that it dragged the narrative and Batman didn't really appear until the second half. Timm also noted that Hans Zimmer provided uncredited assistance to the film's composer Shirley Walker by helping to set up some of the synthesizing programs used. Ferranti and Patterson would explain a bit about the process of remastering the film for Blu-ray, which turned out to be quite complicated given that it required extensive work in cleaning up the film without it affecting the appearance of a classic film noir that Timm was going for.
They then screened the first ten minutes of the film, showing off just how the remastered version looked. Attendees were frankly more absorbed in watching the film itself as opposed to paying attention to how it looked, showing that it appeared to have aged quite well. They threw it to audience for questions, at the end of which they chose five who asked questions to receive advance copies of the Blu-ray. Some of the questions were about the Andrea Beaumont character, regarding whether they were trying to develop her as the true love of Bruce's life or if they had future plans for her. Timm did note that, while he had read Batman: Year Two in the past, he had forgotten about it and really didn't know that his design for the Phantasm character looked similar to The Reaper from the comic until after the fact. A question about Mark Hamill led to Timm noting that Tim Curry was the first choice to play The Joker and Conroy added how Hamill's acting abilities were on par with that of Jim Carrey, but his being Luke Skywalker had pigeon-holed him career-wise. One question about special features on the Blu-ray led to Ferranti and Patterson explaining that the process to remaster the film was so expensive they really had no money left to add any bonuses outside of the trailer.
This was a nice panel to have attended. Most o the good stuff for me really was about exploring the narrative of the film more so than the process of remastering the film for Blu-ray, but everything else was still quite fascinating. It was great to hear the panel tell such interesting stories about the making of the film and the impact it had over the years. The viewing of the film (albeit the first ten minutes) gave attendees goosebumps and was fun to watch. Batman: Mask of the Phantasm is now available on Blu-ray primarily through online retailers such as Amazon.
---
The Miraculous Phenomenon Continues
---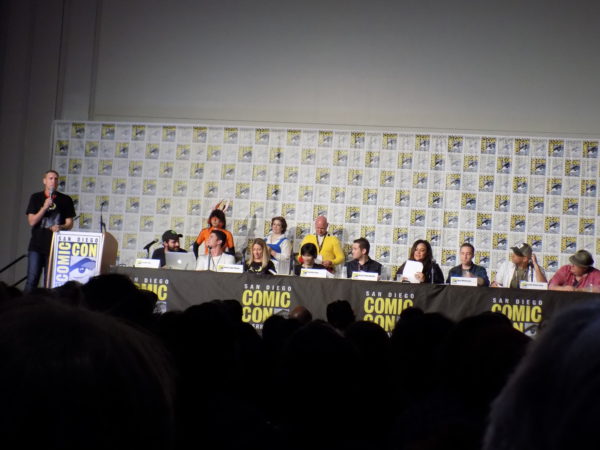 In 2015 in France, Zagtoon launched a computer generated animated series called Miraculous: Tales of Ladybug & Cat Noir. The show was highly influenced by the magical girl genre of anime titles, to the point that Toei Animation became a contributor to the development, set around two teenagers who become costumed superheroes while seemingly oblivious to each other's dual identities and attraction to one another. The show managed to crossover into other countries, first through Nickelodeon and now Netflix in the United States, and had since drawn an unbelievably huge female following since. The fandom to Miraculous was one to be seen, as I found when sitting in on the panel for it at Comic Con.
The absolutely packed room, with attendees consisting maybe ninety percent female by my ears, was on fire right from the start. They were screaming and cheering every thirty seconds, even over the littlest of things that were said. It was quite amazing. Moderating was English voice director Ezra Weisz and the panel consisted of producer Jeremy Zag, digital producer Kevin Marciano, brand manager André Lake Mayer, and English voice cast Cristina Vee (Marinette/Ladybug), Bryce Papenbrook (Adrien/Cat Noir), Mela Lee (Tiki), Max Mittelman (Plagg), Keith Silverman (Hawk Moth), and Joe Ochman (Mayor Bourgeois). This was apparently Papenbrook's first time participating in a Miraculous panel anywhere, so him and Vee being on stage together certainly got the fans losing their minds.
The panel started off with Zag encouraging the attendees to sing the show's theme song, after which they announced that they were wrapping up production on the second season through a video message from creator Thomas Astruc. But the majority of the panel was centered almost entirely around them doing a table reading to a heavy chunk of a second season episode to be titled Troublemaker, enlisting three audience members to participate. This turned into a fun experience watching Weisz direct with absolute enthusiasm and the cast enjoying themselves while the crowd seemed to react to every key moment and line that happened, in particular a rather embarrassing situation that will befall Marinette.
They had fifteen minutes to get through their announcements after the table read, leaving no room for a Q&A. First, Zag announced they would be producing a series of shorts with the characters in chibi, or super deformed, format and showed off the storyboards, and providing the sound effects, to a very funny episode of Cat Noir's attempt at rooftop romance going awry. Mayer then announced the partnership with popular clothing brand Guess in producing a line of fashions inspired by the show to be released globally. Zag then announced that, hours earlier, he had just closed a deal with Lionsgate to produce a feature film, presumably live-action. Following more fashion announcements from Mayer, they previewed an upcoming Zagtoon series coming to Netflix in October called Zak Storm, a sci-fi pirate adventure set within the Bermuda Triangle. Finally, Mayer announced that the first issue of the Miraculous comic book from Action Labs was published that day.
This panel would certainly rank as one of the most outrageous I had ever attended at Comic Con. I'm surprised all the attendees didn't lose their voices from the constant screaming they were making throughout. I liked that all the panelists were clearly having fun and enjoying the admiration they were receiving even before the panel started, with Weisz doing a nice job managing everything while maintaining such high enthusiasm. If they some how manage to replicate this in future Comic Con appearances, they could rival My Little Pony as an unbelievable regular panel that must be experienced at least once. All attendees received a copy of the comic and the first T-shirt from the Guess partnership as they exited, which made for an interesting moment as the exit doorway was completely jammed. The second season of Miraculous: Tales of Ladybug & Cat Noir will stream on Netflix in December.
---
Adam West Celebration
---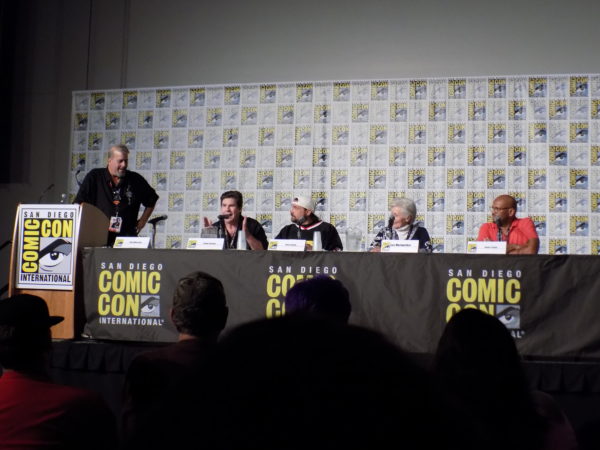 The first day capped off with a loving tribute to Adam West, who sadly passed away on June 9. Moderated also by Miereanu, the panel featured comedian Ralph Gorman, who is considered the ultimate Batman '66 collector and was one of West's closest friends, filmmaker and well known Batman fan Kevin Smith, Warner Bros. Animation producer James Tucker, and the surprise entry of Lee Meriwether, who played Catwoman in the 1966 Batman film. It was clearly an emotional occasion, but one that everyone made sure to get through with big smiles and fond memories.
Each of the panelists got to tell nice, touching anecdotes about West that usually ended with a laugh. Gorman noted the first time he met West as a child and was nearly horrified when West proclaimed, in dramatic fashion, that the photograph he brought to be signed turned out not to be an authorized piece. Smith told of having West on set during an episode of Comic Book Men where the Batmobile raced the Black Beauty from The Green Hornet and a Gorman-related conversation they had. Meriwether expressed how awestruck she was being around West throughout the entire shoot of the 1966 film. And Tucker, who said that he got into animation specifically for the chance to work with West, talked about how they seemed to think alike when it came to making the recent animated feature Batman: Return of the Caped Crusaders. Even Miereanu got to tell a great anecdote involving a meeting he set up between West and a former Batman in George Clooney.
They showed two lovely montages during the panel. The first was a great collection of scenes from the Batman television series with attendees often yelling out the sound effect words whenever they appeared on screen. Then they showed a shortened version of a video tribute Seth MacFarlane and the Family Guy team had posted online showing off hilarious moments of Mayor Adam West, as voiced by West himself. Attendees just couldn't stop laughing at the classic scenes they showed. One of the last moments of the panel was a collection of interviews taped of West during recording for what will be one of his last performances in the animated feature Batman vs. Two-Face. A lovely mixture of West being humorous and reflective that touched everyone in the room.
This was just a nice panel that really was a celebration of a man who inspired generations. There was a great deal of love coming from the panel and from attendees looking back at fond memories. There wasn't much in the ways of choking up, except maybe during the clips of West being interviewed, but nonetheless it was a moment for everyone to smile and give thanks to Adam West. Batman vs. Two-Face, which features West's final performance as Batman, will be released on Blu-ray October 17.
---
Hasbro: My Little Pony
---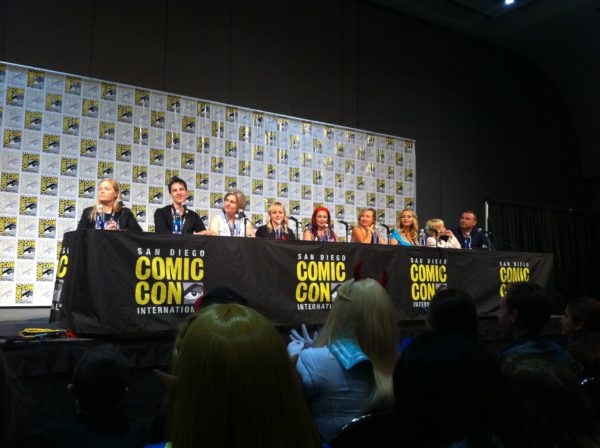 For roughly the last five years, the My Little Pony panel at Comic Con seemed to be getting bigger and bigger in terms of attendance. I was there the first year it was held in one of the smaller rooms that clearly could not accommodate the long line for it and the following year had to move to a bigger room and than move again the next year. At present, it sits rather comfortably in Room 6A, the largest available room outside of the big three (Hall H, Ballroom 20, and the Indigo Ballroom at the Hilton Bayfront Hotel across the street). But following this year's panel, there could be a possibility of the panel moving up yet again.
This year's panel was all about the forthcoming movie. After a spiffy video montage of footage spliced with cast interviews hyping the film, writer/producer and moderator Mike Vogel introduced the panel in writer/producer Meghan McCarthy, composer Daniel Ingram, and main cast Cathy Weseluck (Spike), Andrea Libman (Pinkie Pie and Fluttershy), Tabitha St. Germain (Rarity), Ashleigh Ball (Rainbow Dash and Applejack), and Tara Strong (Twilight Sparkle). McCarthy noted that writing the film, in comparison to an episode of the television show, took much longer and admitted that she was far from done when the first draft was due the Monday after the 2015 Comic Con. They showed off a nicely animated scene showing the Mane Six and Spike coming to the conclusion that they must leave Equestria for the first time.
This became a segue to talking about the villains, resulting in the surprise appearance of Liev Schreiber. Schreiber, who will voice the main antagonist The Storm King, also brought along his two sons, one dressed as Anakin Skywalker and the other as Harley Quinn, the latter experiencing a brief moment of stage fright that Strong tried to fix by voicing Harley to the delight of the audience. Schreiber said he had a completely different take on the character at first, thinking he was like a Tibetan demi-god and got to voice it for the audience a couple times. A neat scene was then screened showing off some of The Storm King as he conferred with his ally Tempest, to be voiced by Emily Blunt. Moving over to music, Ingram figured it was probably better to just show off a scene as opposed to talking about it. They showed a fun musical sequence where Rainbow Dash broke into song to convince a band of pirates to rebel against The Storm King.
The panel was capped with what was always one of the more fun aspects of the My Little Pony panels, audience questions. As before, children were given priority to ask first, leading to some nice moments like which was each panelists' favorite villain (Libman: "Say Storm King or else everyone gets in trouble!"), if there will be any more dude ponies, and what would happen if a human crossed through the portal into Equestria (in relation to Equestria Girls). A couple of the more interesting questions were the animation style used for the film in comparison to the television show and how to keep the storytelling between the varying mediums (television, movie, comics) cohesive.
The My Little Pony panels were always some of the more fun panels at Comic Con with this year being no exception. I actually think they managed to do a bit more this year within the one hour time-frame than before because they were able to stick to one specific topic for the most part, which was the movie. Having all the voices behind the Mane Six and Spike was great and they were able to ad lib wonderfully. But Schreiber stole the show from the moment he announced his appearance through his character's maniacal laugh. He was clearly enjoying himself and played along swimmingly in whatever direction the conversation was going. My Little Pony: The Movie gallops into theaters October 6.
---
Hey Arnold!: From Hillwood to the Jungle!
---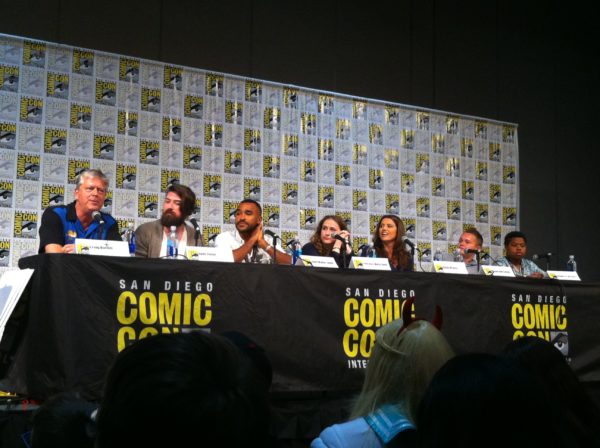 Since its premiere in 1996, Hey Arnold! has been a treasured title in the Nicktoons library. Created by Craig Bartlett and loosely spinning off a character he created while working on the Penny claymation shorts for Pee-Wee's Playhouse back in the 1980's, the hand-drawn series explored the everyday life of the title character navigating through experiences in a big city and dealing with problems he and his friends encountered. It was popular enough through its five-year run to produce 100 episodes that were followed by a theatrical feature film in 2002 (one which, unfortunately for its box office returns, opened one week after Lilo and Stitch). The series had remained dormant since, but fifteen years later Nickelodeon would be bringing it back, another part of their recent efforts to revive classic cartoons, for one last hooray with the forthcoming television special The Jungle Movie.
The panel started off with a bang as series composer Jim Lang appeared briefly to play the panelists onto the stage with the Hey Arnold! theme. Dancing their way to the stage were moderator Marc Snetiker of Entertainment Weekly, Bartlett, original cast members Lane Toran (first voice of Arnold), Jamil Walker Smith (first voice of Gerald), Francesca Marie Smith (Helga), and Anndi McAfee (Phoebe), and new voices Mason Vale Cotton (Arnold) and Benjamin "Lil' P-Nut" Flores Jr (Gerald). This was a fun moment that got everyone in a jolly mood with Bartlett throwing up que cards for the audience to shot out Helga's lines at the right moments. During the panel they screened a clip from the special, which has since been made available online, to the delight of fans as well as some of the artwork showing the slight changes to the characters from when they were last seen to how they will look in the special.
Bartlett further explained how The Jungle Movie was being developed to be the proper finale to the series, wrapping up some of the questions that had been left unanswered for fifteen years, the most prominent being the fate of Arnold's parents. He noted that it wasn't that hard to get back into the series narrative after being away for so long as he had been thinking on it for some time. The cast was thrilled to be back, having enjoyed working on the series, and were really excited to see what their characters would become. It was noted that Lane and Smith would have roles in the special and they jokingly imparted wisdom on Cotton and Flores, who appeared to take it in stride. The two youngsters actually seemed to know their way around being part of a panel as they came off rather experienced in how they answered questions.
This was a nice panel, probably the nicest of the bunch I got to sit through. Aside from Lang playing the theme to open the panel, it was relatively low key, and yet it came off as something special nonetheless. Fans of the series were clearly in love with seeing Bartlett and the cast talk fondly of the show and what can be expected with the upcoming special. It was just nice, relaxed, and fun, perhaps very much like how the series itself was. A fun little moment before the panel started was that Bartlett's name tag was spelled incorrectly and he corrected it with an Arnold doodle before a proper replacement tag was brought out. Hey Arnold!: The Jungle Movie is set to premiere on Nickelodeon this November.
---
Tales of the Teenage Mutant Ninja Turtles
---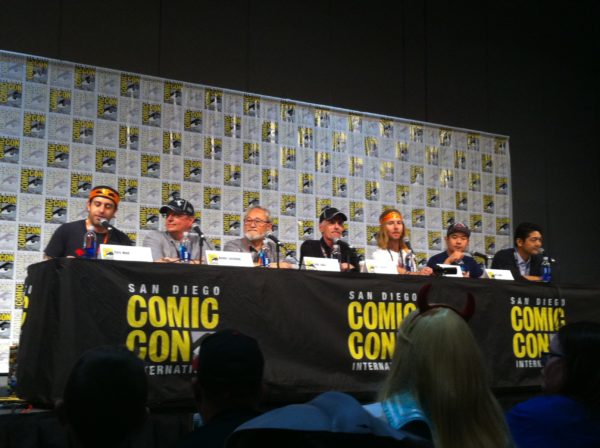 Since launching in 2012, the current Teenage Mutant Ninja Turtles on Nickelodeon has become the most popular series featuring the characters since the 1987 original. Praised for its smooth anime-inspired use of computer generated animation, a nice mix of comedy with often dark narratives, and a top-notch voice cast of regulars and special guests, it has been ranked among the best iterations of the franchise. The series is also a favorite at Comic Con and its sister convention Wondercon, often drawing thousands to both the panel and the autograph signing at the Nickelodeon booth. YouTube personality Andre "Black Nerd" Meadows has served as the moderator of the panel consecutively for years at both conventions.
On the Comic Con panel this year were executive producer Ciro Nieli, franchise co-creator Kevin Eastman, and voice actors Rob Paulsen (Donatello), Greg Cipes (Michelangelo), and Eric Bauza (Tiger Claw). At the time, the three-part Usagi Yojimbo crossover arc was about to start broadcasting on television, so joining the panel were Usagi Yojimbo creator Stan Sakai and new voice of Miyamoto Usagi in Yuki Matsuzaki. After showing a clip from one of the episodes in the story arc, they got into talking about the excitement they had of doing their spin on what had been a popular concept in both the original comics and across various animation series of pairing the Ninja Turtles with the Ronin Rabbit.
They then proceeded with the panel tradition of airing in full an episode weeks ahead of its broadcast. This year's episode was the delightful Lone Rat and Cubs, which was the first episode Eastman had written for the show and chronicled Splinter raising the then-baby turtles following their shared mutations. Nieli noted after the screening that the episode was an example of how this current and final season of the series would explore various storylines now that the main narrative had wrapped, thus the re-title to Tales of the Teenage Mutant Ninja Turtles. The panel wrapped with a trailer for the DVD special Wanted: Bebop & Rocksteady, which will feature another crossover with the 1987 animated counterparts.
The Teenage Mutant Ninja Turtles panel was fairly nice, as it's always fun to watch a full episode ahead of it's airing with other fans and enjoy. But I couldn't help but feel that this would've been a nice opportunity to give the series a send-off before Nickelodeon moved over to next year's successor Rise of the Teenage Mutant Ninja Turtles. Some of how Paulsen noted to Matsuzaki about how voicing a character would be inspiring generations from now seemed to feel like an attempt at acknowledging the current series wrapping up. Then again, everyone still seemed to have fun and, given Nickelodeon's scheduling patterns, they might have a proper send-off next year. Wanted: Bebop & Rocksteady is now available on DVD and new episodes of Tales of the Teenage Mutant Ninja Turtles' final season will resume on October 8.
---
Disney XD's Star vs. the Forces of Evil and Milo Murphy's Law
---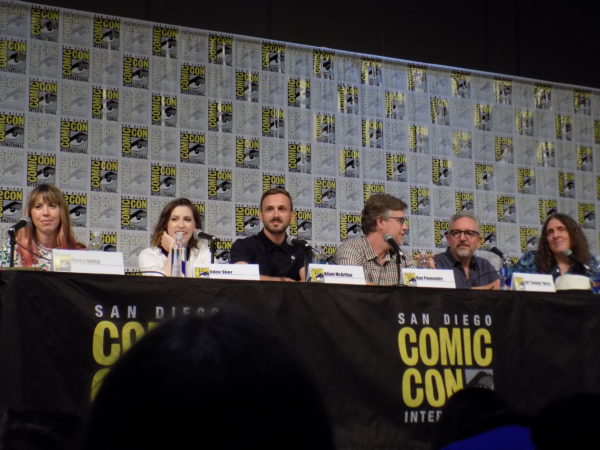 Disney seemed to want to leave a lasting impression on attendees about how solid their animated programming for Disney XD was becoming with a pair of power panels. Before each one, they screened a pair of clips for upcoming shows, the main title sequences for next year's Big City Greens and a scene from the anticipated Big Hero 6 series premiering this November. Both clips delighted attendees and are available to watch online. The first of the Disney XD panels combined two of the channel's most popular shows airing in Star vs. The Forces of Evil and Milo Murphy's Law. Disney XD General Manager Marc Buhaj served as moderator, doing a rather marvelous job juggling the two together evenly.
First up was Star vs. The Forces of Evil, represented on the panel by creator Daron Nefcy and voice actors Eden Sher (Star) and Adam McArthur (Marco). Nefcy first announced that she had begun writing for publication Star's Magic Book of Spells, which would be similar to Journal No. 3 from Gravity Falls. They then did a quick table read of a scene from The Battle for Mewni arc that aired a week prior for fun that everyone enjoyed. Not wanting to reveal spoilers to the remainder of the third season, they had a little more fun by listing off some of the more intriguing fan theories to confirm or debunk, like the character Jackie possibly being a mermaid, Star's mom Moon might have dated antagonist Toffee, and the character StarFan13 being the true evil mastermind. They capped their section with a scene from a forthcoming episode that will explore Star's past relationship with demon boy Tom that intrigued audiences. The clip is available to watch online.
They then moved over to Milo Murphy's Law, represented by creators Dan Povenmire and Jeff "Swampy" Marsh along with star "Weird Al" Yankovic (Milo). After screening the goofy "We're Gonna Do It Again" music video teaser from last year, Povenmire and Marsh talked about how they came about to casting Yankovic, wanting the voice to sound positively enthusiastic when speaking while avoiding any pathos. Yankovic noted how interesting it was to record as he was in the midst of his Mandatory Fun tour, so Disney would look up recording studios for him to go to near concert stops. After screening the promo for the Missing Milo special that would air the following day, Povenmire and Marsh announced that the second season would feature a much anticipated crossover with their previous series Phineas and Ferb to great fanfare.
There managed to be enough time for Q&A. Povenmire and Marsh confirmed my question about the Murphy's Law curse seeming to be applied genetically to just the male side of the family. This led to them explaining how they would often think about whatever actual science they would tackle from time to time and how to use them as part of their narrative. It was the first question asked that offered a great response when Nefcy was asked about how she wrote a story that balanced incorporating strong drama while keeping it accessible to children. She answered that she never thought about writing down to kids and just wrote what she thought was interesting. Povenmire noted that, from when he and Marsh worked on Family Guy, they found the best way to make kids laugh would be to do something shocking or off-color. They applied this lesson upon creating their own shows, but to avoid coming off mean-spirited were creatively challenged to write smarter jokes. Marsh added by brilliantly saying, "You can never go wrong over-estimating the intelligence of children. They are so much smarter than you know."
This was just a fun panel to attended. Everyone was clearly having a good time and the fandom for both shows was clearly strong in their enthusiasm for what was being presented. I was actually surprised that it seemed like they were able to show off a good amount of material between both shows and still be able to have fan questions in the end. I imagine if each show was given an hour there would be a lot more fun to be had, but what we got was just right. Season one of Milo Murphy's Law is set to resume on September 25 and season three of Star vs. The Forces of Evil will start back up in November.
---
Disney XD's DuckTales
---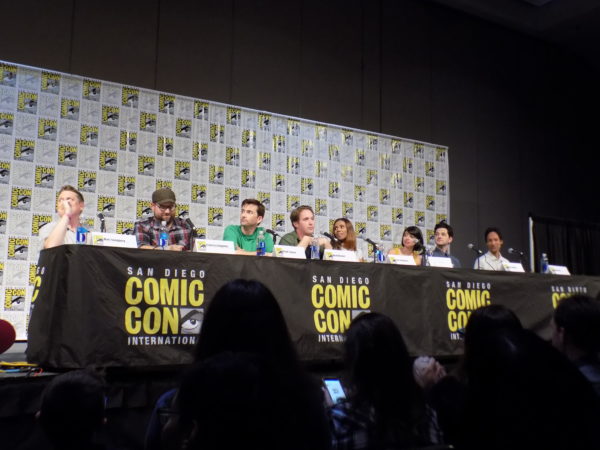 While I had already attended a DuckTales panel at D23, I decided to sit through the one for Comic Con as well. I had a feeling that a little more might have been revealed and there was one thing the Comic Con panel would have that the D23 panel didn't: Scrooge McDuck himself in David Tennant. As with the previous Disney XD panel, they screened the Big City Greens and Big Hero 6 clips before starting the panel proper. And it began with the DuckTales theme, causing everyone to merrily sing along. Joining Tennant on the panel were executive producer Matt Youngberg, story editor Francisco Angones, and fellow cast members Beck Bennett (Launchpad), Toks Olagundoye (Mrs. Beakley), Kate Micucci (Webby), Ben Schwartz (Dewey), and Danny Pudi (Huey). Serving as moderator was Marc Snetiker of Entertainment Weekly.
Some of what was said from Youngberg and Angones regarding how they were approaching DuckTales and drawing inspiration from both the 1987 series as well as the original Carl Barks comics was reiterated from the D23 panel, as well as Bennett, Olagundoye, Micucci, and Schwartz in describing their characters. The addition of Pudi fleshed out some more of the further development and dynamic of the brothers, how Huey seemed to be the most prepared of the trio and Dewey being the most daring in wanting to stand-out. But virtually everyone in the room knew they all wanted to hear from Tennant, who seemed to have this glee in his voice when describing his take on Scrooge as a man of great mystery and never revealing the full spectrum of his character even as layers would seemingly get shown as the series progressed.
They showed off two clips, the first from the premiere special that aired weeks ago (which hadn't been seen by anyone at the time) with Scrooge, Launchpad and the kids making their way by submarine to Atlantis. The second clip they showed was from a later (and unfinished) episode, complete with a section which was a section in the scene that was still in storyboards, of Scrooge, Launchpad and the kids venturing into a tomb. Everyone enjoyed what they saw, which got them all the more excited for a reboot that might do right with the original material. Angones teased showing off a third clip before looking like he was messing up badly and revealing character and model sheets he seemingly was not supposed to show, giving attendees a couple seconds to see full designs of how characters like Gizmoduck, the Beagle Boys, and what looked to be a new, sinister design for Magica De Spell. What got the fans screaming with crazy joy were the designs for Darkwing Duck as well as his villains Liquidator and Megavolt, confirming their presence in the series. Angones jokingly asked everyone to snap their phones in half afterward.
There was a mad dash to line up for the Q&A portion and the majority of folks clearly wanted to talk to Tennant. So much so that half of them started with the fan proclaiming that he was their "Doctor (Who)", with Schwartz wondering "How many patients do you have?" Nearly all of his questions were to further elaborate on his approach to Scrooge with his noting that, having lived in Scotland and therefore wasn't privy to the original series fandom, was recognizing what an iconic character he was voicing. A fan request for Tennant to say one of Scrooge's "famous freak-outs" led to Angones to quickly write a line for Tennant to say. Schwartz wanted in as well and Angones wrote a funny bit of how Dewey would take to reading War and Peace. Some of the non-Tennant questions that got asked included whether the show would feature brand new characters, how excited the cast were to voice on the show, and if Disney would consider reviving some classic merchandise as well, to which Angones demanded that a fishing rod for the original series be the first produced.
There was a lot of love being felt and expressed throughout the panel. Whether it was for such a classic show getting revived in an exciting way or for getting to see a beloved Doctor Who being in the room to talk about Disney, there was rarely a moment one couldn't stop smiling. A purely fun hour that was informative and a joy to be part of. And while Tennant being in the room was enough to make the panel magical, I would dare say that the Darkwing Duck material that we got to see ever so briefly had everyone all the more hyped than before. Season one of DuckTales is scheduled to begin proper on September 23.
---
DuckTales Signing
---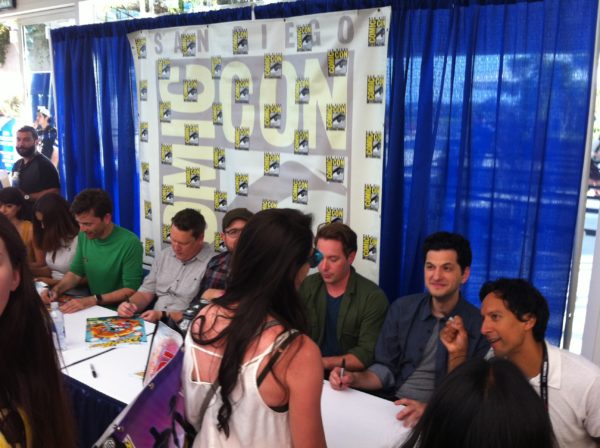 Following the panel, most everyone headed straight for the Sails Pavilion to try to get into the autograph signing. Previously, one would have to decide if they would rather do the panel or the signing as many would line up more than an hour before the signing time, which was usually held thirty minutes after the panel ended. As such, those who generally attended the panel would have little chance to get into the signing. This year, they seemed to change things up by having folks line up and then have them reach into a bag to pull out one of two colored tickets. For the DuckTales signing, a yellow ticket did not gain entry while a red one did. I managed to get a red ticket and got in.
The signing started a little late, but nevertheless moved along rather smoothly. The staff enforced the sign-and-go approach right from the beginning and only a poster would be signed. This was largely because, despite the lottery system they had, there were still a large number of attendees to get through and they wanted to prevent too many hold ups as a result of fans wanting to meet Tennant up-close. Even still, it looked like everyone was having a good time. The entire panel was present and were in high spirits after the positve response they received earlier. I managed to thank everyone individually and even got to shake Tennant's hand as I quickly went down the line. A very nice and more efficient process than past panel signing experiences in the Sails Pavilion.
---
Princess Mononoke Screening
As part of Comic Con expanding outside of the San Diego Convention Center and into nearby venues in recent years, panels and other programming events have been held at the Horton Grand Theatre just a few blocks away. Because it could only accommodate roughly a hundred people, attendees needed to pull a ticket in the morning at the convention center's Sails Pavilion to gain entry. Among the events taking place at the Horton Grand Theatre was an annual screening of a Studio Ghibli film sponsored by voice actress Ashely Eckstein through her fashion business Her Universe. This year was seeming a no-brainer as it marks the 20th anniversary of Hayao Miyazaki's masterpiece Princess Mononoke.
---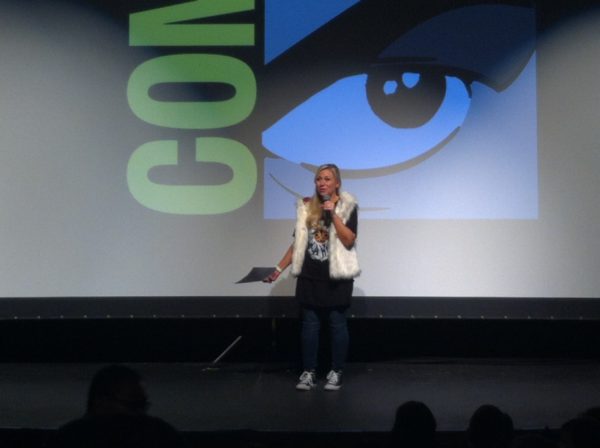 As Princess Mononoke was my all-time favorite animated feature, I wanted in on the screening and managed to score a ticket with some help from another attendee. It wasn't completely full, as there were a couple empty seats here and there including one next to me, but it was nonetheless packed. While waiting for the program to start, Joe Hisaishi's beautiful score to the film was playing. Eckstein came out to introduce the film, wearing both a shirt and a San hoodie that Her Universe was selling. Eckstein related to how influential the film was in explaining that Dave Filoni, when first crafting Star Wars: The Clone Wars, drew inspiration in developing Eckstein's character Ahsoka Tano, specifically how Ahsoka's face markings were an homage to San.
Eckstein then conducted a quick trivia contest with winners receiving another Princess Mononoke shirt that was being made through Her Universe. She noted that the shirts were unisex as last year shirts were specifically for women and numerous guys had won some. To put the attendees on their toes, all the questions drew from a random Studio Ghibli film. I managed to score a shirt successfully answering a question about Ponyo. While the size was medium, and therefore couldn't fit me, just getting it at all made my evening. There was one person who did show up in costume, dressed as San, and she herself managed to score a shirt. After the contest, Eckstein noted that the shirt and hoodie she was wearing were available to purchase at the Her Universe booth back at the show floor before taking off for the film to screen.
They screened the English dubbing Disney did, specifically from the Blu-ray as the Disney intro played as opposed to Miramax. Princess Mononoke holds up beautifully after twenty years, and that's not just the fanboy in me speaking. The animation remains as lush and vibrant as ever, the narrative does not feel dated, and even the eighteen year old dubbing sounds good. I continue to be impressed with the great job Billy Crudup did as Ashitaka and how well everyone else in the ensemble came off. Watching the film again on a big screen and with an audience was an absolute joy, particularly on its 20th anniversary. After the screening, many looked for the cosplaying girl to get pictures with her, which she and her father didn't mind a bit. Princess Mononoke is presently available on Blu-ray, but will receive a new reissue, this time through GKIDS though keeping the Disney produced English dub in tact, on October 17.
---
Talks Machina with the Cast of Critical Role
---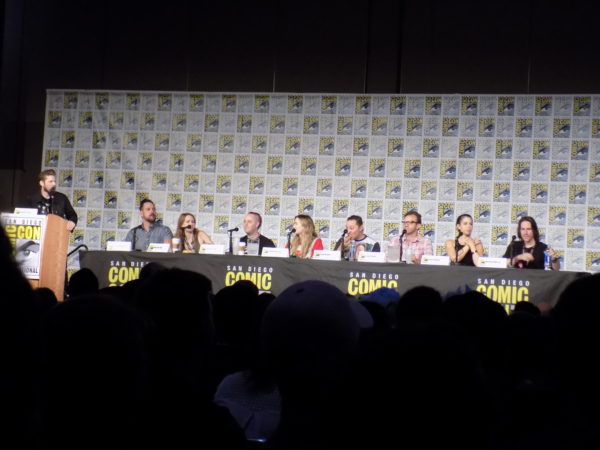 Critical Role is a popular Internet show among those emerging based around the recording of Dungeons & Dragons gaming sessions. It is one of the more high profile as it is produced by Geek & Sundry and all the players are well known voice actors. The cast consists of Travis Willingham (Grog), Marisha Ray (Keyleth), Taliesin Jaffe (Percy), Ashley Johnson (Pike), Sam Riegel (Scanlan), Liam O'Brien (Vax), Laura Bailey (Vex), and Matthew Mercer as Dungeon Master. Since launching in 2015, it generated a huge audience, even within Dungeons & Dragons publisher Wizards of the Coast. This has resulted in numerous fan work, popular merchandise, the publication of a campaign setting book through Green Ronin Publishing, and the launch of an after show talk series Talks Machina, hosted by Brian Foster, of which an episode was recorded at Comic Con.
After Foster introduced the cast, Mercer announced that an official Critical Role comic book would be published. It will be written by Matthew Colville and illustrated by Olivia Samson and chronicle the origins of the characters first coming together as well as the adventures they had prior to the first streamed episode. He also announced that the third season been written and he later noted that the next campaign would be set twenty years after the end of the current story arc. It was also announced that Ray had just been named Creative Director for Geek & Sundry. As they were about to get into audience questions, a fan ran up to the panel with a box of doughnuts, which the girls were more than happy to accept.
A good number of the questions asked involved each panelist giving their answer to the subject, such as what their favorite story arc had been so far, what they would like for their characters to come back as if they were to be reincarnated, and which one non-playable character ally they would choose if they had to partake in a trial by combat. Other questions Mercer, as the Dungeon master, would answer, such as the scenario he was most proud to set the group in, the possibility of incorporating material from the older editions of Dungeons & Dragons, and the chance of a live show being held on the west coast of the United States. All attendees who got to ask a question received a pin.
This was a nice panel to sit through and it served as my introduction to the show. It's really fun to see a Dungeons & Dragons game explode into a universe with its own fandom. All the more fun is the involvement of some known voice actors and just how well developed and beloved their characters have become. In fact, I started getting heavily addicted to the show shortly after the convention ended. Critical Role streams a new episode live every Thursday on the Geek & Sundry Twitch channel and is posted the following Monday on the Geek & Sundry website via YouTube. The comic book, since titled Critical Role – Vox Machina: Origins, will be published through Dark Horse Comics with the first issue to be released digitally September 20 and the first physical graphic collection set for sometime in spring 2018.
---
Quick Draw
---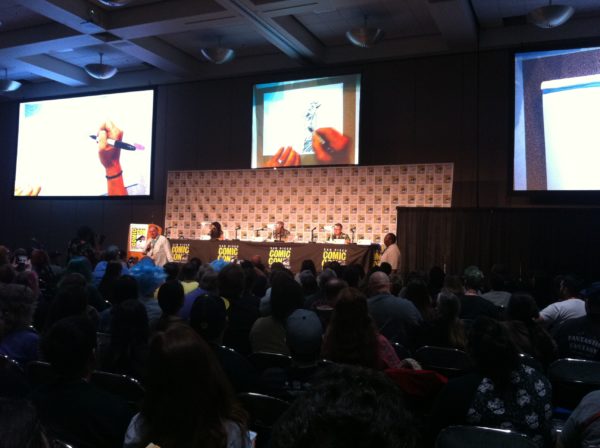 There is no annual tradition at Comic Con quite like the ever popular Quick Draw. Hosted by legendary comic book and animation writer Mark Evanier, three of the fastest drawing cartoonists put sharpie to paper and created some of the funniest, most hilarious illustrations ever seen in just a short amount of time. With the regulars Sergio Aragonés and Scott Shaw, this year's third participant was emerging cartoonist Maria Scrivan. No one knew what was going to happen, but they were all the more excited to what crazy, silly visuals they were going to see that would cause them to fall to the floor laughing.
Evanier got the trio started by drawing how each got their start in cartooning while he properly introduced them to the audience. Then the funnies kicked in with the popular portion where each of the cartoonists were to illustrate the offspring of characters suggested by the audience, such as Shaw illustrating the child of Popeye and Wilma Flintstone. They were then tasked with drawing a moment in cartooning that got them into some form of trouble. Shaw had the funniest one, noting one time he was in his underwear trying to pile up boxes of work when he forgot that he was supposed to go on a date just as the doorbell rang. Evanier then brought up one of the famous Mystery Boxes from the show floor, where folks buy a box from a dealer and find out goodies they got. He had the cartoonists come up with what they think might be in the box before it was opened with a funny suggestion being the mustache of Stan Lee and a smaller Mystery Box. Shaw wasn't keen on the actual contents of the Mystery Box, but Aragonés didn't mind goofing around with them.
The first guest brought up for a game of word guessing was Cheri Steinkellner, a beloved television writer and producer on shows Cheers and the Disney animated Teacher's Pet. The game had Steinkellner having to guess a word based on the illustrations made. The word "Ignorant" was challenging as it could often be confused with… "Confused". "Mayor" was simple, but "Stench" had her laughing with all the various visuals of horrible smells the cartoonists came up with, the most popular being Scrivan's illustration of a dog farting. The next set of ideas that came afterward included adding to a drawing to the word balloon "Somebody needs a hug!" which Aragonés initially misinterpreted as "Somebody needs a hog!", a look at the Comic Con complaints department, and absurd super heroes based on a noun suggested by the audience like TV remote and bread crumbs. For the TV remote super hero, Scrivan got witty and added, "Super Power: You can always find him!"
The next guest brought up for word guessing was popular voice actor Phil LaMarr. They decided to really throw him for a loop by starting out with "There's no list. Just draw random images." Everyone in the room straight up died with laughter at the crazy chaos that ensued with LaMarr being absolutely dumbfounded for a few minutes, trying to figure out what all the strange illustrations were supposed to mean. He did feel that they were just drawing random things, but he honestly wasn't sure and continued to attempt piecing it all together before they finally revealed the joke to his dismay. When it was time for the game proper, LaMarr figured out "Adorable" fairly quickly, had trouble with "Clumsy", and then recovered with "Rice".
They capped things off with picture pass off. The trio were joined by Mad Magazine cartoonists Tom Richmond, Sam Viviano, and Peter Kuper and they would pair up. One would start by drawing the top half of a character and then their partner would draw the bottom half while the former's illustration was covered. Some of the popular results include a hillbilly pig with Wonder Woman's legs and Donald Trump with octopus tentacles. The funniest moment of clever irony saw a resulting illustration of Alfred E. Neuman on the top half with his classical "What, me worry?" expression while the bottom half fire and devils with pitchforks. Writing down in words what it's like attending a Quick Draw will never be able to do justice the fantastic fun to be had experiencing it.
---
Sailor Moon Signing
---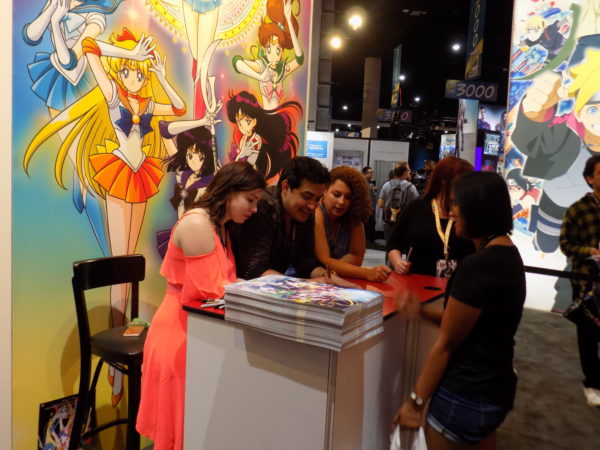 Sailor Moon remains, to this day, one of the elite anime titles. So much so that it's generally among those people immediately think of first when the word "anime" is brought up. Having gone on to inspire generations of magical girl shows across varying cultures over the last 25 years, there's no denying that its legacy is ever-lasting. Just getting into the panel is rather difficult, as a big line of fans were left out once the room was filled to capacity. So one could easily imagine how crazy a Sailor Moon autograph signing would be. Sure enough, a sea of fans were waiting impatiently at the Viz Media booth for a chance to be one of the 100 to get in on the signing. People squeezed into one another as they started handing out tickets, nearly to the point of potentially causing a fight. I was crushed between fans for a good while before I managed to get in and be able to breathe again.
The signing consisted of Amanda C. Miller, Cherami Leigh, and Robbie Daymond, who were the voices for Sailor Jupiter, Sailor Venus, and Tuxedo Mask respectively for the Viz re-dub of the original animated series as well as the English dubbing for the current Sailor Moon Crystal series. They were quite excited to meet everyone and tried to interact with them as much as they could despite booth staffers trying to rush things. In fact, the actors were quite calm and inviting while the staffers were rather anxious as some of the folks who didn't get into the signing seemed to be hanging around in the hopes of potentially slipping in. They were pretty much about to switch to the sign-and-go as I got up to the actors, so I merely shook their hands and said my pleasantries. They signed a Sailor Moon Crystal poster that all attendees would receive. Had things been a little less chaotic and better managed at the start, this probably would've been a more delightful moment. At least the actors were nice and tried to make things fun for everyone.
---
Marvel's Spider-Man World Premiere
There is no character in the Marvel roster of super heroes as iconic as Spider-Man. The embodiment of the every man from head to toe, fans have been enthralled with the adventures of Peter Parker since being introduced by Stan Lee and Steve Ditko 55 years ago. And with such popularity comes a plethora of associated media. The first animated series in 1967 spawned one of the most memorable theme songs and the 1994 series is considered one of the finest super hero shows at the time. And while Disney had already wrapped on Ultimate Spider-Man earlier this year, the first Marvel animated series to surpass 100 episodes, they've already launched in a whole new Spider-Man series airing on Disney XD.
---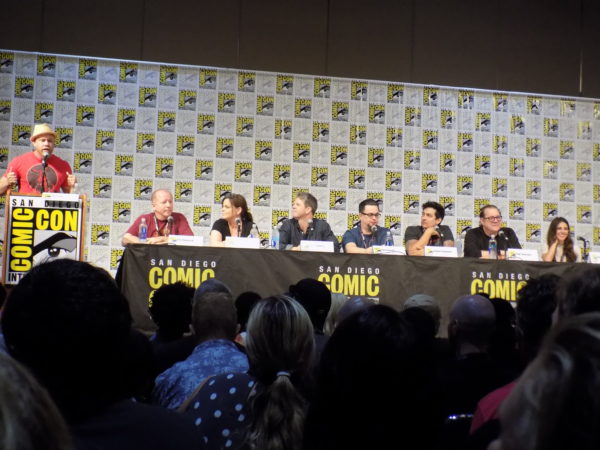 Serving as moderator was Head of Marvel Animation Cort Lane. The panel consisted of executive producer Eric Radomski, supervising producers Marsha Griffin and Kevin Shinick, director Phil Pignotti, and voice cast Robbie Daymond (Peter Parker/Spider-Man), Fred Tatasciore (Max Modell), and Melanie Minichino (Anya Corazon). The panel was rather brief, given that they were going to screen both parts of the premiere Horizon High in their entirety. The panel explained how it seemed more challenging to develop this series when they were coming straight off of Ultimate Spider-Man and needed to figure a way to make it distinctly different in style and tone. While there really wasn't any time for fan questions, there was a cute moment where the panel liked a little kid cosplaying as Spider-Man that they let him onto the stage, sit on Shinick's lap, and quizzed him on what he was looking forward to seeing from the series.
As noted, Comic Con was the setting to premiere the first two episodes of Marvel's Spider-Man, which began to broadcast on Disney XD a month later. I think there were a number of folks in the audience who were a bit burned out by Ultimate Spider-Man's presentation and it may have affected some of the potential interest in this series given that it was immediately airing just as the former ended. But I did like that there was a strong effort to really explore Peter's struggles with power and responsibility while still being a high school student and its affect on others, in particular best friend Harry Osborn. I liked, from what I saw in the two episodes, the inclusion of flashbacks to a particular advice Peter received from Uncle Ben, interestingly voiced in the series by Patton Oswalt. The inclusion of elements from recent events in the comic books written by Dan Slott could also be a potential for affecting one's enjoyment, but overall I think there's some good potential in the series to really work and the audience seemed to enjoy it a lot. Marvel's Spider-Man currently airs every Saturday on Disney XD.
---
The Comic Book Elements of Avatar and Korra
Much like its predecessor Avatar: The Last Airbender, The Legend of Korra has gone on to become a widely acclaimed and beloved animated series in its own right. And like the former, the latter looked to continue its story through Dark Horse Comics following the conclusion of the show. But what made the arrival of The Legend of Korra comic book perhaps much more anticipated than Avatar: The Last Airbender was how it would pick up from the now legendary final scene showing Korra and Asami's friendship growing into a romantic relationship. As such, this was going to be a super packed panel and there were scores of fans who were unable to attend. It was also because of this that the panel started late.
---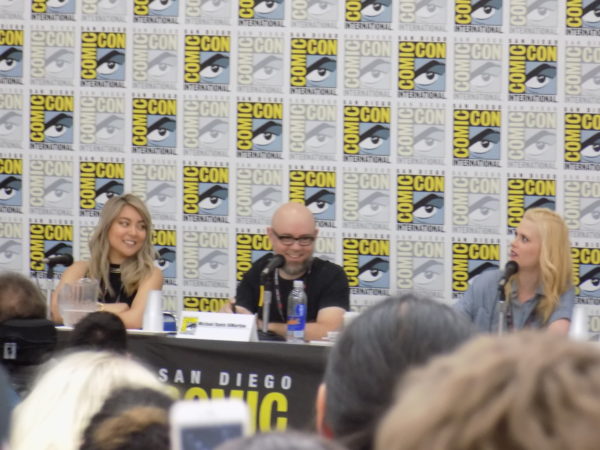 Serving as moderator was Dark Horse Comics public relations coordinator Dustin Nelson and the panel featured comic illustrator Irene Koh, franchise co-creator and comic writer Michael Dante DiMartino, and the voice of Korra herself Janet Varney. They started by knocking out a couple of the probable fan questions, like which character each of the panelist related to or which they would go on a Spirit realm vacation with, and followed with Nelson getting DiMartino to explain how Avatar and Korra seemed to supersede their original children's show label into something greater that all ages and generations could enjoy.
They finally went into the comics, which everyone in the room was waiting for. As panels to the first part of Turf Wars were shown, Koh and DiMartino explained how it was natural for them to start in immediately after the end of the show as opposed to how between seasons the shows would jump ahead in time. They wanted to show the development of Korra and Asami's relationship as well as letting them have some fun on their date before things got serious. Advance copies of the first part were on sale at the Dark Horse booth ahead of its release a couple weeks later, along with advance copies of the poster book and the coloring book. They added at the end that the second part would be released in January.
The last few moments of the panel saw each explain some element that resonated to them on a personal level. For DiMartino, it was the interest in developing a different type of Avatar that an audience that had grown up with the original series could relate to in a new way. For Varney, it was playing a character that was inspiring and determined while still being believable as some one in their late teens and early adulthood. For Koh, it was taking part in a franchise that was breaking ground and exploring ideas and concepts that appealed to her as an Asian bisexual and always wanted to see in popular media. The panel decided to throw a loop to the Q&A portion by having those lining up for questions instead having to answer trivia questions. Successful answers resulted in the attendee getting signed copies of the core books being sold. I stuck around to see the first run, where the fan froze up at the unexpected turn of events, before leaving to get to a signing.
While not too much was based around the development of the comic series itself, this was still a nice panel to go to as it was a chance for the panelists to get into the impact of the franchise both on their fans and on themselves. Varney's love for having played Korra was quite evident, getting rather close to choking up over it. Koh was great to hear how it was the kind of franchise she had wanted to see and I really liked a lot of what DiMartino had to say about how he came about developing the stories the way he did. Part One of The Legend of Korra: Turf Wars is now available with Part Two set to be released January 31.
---
Nickelodeon Creators Signing
---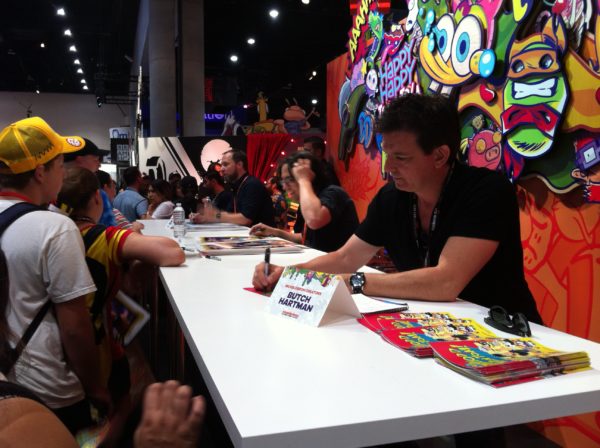 A bonus signing Nickelodeon added to their booth was a trio of animation creators. Neither appeared to be participating in any panel function relating to their work, they just presumably showed to interact with the fans and sign individual material. The creators participating in the signing were Butch Hartman (Danny Phantom), Billy Lopez (Welcome to the Wayne), and Chris Savino (The Loud House). I nearly missed out on the signing given the Korra panel was running concurrent, but fortunately I had a ticket and it got me in as the last attendee.
Hartman was fun to meet, seemingly like he was having a blast just meeting people who enjoyed his work. He was signing copies a mini-comic he wrote and drew that was to serve as the crossover of all of his Nickelodeon properties, which I imagine continued to tease fans of such a show ever possibly happening. Lopez was signing a poster for this show, which was merely days away from its broadcast premiere at the time of the convention, and I got to wish him luck.
But while it was fun meeting Hartman and Lopez, I was rather interested in meeting Savino. Savino was signing a poster for The Loud House and we got to talk about the show as it was starting to hit its stride. I was most curious if he had plans involving Sam, the girl one of Lincoln's older sisters Luna left a love note to. Savino admitted to being surprised by how big the positive buzz they received was for the reveal, so her presence won't be immediate as it typically took ten months to get an idea from conception to screen. He did note to "stay tuned". New episodes of Hartman's current Bunsen is a Beast, Lopez' Welcome to the Wayne, and Savino's The Loud House air regularly on Nickelodeon.
---
The Legend of Korra Autograph Signing
The autograph signing for the Korra panel took place at the Dark Horse Entertainment booth. It was also one of the few that required a wristband. Obtaining a wristband required attendees to reach into a bag and pull out a colored bead. Drawing a black bead meant they were not getting in, though attendees had the option to go to the back of the line and try again. Drawing a red bead meant being rewarded a wristband. I managed to draw the red bead on my first try, which was rather lucky given how badly some fans wanted in on the signing.
---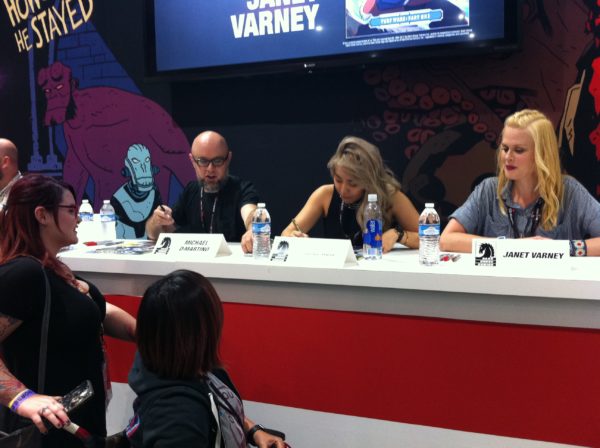 The primary piece the panelists would be signing was a poster of the cover to the first part of Turf Wars, though attendees also had the opportunity to purchase an advance copy of the actual book. Most had already purchased the book prior to the signing, like I did before it had sold out completely in the booth's store, though they managed to pull up extra copies to sell at the table. There was a strict enforcement that one could only purchase one copy of the book. A booth staffer told me how one guy literally tried to grab an entire row's worth of the book on the first day of the convention before receiving a stern talking from security.
I've done a signing with DiMartino and Varney years before with other members of the Korra cast and crew, but this was my first with Koh. Primarily, I was hoping to score selfies with all of them. The guy in line before me inspired me to copy him when he pulled out a piece of paper and asked DiMartino to illustrate a character. I instantly pulled out my artists sketchbook and asked him for one as well, which he graciously did. He actually did a sketch of Pabu years back, but that was on a poster. This time, in the sketchbook, he did a headshot of Aang in chibi form. I decided to chance asking Koh to do a sketch and she was more than happy to do a mini-bust of Korra to fill in some of the space DiMartino had left over. I thanked her for the sketch and also expressed my admiration for her work in the comic.
Varney was pleasant to meet once again. While she wasn't the artist DiMartino and Koh were, she nonetheless did an extra signature and the hashtag #KorrAsami to the page. She asked about how I felt about the relationship and I told her how the series end coincided with my cousin having married her wife, so it was a rather celebratory occasion for me. Varney glowed at having been a part of something that generated such a positive impact on people. A very nice and quite lovely signing I'm glad I got to attend.
---
Hanna-Barbera 60th Anniversary
My Comic Con venture for the year was capped off with a anniversary celebration I did not want to pass up on. Having grown up on Hanna-Barbera cartoons as a kid during the launch years of Cartoon Network, I was very much looking forward to hearing stories about the company and what they had planned for the future. To both my surprise and delight, there was a fantastic mix of generations packing the room as young and old fans alike were of the same mindset as I. And I'm not kidding when I say this was a packed room, I barely managed to get into this one just as it was starting. This truly was a must-see panel at Comic Con.
---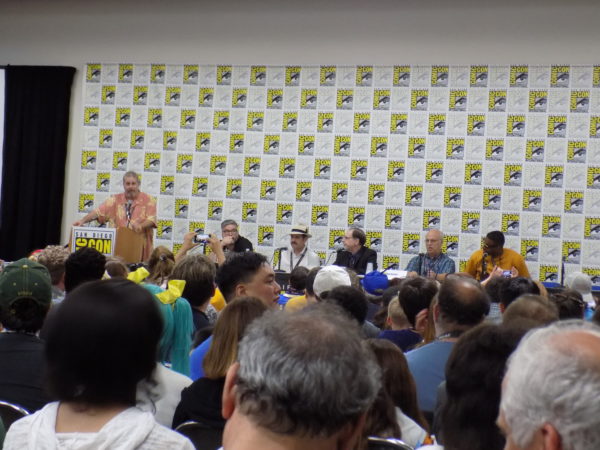 Moderating was Director of Publicity for Warner Bros. Animation in Gary Miereanu and the panel consisted of directors Tony Cervone and Spike Brandt (Scooby-Doo! and Kiss: Rock and Roll Mystery), animation historian Jerry Beck, producer Alan Burnett (The Smurfs), and personal assistant to Joseph Hanna and William Barbera in Carlton Zapp Clay. While Hanna-Barbera as a studio was formed 60 years ago, they spent a moment going back to what made the duo famous in the first place, being the creators of Tom and Jerry. Carvone and Brandt, having been the primary directors of Tom and Jerry productions since 2005 when Brandt co-directed the short The Karate Guard with Barbera, talked extensively of how important timing was to Hanna and Barbera. Beck added that comparing Tom and Jerry with a competitor at the time like Herman and Katnip would provide a better appreciation for Hanna and Barbera's understanding of timing.
While the panel did talk a bit about the legacy the Hanna-Barbera studios itself, which included explaining how Hanna and Barbera operated so that production on all programs ran efficiently as well as Cervone being announced as co-director of the forthcoming Scooby-Doo animated theatrical film, Clay's personal stories of Hanna and Barbera were so good and so funny that they were what everyone remembered the most. Among the stories he told include when he introduced film director Spike Lee to Hanna and the family bond he formed with the Barberas. But the one that had everyone howling was how he used his working for them as a pick-up line during side gigs as a DJ. One day a girl he met called the studio and Barbera answered. When she asked for Clay, Barbera wanted to make sure she meant his personal assistant. The girl was rather aghast and said, "Assistant? He told he was the Head of Black Animation!"
This turned into a rather lovely panel. It was a little different then I'm sure what many were expecting, but it was nonetheless quite informative about Joseph Hanna and William Barbera themselves. There was clearly a great deal and love and appreciation from the panel over the two men, in particular from Clay through his hilarious stories, and it clearly impacted the audience in a way that made them love the legendary figures all the more. During the panel each attendee received copies of a preview comic for DC's projects based on Hanna-Barbera cartoons, such as Scooby Apocalypse. The Scooby-Doo animated feature co-directed by Cervone is currently scheduled for a theatrical release on May 15, 2020.
---
Cosplay
---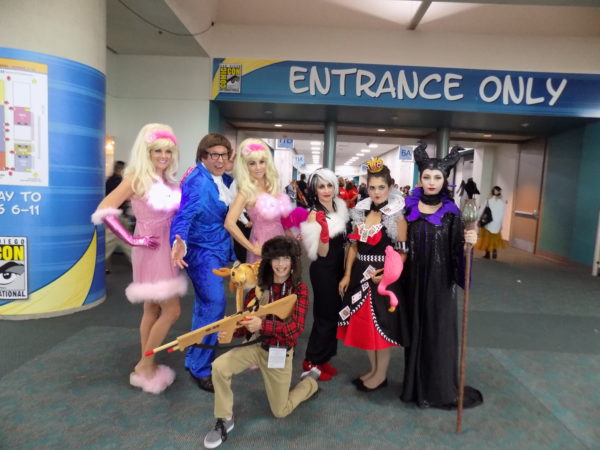 It wouldn't be a convention without cosplay. Though I decided not to attend the ever popular Masquerade this year, I never the less kept my eyes opened for any costumes that sparked my fancy. My favorite this year was a trio dressed up as Austin Powers and two Fembots. They walked around with a portable device playing the main theme on loop. They garnered a lot of attention that for a good while they were stuck in one place getting their pictures taken with other folks. I particularly liked with they hooked up with a quartet of Disney villains in Maleficent (Sleeping Beauty), Cruella de Vil (101 Dalmatians), the Queen of Hearts (Alice in Wonderland), and the Hunter from Bambi.
There was a pretty cool pair dressed as Captain America and Agent Peggy Carter that I got to see along with a real nifty pair as Jack Frost and Tooth Fairy from Rise of the Guardians. Ahead of the Disney XD panel with Star vs. The Forces of Evil there was a really cute kid dressed as Janna from the former and was actively sought by those dressed as Star and Marco for pictures, a favorite being one where they managed to include a Pony Head puppet into the shot. There was also a cute family dressed up as four of the Teen Titans with dad as Beast Boy, mom as Starfire, and the two daughters as Raven and Robin.
Some of the more nifty cosplayers encountered included someone who went full suit as Gir from Invader Zim in the body part of his dog disguise, a young Bulma from Dragon Ball, and a pair as Daria and Jane Lane. It's almost a given that there would be some form of Deadpool variant and this year saw one crossing the character with Pikachu from Pokémon for a highly amusing costume. One interesting cosplayer I couldn't quite figure out. The gun she carried looked like one carried by Sgt. Calhoun from Wreck-It Ralph. But her body armor design was very different, as was the hair style. I think it was a mash-up with other stuff like Mass Effect and Halo.
---
Random Sightings
Line management had always been an issue for Comic Con as attendance kept getting bigger and bigger every year. But it was apparently really bad this year as I heard about poor handling of the lines for the Funko and Hasbro shops all weekend. Saturday was even worse when volunteers really screwed up and allowed attendees to snag wristbands into that day's Justice League signing not only before they were supposed to be handed out, but also without having to go through the lottery system like they were supposed to. On top of that, there were reports of folks managing to get into Hall H with counterfeit wristbands. Attendees with the official wristbands who ended up not getting in were understandably livid and ended up getting comped for next year. It was these events that made us jump down on two guys attempting to cut the line, in front of me no less, into the Korra panel when there were hundreds waiting to get in. Fortunately, they were immediately pulled out by staffers as we called on them.
---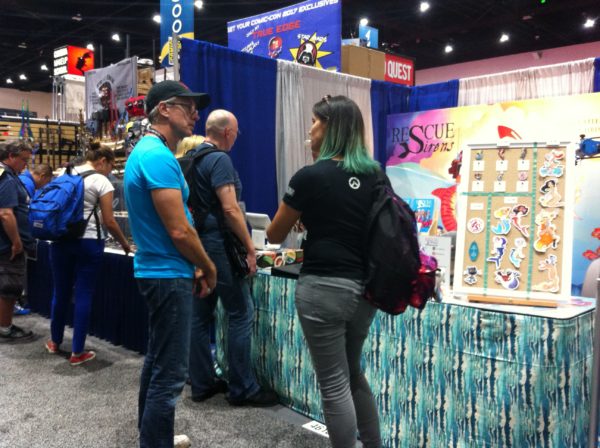 I always made it a point to visit Chris Sanders at his booth. The Lilo & Stitch and How to Train Your Dragon director had been a regular for a long while now and usually had something that was worth picking up. This year he had a illustrated book for his and his wife Jessica's novel series Rescue Sirens called The Great Fish Round-Up. The illustrations were by Dylan Bonner and what was interesting about this book was that it was apparently wet-proof. I have yet to test this out, but then I doubt I ever will. Sanders was quite busy with a large group of fans that I wasn't able to find out how far he and his wife have gotten in writing the second Rescue Sirens book.
One of my good friends is former professional wrestler turned comic book artist Scott Lost. I've constantly looked for him at convention to say, "Hello!" and see if there was anything he had that I might pick up. I've also been trying to get him to add to my artists sketchbook for years, but either I've been too late to spot him or his ability to draw had been incapacitated in some fashion, like an injured thumb or he forgot to bring his art gear. This time, I made sure I was visited his table at Artist Alley as early as possible and he was finally able to do an illustration. I asked him to surprise me and, as a result of my suggesting him to check out Gravity Falls, did a neat Gravity Falls-Twin Peaks crossover piece of Dipper Pines meeting Killer Bob. I also bought a copy of the Accidental Aliens anthology comic he worked on recently.
I was delighted to find that our good friend and animation great Bob Scott had a booth this year. In addition to currently working as a story artist for Walt Disney Feature Animation on Ralph Breaks the Internet: Wreck-It Ralph 2, he had a comic strip called Molly and the Bear. That was getting the comic book treatment this year under a new title Bear with Me. I had a chance to greet him and he remembered me from our interaction at the CTN Expo last year. When I noted to him that I got to attend the animation presentation at D23 the previous week, he said he was surprised that Disney would show off the Disney Princesses scene in Wreck-It Ralph 2, but conceded that it was a big way to draw buzz to the film. I picked up a copy of the Bear with Me comic, which Scott signed and did a doodle in.
---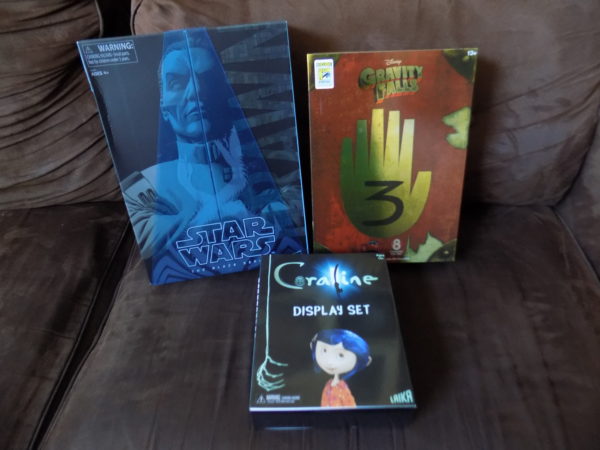 Comic Con exclusive figures have always been hot items for fans to try to get. So much so that store booths for the likes of Hasbro, Mattel, Funko, and Lego have to set up lines in the morning for entry drawings. Nevertheless, through some careful timing, I managed to nab a couple nifty exclusives in the Coraline display set from NECA and the Gravity Falls 8-piece set from UCC Distributing. But it was by chance that a friend of mine was able to get into the Hasbro store and they were able to get me the Star Wars Black Series Grand Admiral Thrawn figure. Getting that figure alone totally made my day and I couldn't thank my friend enough for getting it.
While waiting in line for the Korra panel signing, I noticed the Dark Horse booth walls had images of upcoming books. Among them was what looked to be the cover to the next How to Train Your Dragon graphic novel called Dragonvine. The sequel to this year's The Serpent's Heir, it will again be co-written by film director Dean DeBlois and set between the second and third films. Dragonvine is scheduled to be published January 24.
As I had a fairly full schedule throughout the weekend, I didn't really get a chance to go outside of the Convention Center save for the Princess Mononoke screening, which was just as well as Entertainment Weekly did not bring back last year's Con-X alternative and the lines for the interactive displays for the likes of Game of Thrones, Blade Runner 2049, and even the Laika Experience had wait times up to five hours. As tempting as it was to try out these off-site places, my schedule left very little wiggle room and I was not up to enduring the summer sun.
---
Watch 50 minutes of exclusive highlights footage
from the 2017 San Diego Comic Con below:
---
Below are exclusive pictures from the 2017 San Diego Comic Con.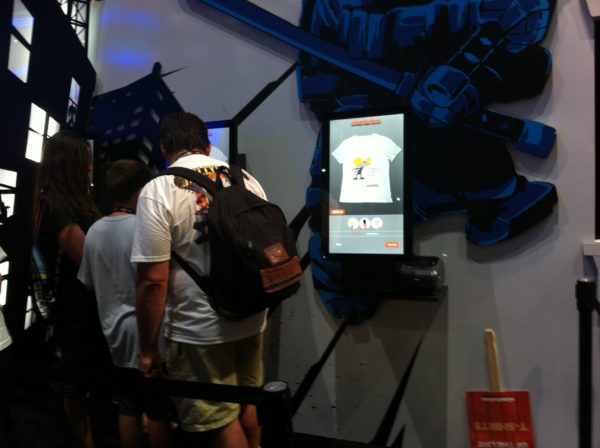 Fans got to make their own Nicktoons T-shirts at the Nickelodeon booth.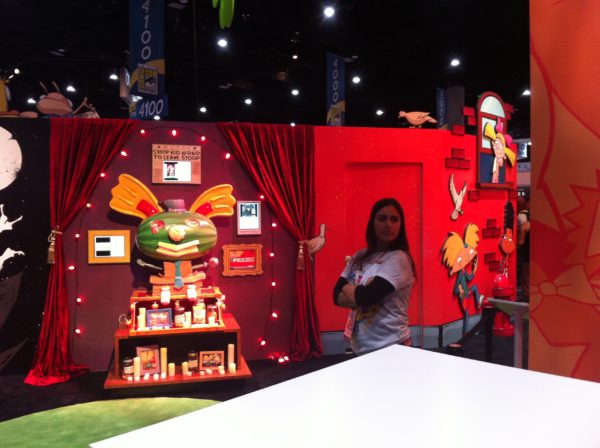 Helga's Arnold Shrine from Hey Arnold! as displayed in the Nickelodeon booth.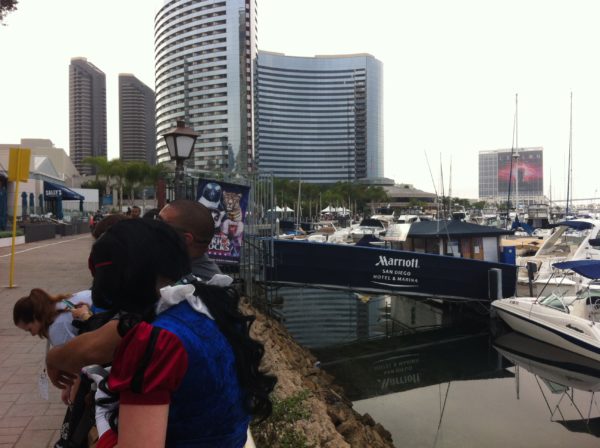 The line just to get into the Exhibit Hall stretched as far as
a quarter mile away from the Convention Center at 7am on Day One.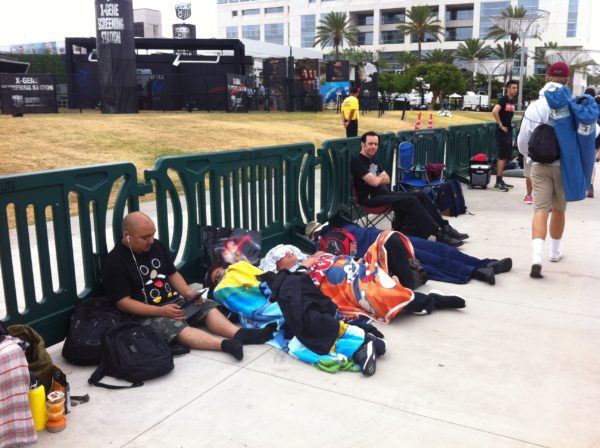 Fans lining up in the morning on Day One just to get into Hall H the next day.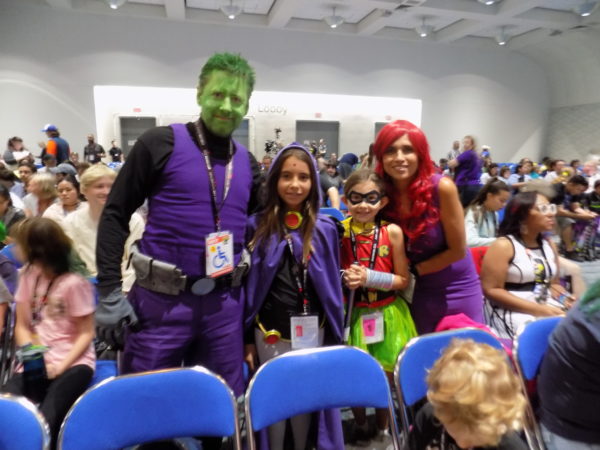 A cute family cosplaying as four of the Teen Titans.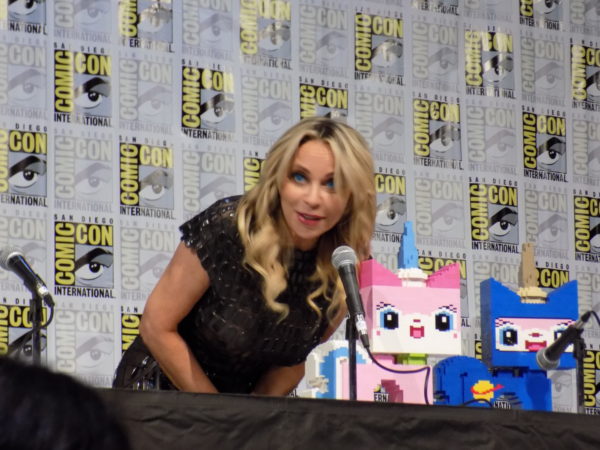 Tara Strong (Unikitty) made a cameo appearance during the Unikitty! panel.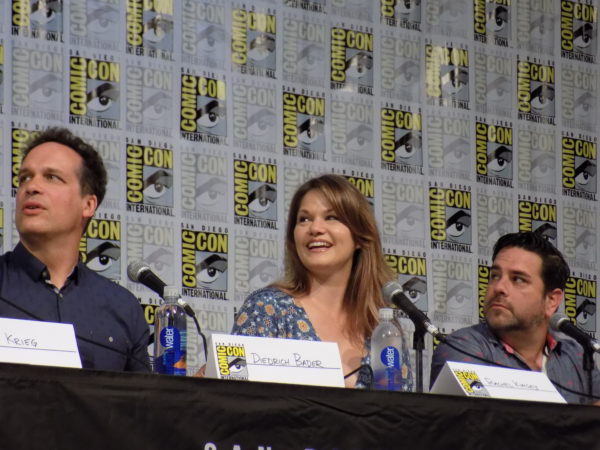 Diedrich Bader (Booster Gold), Richael Kimsey (Wonder Woman), and Jason J. Lewis (Superman)
during the Justice League Action panel.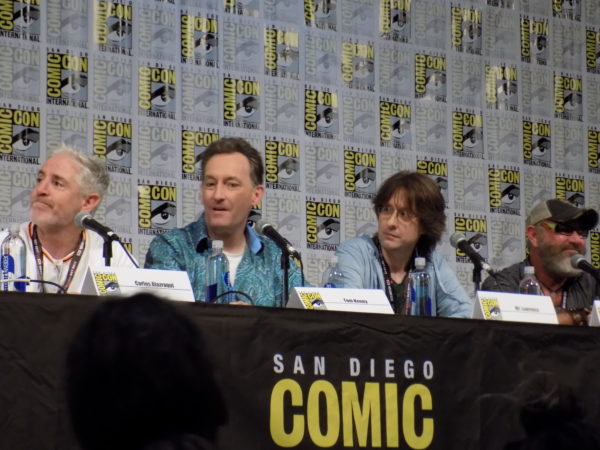 Carlos Alazraqui (Rocko, Spunky), Tom Kenny (Heffer), Mr. (Doug) Lawrence (Filburt),
and Charlie Adler (Mr. and Mrs. Bighead) during the Rocko's Modern Life Panel.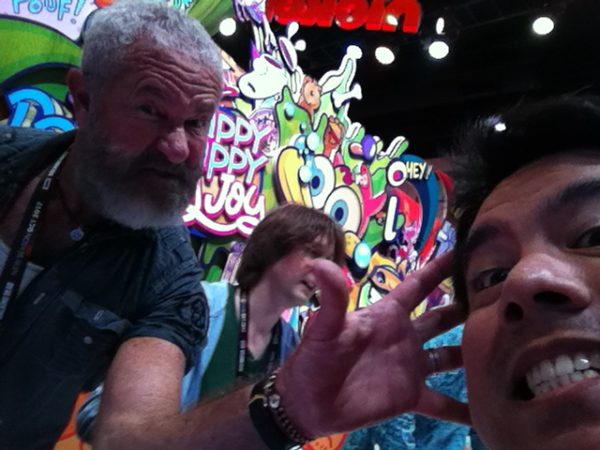 Dan with Charlie Adler (Mr. and Mrs. Bighead) at the Rocko's Modern Life signing in the Nickelodeon booth.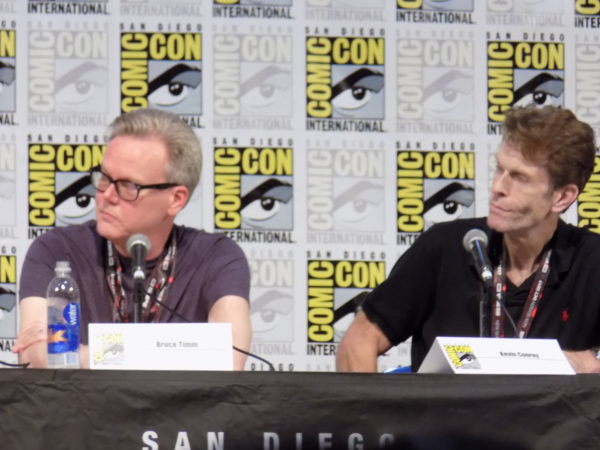 Bruce Timm (co-director) and Kevin Conroy (Batman) during the Batman: Mask of the Phantasm panel.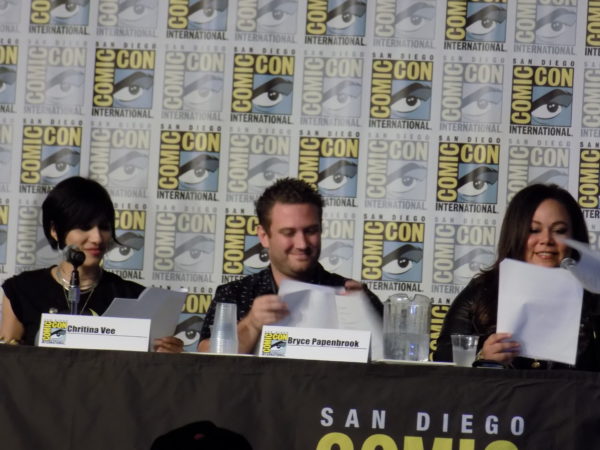 Cristina Vee (Marinette/Ladybug), Bryce Papenbrook (Adrien/Cat Noir), and Mela Lee (Tiki)
script reading during the Miraculous: Tales of Ladybug & Cat Noir panel.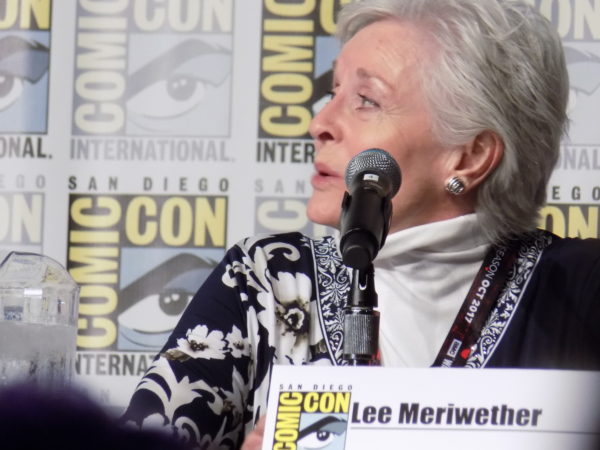 Lee Meriwether (Catwoman) reminisced fondly on working with Adam West
on the 1966 Batman movie during the Adam West Celebreation panel.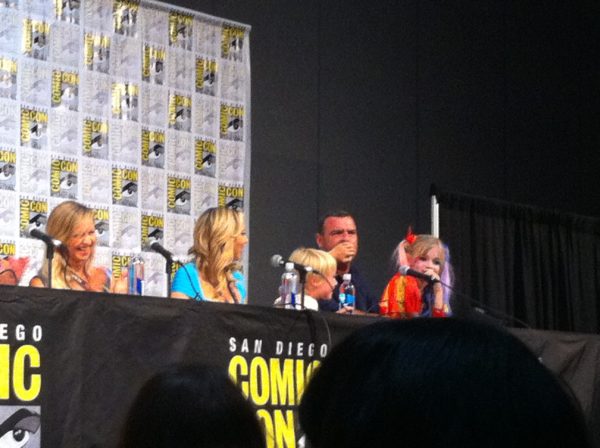 Liev Schreiber (The Storm King) being hushed by one of his sons during the My Little Pony panel.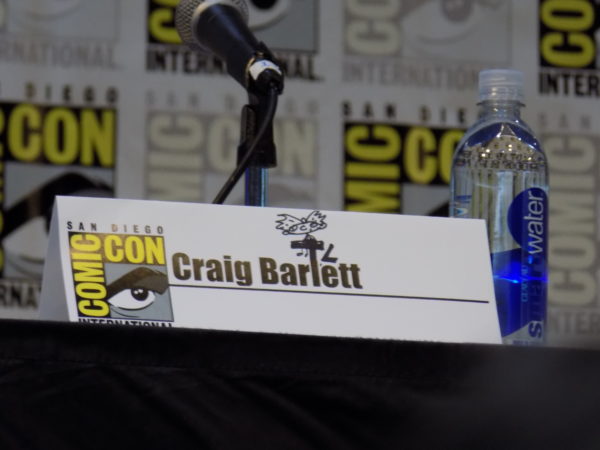 Craig Bartlett (creator) corrected his name tag ahead of the Hey Arnold! panel.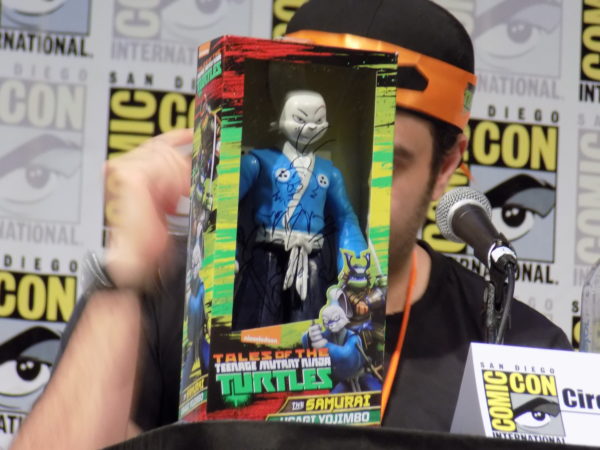 The Comic Con exclusive Miyamoto Usagi figure signed by Stan Sakai (creator)
and displayed during the Tales of the Teenage Mutant Ninja Turtles panel.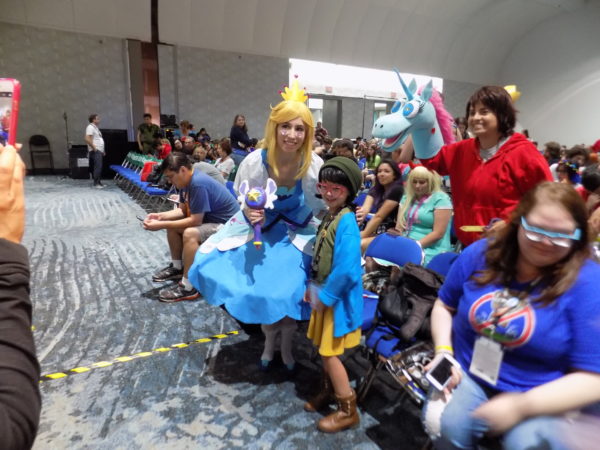 Fans cosplaying as characters from Star vs. The Forces of Evil.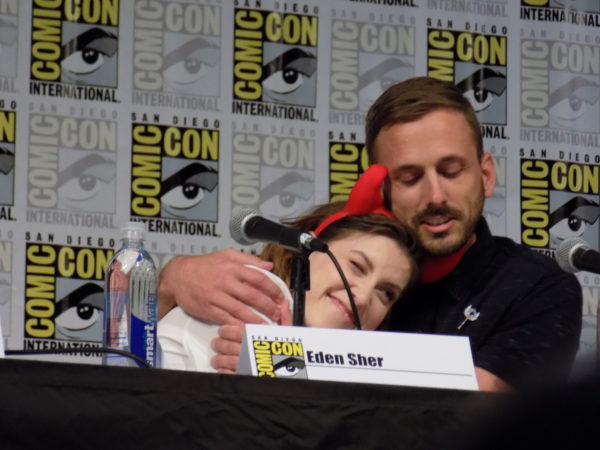 Eden Sher (Star) and Adam McArthur (Marco) re-enacting a scene
from Star vs. The Forces of Evil during the Disney XD panel.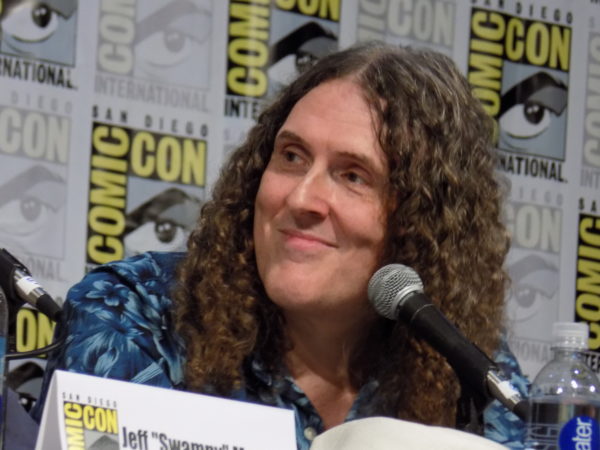 "Weird Al" Yankovic (Milo) talking Milo Murphy's Law during the Disney XD panel.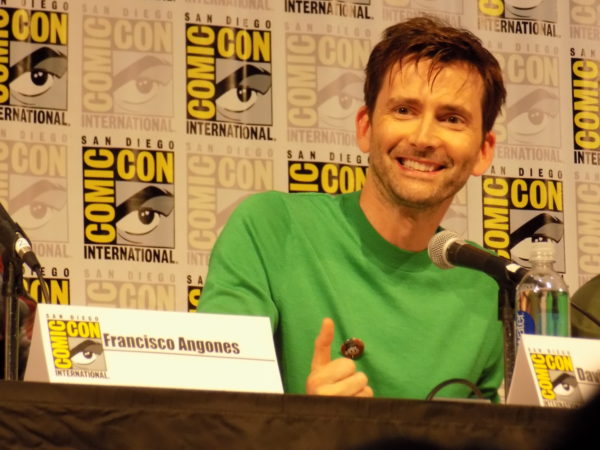 David Tennant (Scrooge McDuck) greeting fans during the DuckTales panel.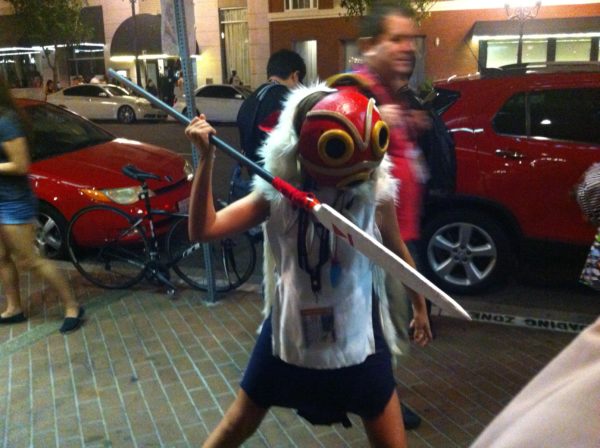 Fan cosplaying as San at the Princess Mononoke screening.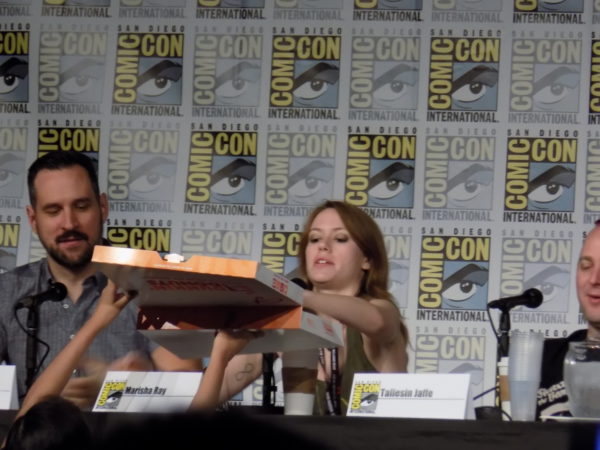 The cast of Critical Role received doughnuts from a fan during the Talks Machina recording panel.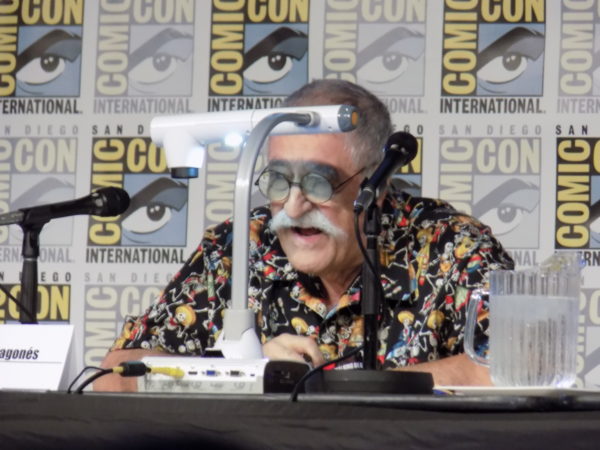 Sergio Aragonés doodling during the Quick Draw panel.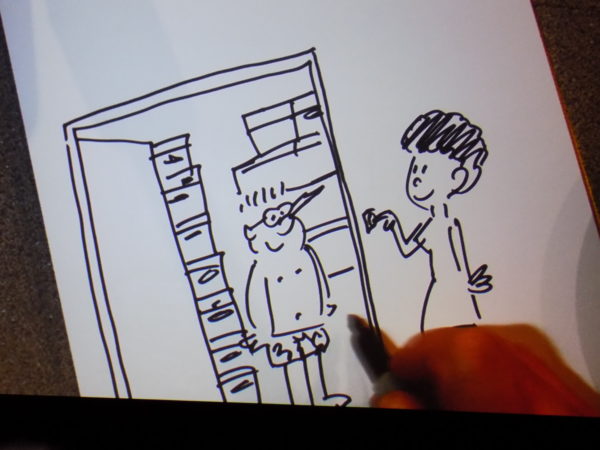 Scott Shaw illustrated an embarrassing moment during the Quick Draw panel.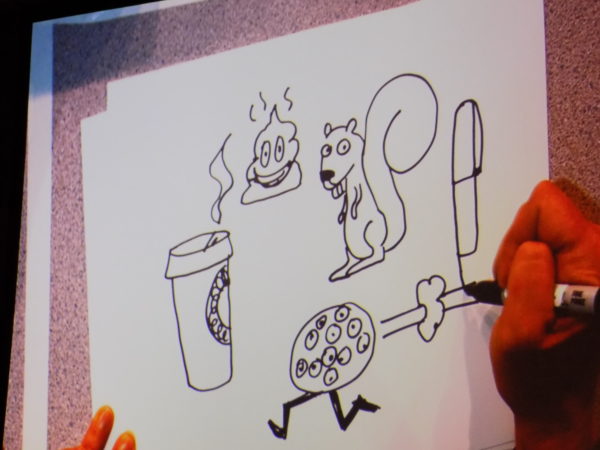 Maria Scrivan confused Phil LaMarr with random illustrations during the Quick Draw panel.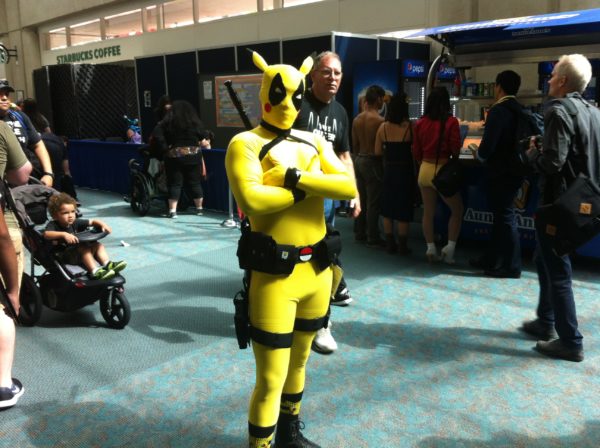 Pika-pool?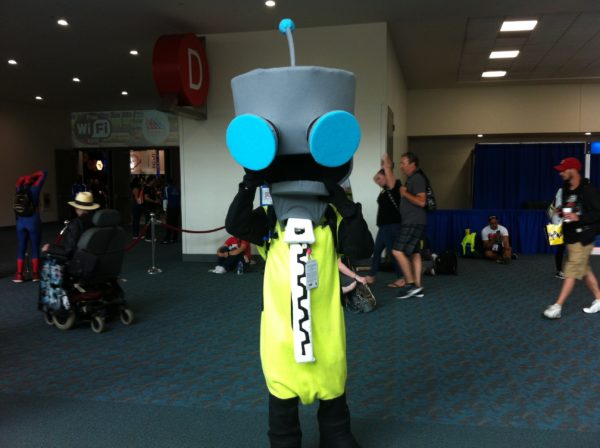 Fan cosplaying as Gir from Invader Zim.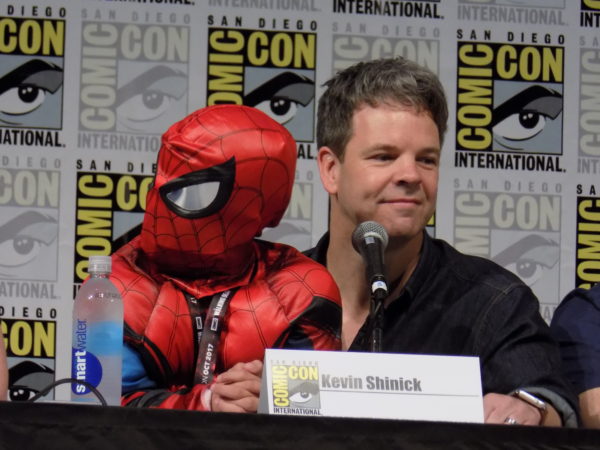 A young fan cosplaying as Spider-Man got to join the Marvel's Spider-Man panel.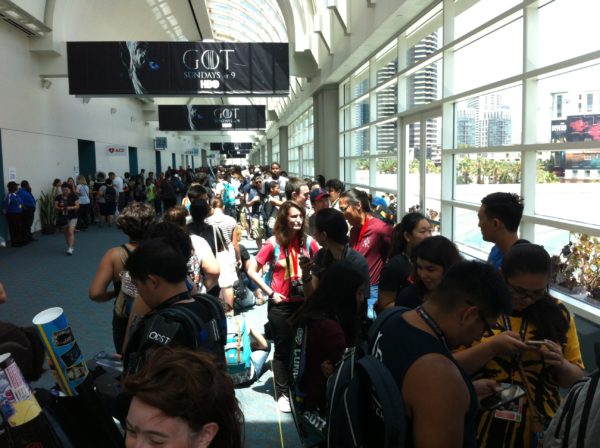 A very long line of fans hoping to get into The Legend of Korra panel.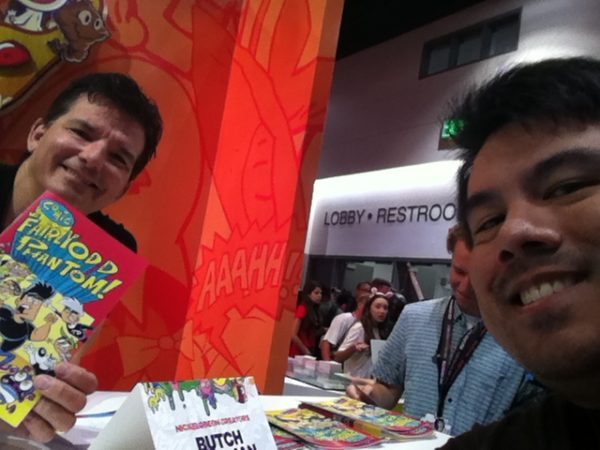 Dan with Butch Hartman (Danny Phantom creator)
at the Nickelodeon Creators signing in the Nickelodeon booth.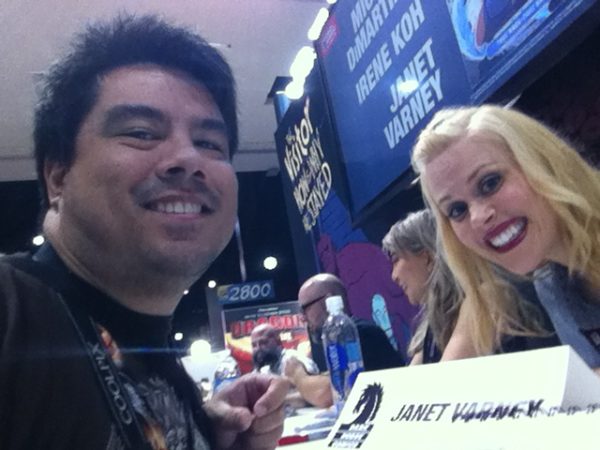 Dan with Janet Varney (Korra) at The Legend of Korra signing in the Dark Horse booth.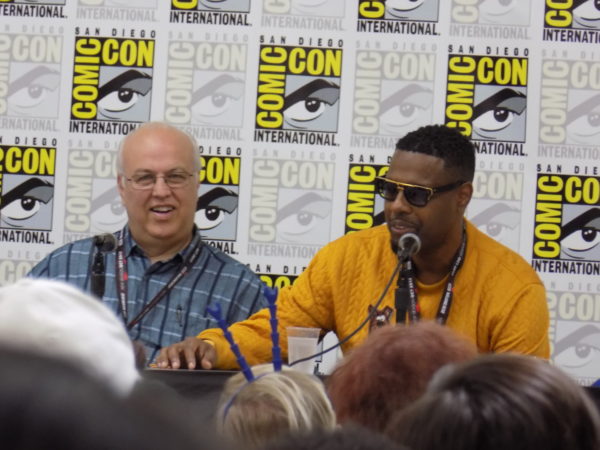 Alan Burnett and Carlton Zapp Clay reminisced fondly during the Hanna-Barbera 60th Anniversary panel.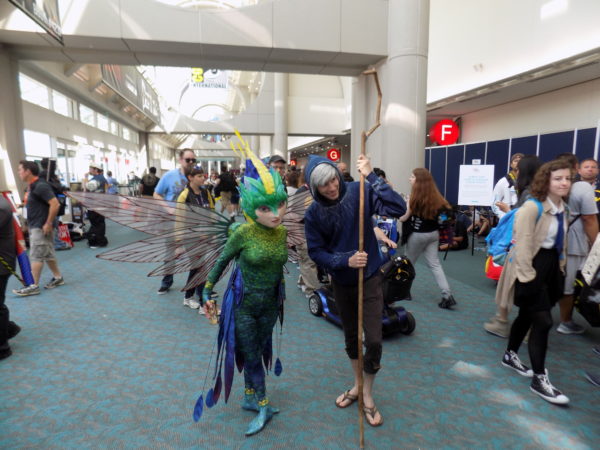 Fans cosplaying as Tooth Fairy and Jack Frost from Rise of the Guardians.
Cover for How to Train Your Dragon: Dragonvine as displayed in the Dark Horse booth.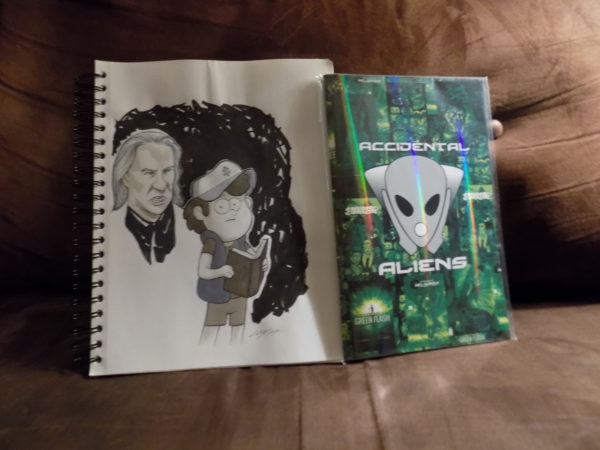 Killer Bob (Twin Peaks) and Dipper Pines (Gravity Falls) illustration by Scott Lost
and Accidental Aliens anthology comic book.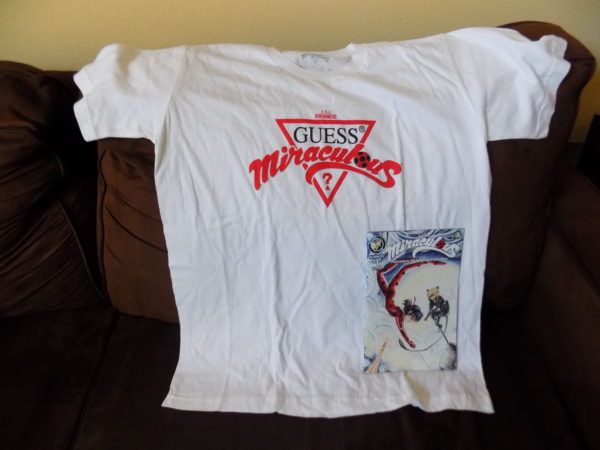 The free shirt and comic book fans received for attending the Miraculous: Tales of Ladybug & Cat Noir panel.
Autographed posters from the Rocko's Modern Life, DuckTales, and Sailor Moon signings.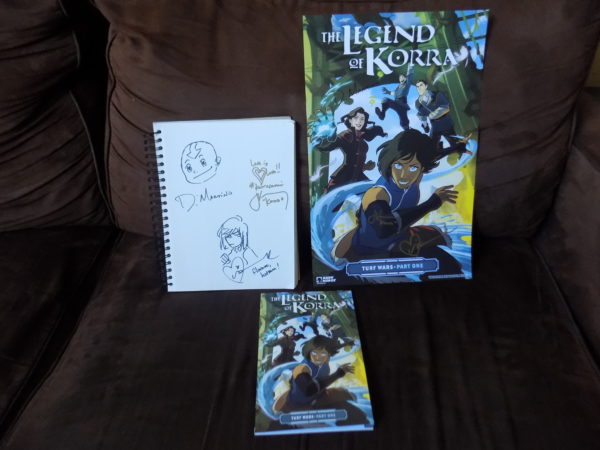 Autographed comic book and poster from The Legend of Korra signing
with illustrations of Aang by Michael Dante DiMartino and Korra by Irene Koh.