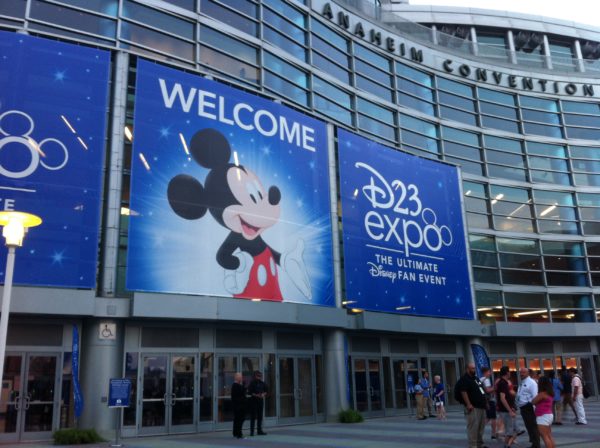 Two years ago, I experienced my first D23 Expo at the Anaheim Convention Center and I came away with the opinion that it was one of the best conventions I had the ever been to. As such, I knew that I wanted in the next time it happened and immediately purchased my ticket as soon as they went on sale. This year turned out to be another fantastic experience, but was more topsy-turvy than two years ago. That's because this year's convention was being held the weekend before the San Diego Comic Con, making for a unique opportunity to really compare the two conventions. What's more, Disney clearly wanted their convention to have the bigger moments than San Diego and would seemingly pull out all the stops to give attendees an experience unlike any other.
As such, the Expo Arena was reopened for this year's convention. Originally the location for the big programs, the studio moved things over to Hall D23 as that could fit nearly 8,000 attendees while the Arena could fit around 6,000. But with Disney wanting to go bigger with the convention experience this year, the Expo Arena was opened back up to host a number of unique and major programs throughout the weekend. This did mean that a section of the show floor had to be made into the area where folks wanting to attend programs in the Arena would line up, as trying to line up outside would have been chaotic, but overall I think the line management for the Arena was fine.
Once again, Disney continued to enforce their strict "no electronics" policy during the major programs in Hall D23. This was expected and folks were ready to seal their cameras and phones in the bags provided prior to being let into the room. Fortunately, the studio also continued make waiting in line for these programs bearable by being indoors with air conditioning, bathrooms, food stands open on Saturday, and the TV screens playing things to watch. This year, they ended up playing full movies so they wouldn't have to watch the same Disney Movies Anywhere content on loop.
Introduced this year was setting up a priority seating line for D23 Gold Members. This was done for Hall D23 and Expo Arena programming and there was a capacity limit for these lines. For the Hall D23 line, they also introduced wristbands. This was done so folks having to wait hours in line for the presentations could get out to briefly explore the show floor, get some food, and other amenities before returning with the assurance that one was in line for the presentation and not lose their spot. This was certainly useful for those spending the night at the convention center and then needing to get cleaned up in the morning.
---
Signing: Coco Director, Co-Director & Producer
---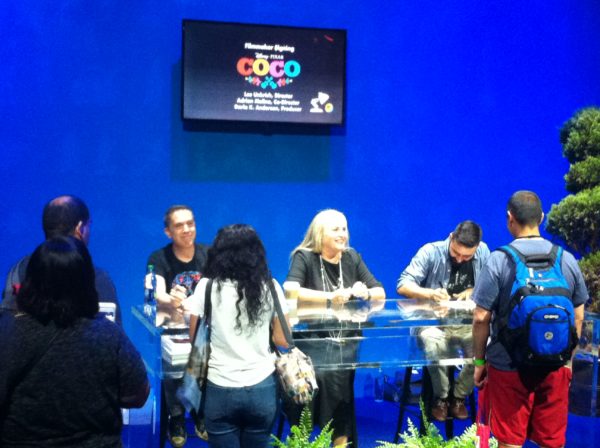 Autograph signings at the Pixar/Walt Disney Animation Studios booth would certainly contain among the more popular of the convention. As animation had remained the centerpiece of the studio, the creators would be seen as the biggest attraction. This was confirmed with how packed the booth would get leading up to the ticket distribution for these signings. One I just barely managed to get into was the signing for the creative team behind Coco.
It was actually quite the venture getting into the signing. It was originally scheduled to occur after the animation presentation. But sometime in the day, it was decided to switch places with The Incredibles 2 and be scheduled before the presentation. Regardless, the booth was immediately overcrowded as the start time drew closer. The convention staff members were rather overwhelmed with the amount of people and had some trouble getting things organized as they were handing out tickets. It got so stuffed I was nearly pushed into a poor staffer and had to yell that this was happening. I managed to be the second or third to last to obtain a ticket into the signing.
Present at the signing were Coco director Lee Unkrich, producer Darla Anderson, and co-director Adrian Molina. They were signing an exclusive print of one of the concept art pieces. When I got to meet them, it was clear what a passion project the film was as they were quite fascinated with exploring Mexican culture through animation. While my time with them was brief, as convention staff was trying to run a sign-and-go pace even through the end, it was a joy to be able to speak with them and shake their hands.
---
Pixar and Walt Disney Animation Studios: The upcoming Films, Hosted by John Lasseter
The animation presentation two years ago was one of the best experiences I've ever had at a convention. In a way, that might have put the pressure on this year's presentation to try to top that. It was scheduled to feature some big titles and, while it was shortened to being two hours as opposed to three, it was to leave attendees talking enthusiastically about what's to come over the next two years. While not on the impressive level from two years ago, I still think they pulled it off rather nicely.
They began with DisneyToon Studios and the next film set within the Cars and Planes universe. It was also the first preview of the presentation that John Lasseter noted were projects that didn't have a title, but was excited to present nonetheless. The film looked to revolve around fighter jets and their abilities to push the limits of speed and how far beyond Earth they can go. It looked interesting enough and I did like the attention to detail not only visually, but also in sound and how effective it could be in storytelling. The film is scheduled to take flight April 12, 2019.
Moving on to Walt Disney Feature Animation, they started this portion off with the juggernaut franchise Frozen. First up was the forthcoming short Olaf's Frozen Adventure. Voice of Anna Kristen Bell came out to talk a little about the 21-minute film and presented a clip. They played with them having sound problems when Olaf's voice wasn't heard, leading to Josh Gad coming out to sing the clip's song "That Time of Year" live. It was quite lovely and added to the interest of seeing the film, which was officially announced as moving from being a television special to playing in front of Coco in theaters (Coco opens this Thanksgiving).
Sticking with Frozen, they made mention of Frozen 2. After Bell and Gad played around in trying to come up with a proper title for the sequel, Lasseter introduced a video diary of the creative team going on a research trip to Iceland, Norway, and Finland. On the one hand, this could easily be perceived as a huge letdown as it didn't really offer anything about the film. But it was nonetheless fascinating to see the creative team go on these trips and draw inspiration from what they see. Frozen 2 is set to be released for the first time in forever November 27, 2019, so perhaps they're saving their goodies on Elsa and Anna's return for the next convention.
---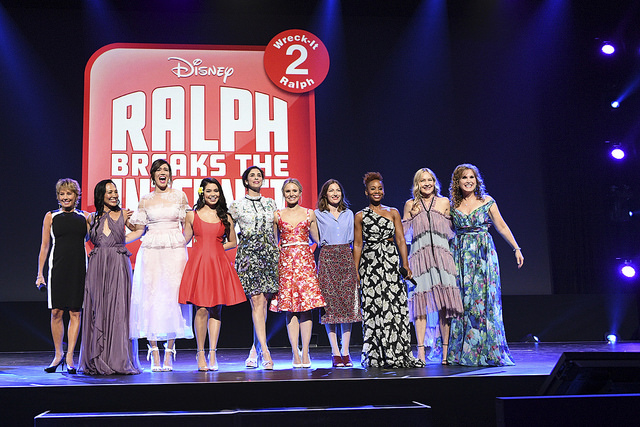 Next up was Ralph Breaks the Internet: Wreck-It Ralph 2. After premiering the teaser trailer, directors Rich Moore and Phil Johnston summarized the plot of Ralph and Vanellope venturing into the Internet in search of a replacement part for Sugar Rush after it malfunctions. Sarah Silverman appeared to help describe the film some more and announce Taraji P. Henson as Yesss, an algorithm who works for a Buzzfeed-style gossip website that would act as Ralph and Vanellope's guide through the Internet. What was set up as merely showing off the character through storyboards led to the show-stopping moment of the entire convention, Vanellope's encounter with the Disney Princesses when visiting the Oh My Disney site. With the exception of one small portion, the entire scene looked like it was fully animated. We were dying with laughter and it was actually quite a brilliant scene.
After the scene finished, Lasseter kick started what was quite the pageantry of as many of the original voices of the Disney Princesses as possible on stage together. Those who were able to be present were Paige O'Hara (Belle), Irene Bedard (Pocahontas), Mandy Moore (Rapunzel), Auli'i Cravalho (Moana), Kristen Bell (Anna), Kelly Macdonald (Merida), Anika Noni Rose (Tiana), Linda Larkin (Jasmine), and Jodi Benson (Ariel) with Sarah Silverman joining in. A wonderful sight that really put the whole thing over the top and then some, creating an experience that every person in the room will cherish. Ralph Breaks the Internet is going to wreck-it November 21, 2018.
Lasseter moved on to Pixar and figured the best way to contend with the Disney Princesses is to bring up one of the most anticipated films in the studio's history with The Incredibles 2. After showing off the Edna Mode fashion retrospective which was later posted online, director Brad Bird came out to explain more about the film. The primary focus would be on Helen Parr/Elastigirl and her investigating a major threat, but running parallel would be Bob Parr/Mr. Incredible staying home to raise baby Jack-Jack. Brad brought out the principle cast with Craig T. Nelson, Holly Hunter, Sarah Vowell, and Samuel L. Jackson returning to reprise Mr. Incredible, Elastigirl, their daughter Violet, and best friend Frozone respectively with Huck Milner introduced to voice middle child Dash. After banter from the veterans offering Huck advice, they showed off a fun, almost fully completed scene of Jack-Jack encountering a pest while his father napped. The Incredibles 2 will finally hit theaters June 15, 2018.
Next up was Toy Story 4, with the big announcement that Lasseter would be stepping aside from directing duties and handing the reigns over to initial co-director Josh Cooley. Cooley made an interesting note that the film would presumably be the first in which its creative team, himself and producer Jonas Rivera, started at Pixar as interns. He then showed off footage of the film in production, while keeping scenes hidden as they want them to be a surprise for audiences. A little disappointing that they didn't really show us anything (as with Frozen 2), but it was quite the surprise to see Lasseter hand the reigns over again. Toy Story 4 is scheduled for a June 21, 2019 release.
Lasseter then announced an untitled project that was on the Pixar pipeline. The film's director Dan Scanlon described it as being set in a suburban fantasy world where technology was becoming more prominent than magic. The story would center on two teenagers in search of their father, which was inspired from Scanlon's own childhood of having grown up never knowing his deceased father. Very early concept designs were shown that fascinated the audience and we hope to see more in the years to come as it is presently set to be shown on June 18, 2021.
---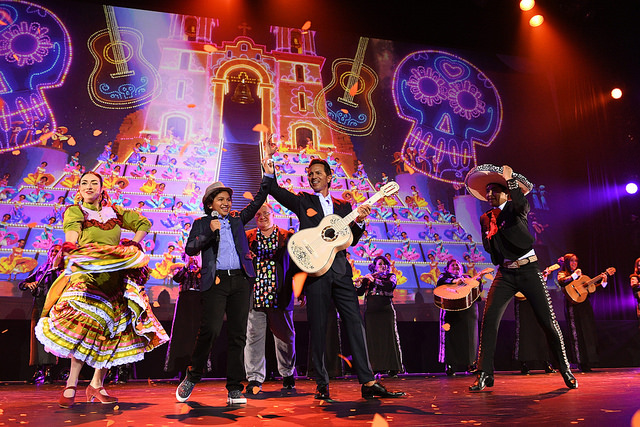 The presentation closed with a look at the holiday season's animated feature Coco. Unkrich, Anderson, and Molina appeared to reveal just a little more about the film while also screening two clips that showed how main character Miguel ended up in the Land of the Dead and the predicament he faced. After the last clip played, the character's voice actor Anthony Gonzalez appeared to sing the opening lines to the song "Remember Me", which was written by Robert and Kristen Lopez (of "Let It Go" fame). The rest of the song was then an extravagant Mexican mariachi performance with co-star Benjamin Bratt singing the rest. It was nice and fun way to end the show, as well as draw further interest into the film. Coco comes to life November 22.
While not at the awe-inspiring level of the presentation from two years ago, this year's animation presentation was nonetheless wonderful and fun. Ralph Breaks the Internet stole the show with the Disney Princesses reveal while The Incredibles 2 continued to be the most highly anticipated of the films currently on the slate. And the interest in Scanlon's suburban fantasy was quite high as everyone left Hall D23 for the evening. And when leaving Hall D23, attendees were each given an exclusive Coco poster, which was very different from the lithograph at the signing earlier. Overall, it was a really good presentation from start to finish.
---
Disney, Marvel Studios & Lucasfilm – Live Action at the Walt Disney Studios
Having just barely made it into the live action presentation two years ago, I decided I needed to spend the night at the convention center if I wanted to be in on the program this year. Sure enough, I was proven correct as a number of folks who came as early as 3 am didn't make it in. But despite having to essentially be in line for nearly 18 hours, I thought it was worth it as the presentation turned out to be a blast.
After a nice introduction by studio chairman Alan Horn, which included an extensive look at the slate of live action films coming out over the next two years and beyond, the presentation started off with Walt Disney Studios proper and President of Production Sean Bailey. First up was A Wrinkle in Time, with director Ava DuVernay and stars Storm Reid, Chris Pine, Reese Witherspoon, Mindy Kaling, and Oprah Winfrey appearing on stage. After Bailey had each talk a bit about making the film and how the story resonated with them, they displayed the teaser poster, to which Oprah couldn't resist saying "Everyone gets a poster!" to the delight of attendees at having their own Oprah moment. They finished with showing off the first teaser trailer (which was posted online immediately afterwards), which got everyone excited to see the rest when it would be released on March 9, 2018.
---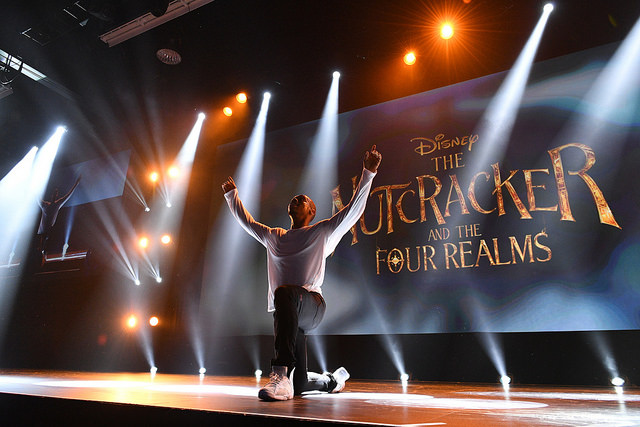 Next up, Bailey introduced The Nutcracker and the Four Realms. It would be a re-imagining of the classic E.T.A. Hoffmann story while also incorporating a spin on the renowned Pyotr Tchaikovsky ballet. After listing the primary cast, which included Mackenzie Foy, Keira Knightly, Morgan Freeman, and Helen Mirren, a teaser trailer was shown that interested attendees. Bailey noted that the Mouse King would be computer generated, with his motion capture performance would be done by Lil Buck, a street dancer who gained fame through online videos and live performances with acts such as Madonna and Cirque Du Soleil. Lil Buck did an interpretive dance to Tchaikovsky's music that showed off his skills and wowed the audience. The Nutcracker and the Four Realms will dance into theaters November 2, 2018.
Bailey moved on to one of the most anticipated live action features on the slate, Mary Poppins Returns. Director Rob Marshall and star Emily Blunt appeared to talk about the film and how challenging it was to work on a follow-up to one of the most beloved films in Disney history. Marshall noted that, while the film is a sequel, it was the first musical he's directed that had original songs. They then introduced one of the film's composers, Marc Shaiman, who conducted the Disney orchestra into playing music from the film to the first teaser trailer that looked really good. It was during the preview that I noted that there would be a point where the characters will interact with traditional animation, which those who caught it cheered in delight over. Mary Poppins Returns arrives Christmas day 2018.
Bailey wrapped up his portion of the live action presentation by running down a few of the live action remakes of classic Disney animated features on the slate. First, he officially announced Mulan for a 2019 release. Then he showed a video message from Tim Burton, who was on the set of Dumbo inside the fully realized train Casey Jr. On stage, Bailey showed off a life-size model of how Dumbo will appear in the film, looking very cute indeed. Dumbo is set to fly into theaters March 29, 2019.
A minor glitch on the screen that Bailey didn't see but attendees did clued us in that they seemingly had something for The Lion King. And they did with the most unbelievable teaser trailer. An abbreviated shot-for-shot recreation of "The Circle of Life" that was beautiful and stunning, bringing back fond memories of when they did the same thing for the animated film over 20 years ago. Jon Favreau had done it again and essentially won D23 as he was introduced on stage after a huge round of applauds sounded following the trailer. Favreau noted that he wanted to make sure he had something for D23 when he signed on as director because he wanted to assure audiences, like he did with The Jungle Book, that he would honor them and their trust. I just can't wait to see the final film on July 19, 2019.
Horn returned to turn the festivities over to LucasFilm. After reassuring attendees that the Han Solo film was coming along alright following the change in directors (with Ron Howard taking over for The Lego Movie's Phil Lord and Chris Miller), he brought out Rian Johnson to discuss Star Wars: The Last Jedi. Johnson talked briefly of what a wonderful time he had working on the film before he introduced onto the stage Daisy Ridley, John Boyega, Gwendoline Christie, Kelly Marie Tran, Laura Dern, and Benicio del Toro. Each of the six got to explain a bit about what their characters will be like and how excited they were for the film. Mark Hamill was then brought out on stage and he got to discuss the thrill of working on the film, particularly now that he got to speak since returning. They showed off the really good behind-the-scenes featurette (which was released online) that had everyone all the more amped for when the film when it is released on December 15.
---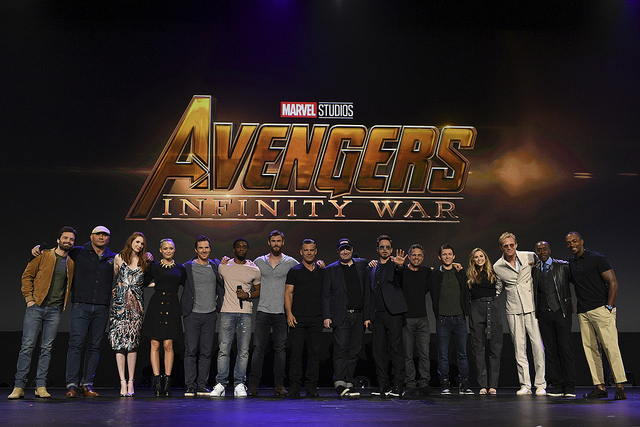 The live action presentation concluded with Marvel as Kevin Feige talked about how 2018 would mark the tenth anniversary of the Marvel Cinematic Universe and Marvel Studios launching with Iron Man. Presumably because of time and with what was planned, it was decided to forego discussions of Thor: Ragnarok and Black Panther, instead, going straight to Avengers: Infinity War. To get things rolling, Kevin brought out the man playing big baddy Thanos in Josh Brolin. Brolin humorously decided to be in character as he and Feige bantered about how Thanos could beat down any one that challenged him.
This would lead to the grandeur that rivaled the previous day's Disney Princesses. Here's the order of the actors who came out on stage: Paul Bettany (Vision), Elizabeth Olsen (Scarlet Witch), Pom Klementieff (Mantis), Karen Gillan (Nebula), Dave Bautista (Drax), Don Cheadle (War Machine), Sebastian Stan (The Winter Soldier), Anthony Mackie (Falcon), Benedict Cumberbatch (Dr. Strange), Tom Holland (Spider-Man), Chadwick Boseman (Black Panther), Mark Ruffalo (Hulk), Chris Hemsworth (Thor), and Robert Downey Jr (Iron Man). We were losing it as each name was brought out, it was absolutely insane. And that's roughly half the cast of this film!
Co-director Joe Russo was then brought out to briefly talk a bit about the work in bringing all these heroes together and the ten year journey Marvel took to get to this point. They introduced a wonderful montage of all the MCU films from the past ten years. But that was merely a cover to them showing off the first official trailer, just for us. Five minutes of the most stunning footage ever that saw members of the Avengers and the Guardians of the Galaxy meeting Thanos and realizing just how outmatched they were against him, even when working cohesively. It was an absolutely awesome sight and the cast looked just as excited as we were over what they were happily a part of. Avengers: Infinity War will blow people away May 4, 2018.
Avengers: Infinity War and The Lion King really put the live action presentation over the top, perhaps more so than two years ago despite being shorter in length. Mary Poppins Returns won over fans as expected and attendees were intrigued with A Wrinkle in Time and The Nutcracker and the Four Realms. Sure we would have liked more of Star Wars: The Last Jedi to justify it being only presented at D23 and not San Diego Comic Con. But at the end of the day, Avengers and The Lion King made the overnight wait so worth it. And yes, Oprah was correct in that everyone received one of the A Wrinkle in Time posters.
---
Level Up! The Walt Disney Company's Video Game Showcase
The video game presentation was moved over to the Expo Arena. Though it's a slight downgrade from two years ago when they were in Hall D23, they were still able to pack roughly 6,000 attendees. The presentation was also one that Disney streamed live through Facebook, so fans from all over the world could watch as well.
---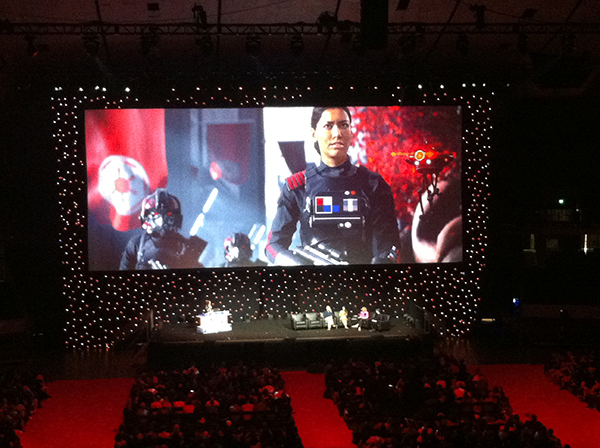 The presentation kicked off with a look at Star Wars Battlefront II from Electronic Arts and their EA DICE division. They focused on the more desired single-player story campaign, which centered on Imperial Commander Iden Versio right at the end of Return of the Jedi. The story sounded very intriguing and the presentation was capped with Force Awakens star John Boyega making a surprise appearance to show off his excitement for the game (as well as footage of him playing a demo). Star Wars Battlefront II marches onto all major consoles November 17.
The next game highlighted was the Playstation 4 exclusive Spider-Man from Insomniac Games. More game footage was shown, with a greater emphasis on being able to utilize Spidey's abilities more fluidly than before. They revealed a little more about the story, noting that it took place a few years after Spider-Man had been active and focused on his encounter with Mr. Negative. I'm very much looking forward to trying this game out as it had always been a challenge for game developers to really capture the essence of being the character with only a few titles managing to pull it off. Spider-Man swings onto the Playstation 4 sometime in 2018.
Virtual reality was also touted during the presentation. During the close of the Star Wars Battlefront II discussion, they introduced the augmented reality programs that included a series of apps that featured the famous Holo-chess game seen in the first film and Jedi Challenges that could potentially realize a true lightsaber experience in gaming. Marvel showed off the forthcoming Powers United program, a multi-player experience that looked to emphasize teamwork where understanding a character's abilities and how to utilize them in support of teammates seemed to be the highlight. It's gameplay was demonstrated by popular YouTube gamer and personality Markiplier, who made a surprise appearance on stage to talk more about the program.
But the presentation finished with the game everyone was there for, Kingdom Hearts III from SquareEnix. Franchise director Tetsuya Nomura appeared to talk about the journey in crafting the long-awaited next chapter in the series. All of this was merely a build up to what everyone was waiting to see, which was the reveal of the new world. That world being Toy Story had everyone going nuts and the gameplay footage shown was just as exciting to watch. I know I am looking forward to seeing what new and unique ways to play the game emerge from this world. Putting things over top was the reveal that Kingdom Hearts III would be coming to all major consoles sometime in 2018.
The video game presentation was a nice showcase of the three major titles as well as the VR ventures coming out. Battlefront II and Spider-Man had really good reactions, but obviously the big draw was Kingdom Hearts III, which delivered on the promise of a new world and gave everyone a year to look forward to it. While not quite as exuberant as two years ago, it did its job in getting folks excited for these games coming soon. Attendees were awarded not one, but two posters. One for Star Wars Battlefront II and one for Kingdom Hearts III.
---
Signing: Auli'i Cravalho
---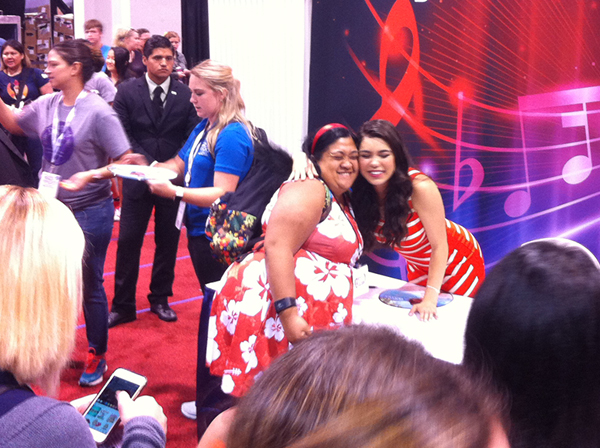 Some of the big signings happened at the Disney Music Emporium booth. Whereas most booths were first come, first served, Disney Music Emporium required that you buy a specific product related to the signing to gain entry. This made so many teenage girls flock over there to ensure a spot on the first day's Descendants 2 signing, to the point that they were panicking at the thought of not getting in. But I was there for the other major signing as Moana herself Auli'i Cravalho was on the schedule. To get in, I merely had to buy the Moana picture disc.
At first, it seemed like it would be a nice, easy going event as fans were able to get their item signed. But as I got closer, more people began to show. Eventually, the booth had to make the event sign and go halfway through. This disheartened Cravalho a little as she really wanted to interact with the fans and take pictures with them. We were both bummed about that when I got up to her and was then quickly whisked away as the line behind me got bigger and bigger. I guess I should be glad I was able to get into the signing at all.
---
DuckTales
An event that was sure to garner a lot of interest from attendees was the panel for the upcoming DuckTales relaunch. Filling up Stage 28, fans just could not wait and immediately sang along to the show's famous theme song when it played. But Disney decided to surprise everyone by premiering the intro sequence for the forthcoming Big Hero 6 series. Everyone got excited afterward, feeling that the show would be true to the original film. But all thoughts of Big Hero 6 melted away once the panel proper began.
Laura Prudom of the digital media site Mashable served as moderator and started by showing off David Tennant's (Scrooge McDuck) video message as he was unable to make the convention. It was a nice little video that had some fun humor mixed with his excitement for being part of the franchise. Prudom then introduced the panel, which consisted of executive producer Matt Youngberg, story editor Francisco Angones, art director Sean Jimenez, and cast members Beck Bennett (Launchpad McQuack), Kate Micucci (Webby Vanderquack), Ben Schwartz (Dewey Duck), and Toks Olagundoye (Mrs. Beakley).
---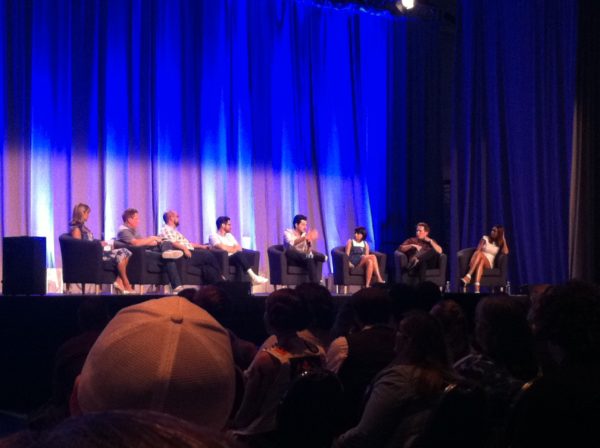 Much of the talk was dominated by Youngberg and Angones, who went on to explain wanting to develop their own version of the series while paying homage to both the first animated series as well as the original Carl Barks comics. Jimenez got to make mention of using the Barks comics as the initial point of reference before going their own path in designing the show. The cast expressed joy in voicing their characters, all except Olagundoye having grown up on the original animated series. The cast also got a chance to explain how they were looking to put their own spin on their characters, such as Schwartz going into detail how differing the personalities of the brothers would be, Webby being more adventurous, and Mrs. Beakley being more of a bodyguard-type character.
A clip was shown from what would be the first episode after the premiere, showing that Scrooge's potential parenting skills may need a little work. They then moved over to fan questions, most of which were variations on how they hope to make the new show stand-out against the legacy of the original. I got to ask if there were particular episodes each of the panel liked that they would like to carry over into the new show with a new spin. The question wasn't quite answered, though Youngberg did make mention of his favorite episode of the original being Double-O-Duck, buit they did note how they drew upon elements from the original in how they approached making this series.
This turned out to be a very nice panel. And it was also good to see that attendees were very interested in the show itself and not just because Tennant was involved as Scrooge McDuck. I really liked that virtually everyone on the panel was excited about the series and how they hoped this will make its own mark like the original did. The highlight for me was Schwartz displaying some of his comedy when he answered questions and describing Dewey, being the apparent middle child of the brothers, doing whatever he could to stand out. Attendees of the panel received a free Scrooge McDuck patch and if they showed it to a staffer at the Money Bin stage in the Disney XD booth they would also receive patches of Huey, Dewey, Louie, and Webby. DuckTales premieres on Disney XD August 12.
---
Celebration of an Animated Classic: The Lion King
Few Disney animated films are true classics with a lasting legacy that The Lion King continues to have after 23 years. A prime example was when attendees of this panel were led in the Expo Arena into a sing-along of "I Just Can't Wait to be King" before the festivities started properly. No one felt forced to join in, they enthusiastically sang it full of heartfelt joy and absolute fun. Right from the get go, this truly was a celebration of the film, as the panel title suggested.
Producer Don Hahn and director Rob Minkoff started things off, explaining the difficulties they had just getting people to work on the film in the beginning when Pocahontas was being touted as the sure-fire masterpiece. The anecdotes were very funny and quite nicely timed, something that I felt was a little underrated about their talent as storytellers. They knew when to tell a joke and one-liner at just the right moment for the best possible effect. Talk of how well Minkoff and fellow director Roger Allers worked together led to showing a nice clip of the two talking through storyboards of Mufasa's ghost appearing.
---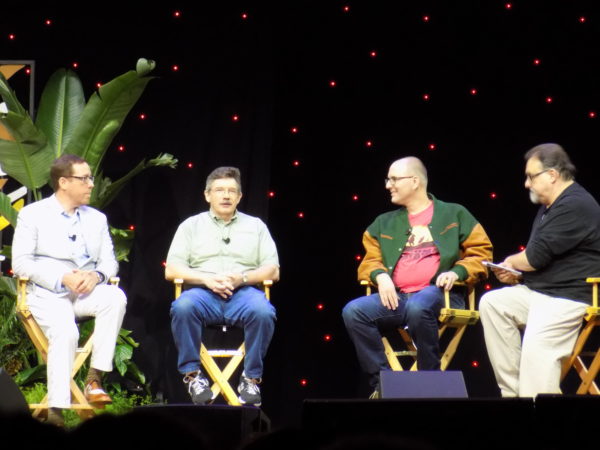 Supervising animators Mark Henn (Young Simba) and Tony Bancroft (Pumbaa) were introduced. Henn talked a bit about the film being a chance to branch away from his position as "Disney Ladies Man" given the roster of female characters he had animated. He initially campaigned to animate Scar, but explained that Hahn convinced him that they needed him to animate Young Simba as they needed someone like him to animate the story's focal center and his experience animating the Disney Princesses was key to realizing that. Bancroft noted that he originally looked to do Zazu after having done animation of Iago in Aladdin, but nevertheless took full advantage of animating Pumbaa since the film served as an opportunity for the younger talent to step up given the more experienced animators were migrating to Pocahontas.
Continued talk of Pumbaa led to the arrival of the character's voice actor Ernie Sabella. Sabella noted how he and Nathan Lane (voice of Timon) had initially auditioned for the hyenas while they were performing in a Broadway revival of Guys and Dolls in 1992, but were so impressive together that they ended up being Timon and Pumbaa instead. He later told a fun anecdote of how he was responsible for Pumbaa having flatulence by making Lane tear up with laughter during a recording session. Sabella added that, to his understanding, he and Lane were the first pair to be recording together due to the comic timing and chemistry they had.
Music was brought up at the mention of how angry Elton John got when they initially had Timon and Pumbaa sing "Can You Feel the Love Tonight?". Minkoff and Hahn mentioned that John sneaked into an early screening of the rough cut and got red-faced at them for seemingly ruining the heartfelt, romantic Disney song he was aiming for. Minkoff said that, while they did fix this to appease John, they felt the song turned out better by leaving Timon and Pumbaa to bookend and they wouldn't have come to that point had they not experimented. Such experimentation also led to the inclusion of the Hawaiian War Chant as the Lane ad lib was so funny Minkoff and Allers grabbed a ukulele and water jug and pitched it to the studio heads to get it into the film, which Minkoff and Hahn, along with Sabella, lovingly reenacted on stage for us.
They swung back to talking about the hyenas and they introduced the voice of Ed in Jim Cummings. Cummings jokingly noted how all the voice actors had scripts while he merely had a legal pad of emotions to convey in his laughter. Hahn then showed off the "sensitive" recording sessions of Cummings just laughing, causing everyone to crack up with just the timing from one set of laughter to the next. They also brought up Cummings voicing the mole reporting to Zazu, but interestingly didn't mention his filling in for Jeremy Irons to finish "Be Prepared" after the actor blew out his voice singing.
---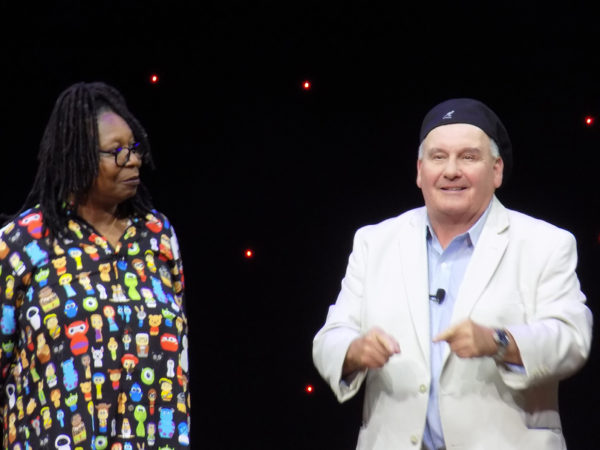 As they were about to seemingly wrap up the presentation, Whoopi Goldberg made a surprise appearance. She explained her voicing Shenzi was a result of her really wanting to work on The Lion King after having a lunch with Elton John. Goldberg then revealed to Sabella that she and Cheech Marin (voice of Banzai) actually got to record together as well, largely so that they would develop their comic timing and chemistry. Hahn then showed footage of Goldberg recording her lines for "Be Prepared", with Goldberg having been unaware that they were video taping her.
After each member of the panel expressed how honored and grateful they we were at having worked on The Lion King, they announced that the film would be receiving a Signature Collection Blu-ray release later this year. The presentation ended with a live elaborate performance of "Circle of Life" with original singer Carmen Twillie joining in. It was a fantastic way to end a memorable journey through one of the most beloved titles in the Disney library. The panel was great fun with everyone clearly enjoying themselves as they looked back. Some of the information revealed was known, others were new to me. The Signature Collection edition of The Lion King will be released on Blu-ray August 29.
---
Zero to Hero: The Making of Hercules
This year marks the 20th anniversary of Hercules. While not a top-tier classic on level with the likes of The Lion King, Beauty and the Beast, and The Little Mermaid, it had a popular run and audiences continue to remember it fondly. This was proven when a great number of attendees filled the Expo Arena for this look back panel. It unofficially started with the video that appears on the Oh My Disney web site of video to the "Zero to Hero" song comparing the final film with the video footage reference and storyboards used. There were a number of us who were singing along fondly throughout.
Directors John Musker and Ron Clements were introduced. They were even wearing shirts in celebration of the occasion, John wearing the shirt given to the crew at the film's New York premiere and Ron wearing one with Hades art from production designer Gerald Scarfe. They went right into talking about the origins of the film, explaining that they came on board when early development on Treasure Planet stalled and picked Hercules as they were interested in developing their own superhero tale while also being inspired by the screwball comedies like the Preston Sturges films as a contrast to the typical tragedy of Greek mythology.
---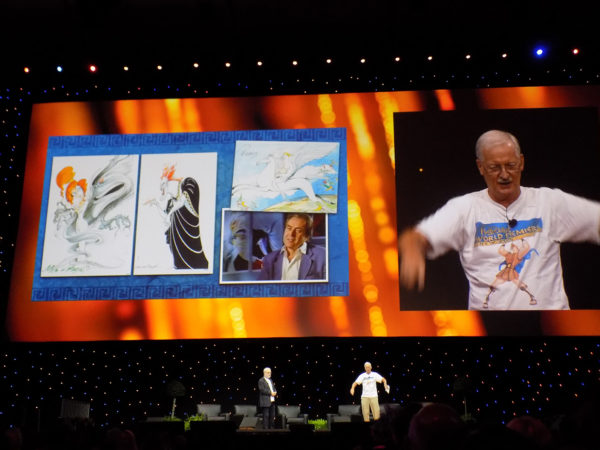 Going into the actual development of the film, Musker and Clements were accompanied by pictures, concept art, and animation drawings to go along with whatever subject they were on. Musker explained that they initially conceptualized the film with more classical and Greek designs before thinking they needed to go another direction in order to bring everything together. This led to not only talk of Scarfe, as well as displaying his initial designs, but they also had a video message from Scarfe, who was in San Francisco at the time partaking in an exhibition of his art for Pink Floyd – The Wall. Scarfe sent a nice greeting, briefly noting how he got involved on the project and the feeling he had the first time he presented his work to the animators.
They went into discussing how they decided to make video references mixed with storyboards so they could develop a different kind of look and movement to the characters that would stand out from other Disney films. This led to showing off the video reference they made for the Hydra sequence that got attendees chuckling at the props and stand ins, particularly Clements as Phil. Afterward, supervising animators Eric Goldberg (Phil) and Ken Duncan (Meg) were introduced and they got to talk extensively about their differing approaches to animating their characters while also trying to draw inspiration from Scarfe's designs.
Goldberg went first, talking a bit about his approach to animating Phil while displaying his designs from start to finish. He noted how he did try to make the character look more like voice actor Danny DeVito, in particular his Taxi character Louie De Palma, before mixing in Scarfe's designs to create the final look. One bit of DeVito that Goldberg did like was noticing a particular mouth shape the actor made, which he called "the under the nose bow tie", and looked for opportunities to incorporate it, showing an example when Phil is displeased with Herc's attraction to Meg before arriving in Thebes. Goldberg ended by showing off some great rough animation, including how he encountered a problem with the start of "One Last Hope" that resulted in them getting composer Alan Menken to tweak it so the scene could play off better.
Duncan mentioned that he was initially going to draw the centaur Nessus, but managed to convince Musker and Clements to let him draw Meg when the originally assigned animator Duncan Marjoribanks left for DreamWorks. He explained that Meg's design was very tough to figure out even as voice actress Susan Egan started to record lines until he came up with breaking down her body shape around stacked pottery, with the illustrations of this process displayed to great fascination for the audience. He also ended by showing off his lovely animation, explaining how he wanted to change the perception that was initially had of her in storyboards as tough and angry to street smart and playfully sarcastic.
---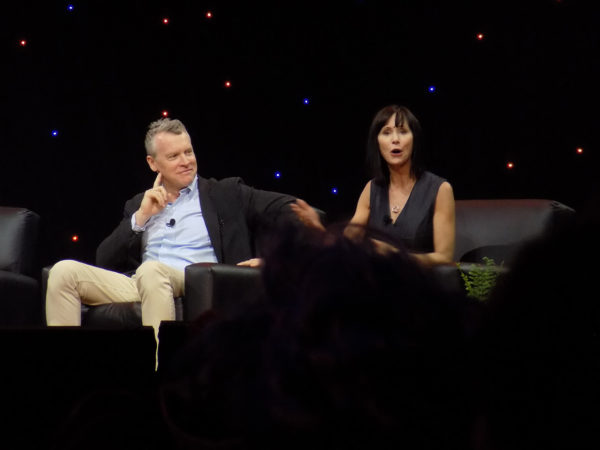 Musker and Clements then introduced voice actors Tate Donovan (Hercules) and Susan Egan (Meg). Donovan talked about how intimidated he was when he auditioned, having to compete against the likes of Kiefer Sutherland and Charlie Sheen. He was also bewildered when Musker and Clements didn't so much watch him perform and rather just listened before coming to realize that they were trying to picture his voice to the character. Egan explained that initially Disney didn't want her to audition because she was still performing as Belle in Beauty and the Beast on Broadway at the time and they couldn't picture her as a character as different as Meg.
The Hercules animated series was brought up as part of Donovan's anecdotes, talking about the differing recording processes between the film and the TV series as well as his needing to pitch his voice higher for the TV series as the character was a teenager. An anecdote Egan got to tell was how her first recording session got postponed because she broke her foot during a performance of Beauty and the Beast, her by then having joined the Los Angeles cast. When she was well enough to record in studio, Duncan had done an illustration of Meg in a cast that was shown to the audience.
Donovan's anecdote was to be a segue to James Woods voicing Hades. Musker explained that they were originally trying to hire Jack Nicholson to voice the character, going so far as to shower his daughter with gifts and memorabilia when the actor came for a visit. After Nicholson fell through, they went with Woods, whose rapid fire delivery was far different from Nicholson's slow and methodical performance the directors initially had in mind, but ended up being considered much better. They then showed a hilarious video of Woods recorded "roasting" the animators for the wrap party.
Wrapping up the panel was discussion of the music. After Musker told an interesting story of how they were able to convince Alan Menken that gospel music could work for Hercules, they then screened in full the rarely seen storyboard reel for the original song for teenage Hercules (whose singing voice was Roger Bart) called "Shooting Star" to the delight and fascination of the audience. While the song received a full orchestra recording, it was cut as a result of the story changing. The finale to the panel was Egan singing "I Won't Say (I'm in Love)" live masterfully to the scene playing on the screen while she playfully danced around the others.
This was a fantastic and quite informative look back at the creation of the film. It was clear that both the panelists and the audience really liked the film as the stories were told with great fondness and the attendees were drawn to every tidbit and joke told. I really liked that they were able to show off all the various artwork and the video clips, many of which I don't recall having been shown publicly before like "Shooting Star". Of the panels for specific subjects, this was probably my favorite of the whole convention. Just a fantastic event from start to finish.
---
Susan Egan: The Belle of Broadway
---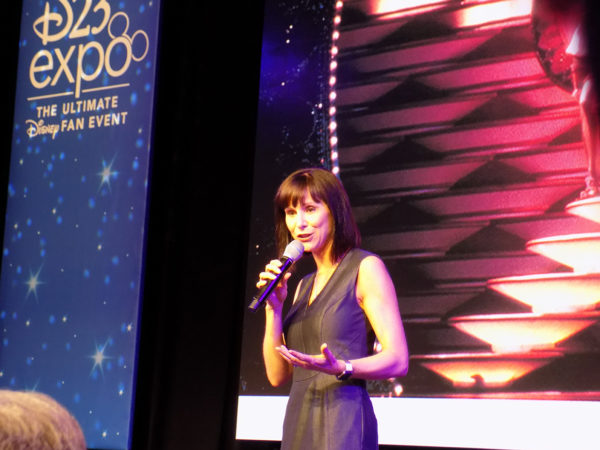 Egan wasn't done singing as a few hours later she was on the show floor at Center Stage. This time the appearance was to spotlight her originating Belle in the Beauty and the Beast stage musical. It was actually interesting that this was happening while across the aisle the Marvel booth had Michael Rooker from Guardians of the Galaxy talking funny stories and signing autographs to a raucous crowd. Nevertheless, Egan had a huge crowd of her own at Center Stage that rivaled, probably even outnumbered, those gathered in the Marvel booth.
Egan started off by briefly telling stories of the musical being put together. One interesting story was how Disney started putting the marketing material out six months before rehearsals began, so she and Terrance Mann (who originated the role of the Beast) wore what was a quick, rough pass at the costumes and make up. She admitted to not being very fond of the gold dress and hair style she wore for that first photo shoot as they hadn't been properly defined and developed. Those who have seen the show know the final look is quite different from the original promotional material.
Of course, the main attraction was that Egan would sing. She would go on to drown out the surrounding show floor noise by singing a beautiful nine-minute melody that mixed together verses from "Belle", "Home", "Something There", "How Does a Moment Last Forever?" from the live-action feature, and "Beauty and the Beast". As she sang, they showed off video clips from various promotional material for the stage show. It was just a wonderful performance and was majestic to witness live. An absolute highlight of the convention.
---
Oswald The Lucky Rabbit: The Search for the Lost Disney Cartoons
One of the very last programs before the convention closed for the year would be a look at the 90-year history of the rabbit that came before the mouse, Oswald The Lucky Rabbit. To my surprise, and frankly to my great delight, there was a huge attendance at Stage 28 for this panel. It showed that the character did indeed have a large following and we were hungry for Disney to really give the rabbit his due. We did hear that earlier in the convention Bob Iger conceded that they hadn't done enough with Oswald since reacquiring him, but assured folks that they were planning a great future for the character.
This panel, though also functioning as a 90th anniversary celebration, was primarily centered on the development of the forthcoming book Oswald The Lucky Rabbit: The Search for the Lost Disney Cartoons. Author David Bossert briefly explained his participation in searching for the Oswald shorts Disney, Ub Iwerks, and their staff made and how they would be detailed in the book. He also got to note the history of the character and the cartoons, from their development to their popularity. He even touched upon the fact that they might have discovered the possibility that there may have actually been 27 Disney-made Oswald cartoons as opposed to 26, which he would further elaborate on in his book.
---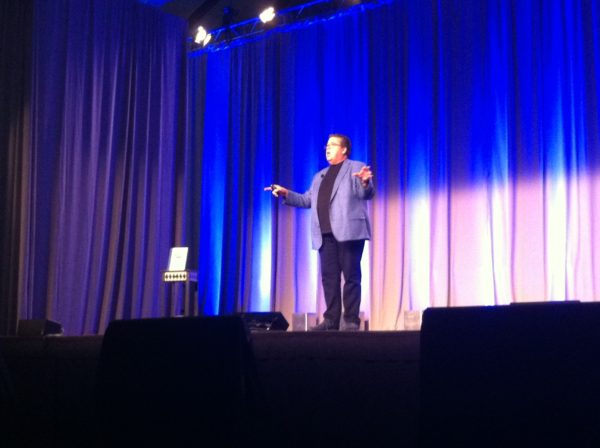 Bossert would break up his presentation by showing three Oswald cartoons. The first was the first released cartoon Trolley Trouble, the second was among the first of the rediscovered cartoons Hungry Hoboes, and the third was the most recently rediscovered Africa Before Dark. Watching these cartoons were still a joy, but seeing them with an audience was even better. After one of the shorts, Bossert took a moment to mention Mark Watters, who would go on to compose the musical score that would be added to the rediscovered cartoons, since the music played to the films in the 1920s varied from theater to theater. Part of the joy of being introduced to these lost cartoons was the inclusion of the music and we took a moment to appreciate what Watters did to make them work with the films, the time period they came from, and how modern audiences would take to them.
The panel finished with audience questions. There were some really nice questions with attendees wanting to know more about the context of the cartoons and how Disney planned to utilize the character in fulfilling Iger's assurances. I was one of the few to ask about the efforts to locate the missing cartoons. I specifically asked if a rediscovered cartoon had been located in a really weird and strange location. Bossert didn't necessarily answer my question directly, but did note how each time a film was found it was usually in a private collection or film library and generally it had been by accident sometimes because they were mislabeled.
During the Q&A, Bossert was setting up prizes for attendees to receive. Two would receive advanced copies of the book while he also had three Legacy Collection CDs as secondary prizes. A book and one of the CDs were given to attendees who issued a Twitter post that included the hashtag #OswaldGiveaway during the first half of the panel. The others were given to those who had marked tickets that had been hidden under seats. The second book and one of the CDs had been claimed, but the last CD had not. This resulted in what was a really fun scavenger hunt by eager attendees, including myself, as we crawled on our backs and turned over chairs looking for the elusive third ticket. It took about ten minutes before it was finally claimed, but it was such fun that everyone had a great time. Talk about a way to close out the convention.
This was a really nice way to end the convention and a really nice panel on its own. While it was more about the book than a proper 90th anniversary celebration of the character, there was no denying the absolute fondness everyone in the room had. Bossert had some interesting tidbits to share and watching the cartoons with a large audience was a joy. Capped with a goofy fun scavenger hunt, this turned out to be a wonderful event. Oswald The Lucky Rabbit: The Search for the Lost Disney Cartoons by David Bossert is scheduled to be released on August 29.
---
Disney Store
---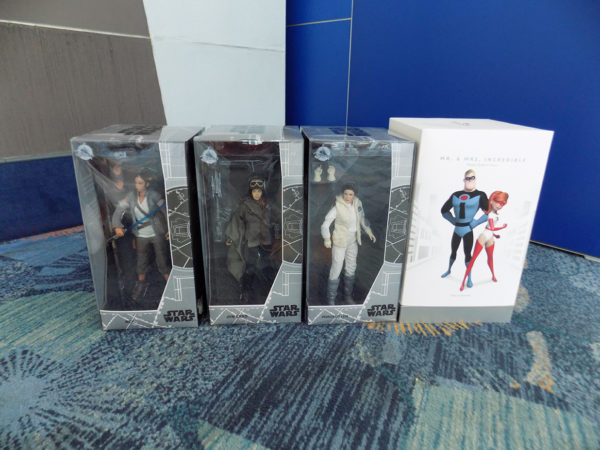 One of the hardest booths to get into at D23 had been the Disney Store booth. The allure of exclusive limited edition merchandise would be enough to create lines that could average two hours in wait time to get in. Often fans would try to take advantage of getting the Store Pass tickets, which would guarantee they would enter the store during a certain time period. But even those would be hard to get as they would run out of tickets within a couple hours. It was by sheer luck that I managed to obtain a Store Pass ticket when I did.
Let me just say that being inside the Disney Store booth was pure chaos. People were all over the place looking to get their hands on whatever they could as quickly as possible, fearful that they wouldn't be able to obtain the last copy of the day. That was certainly my concern as my primary objective, if I ever got in, was to get my hands on all three pairs of the Star Wars Elite Series Premium Action Figures. The pairs consisted of Princess Leia and Darth Vader as they appeared in The Empire Strikes Back, Jyn Erso and Director Orson Krennic from Rogue One, and Rey and Kylo Ren as they will appear in The Last Jedi. I got concerned I wouldn't be able to get the Leia and Vader pair for a moment, but fortunately they were putting more up as I got there. What I didn't anticipate was how big they were, which made carrying them a bit of a problem.
What I also didn't anticipate was staring straight at the retro Mr. Incredible and Elastigirl Designer Collection figures as soon as I entered the store. I must admit to not having known about them earlier and I knew I wanted them when I saw them. They happened to have a few copies left and I managed to grab one as quickly as I could. Of course, this was a big figurine set by itself. Group them with the Star Wars figures and they were literally all over me. To the point that I needed to get help from a store employee, who carried a couple of the toys for me as I made my way to check out. Now the toys were big, they were not cheap, and, with bag check being full when I got there in the hopes of holding my toys while I checked out the rest of the convention for the day, a bit of a hassle to lug around. It made having to bring them with me into the animation presentation rather interesting. Nevertheless, I do not regret getting them one bit.
---
Disney Dream Store
While I was perfectly fine with having gotten into the Disney Store booth and buying merchandise there, I was curious about getting into the Disney Dream Store. More so after I heard there was a rather intriguing item for sale in there. Disney Dream Store was not any easier to get into, but the wait time actually got smaller in comparison to Disney Store. I didn't get a Store Pass, but it was a respectable thirty minute wait before I got in on the last day.
The Disney Dream Store was a bit more clean and organized, but it did contain a number of fascinating merchandise that a lot of people were interested in. Most were quick to nab the various convention shirts, but the one product that brought me over to the booth and had a lot of people looking was the first-to-market Rey's Lightsaber as it will presumably be seen in The Last Jedi. Full size and beautifully crafted, I just couldn't resist. I also couldn't resist getting another product that was available first-to-market, the Oswald The Lucky Rabbit: The Search for the Lost Disney Cartoons book. Turned out that I timed it right in grabbing the book as it apparently sold out shortly after I bought it.
Disney Dream Store could be seen as an alternative to the Disney Store or an extension of it. Either way, it had its own collection of merchandise that was impressive and very hard not to buy. The allure of Rey's Lightsaber was the draw, but I was also glad I was able to get the Oswald book. Two very fascinating products that I, again, do not regret buying.
---
Cosplay
---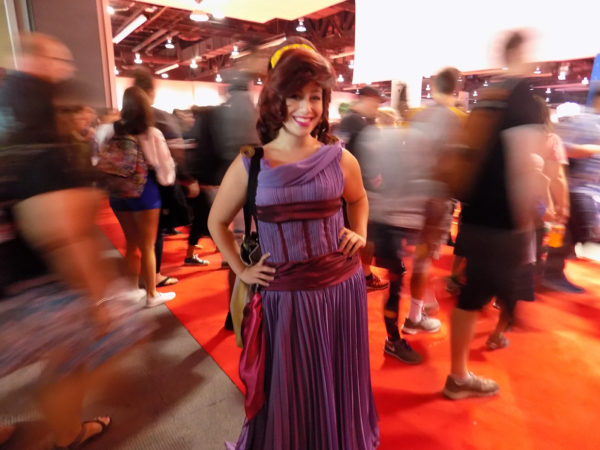 It wouldn't be a convention if some of the attendees didn't show up in costume. As this was D23, cosplaying fans were asked to keep their costumes Disney themed and appropriate for a family-friendly environment. As such, you wouldn't necessarily be seeing anything involving The Walking Dead, though James Cameron's Avatar was allowed given the Pandora – The World of Avatar attraction being at Disney's Animal Kingdom. But fans did still manage to be creative with their costumes and mix things up. Early on I caught sight of a trio who did Merida, Briar Rose, and Aladdin as Jedi Knights. And Disney variations on outside properties were out and about, like a Frozen spin on Scooby-Doo.
My personal favorite wasn't so much a costume that was being worn as it was a girl who brilliantly managed to develop a functioning puppet of Sadness from Inside Out in the vein of Jim Henson. It was wonderfully crafted and the girl evoked the personality perfectly with just a simple sad wave. With regards to costumes that were worn, I really liked one girl who attended the Hercules panel in a great Meg costume. The craftsmanship was very lovely and it was clear she was paying attention to the details. I immediately glanced in her direction during the panel as Ken Duncan made note that Meg's hair proved to be difficult in particular for cosplayers given that he and his staff had animated it in a way that couldn't necessarily be replicated in real life.
Waiting in line for the Hall D23 programs did result in some interesting moments involving cosplayers. This was particularly the case when certain movies were playing on the screens. A favorite was a Star-Lord cosplayer present when Guardians of the Galaxy played. After taking a selfie of himself in front of the screen, he immediately danced along to the opening credits scene when "Come and Get Your Love" played with other attendees cheering on. Another was a girl, after spending the night ahead of the live-action presentation, dressed up as Belle as she appeared in the live-action Beauty and the Beast. Sure enough, that version of the movie played and she got a number of looks and pictures as a result.
One of the more unique cosplayers was a girl dressed up as Te Kā from Moana. When I caught sight of her, it was at the end of the first day and her head piece was off. She wasn't up to putting it back on given the heat and how long the day had been, but I was really impressed with the craftsmanship to the rest of her costume that I didn't mind a picture of her as she was. I also like the effort one cosplayer went in make a full body costume of Maid Marion from Robin Hood. Two girls did a great recreation of how Elsa and Anna will look in Olaf's Frozen Adventure and there was a lovely couple that did a lovely George and Meg from the short Paperman.
---
Random Sightings
D23 Gold Members received additional bonuses on top of the priority line for Hall D23 and the Expo Arena. They received discounts on select purchases in stores as well as select products in the Disney Store, access to exclusive branded jewelry in the Disney Dream Store, and charter members (those who have had membership since 2009) have their own private lounge area on the convention center's second floor. All D23 Gold Members also received for free an exclusive print of Disney Legends illustrated by Eric Goldberg.
---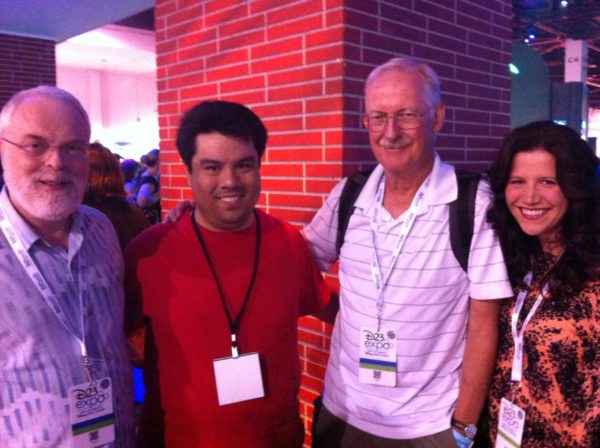 On my way over to the Pixar/Walt Disney Animation Studios booth in an attempt to get into the Coco signing, I noticed a small group of folks gathering near the entrance side that had the presentation stage. As I got closer, I realized they were gathering because there on the show floor where Ron Clements and John Musker. Taking a chance at a golden opportunity, I got to meet them in person. They explained they were hanging out for Amy Smeed, the lead animator of Moana, who was going to do a presentation in the booth momentarily. After speaking with all three for a brief moment, I got to get my picture with the three of them. Easily one of the best moments of the whole convention.
As mentioned, those waiting for the Hall D23 presentations were treated to full movies played on the monitors this year. Waiting for the animation presentation, they showed Bambi, Guardians of the Galaxy, and Moana. Spending the night at the convention center for the live action presentation, they showed Zootopia, the live-action Beauty and the Beast, Finding Dory, and Rogue One. It's funny to watch folks doing all they can to get some sleep, but when Rogue One played a good chunk of people immediately woke up and watched the movie, even applauding at the end.
Among the interactive show floor attractions were the DuckTales Money Bin at the Disney XD booth and the "A Pirate's Life for Me" booth. The Money Bin was essentially a chance for folks to literally jump into a replica of Scrooge McDuck's personal "swimming pool" while "A Pirate's Life for Me" was an exhibition showcase of Disney-themed pirates from Pirates of the Caribbean to Treasure Planet. I would have liked to have experienced these attractions, but the lines were rather long. We're talking Disneyland lines. I did hear that it was one thing to jump into the Money Bin, but it was another trying to get out. Of course, another attraction that was probably more difficult to get into was the display showing off the models for what the Star Wars: Galaxy's Edge attractions were going to look like.
While not necessarily planned, I made a visit to Amy Mebberson. Best known for her weekly Pocket Princesses comics on Facebook, it was so popular that it landed her a job on the official Disney Princess comic strips published through Joe Comics. I visited Mebberson as I wanted to know if she heard about what happened at the animation presentation. She sighed, knowing full well what happened, as many had indeed let her know about the Disney Princesses scene in Wreck-It Ralph 2. No doubt we're hoping it would give her ideas for her comics. In the meantime, I managed to pick up the second volume trade collecting her Disney Princess comic strips, which she gladly signed.
In addition to Susan Egan, Center Stage would feature various live music performances, usually by Tomasina and DJ Clark. The last day saw the return of Billy Hill and the Hillbillies, who for 21 years had been a mainstay at Frontierland before Disneyland retired the act at the beginning of 2014. The core group had since moved over to Knott's Berry Farm as Krazy Kirk and the Hillbillies, but Disney brought them back for a few performances at the D23 Expo. A lot of long-time Disney fans were delighted to see them return and enjoyed one, if not all, of their performances.
---
Watch exclusive footage from The Lion King panel and Susan Egan's Beauty and the Beast performance below.
---
Below are exclusive pictures from the 2017 D23 Expo.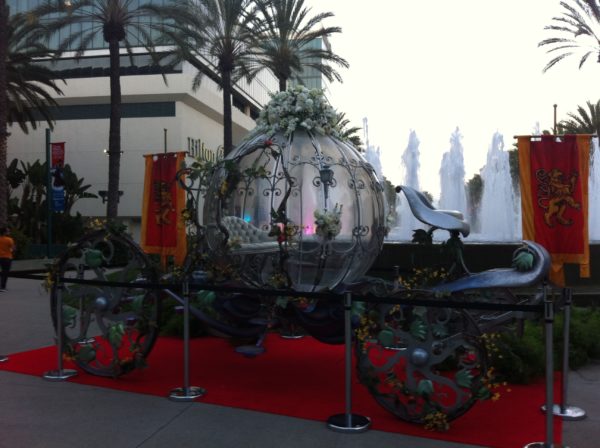 Cinderella's Pumpkin Carriage on display in front of the convention center.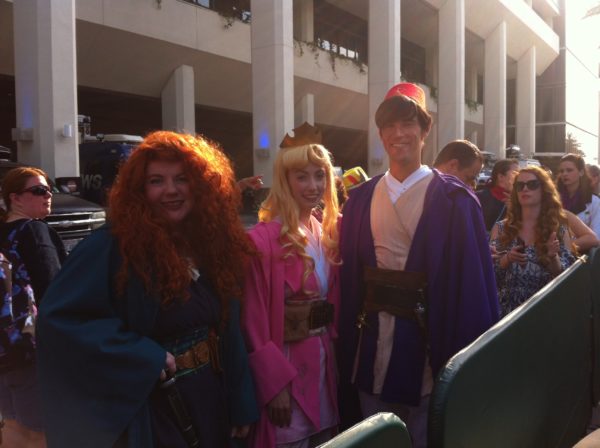 Jedi Knights Merida, Briar Rose, and Aladdin.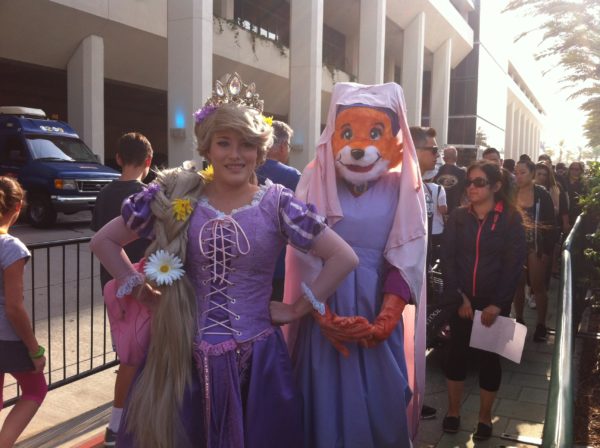 Princess Rapunzel and Maid Marion.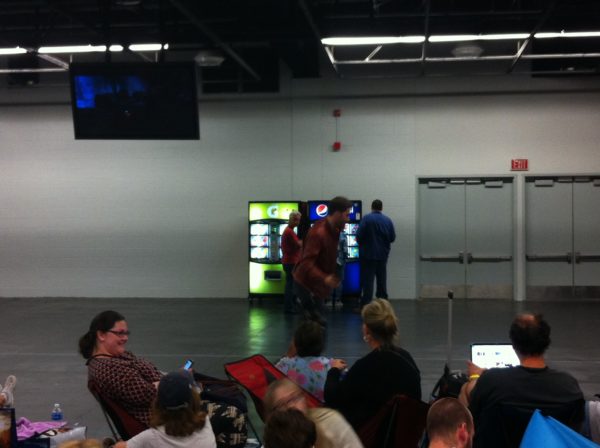 Star-Lord dancing along as Guardians of the Galaxy played for the Hall D23 line.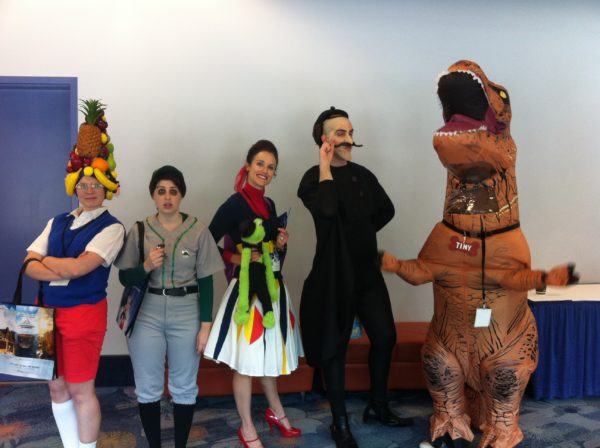 The cast of Meet the Robinsons.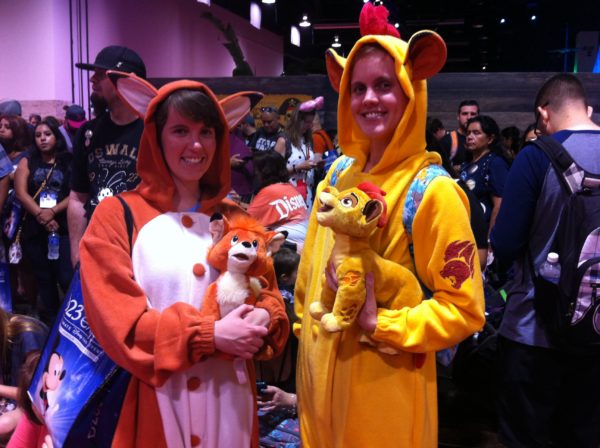 Todd (The Fox and the Hound) and Kion (The Lion Guard) having a pajama party.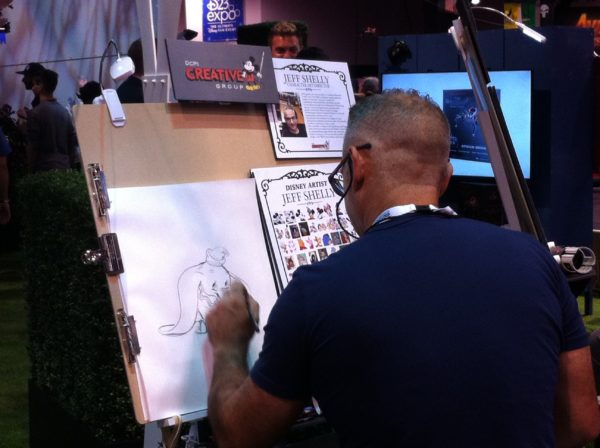 Animator Jeff Shelly illustrating Dumbo at the Disney Consumer Products and Interactive Media booth.
Te Kā (Moana) minus the headpiece.
Mary Poppins and Bert.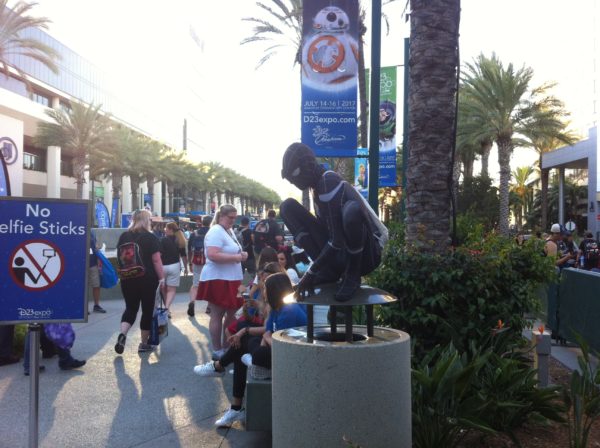 Alien-symbiote Spider-Man on watch.
Luke's Landspeeder on display in front of the convention center.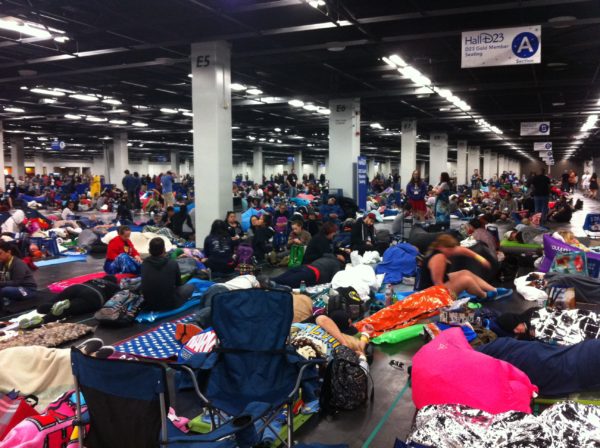 Attendees spending the night at the convention center for the Saturday live action presentation.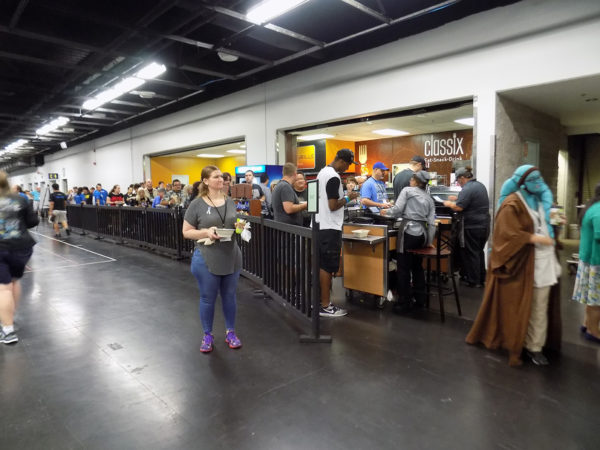 Attendees getting food after waking up from the overnight in the convention center.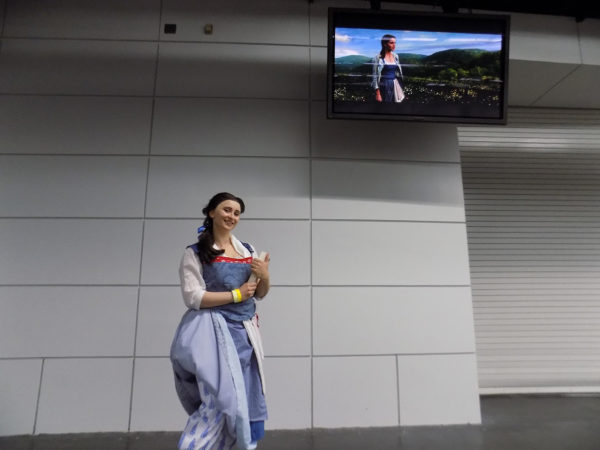 Belle as the live action Beauty and the Beast played for the Hall D23 line.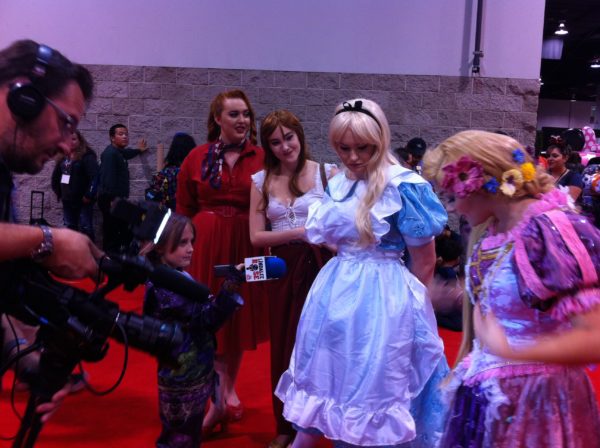 Jessica Rabbit, Jane Porter, Alice, and Rapunzel facing their toughest interviewer.
Leia Organa wearing Han Solo's clothes.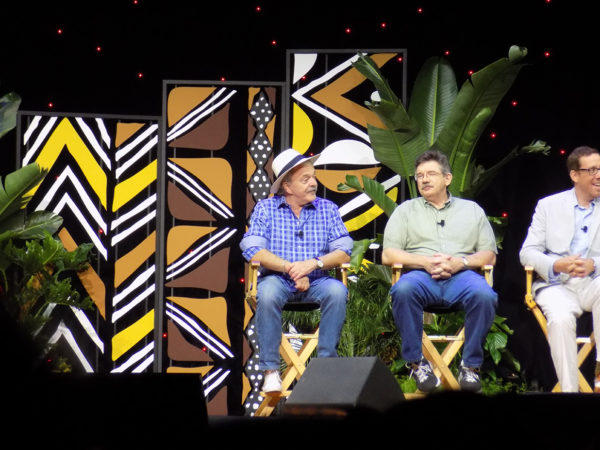 Jim Cummings (voice of Ed) joining The Lion King panel.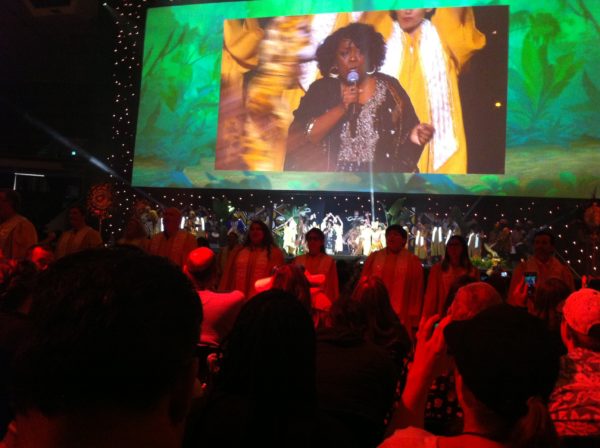 Carmen Twillie singing "Circle of Life" to end The Lion King panel.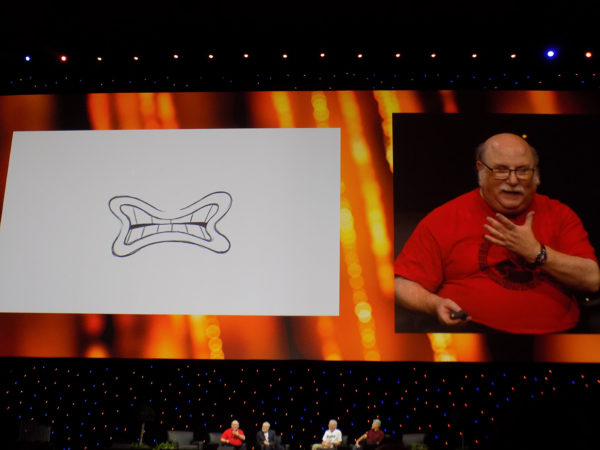 Animator Eric Goldberg describing voice actor Danny DeVito's "under the nose bow tie" mouth shape during the Hercules panel.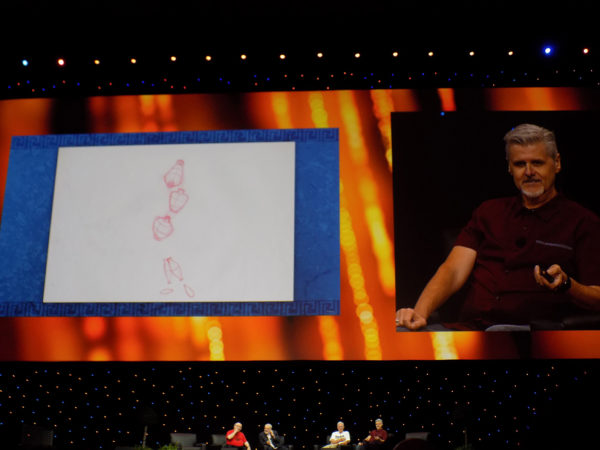 Animator Ken Duncan explaining how pottery helped to shape Meg during the Hercules panel.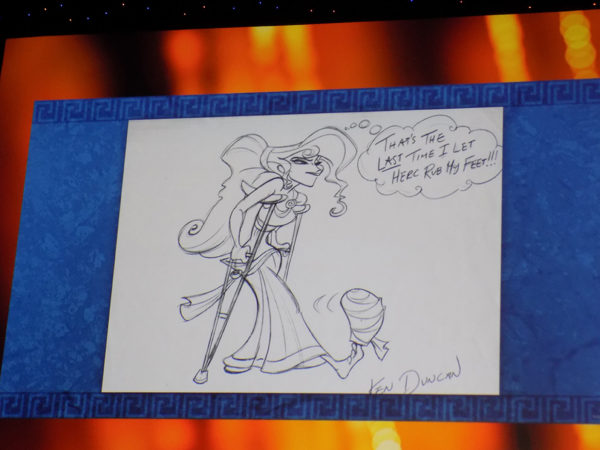 Animator Ken Duncan displaying his illustration of Meg in a cast for voice actress Susan Egan during the Hercules panel.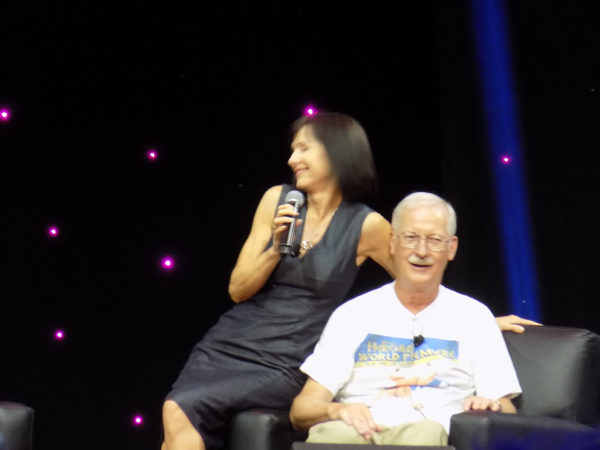 Susan Egan (voice of Meg) singing "I Won't Say (I'm in Love)" and dancing around director John Musker during the Hercules panel.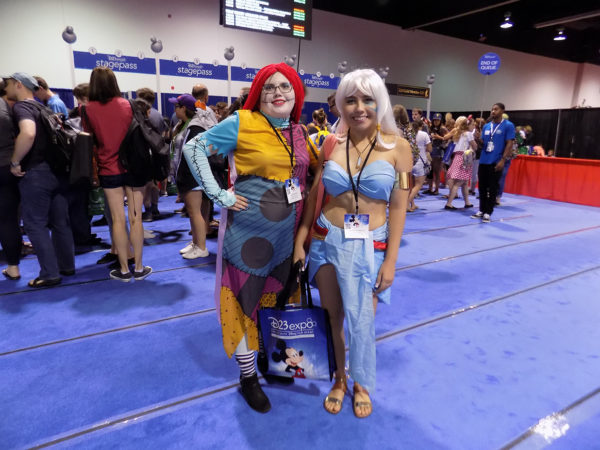 Sally (The Nightmare Before Christmas) and Kida (Atlantis: The Lost Empire).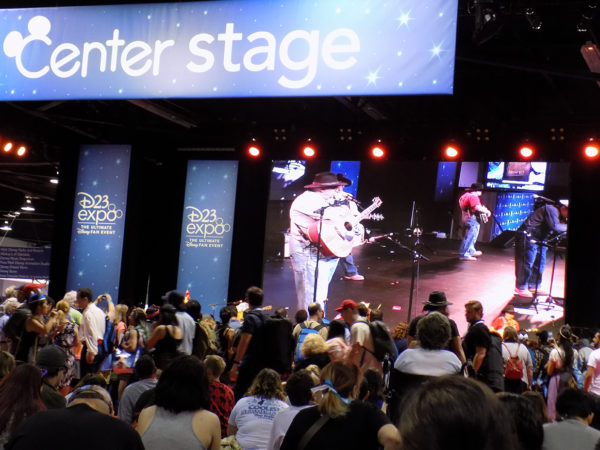 Billy Hill and the Hillbillies returning to perform on the show floor Center Stage.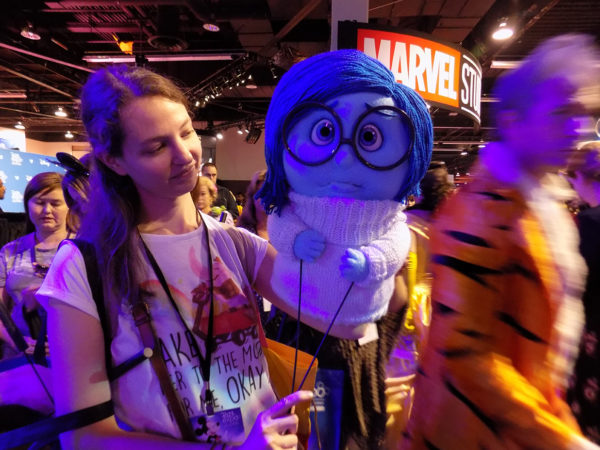 A beautifully crafted puppet of Sadness (Inside Out).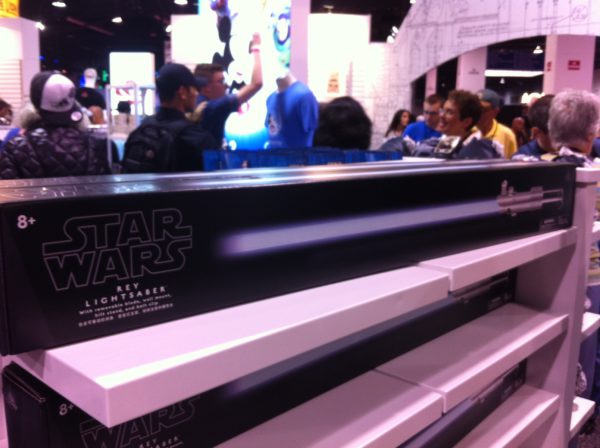 Rey's Lightsaber was a hot item at the Disney Dream Store.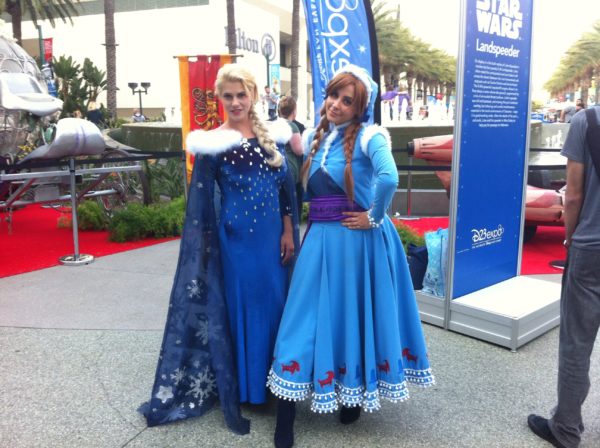 Elsa and Anna as they will appear in Olaf's Frozen Adventure.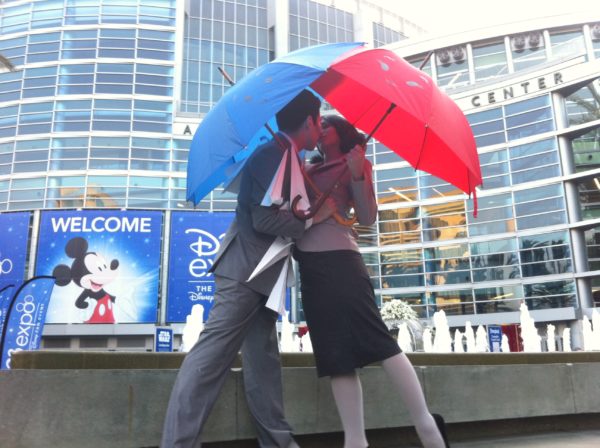 George and Meg from Paperman.
Exclusive Coco lithograph signed by director Lee Unkrich, producer Darla Anderson, and co-director Adrian Molina.