So that was the year that was, as they used to say. And as awards season comes to a close and the hubbub of the biggest ceremony of them all – the Oscars – turns to a reverential hush before talk begins of who may already be in the race for next year, Animated Views somewhat belatedly offers its own appraisal of the animated spectrum for the last year.
In a departure from our usual videodisc-based consensus on the top ten titles of the year, we've instead asked our merry band of reviewers and news contributors to paint their own pictures of the year, from movie releases, books, music, shows and, yes, those good old DVDs and Blu-ray Discs. So strap in to your DeLoreans for a(nother) return trip to 2015 and…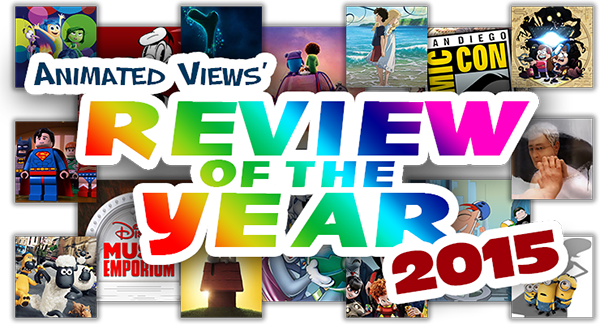 ---
Ben's Picks
In an Animated Views review some time ago, I explained my theory that the Disney Company's highs and lows could almost be predicted perfectly to a twenty-year cycle, hitting a high or a low at each ten-year interval. In a nutshell, recent events in the Studio's history suggested that 2015 especially would be a banner year for the Mouse House, although I could never have predicted just how huge that success would be! Ironically, Disney's animation unit itself didn't have a new film in release, but the combined strength of recent acquisitions Pixar, Marvel and Lucasfilm made sure that the likes of Inside Out, a second outing for the Avengers: Age Of Ultron (plus the vastly enjoyable Ant-Man) and the much-anticipated return for Star Wars: The Force Awakens generated record takings of around a billion dollars each, with Star Wars doubling that figure and Pixar dropping a second film in the same year for the first time with The Good Dinosaur, which underwhelmed and pointed out to the fact that animation, for me, took a back seat in a pretty poor year for any real classics, save for the return of Pixar's best director, Pete Docter and his latest film.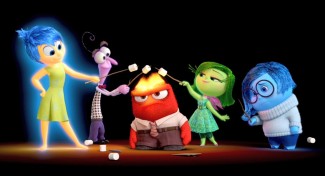 Animation or otherwise, 2015 was of course all about the deceptively simple genius of Inside Out [right], easily my film of the year until the likes of Oscar-worthy Mad Max: Fury Road drove along with its insane collage of stunts and effects – and all this from a director in his 70s! I also got a big nostalgia kick from the return of Rocky Balboa in Creed: just when you thought the character had been bled dry, here came a film that singlehandedly did the impossible and made all the previous sequels contextually better!
More than any other movie, however, I was most disappointed in the lackluster reaction to The Walk, Robert Zemeckis' narrative take on the Man On Wire documentary and tightrope artist Philippe Petit's life hightlight. A pretty bland and nondescript title aside, this was one of the most entertaining stories in years, expertly and disarmingly told and with a defining performance from Joseph Gordon-Levitt in a film that really captured the times and was, in its own motion-capture and visual effects-assisted way, an animated film itself.
In home entertainment, holdovers from the previous year saw the excellent Big Hero 6 get a super Blu-ray release (even if fans had to import to get a 3D version) along with the fairly successful translation of Sondheim's Into The Woods from Disney, while their Toy Story That Time Forgot really was probably best left forgotten and a contractual obligation to release George Lucas' final Industrial Light & Magic feature, the downright tedious and bizarre Strange Magic, was just embarrassing for everyone (and didn't even seem to warrant a Blu-ray release)! Much better from the world of Walt was a four-hour PBS American Experience documentary on the man himself that painted a pretty fair picture, while his one-time right-hand man Ub Iwerks was done justice by Steve Stanchfield's ever-phenomenal Thunderbean outfit and the first Ub Iwerks Studio Collection: Willie Whopper Blu-ray, easily the classic catalogue pick of the year, with Flip The Frog still to come!
From other studios, Shaun The Sheep Movie proved one of Aardman's best yet, totally told in "silent" pantomime action and a pleasure to see recognised with an Oscar nomination after an undeserved low box-office run, while Minions, which I still have to see, sounds like it surprised even those who were not huge Despicable fans. Other films I enjoyed varied from the niche (Tim Burton's Big Eyes with the ubiquitous Christoph Waltz) and grand failure (the over-stuffed but ambitious Tomorrowland) to the wildly entertaining Furious 7, blockbustersaurus Jurassic World (just about everything we wanted it to be) and the latest in the always thrilling Mission: Impossible – Rogue Nation (say what you like about your man Cruise, but the guy did that plane stunt for real). On the small screen, year two of Fargo didn't top the exemplary first but at least equalled it (no mean feat in itself), while it was very cool to finally hold a deluxe collection of my favourite band's legendary music promos in my hands with the release of The Beatles: 1 collection.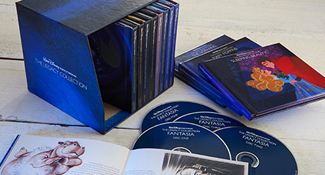 Off the screen, JB Kaufman's Pinocchio: The Making Of The Disney Epic followed up wonderfully on his Snow White book from the year before, while Didier Ghez's They Drew As They Pleased: The Hidden Art Of Disney's Golden Age covered the 1930s in the first of a planned series (and came right in time for my birthday!). And audio restorer Randy Thornton finally got to start on his dream series of (somewhat, but by no means) definitive selected soundtrack releases with The Walt Disney Records Legacy Collection [right], a digibook-packaged set available individually or, naturally when everyone had already collected them, in a deluxe slipcase.
Another nice new issue came for My Fair Lady's 50th anniversary Blu-ray – much funnier than I remember – and staying with the musical theme, I was blown away by Imelda Staunton's powerhouse performance as Mama Rose in the London stage revival of Gypsy last summer (and am looking forward to seeing Glenn Close reprise her Sunset Boulevard role this May), even if the Back To The Future musical has been pushed back to 2017. Being a huge fan of the trilogy, I couldn't let October 21 2015 pass without a marathon viewing of all three films, and it was cool to see all the tie-ins that came about as the series celebrated its 30th anniversary too! Finally, Star Wars returned with what amounted to be a remake of the orginal film, although I'm intrigued to see where the series goes next: if The Force Awakens was Star Wars, then we still have a new Empire Strikes Back to look forward to, in that galaxy far, far away…!
---
Dacey's Picks
Pixar "came back" (if they were ever gone?) in a big way in 2015, starting with the release of Inside Out. Even after reading about the strong hype surrounding it for months, I think that most of us were still surprised by just how brilliant it was when we actually saw it. An emotional rollercoaster, but still just as full of charm and humor as the studio's other efforts (including a terrific nod to Chinatown), the movie is Pete Doctor's masterpiece, and quite possibly Pixar's best film to date (or, at the very least, the best one not directed by Brad Bird).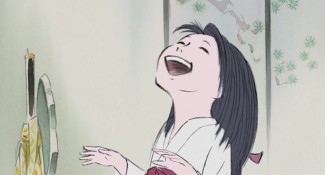 If it hadn't been for Inside Out's magnificence, I think that more people might've been more appreciative of The Good Dinosaur, a sweet and wonderful film which hit all the right notes for me. Despite – or perhaps because of – its "simplistic" plot, it embraced the strange (and the scary!) in ways that we've rarely seen the studio do, bringing to mind the better works of Don Bluth.
Outside of the world of Pixar, I will admit that I had a certain soft spot for Home, a movie which I at least found to be extremely likable, with hilarious performances by Jim Parsons and Steve Martin. Finally, Shaun The Sheep Movie – as virtually everyone else here attests – pretty much redefined the word "adorable", and it's a shame that Lionsgate wasn't able to sell it better in the States (it will be interesting to see how they handle the distribution of the My Little Pony movie next year).
Although technically a release from 2014, Studio Ghibli's The Tale Of The Princess Kaguya [above right] was a movie that most of the studio's fans in the west had to be content with discovering on disc the following year. Fortunately, the wait was worth it. A beautiful film in virtually every sense of the word, Isao Takahata's movie is as poignant as it is bittersweet, focusing on a heroine who loved life and the people around her, while being trapped in a situation that caused her rare moments of happiness to be all too fleeting. With an outstanding English dub – Chloë Grace Moretz is exceptional as the title character – the movie is a must-own for anyone who loves Ghibli, with the Blu-ray including the feature-length documentary Isao Takahata And His Tale Of The Princess Kaguya.
On the small screen, Rick And Morty continued to be one of the smartest cartoon shows on television for adults, and it's been great to see the series gradually get the large following it deserves as it goes along. For the smaller set, Disney's Captain Jake And The Never Land Pirates [below right] saw the Peter Pan spin-off really "evolve" into something even better than it was before, with lively animation, fast-paced adventures, and an assortment of fun new villains (with guest star voices like Malcolm McDowell and Mark Hamill behind them, too).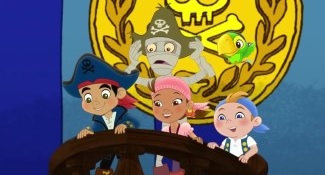 Lastly – and maybe most surprising to some – My Little Pony: Friendship Is Magic is still showing everyone how to make an animated series that's truly appealing for all ages, with wonderful characters and an almost irresistibly cheerful and refreshingly non-cynical tone.
While I have yet to see Strange Magic (which I remain curious about), the obscure titles The Seventh Dwarf and Gladiators Of Rome were easily the low points of the year for me. With nothing remarkable about them apart from some bizarre aspects (including a rapping walrus with an Afro in Dwarf), the only thing I find myself debating about the two movies is which of them was worse!
Far more disappointing, though, because it involved a great series, was Fox dumping their final season of Seth MacFarlane's hysterical American Dad! on a no-frills disc set, with pathetic DVR-quality picture and sound. A terrible way for the network to say goodbye to what was almost unquestionably their most underrated show.
---
Dan's Picks
In terms of animated features, I also found 2015 to be a relatively quiet year. This is due in large part to Inside Out being such a fantastic film on so many levels. Crafted with such care and intelligence that not even most live-action films could achieve, hardly any other animated feature could compare to it. Despite just how emotional the story was, I braved seeing the film a second time so that my brother and his family could experience it. On the other end of the spectrum there's Strange Magic, a film that was such a huge waste of talent and potential that you want to feel sorry for everyone involved. It represented why jukebox musicals tend to be looked down upon when the story has to be crafted around the songs being used. This was certainly the case when hardly thirty seconds passed before the next licensed song played with no natural flow to them, thus presenting a story that didn't have the substance needed to be enjoyable.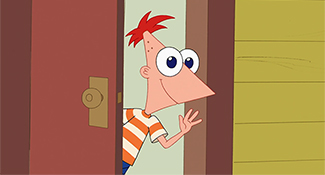 I actually found television had the more interesting year for animated programming. Disney's delightful Phineas And Ferb [right] came to an end after eight years with two finale episodes, spiritual finale Act Your Age and proper finale Last Day Of Summer. At the same time, they premiered the equally wonderful Star Vs. The Forces Of Evil.
Disney would ramp up the drama in their awesome shows Star Wars Rebels and Gravity Falls, the latter itself winding to a close. DreamWorks moved the popular Dragons series from Cartoon Network to Netflix with greater animation while maintaining quality storytelling. And My Little Pony: Friendship Is Magic celebrated its fifth anniversary with a 100th episode, Slice Of Life, that was a legendary explosion of fan pandering and servicing I doubt any other show could achieve.
But for me, 2015 was actually about conventions, and I got to attend three of the biggest of the year. Star Wars Celebration was quite the venture since it was leading up to the highly anticipated release of Star Wars: The Force Awakens. While I didn't get to attend a lot of programs, I managed to meet a great number of familiar Star Wars faces [below right] including Mark Hamill, Carrie Fisher, Billy Dee Williams, Ray Park, and Ian McDiarmid. I also got a chance to meet four of the five main voices of Star Wars Rebels in Vanessa Marshall, Taylor Grey, Tiya Sircar, and Steven Blum as they autographed an illustration I did while waiting in line for five hours, which they were blown away by.
The San Diego Comic-Con highlights of 2015 include a fascinating Disney Animators: The Power Of 2D and Floyd Norman: An Animated Life panels, a fantastic Ash Vs. Evil Dead panel, and the ever lovable My Little Pony: Friendship Is Magic and Quick Draw! romps. I managed to get sketches from animators Randy Haycock and Rick Farmiloe while also getting my own Gravity Falls sketch autographed by creator Alex Hirsch and voice Kristen Schaal. I got to meet director Gary Trousdale, the creator and cast of Star Vs. The Forces Of Evil, illustrators AKIMAN and J. Scott Campbell, and voice actors EG Daily and Mindy Sterling, just to name a few. I also picked up the first Rescue Sirens novel director Chris Sanders co-wrote with his wife, saw advance screenings of Sanjay's Super Team and the Guardians Of The Galaxy animated series, and got a free animation cel from The Secret Of NIMH.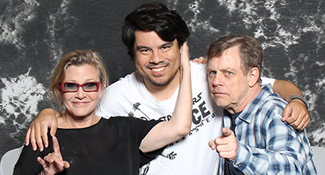 The favorite convention for me, though, was D23 Expo, just a fantastic weekend of all things Disney that featured excellent animation and live-action panels that had everyone cheering. The video game panel was tons of fun and the Toy Story 20th anniversary panel was a joyful trip down memory lane with the film's creative team.
There was also the wonderful display showcasing some of the favorite attractions and historical items from the 60-year history of Disneyland as well as a look at what we can expect to see at Shanghai Disneyland. And I got to meet the likes of the legendary Dick Van Dyke, Frozen songwriters Robert and Kristen Lopez, Young Anna speaking voice Livvy Stubenrauch, Kim Possible herself Christy Carlson Romano, and Ahsoka Tano herself Ashley Eckstein, just to name a few. It's easy to see that animation events were more of a highlight for me in 2015 than animation programming.
---
James' Picks
2015 won't be remembered as a banner year for feature animation. And while I wasn't as completely enamored with Inside Out as most others were, it was still easily the cream of the crop. Pixar's return to form started with a unique premise, added in fun performances, great music, and interesting visuals, then topped it all off with an emotional resonance felt and understood by audiences no matter their age. People can complain about the studio's sequels all they want as long as Pixar's originals are this good.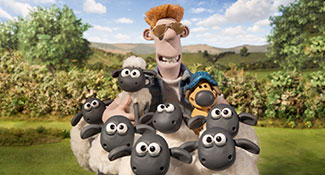 Taking a more low-tech route, Shaun The Sheep Movie [right] was utterly charming – its box office performance was caused more from a lack of the over-the-top marketing we usually see for animated films from the bigger studios than anything wrong with the movie itself. Aardman's usual top-notch stop-motion animation was on full display and, while the story was bare-bones, it was also fun, well done, and tightly written. Those that gave it a chance were not disappointed, a feat all the more incredible in a feature film that was entirely dialogue-free.
Stretching across both new and old school approaches, The Peanuts Movie was a faithful adaptation with a modern sensibility. While a bit wishy-washy at times, as a whole it exceeded expectations. The bad? The plot was extremely episodic, more so than any other film I can think of in recent memory. And the indecipherable teacher has apparently made the school into a PC safe zone and put the whole gang through classes on empathy for blockheads! The good? CG animated Peanuts sounded like a terrible idea but Blue Sky's implementation couldn't have been any better. The voice acting was spot on, the music was entirely suitable to the brand, and the whole thing was was a lot of fun.
Way back in our Best Of 2012 piece, I made special mention of a new Disney show called Gravity Falls. At the time I praised it for its top notch writing, complex characters, fun dialogue, and use of a set mythology and continuity. Little could I have known that, as the show reached its conclusion, what I'll most remember about the series is its achingly realistic portrayal of the process of moving from childhood to maturity. Forget multi-bears, Time Baby, eyebats, and all the other weird creatures and sci-fi storylines – in the end the story was always about two siblings scared more of growing up and moving on than they were of monsters and mayhem. Kids are living it, and grownups remember it, and the show always respected its fans on both sides of that divide.
---
Jérémie's Picks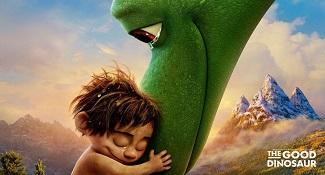 It's not quite my own cinematographic experience I want to share here, but my witnessing of another's very important one. In 2015 my son turned two, and seeing him every day discovering the world and marveling at it has been a revelation for me. He's very sincere in his reactions, expressing himself definitely to the point, often unexpected, always relevant.
Jean-Christophe experienced his first Pixar film on video, being too young at the time of its theatrical release to go and see it on the big screen, and so we discovered Inside Out all together, along with his mother, my lovely Caroline, at home. While I first tended to focus on the character of Joy, he immediately felt connected to Sadness, whom he called "Bébé triste" (Sad Baby). He understood faster than me the importance of that character. He followed her emotional journey with great attention and compassion, and she became one of his first favorite characters.
Jean-Christophe's first theatrical experience was then The Good Dinosaur [above right]. Of course, this wasn't the best received Pixar animated film ever, not being the most imaginative or original one in the Lamp's galaxy. But that assertion is valid only provided you know a certain animation culture. Have you ever wondered if each movie you saw could be the first one? What if we just let the movie speak to our heart, without always comparing it to others? That's what I learned from looking at Jean-Christophe during the screening. I had seen the movie once before to make sure it was suitable for him, so it was then more interesting for me to watch him, look at his reactions, and anticipate some of the more dramatic elements so as to lighten and support the strength of those moments for a youngster.
And it worked! Experiencing the movie that way helped me critically see the movie differently, and feel, really feel, how some kind of expertise (relatively speaking!) can, sometimes, influence your vision and even obliterate some part in the understanding of a movie, some essential part, which is the basis of any art form after all – the conveying of emotion. The very fascination my son felt, and the fact that the story has stayed with him (he always talks about Arlo and Spot) led me to reconsider my initial opinion on the movie. This doesn't make it a better film (it being good already after all), but I really came to enjoy it, and respond emotionally to it. Thank you, Jean-Christophe!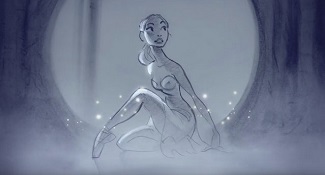 On a more personal level, as a musician, I was particularly moved by the John Williams Celebration held at the Walt Disney Concert Hall in September 2014 and released on video in 2015. You realise the genius of the man, as a composer, but also his aura, as Maestro Gustavo Dudamel threw him the baton. Dudamel did wonders as he personally conducted the LA Phil, but Mr. Williams' presence literally transformed the orchestra playing the Imperial March.
That kind of concert, showing the excellence of classical music players, and associating it with film music, demonstrates that there are so many bonds between the two universes that have to be created, provided there's quality on both sides. Film music, at that level, certainly stands as the art of the 20th and 21st centuries, and part of the future of orchestral music. I found the same connection between popular and classical art in Glen Keane's Nephtali [above right]. There's such a purity in both mediums – hand-drawn animation and ballet – and Glen was able to capture that in his own art. And being fortunate enough to be able to talk about that with him was one of the highlights of my year, as Glen is such a gentle man, generous in his way of sharing, so passionate about art, and so inspiring as an artist.
Finally, to me, 2015 was very rich in terms of book publications. I will retain, of course, JB Kaufman's definitive work on Pinocchio, which is a must have, and also Didier Ghez's first art book, They Drew As They Pleased, which is just essential. They represent the perfect balance between expertise and passion (but, in the end, one doesn't get by without the other, does it?). Let me just finish on a note of personal pride: last summer, I was asked by Disneyland Paris to write a book for the 20th anniversary of Paris' Space Mountain. The book was conceived as a travelogue, charting the historic and artistic roots of the attraction from Jules Verne to Walt Disney and the Imagineers who realised it. The book was launched at the anniversary ceremony, at the park in July 2015 and although it's now out of print, it just received the TopCom Silver Award 2016 for best corporate communication! What a year!
---
Randall's Picks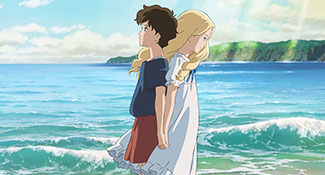 All by itself, I thought Inside Out made 2015 a great year for animated films. I felt privileged to attend one of Fathom Events' advanced screenings of the film, which also included a filmed tour of Pixar and a live question-and-answer session with director Pete Docter and star Amy Poehler. Those bonuses made the evening especially memorable, but the best part was the film itself, featuring a clever (if perhaps not entirely original) premise that followed through with a brilliant but deceptively simple story.
Studio Ghibli's latest and possibly final film, When Marnie Was Here [right], also reached the lofty standards of its producing studio, while DreamWorks Animation's Home likewise matched its studio's (not fully deserved) fading reputation by being derivative, overly jokey, and visually unappealing. It is so ironic that 2014 was a financial disaster for DWA, with two bombs out of three films even though I liked all three quite a bit, and yet I really disliked their single 2015 entry, and it turned out to be a big hit. Go figure! From the UK, Aardman gave us their charming and funny Shaun The Sheep Movie, although against all odds I haven't seen Minions yet, which looks like a Netflix night for me in the future. (Speaking of Netflix, I really need to watch the weird ILM bomb Strange Magic some night.)
As a big Peanuts lover, I am disappointed in myself for not seeing The Peanuts Movie in the theater, but I do have the 3D Blu-ray preordered. On the made-for-video front, the long-delayed Tinker Bell And The Legend Of The Neverbeast underwhelmed, but I enjoyed the many Warner Bros. Animation releases to varying degrees. In terms of DC Comics movies, the Lego Justice League film was the most fun, and even the toy-oriented Batman Unlimited line showed itself capable of producing decent kids' films. Meanwhile, the overly gritty and violent Justice League and Batman movies were mediocre, but the alternate version of the team shown in Justice League: Gods And Monsters at least served up an interesting new take on our heroes. And Thunderbean Animation once again showed itself to be the classic animation fan's best friend by not only updating their Private Snafu disc to Blu-ray (with even more material this time around), but also putting out a Blu-ray of 1930s Van Beuren Studio shorts, plus a complete collection of Ub Iwerks' Willie Whopper – something I certainly thought I would never see, but am extremely grateful to now own.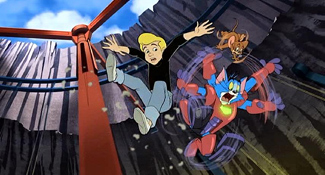 Hanna-Barbera made a comeback with a new Flintstones direct-to-video movie, a nice effort except for distastefully banking equally on being a pro-wrestling tie-in as much as a Flintstones effort. And Tom And Jerry in Spy Quest [right] turned out to be a loopy, bizarre mishmash, combining the cat-and-mouse duo with Jonny Quest, throwing in some Droopy, and adding in a sexy song and dance number starring Jezebel Jade; having the wonderful James Hong voice Dr. Zin was another surreally fun decision for this movie. I'd love to see more of these cartoon team-ups. Looney Tunes: Rabbits Run also had its moments and made for a fun watch with my own kiddo.
In related news, I was thrilled to see Disney Movie Club releasing so many of Disney's live-action films to Blu-ray this year, including the Witch Mountain movies, Swiss Family Robinson, Treasure Island, and several others. Too bad they are Club exclusives, but it certainly makes it worthwhile being a member. Disney Comics have also enjoyed the spotlight, with fantastic Mickey Mouse newspaper strip reprints continuing from Fantagraphics, who also publish beautiful volumes of Donald Duck and Uncle Scrooge comics by Carl Barks and Don Rosa. Meanwhile, IDW's new line of Disney comic books has been focusing on material only previously seen in Europe, including a wonderful Mickey and Uncle Scrooge 12-part epic in the pages of the revived Disney's Comics And Stories.
IDW also started a line of Donald Duck comic strip reprints (as part of their awesome Library Of American Comics line), and soon they will be unveiling their first volume of the classic newspaper strip Silly Symphonies! IDW also featured both Barks and Rosa in their impressive line of Artists Editions, which reprints stories scanned from original art and printed at original size; expensive but truly impressive books. A shout out also needs to go to Disney Music Emporium, who have been releasing fine collectible editions from the Disney music library, including their digibook line of CDs, new picture disc LP records, and even a massive set of Silly Symphonies soundtracks on vinyl. On a personal note, the recent boom in interest concerning records got me to buy a new turntable, which has led to me collecting many vintage Disney and Hanna-Barbera records. Great fun!
---
Your Picks!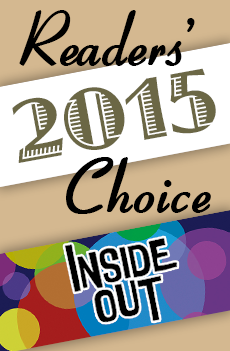 For the first time in the four years we've been asking Animated Views readers to rank the best animated movies of the year, Pixar has finally taken the top spot.
Inside Out won in a landslide with a score of 77 out of a perfect 100. The film received 68% of the first place votes, and appeared on an all-time high 88% of all ballots.
The Peanuts Movie was a distant second with a score of 29. It picked up 12% of the first place votes and was on 44% of all ballots.
Shaun The Sheep Movie was just behind with a score of 22. It only received 2% of the top votes but appeared on 43% of all ballots.
In fourth place was The Good Dinosaur with a score of 16. The film also received 2% of the first place votes and showed up on 31% of all ballots.
Rounding out the top five was Anomalisa with a score of 10. The indie film earned the third most first place votes with 5% but only appeared on 15% of all ballots.
---
---
So there we have it, folks! Whatever one felt about the abundance, or not, of animated goodness in the past year, it's clear that Inside Out swamped the animation conversation in 2015, and no wonder that Pete Docter took to the stage to accept the film's inevitable – but well deserved – Oscar win. Was it a case of the best film taking the gold? Or just that the competition wasn't up to snuff? Did your own choices make the cut, or did we overlook any films or other items that should have perhaps made our selections? Come join us in the Animated Views Forum to discuss your views and start the discussion rolling on what could feature on 2016's end of year lists. Until then, stay tooned!
— Ben and the entire Animated Views team!