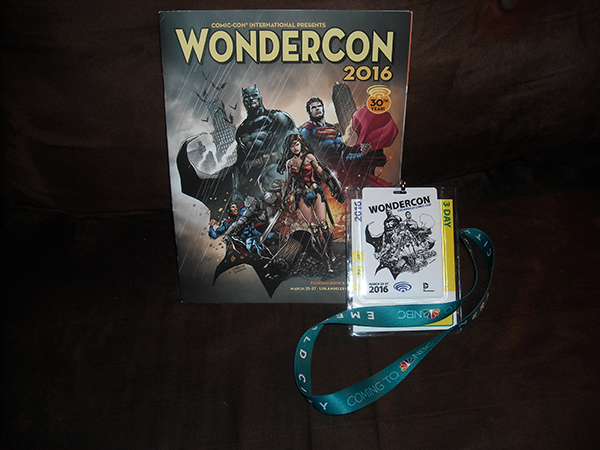 2016 marked the 30th anniversary of WonderCon, the sister convention to arguably the biggest and most revered of all conventions the San Diego Comic Con. WonderCon was initially a smaller scale comic book convention in Oakland, California before partnering up with Comic Con in 2001 and expanding its presence by moving to San Francisco. It has since moved south to Anaheim in 2012, but the Anaheim Convention Center is undergoing renovations this year. The Los Angeles Convention Center offered itself up for use and thus it became the temporary home of WonderCon from March 25-27. While its anniversary was something that wasn't touted as much given the occasion, it was nonetheless a fun affair and an ideal alternative for those who can't get into Comic Con.
Many viewed WonderCon taking place at the Los Angeles Convention Center as a possible test-run to try to woo its big brother into moving away from San Diego. If this was indeed the case, they got some issues to work out. On the one hand, the convention center seems big enough to house much more than the over 125,000 that flock to San Diego every summer without feeling too crowded. But on the other hand, it may be too big as attendees did feel lost trying to get from one point to another in search of the rooms where the panels took place. It certainly did not help that there was no WiFi and I'm concerned that would be a difficult thing to set up with there being multiple sections to the convention center.
This year also introduced a sort of security system. Every badge was electronically coded to prevent counterfeits and to ensure people were not trying to sneak in on days they did not pay for. Before entering the exhibit hall or going to a hallway where panels were taking place, attendees had to place their badge against a security post so that it would beep them in. But they also needed to tap the post to beep them out. If this was not done, the system would lock them out and force them to see guest services to fix the issue. While the intentions were admirable, most everyone found it fairly annoying. As joked by Mark Evanier, "It contains your name, your blood type, your web history over the last year, who you're going to vote for in the election…"
The Composers: Today's Greatest Superheroes of Music Signing
Early on the first day, there was a panel profiling music composers Kevin Kiner (Star Wars Rebels), John Debney (The Jungle Book), Brian Tyler (Avengers: Age of Ultron), and Tyler Bates (Guardians of the Galaxy). While I wasn't able to attend that, the four were present for a free signing at the Disney Music Emporium booth. They were primarily signing a convention exclusive lithograph that was given to those who purchased something at the booth, though Debney was also signing a recent poster for The Jungle Book.
The line was packed, but moved along at a nice pace, so no one felt like they were waiting. Brian and Tyler were pretty deep in their own conversation for me to speak with, but I did get a word with Kevin and John, expressing my admiration for their work. When I noted how I really liked the theme he put together for the fight scene between Ahsoka and the Inquisitors in Star Wars Rebels, Kevin said that he drew inspiration from Puccini when he developed the score.
---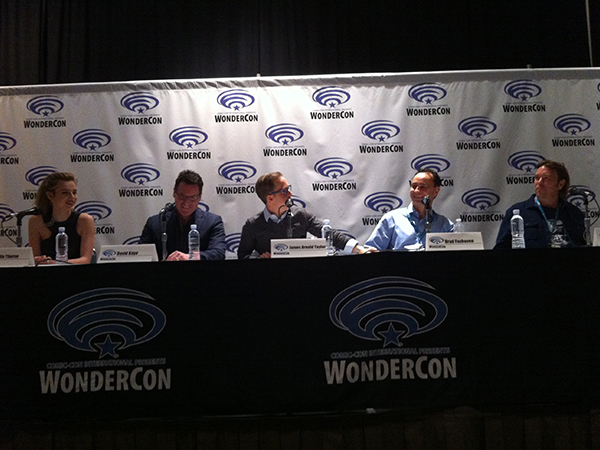 Ratchet and Clank
It was a pretty full room when Gramercy Pictures dropped in to present a look at their upcoming big screen adaptation of the hit Playstation video game series Ratchet and Clank. Present for the panel was director Kevin Munroe, producer Brad Foxhoven, and stars James Arnold Taylor (Ratchet), David Kaye (Clank), and Bella Thorne (Cora). They showed four clips from the film, all looking very nice and capturing the spirit of the video games quite well.
James and David expressed the fun they had continuing to voice their characters now for the big screen, Bella liked being able to play a character who was more like herself as a professed tomboy, and Kevin and Brad explained their wanting to be true to the spirit of games while injecting new ideas that would fit with the series. I asked them a question that would elaborate the last point as they were essentially redoing the origin story from the first game and they assured us that their collaboration with Insomniac, the developers of the games, kept them informed on how faithful they were being.
During the panel, it was announced that Bella was running Entertainment Weekly's Instagram account for the day and wanted to do a selfie with as many attendees in the room as could fit on screen. Ratchet and Clank blasts into theaters April 29.
Thunderbirds Are Go
There was a panel to present the recent update to the classic 1960s British series Thunderbirds. Thunderbirds Are Go, which had a generally positive response when ITV aired it last year, is being brought over to North America through Amazon Prime. Present for the panel was head writer Rob Hoegee and voice actors David Menkin (Gordon and Virgil Tracy), Andres Williams (The Hood), and David Graham (original and returning voice of Aloysius Parker). They explained their desire in being faithful to the original series while applying just enough modern material, both on screen and off, without changing it completely.
After they showed the trailer and a behind-the-scenes clip of how the Weta Workshop built the real location models the animation would be placed upon, I asked about the characters maintaining the classic marionette look despite being done in CG. Rob said that it not only served as tribute to the original, but they found that trying to create a different look would have made them look out of place against the realistic backgrounds. The panel finished with them airing the first episode in full to an enthusiastic response. Thunderbirds Are Go will steam in North America on Amazon Prime April 22.
---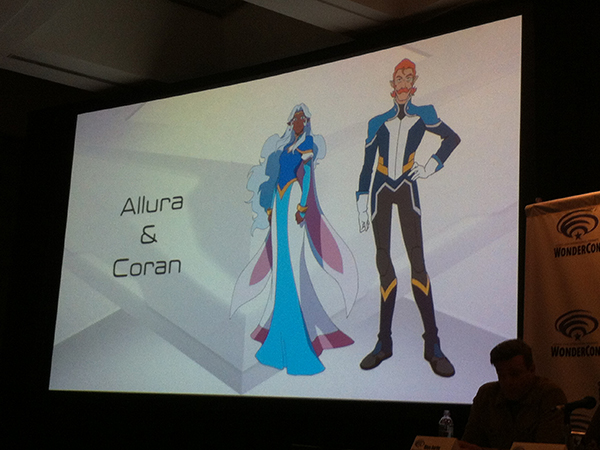 DreamWorks Animation's Voltron: Legendary Defender
It was another packed room as DreamWorks gave attendees a first look at the highly-anticipated Netflix series. They aired the initial teaser trailer first and it was so awesome it knocked out the audio system for a good several minutes, leaving moderator Jessica Chobot of Nerdist News and the panel to raise their voices as best as they could for a while until things were fixed.
On the panel was executive producers Joaquim Dos Santos and Lauren Montgomery, writer Tim Hedrick, and voice cast Jeremy Shada (Lance), Bex Taylor-Klaus (Pidge), Josh Keaton (Shiro), Tyler Labine (Hunk), Kimberly Brooks (Allura), and Rhys Darby (Coran). One voice not present was Steven Yeun (Keith), but he did send a video message to express his excitement for the series.
Against art displayed on screen, each of the cast got to explain their characters, from their personalities to their backstories. The producers noted their fandom for the original series and how they were updating it for a contemporary audience as well as exploring story points that they felt had previously been overlooked. I asked about their interest in diversifying the characters, as we saw Shiro replace Sven and Allura having darker skin color. Lauren explained this was a good opportunity, in updating Voltron, to create a show that would represent everyone, which got enthusiastic applauds from attendees.
They showed three scenes from the show, which garnered high approval from the audience, and they pointed out that the majority of the animation staff was brought over from Avatar: The Last Airbender and The Legend of Korra, who were also in the crowd. They finished with a full trailer to a standing ovation. Voltron: Legendary Defender takes flight on Netflix June 10.
Quick Draw!
As is a tradition at the San Diego Comic Con, Mark Evanier continued to present the ever popular and always hilarious Quick Draw! with legendary cartoonists Sergio Aragonés and Scott Shaw! The third man this time around was Kyle Baker, who was a couple minutes late due to the infamous Los Angeles traffic.
Topics that they illustrated included how they got to the convention center, what Sergio's scandal would be if he ran for President, Republican candidate Donald Trump's ideal running mate, visualizing one-on-one cartoon character fights as picked by the audience, creating new characters using audience suggestions that were mixed together, what would happen if they violated the convention's new security system, imagining themselves as Superman, and a real moment where their art got them in trouble.
Another fun bit was the secret words segment where a guest would try to figure out the words the artists were illustrating. The guest this time around was regular third man and Disney legend Floyd Norman. He had a hard time figuring out the first word ("wicked") due to being lost with where Sergio was going. Scott and Kyle used witches, but Sergio was trying to piece together a series of drawings involving cheeseburgers and Mister Ed. But Floyd managed to figure out the other two words ("dull" and "lime") more easily.
---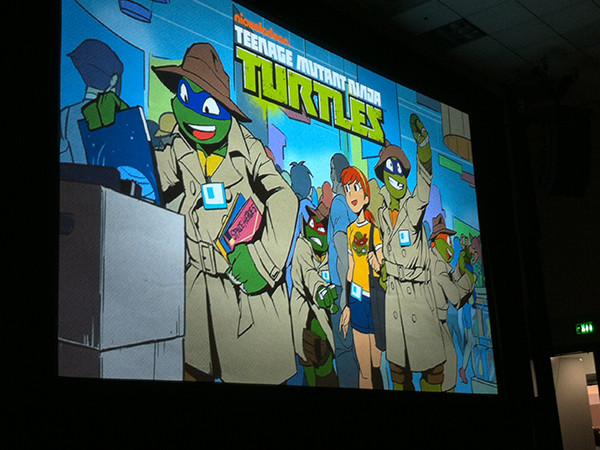 Nickelodeon's Teenage Mutant Ninja Turtles: Turtle Power
Super nerd Andre Meadows got a dream opportunity serving as moderator for the Teenage Mutant Ninja Turtles panel. Alongside series head writer Brandon Auman were voice cast Rob Paulsen (Donatello), Greg Cipes (Michelangelo), Kevin Michael Richardson (Shredder), Christian Lanz (Fish Face), and Zelda Williams (Mona Lisa).
They talked a bit about how season four had taken the Turtles into space and the storytelling possibilities it had opened, along with love for bringing in David Tennant to play Fugitoid, a fugitive android with a human brain. There were then a few clips previewing what was coming up, including bringing over a movie villain in Tokka and turning him into a kaiju-sized threat.
The panel then wrapped with a screening in full of the highly-anticipated episode Trans-Dimensional Turtles, where the Turtles team up with their 1980s counterparts to battle the Krang, the day before its television broadcast. The audience exploded with great laughter and enjoyment throughout, resulting in an episode that is sure to be recognized as one of the best in the series to date.
Cartoon Voices
Mark Evanier hosted another Comic Con tradition, Cartoon Voices. This round of the hilarious favorite featured Candi Milo (Foster's Home for Imaginary Friends), Townsend Coleman (The Tick), Maurice LaMarche (Pinky and the Brain), Amanda Troop (Achmed Saves America), and David Sobolov (Guardians of the Galaxy). I believe Troop was a last minute replacement for the previously scheduled Chuck McCann, who was apparently unable to attended.
In addition to going over some of their credits, the voice talent talked a bit about obscure voice jobs and noted figures they couldn't believe they were working with, the latter having Maurice and Townsend discuss fondly about working with Don Adams on Inspector Gadget. The tradition of blind reading a script was a hoot as they read an abridged script to The Wizard of Oz.
Hilarity ensued with Candi voicing Dorothy as an ill-tempered Latina, Maurice voicing the Munchkinland Mayor as Rodney Dangerfield, and Amanda voicing the Wicked Witch of the West as a droll Valley Girl Teenager. I managed to speak to Townsend afterward. With regards to the Trans-Dimensional Turtles episode that got screened earlier, he expressed absolute joy at being Michelangelo again and interacting with Greg Cipes' Mikey.
---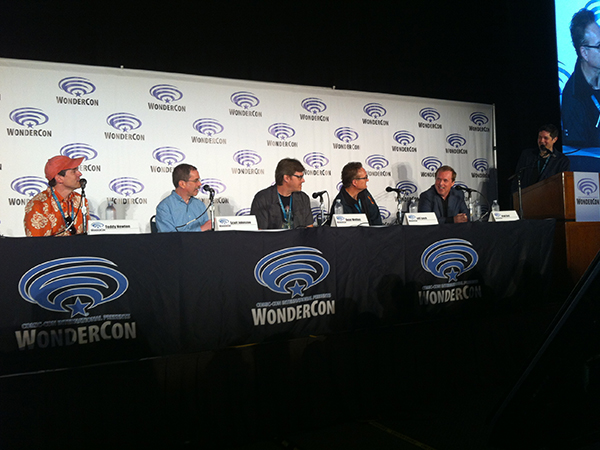 World Premiere and Q&A: The Giant's Dream
The program I was most looking forward to was the premiere screening of The Giant's Dream, the documentary on the making of The Iron Giant. Director Anthony Giacchino quickly introduced the film, noting that it was 95% finished. At 95% completed, the film was amazing.
Utilizing old video footage dug up from the archives and home movies creative crew had made alongside illustrations by animator Teddy Newton, the documentary told a fantastic underdog story of a director who stuck to the artistic principles he had been taught as well as the desire by everyone to make a film that could be as successful as anything Disney and DreamWorks were putting out. After the screening, Giacchino returned along with Iron Giant director Brad Bird and creative crew members Jeff Lynch, Dean Wellins, Scott Johnston, and Teddy Newton to further discuss making the animated classic.
I got a chance to ask Brad about using the name Hogarth, which he noted was in the original novel The Iron Man, but with the added last name of Hughes in a tribute to author Ted Hughes (the writer of the story on which the film was based), who passed away early on during production of The Iron Giant. It was clear from both the documentary and on the panel that Brad and his crew remain proud of the movie they made and are happy that it is still being recognized as an underappreciated gem. The Giant's Dream will be a special feature on The Iron Giant: Signature Edition on Blu-ray when its released on September 6th (and check out a video I took of the Q&A at the bottom of this page!).
Justice League vs. Young Justice
The second part of three panels from Warner Archives, Gary Miereanu and Warner Archive Collection podcasters D.W. Ferranti and Matthew Patterson hosted a special panel celebrating two beloved animated super hero shows Justice League and Young Justice. They were trying to stylize it as a debate to play off the release of Batman vs. Superman: Dawn of Justice, but by having Batman himself Kevin Conroy in the room, even members of Young Justice conceded to him.
Joining Kevin on the Justice League side was Susan Eisenberg (Wonder Woman) while Young Justice had producers Greg Wiseman and Brandon Vietti along with voice actors Khary Payton (Aqualad) and Jason Spisak (Kid Flash). Topics explored included the scale of battles fought, display of recreational downtime, and relationships. At one point, Kevin sang along to the clip playing "Am I Blue?" from the Justice League Unlimited episode This Little Piggy and was encouraged to keep going after the clip ended.
Nearly all of the fan questions were to Kevin and Susan, though I managed to try to provide a debate style question in asking about how both shows experienced their teams expand their roster and how it affect storytelling, and even voice acting, dynamics. Greg and Brandon explained that how they wrote Young Justice would have led to the roster needing to be expanded because there was only so many stories they could tell with the core members. Kevin and Susan cited Bruce Timm and Dwayne McDuffie utilizing the expanding roster as part of character development and growth across the board. The panel went on longer than scheduled and received an enthusiastic response when it finally ended.
---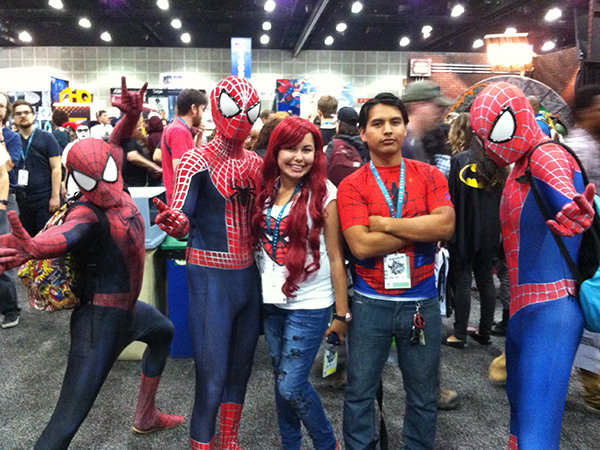 Cosplay
No matter the convention, fans would be out and about in costume. One would expect a lot of costumes related to Batman and Superman given WonderCon was the same weekend as the release of Batman vs. Superman: Dawn of Justice, but I only caught a couple. I actually spotted more Harley Quinn costumes with regards to those based on the two properties, and it was mostly in anticipation for Suicide Squad. In truth, it was a highly diverse set of costumes out and about. There really wasn't a set group that stood out above the others.
In fact, it was the groups that were my favorites. In particular was a group of Spider-Men, obviously playing off the recent Spider-Verse event in the comic books. And with a girl dressed as Mary Jane managing to be nearby, it created great photograph opportunities. Another group I liked was an all-female squadron of Stormtroopers. I imagine they're Captain Phasma's answer to Vader's 501st Legion. An amusing group was one calling themselves Happee Unicorn, which was essentially folks being enthusiastic about being pink unicorns like they were sports fans. I ended up helping them find their way to the registration area so they could pick up their badges.
I also liked some of the more unique and playful costumes. One man did a cross of Wolverine and Gaston, a nod to Hugh Jackman getting his start playing Gaston in the Beauty and the Beast stage musical. I also liked one girl who did a female Hercules of the Disney variety. And there were two girls who did Victorian-style Xena and Gabrielle. Though the most impressive costume had to be the guy who did an amazing life-like Thanos complete with realistic facial movements. It was quite an awesome sight to see, to the point that his helpers had to put up signs telling folks to not ask him to stop for photos because they wouldn't have been able to get any where otherwise.
---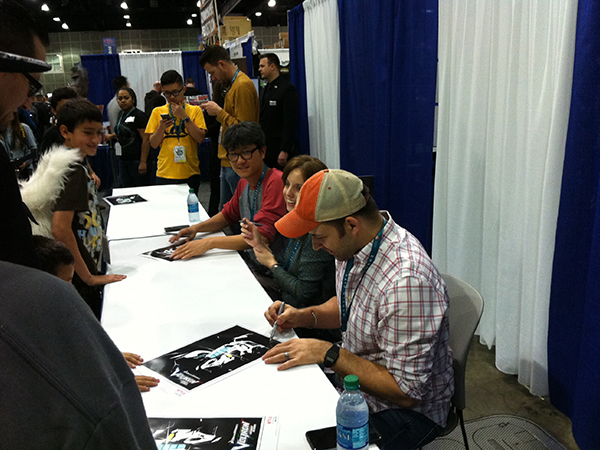 Random Sightings
It wouldn't be a convention without the chance to score freebies, particularly when attending panels. Attending the Ratchet and Clank and Voltron: Legendary Defender panels scored attendees lithograph posters while attendees of the Thunderbirds Are Go panel scored a series of character cards. But the coolest freebie I received I actually won during Geek & Sundry's Drama Club Heroes. I received a gift bag that included the three individual pins the Geek & Sundry booth was handing out each day, magnetic coasters, a mug for their TableTop! show, and the board game Kingdom Builder signed by TableTop! host Wil Wheaton along with Tara Platt, Yuri Lowenthal, and Paul Scheer, all four having played the game together in an episode.
I managed to get into two ticketed signings. The first was for Voltron: Legendary Defender producers Joaquim Dos Sontos and Lauren Montgomery with fellow producer Ki Hyun Ryu joining in. No surprise sketch by Ryu this time around. The second signing was for superstar comic book artist John Romita Jr. We briefly got to reminisce about his wonderful run on Amazing Spider-Man with J. Michael Straczynski as well as his recent appearance on Comic Book Men. I wouldn't have minded a sketch from him, but DC started to clamp down out of concern that it would cause his signing to run overtime.
I caught sight of Disney animator Rick Farmiloe at a booth doing commissioned sketches. I don't know if he was doing this all weekend, but he was certainly doing it for that day I saw him. Another animator I spotted was Stephen Silver, character designer on Kim Possible, Danny Phantom, and Clerks: The Animated Series. He had his own table and was selling prints and a book he did on life drawing.
The first part of the Warner Archives series of panels on Sunday featured a sing-along to the popular Batman: The Brave and the Bold musical episode Mayhem of the Music Meister! Brave audience members to step up to the microphone and sing earned one of many prizes, one of which I spotted was The Secret Squirrel Show: Complete Series DVD.
---
Below are more exclusive pictures and video from WonderCon 2016 at the Los Angeles Convention Center.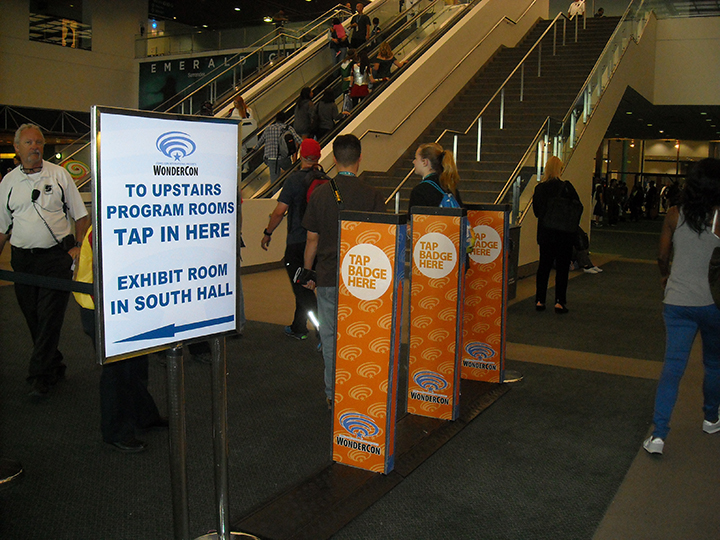 The badge security system being tested throughout the weekend to mixed reviews.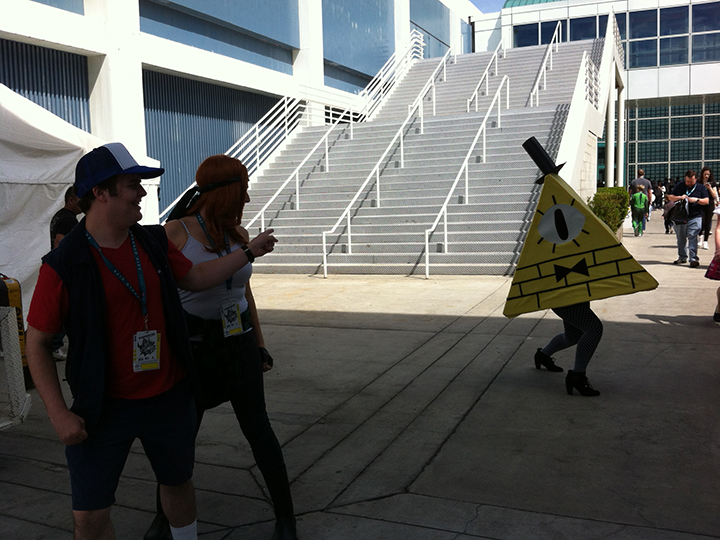 Dipper and Wendy have managed to escape Weirdmageddon, but so has Bill.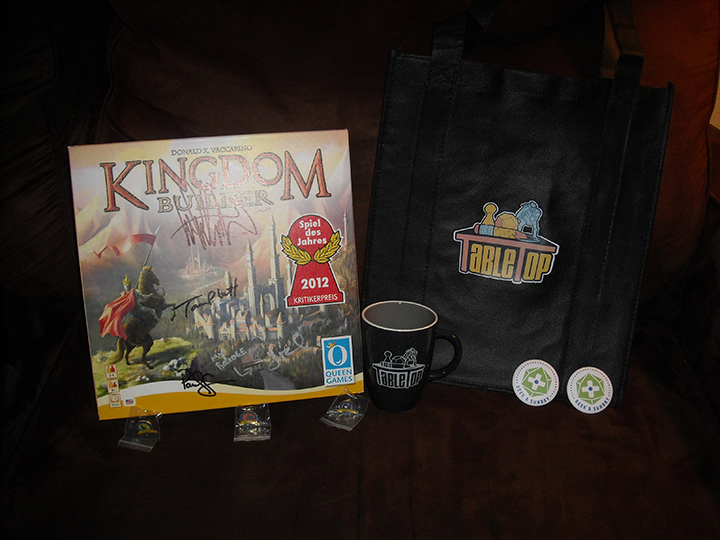 The Geek & Sundry gift bag with Kingdom Builder signed by Wil Wheaton, Tara Platt, Yuri Lowenthal, and Paul Scheer.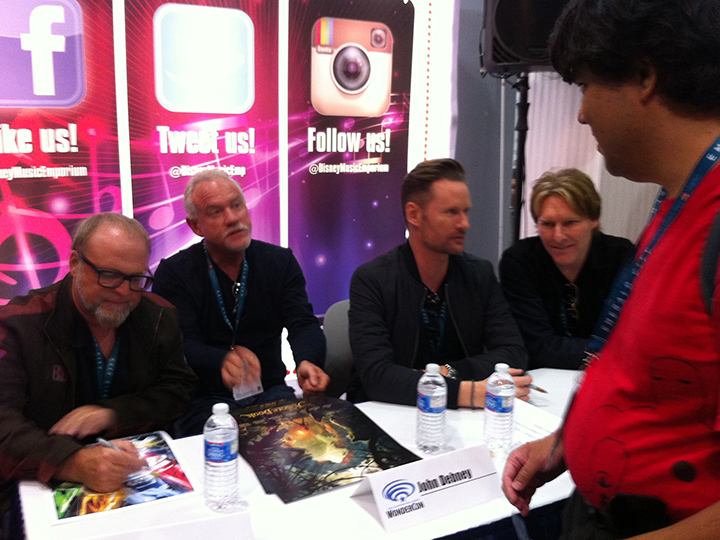 Dan with Disney composers (from left to right) Kevin Kiner, John Debney, Brian Tyler, and Tyler Bates.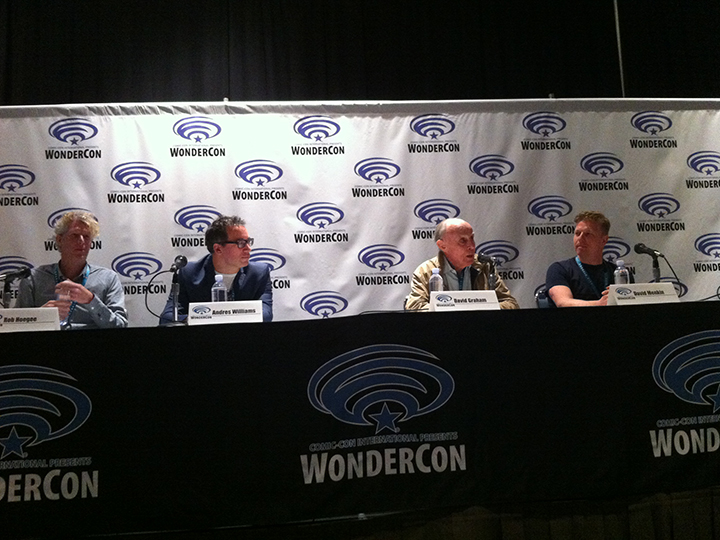 Thunderbirds Are Go panel with (from left to right) Rob Hoegee, Andres Williams, David Graham, and David Menkin.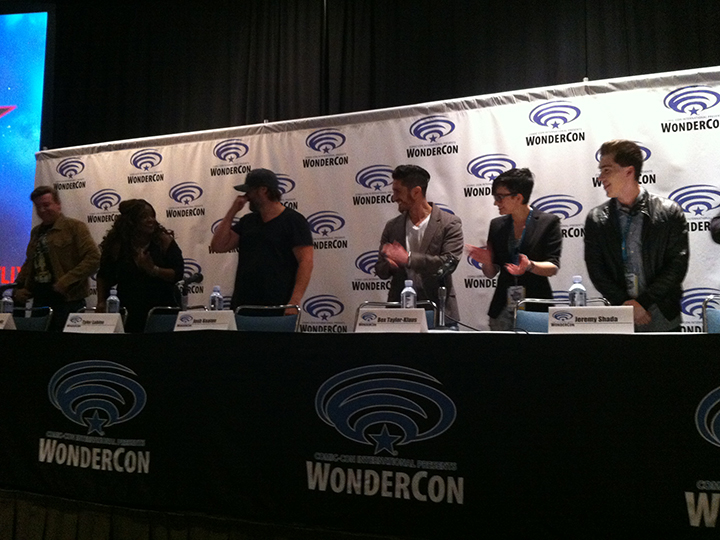 Cast of Voltron: Legendary Defender (from left to right) Rhys Darby, Kimberly Brooks, Tyler Labine, Josh Keaton,
Bex Taylor-Klaus, and Jeremy Shada.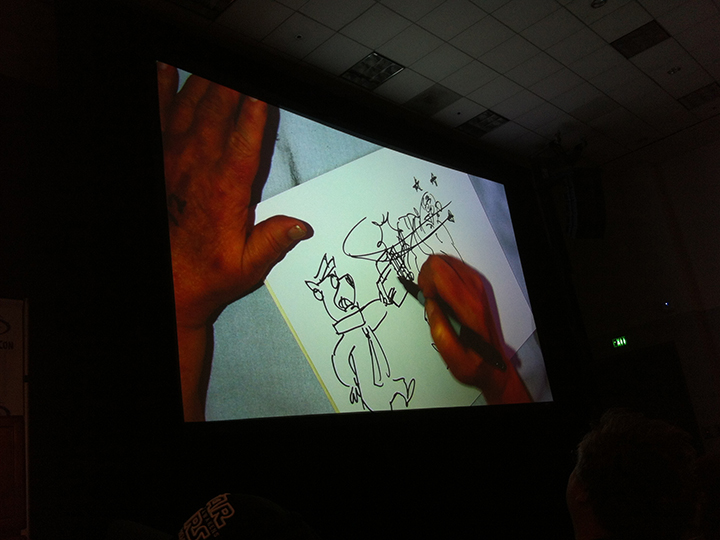 Scott Shaw! illustrates Yogi Bear vs. Swamp Thing during the hilarious Quick Draw!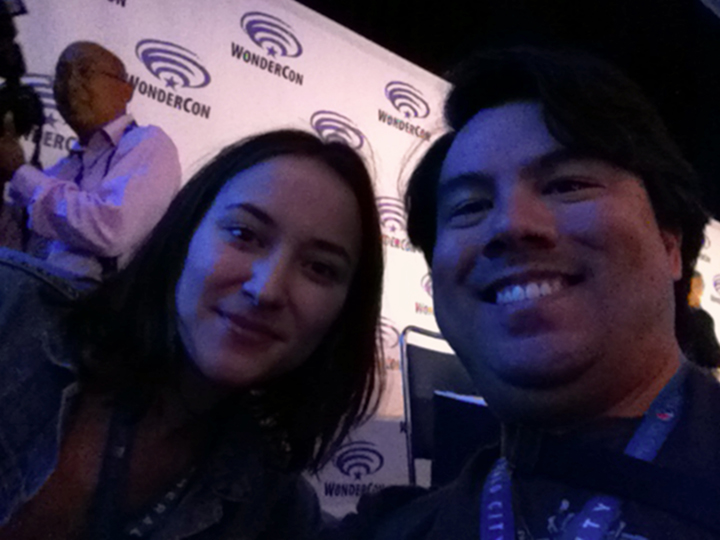 Dan with Teenage Mutant Ninja Turtles voice actress Zelda Williams.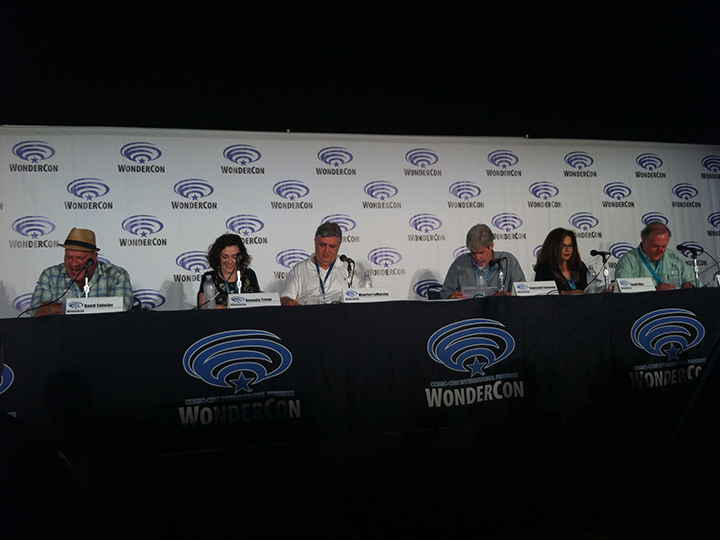 Cartoon Voices panel with (from left to right) David Sobolov, Amanda Troop, Maurice LaMarche, Townsend Coleman,
and Candi Milo with Mark Evanier hosting a blind script reading.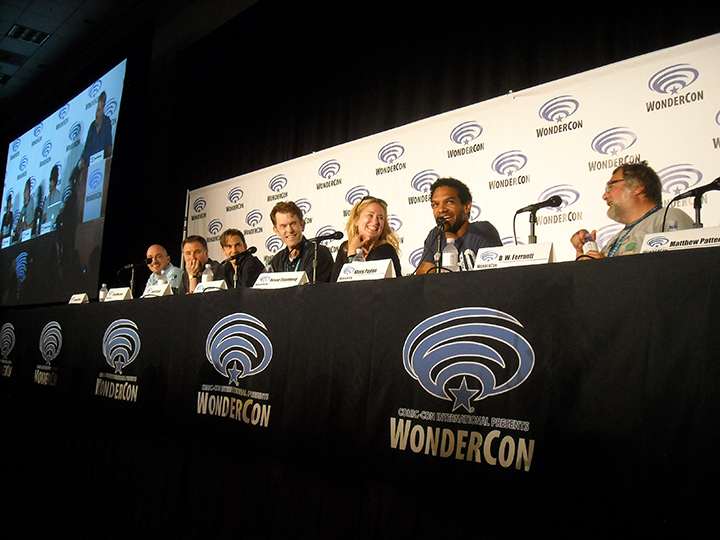 Justice League vs. Young Justice panel with (from left to right) Brandon Vietti, Greg Wiseman, Jason Spisak, Kevin Conroy,
Susan Eisenberg, and Khary Payton with co-host D.W. Ferranti.
The Giant's Dream Q&A with (visible from left to right) Dean Wellins, Jeff Lynch, Brad Bird, and Anthony Giacchino.