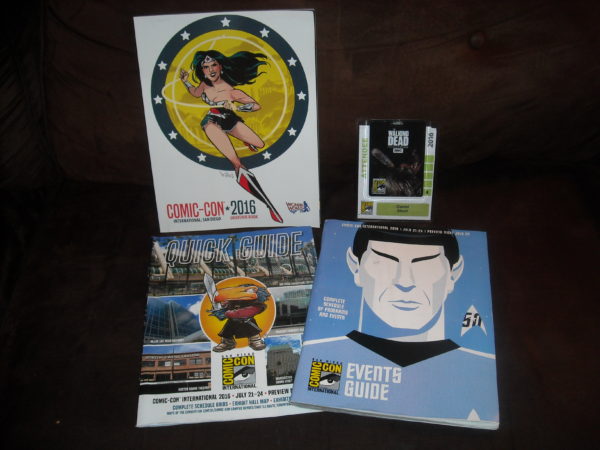 It was the most wonderful time of the year when hundreds of thousands flock to San Diego, California for the annual mecca of comic books and pop culture that was the San Diego Comic Con, running from July 20-25. For over forty years, Comic Con has become center stage as one of the biggest summer events, with the biggest names in virtually every medium of entertainment on-hand to promote programming, look back on history, and interact with fans with fun and exciting activities. As such, the event has been essentially sold out for years, with badges becoming harder and harder to obtain.
This year introduced the coded badge system that was seen at WonderCon. At every door into the San Diego Convention Center, attendees had to beep in upon entry and beep out whenever they were leaving. Learning from the test run in WonderCon, the security posts were only set up at the doors leading into the Convention Center as well as official programming spots at nearby hotels as opposed to be in other places, such as the doors leading into the exhibit hall or the programming room hallways, which caused confusion and headaches before.
With the overflow of fans migrating to San Diego for the weekend, the city continued to do a lot in offering their businesses and properties to provide more unique experiences, events, and activities that even fans who could not obtain a badge could attend and enjoy. Among them was Entertainment Weekly setting up their own mini-Comic Con set up on the harbor behind the Convention Center. With all this going on, it really did feel as though there was something for everyone, so much so that one had to pick and choose which programs and events to go to most to get the best out of their experience.
---
Nickelodeon Booth
So my first stop at Comic Con for 2016? Rushing straight to the Nickelodeon booth to hopefully get my hands on the Con exclusive statuettes of the title character from The Legend of Korra and Aang from Avatar: The Last Airbender courtesy of Dark Horse Entertainment. Such merchandise were highly sought after and they made only so many, 300 of Korra and 150 of Aang. Needlessly to say, it was a race to get as close to the front of the line as possible because those items were going to be sold out for the day before lunchtime. At least it wasn't the Hasbro booth, where one could only get it through a lottery.
While waiting in line, I got a chance to see them set up the full size animatronic of Olmec from Legends of the Hidden Temple, which will be revived into a film. The idea was that folks will line up to interact with Olmec, who would ask them a trivia question about Nickelodeon shows. Those who answer correctly would receive a toy prize while those answering incorrectly would receive consolation pins. Some of us commented that the pins looked more impressive than the prizes. The booth also handed out some freebies while I waited, providing me with Ren & Stimpy pins and a foam Chucky (from Rugrats) hair headpiece with accompanying glasses.
I was successful in getting one of the last statuettes sold for the day. Having succeeded in that, I decided to add the Nick Box to my order. The Nick Box is essentially be like Loot Crate, providing merchandise to subscribers monthly based on Nickelodeon shows. The inaugural box included a vinyl Reptar figure, a ceramic Stimpy mug, a Spunky plushie, and a Cynthia doll. Great value, if you ask me. The Nick Box will begin shipping August 15.
---
Chris Sanders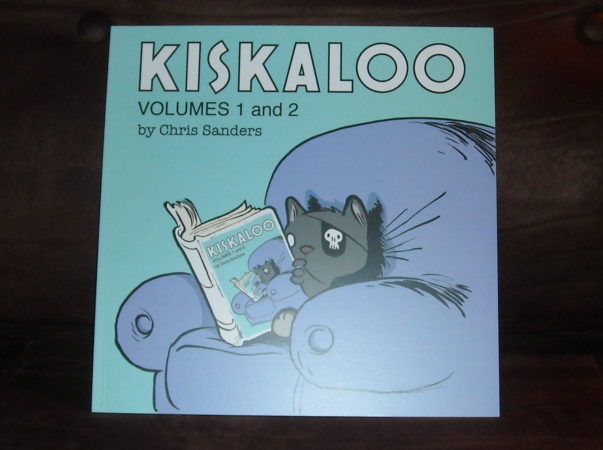 As always, the Lilo & Stitch and How to Train Your Dragon director had a booth set up at Comic Con. And I always made sure I swung by early to see what new things he had. While he still didn't have a new sketchbook this year, he did have quite a surprise. A long-awaited new volume of his comic strip Kiskaloo.
Those unfamiliar, Kiskaloo was a strip Sanders started after leaving Disney for DreamWorks and was in the vein of Calvin and Hobbes. It featured a one-eyed cat that was presumably modeled after a character that would have appeared in American Dog, the film that was ultimately reshaped into Bolt following Sanders' departure.
After making the first volume eight years ago, he put the project on hold due to his heavy work at DreamWorks as well as getting stumped creatively. So to see a new volume suddenly appear was quite unexpected. The two volumes were packaged into one book as the first volume was out of print. The strips from the new volume are currently being posted often on Instagram with the Kiskaloo Volumes 1 and 2 trade paperback being released in a few weeks.
Side note, I showed Sanders the video of my giving my niece a plethora of How to Train Your Dragon stuff for her birthday and he found it adorable. He was also interested in the Toothless plushie she got as he had not seen that particular one before.
Feed Your Head: The Visual Effects of Alice Through the Looking Glass
I missed the first ten minutes of this panel due to my venture in the Exhibit Hall, but I did arrive in time to see a deleted scene before Tefft Smith II and Ed W. Marsh of Halon Entertainment went into discussing and showing the work they did on Alice Through the Looking Glass. They used the sequence of the Jabberwocky attacking the Hightopps to demonstrate each stage of the process they went through to develop the visual effects. The four prominent stages they showed on screen were pre-visual animatics, rough animation, pre-lighting and rendering, and the final look seen in the film.
This turned into a nice, informative panel. There was a sense that most folks would be familiar with how animation was put together nowadays, but it was interesting to hear how there were different ways to approach making them. Smith and Marsh would mention how there would be moments where the animation would sometimes inspire the filmmakers to make some rewrites, sometimes to solve problems due to the script not being descriptive enough of what would be happening in a scene.
They had time for a Q&A session. Most were expanding upon certain points in the animation process, although I did like the question about how many members made up their team of animators working on the film as well as a cute little girl asking if they used live reference models, specifically little kids. Alice Through the Looking Glass is wrapping up its theatrical run and will be on Blu-ray in a few months.
---
Happy Happy Joy Joy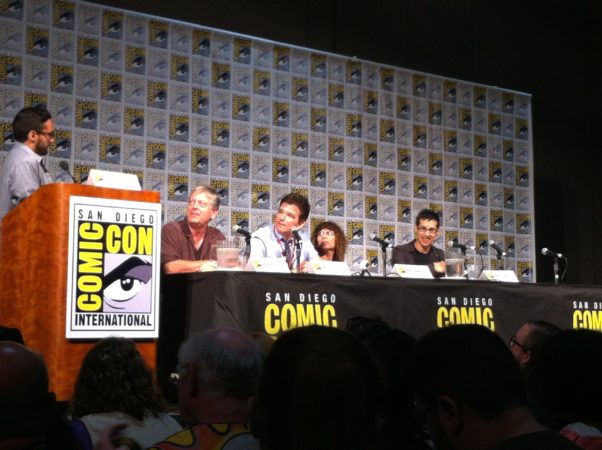 There was a packed room of over a thousand fans looking to celebrate 25 years of NickToons. Hector Navarro of the Nick Animation podcast moderated the exciting panel that featured Craig Bartlett (creator of Hey Arnold!), Butch Hartman (creator of Fairly OddParents and Danny Phantom), Arlene Klasky (co-creator of Rugrats and Wild Thornberrys), and Jhonen Vasquez (creator of Invader Zim). He concentrated on one creator at a time with rough drawings and character sheets from their shows being displayed on screen.
First up went Klasky, who talked about being there at the start of NickToons with Rugrats and managing to continue to develop new and rather groundbreaking shows along the way. A particular note was how unconventional the design of Eliza Thornberry was and the intent for her not to be considered beautiful in the conventional sense. Bartlett went next, talking about Hey Arnold! and the impact the show had. He added that it was thinks to its popularity on social media that he was able to develop the upcoming Hey Arnold!: Jungle Movie. They showed character model sheets and storyboards from the forthcoming special, which will be set one year after the show chronologically and would see Arnold trying to uncover more about the fate of his parents.
Hartman was next, joking how he seemed to be pumping out new shows often. Which, of course, led to discussing his next project, Bunsen is a Beast. It would center on a child monster trying to fit in at a human school while leading his friend through numerous misadventures from doors in his house leading to various locations. They showed the designs as well as a very nice and funny clip from the pilot, though the final look would be different. The panel was capped off with Vasquez talking about his strange venture from comics to animation and how he adapted. It was finished off with the premiere screening of his Teenage Mutant Ninja Turtles short Don vs. Raph, which was absolutely hilarious from start to finish.
This was a lovely panel as it allowed for everyone in the room to think fondly of great memories. Hartman joked around a lot, with one of them being that he would one day feature a character named Hector in one of his shows. Prior to the start, a couple of us discovered that we were sitting right in front of Anndi Lynn McAfee, who voiced Phoebe on Hey Arnold!, who came just for this event. I managed to score a picture with AnMcAfeendi before the panel and with Bartlett after. Both Hey Arnold!: Jungle Movie and Bunsen is a Beast are scheduled to air on Nickeldeon in 2017. The Don vs. Raph short is available to watch online, which I urge all to watch if you haven't already.
---
Moana: Art of Story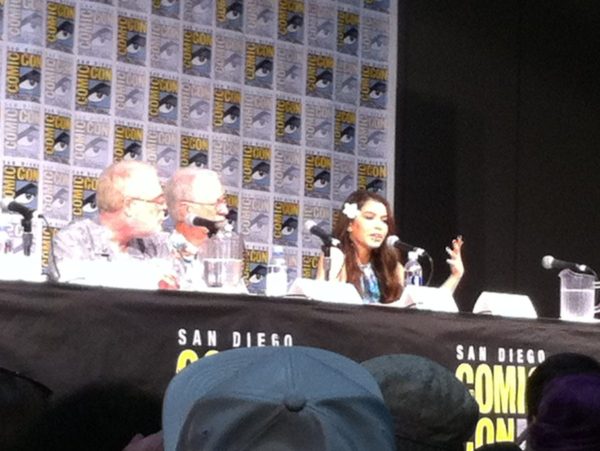 If the Nickelodeon panel was packed, the panel for Moana was even more so. This was clearly one of the most anticipated events at Comic Con, providing attendees an exclusive look at the upcoming Disney feature. On the panel were writer Jared Bush, head of animation Amy Smeed, producer Osnat Shurer, and directors Ron Clements and John Musker, the latter two being introduced by an excellent highlight reel of their past films to the cover of "Friend Like Me" by Ne-Yo.
They briefly summarized their roles with the directors talking about the development and shaping of the film, Shurer discussing bringing the music talent together, Bush writing the film, and Smeed animating. They showed a fun highlight reel of the core production team making trips to the South Pacific islands for research and inspiration. Bush jokingly lamented his not going on the trips. Any time Lin-Manuel Miranda was shown or his name appeared everyone popped loudly.
There were two big highlights. The first was the surprise appearance of Auli'li Cravalho, the young girl who became the voice of the title character. Following a video showing her audition and casting, Cravalho talked a bit about the joy of bringing a new Disney Princess to life, particularly one from the Pacific Islands such as herself. The second was all of the film footage they showed, including the first three minutes of the film as well as the first meeting of Moana and Maui. Speaking of Maui, it was revealed that the animation of the moving tattoos would be supervised by Disney favorite Eric Goldberg. Footage that caused everyone to melt was the test animation of the adorable pig character Pua.
There was enough time for Q&A at the end. I was able to ask Smeed about how, as head of animation, she was able to get the animators to focus on telling a story when it was easy for one to get lost in all the beautiful landscapes and scenery they were making. Smeed noted that it was more about how these landscapes and scenery would be part of the storytelling that kept them focused on the task at hand. Most of the questions were about creating such a diverse Disney Princess, which resulted in the directors revealing that Moana would not have a love interest in the film, garnering cheers and applauds from attendees.
They wrapped up noting that every attendee in the room received a ticket that would be used to pick-up a Con exclusive lithograph at the item redemption room. They also announced that signed posters would be available to those who went down to the Hasbro booth quick enough, which I managed to be among. The poster was signed by Musker, Clements, and Shurer. We got to see the directors and Cravalho taking a look at the Moana dolls that were on display before the posters were handed out. The whole experience was easily one of the highlights of the weekend. Moana will sail into theaters November 23.
---
Captain America 75th Anniversary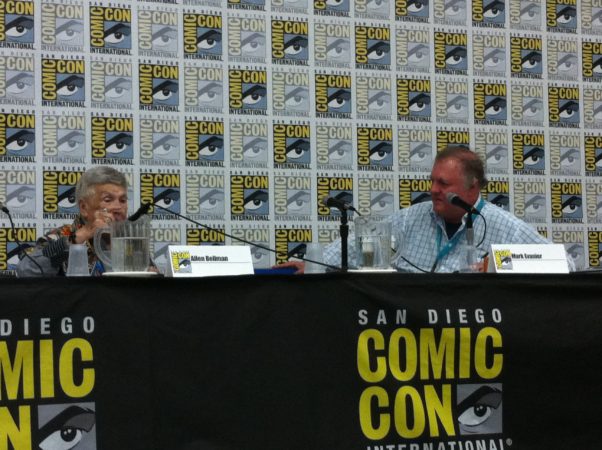 Mark Evanier, a well known name and personality who worked as an executive in both animation and comics, hosted a retrospective panel surrounding the creation of Captain America. Given it took place in a small room, it was evident that it was not really designed to explore past the 1940s or 1960s. Nevertheless, the room was completely packed with fans of all generations, displaying just how beloved the character was.
Evanier was formally an assistant to Jack "King" Kirby, the co-creator of Captain America and one of the all-time great comic book artists. But he was not the only one with insight on the character as he was joined by one of the few living artists to have worked on Captain America in the 1940s Allen Bellman. Evanier would explain the historical events and Bellman would provide commentary on his work as well as the atmosphere and working conditions that existed at Marvel, then Timely Comics. I got to ask Bellman if there was a particular story he enjoyed working on. He said that, while he actually didn't work on it, his favorite was "Princess of the Atom", an adaptation of a popular pulp novel The Girl in the Golden Atom with its author Ray Cummings actually writing the comic book anonymously alongside his daughter Betty.
While I'm sure a good number of people who attended the panel were expecting a more extravagant celebration of Captain America, I had little doubt everyone enjoyed themselves. The stories Evanier and Bellman told and providing historical context surrounding the character during his creation gave everyone a better appreciation for the work that went into creating a Golden Age Marvel. I imagine some folks event went hunting for those classic stories or at least learn more about the history of his creators and their working environment.
Thunderbirds Are Go Experience
There was a plethora of offsite events and experiences throughout downtown San Diego folks could attend with or without a Comic Con badge. One of the next experiences was a set-up Amazon put together for Thunderbirds Are Go. After waiting a short line, folks getting into the small structure would find themselves surrounded by some of the models that had been constructed by the Weta Workshop for the show and flown in from New Zealand.
The models were set up largely as photo opportunities for fans. Two key ones were being photographed in the cockpit of Thunderbird 2 and being rescued by one of the Tracy boys looking as though you were dangling for dear life. It was very neat to actually see the models up close and to be photographed with them. The city model turned out to actually be downtown San Diego, so Weta had built it specifically for Comic Con weekend.
I had just finished getting photographed in the cockpit when a trio of faces entered to the surprise of the exhibit staff. Voice actors Rasus Hardiker (Scott and Alan Tracy), David Menkin (Virgil and Gordon Tracy), and Andres Williams (The Hood) dropped in to have a look around. They were quite impressed being able to look around and see everything, as well as seeing attendees interact with the models. I managed to catch a word with Menkin and we talked about how the show was starting to build a bit of a following since Wondercon a few months back. With his help, I was able to pose with all of them to a life-size model of Gordon. I also managed to walk off with a lithograph of Thunderbird 1 and a pair of sunglasses I found myself in need of. The first season of Thunderbirds Are Go is currently streaming on Amazon Prime with season two scheduled to launch sometime in the 2016-2017 season.
---
Voltron: Legendary Defender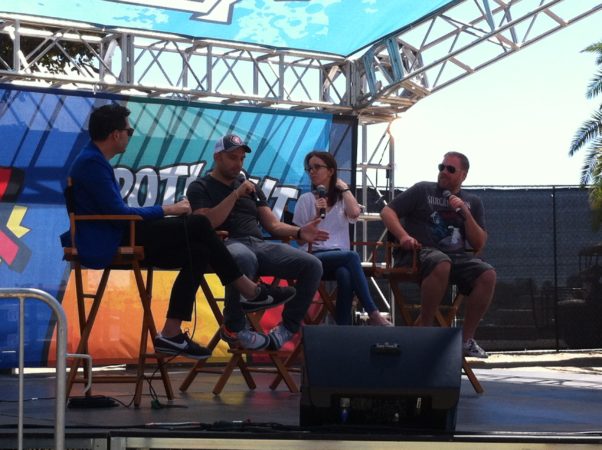 Voltron had proved to be popular enough to be one of the few programs to have had both a panel within Comic Con itself as well as one at the spotlight stage of Entertainment Weekly's Con-X that was open to the public. The line for Voltron at Comic Con was too long for me to consider then, so I went to the Con-X appearance. Present were executive producers Joaquim Dos Santos and Lauren Montgomery as well as Tim Hendrick. This appearance was a little shorter, running at most thirty minutes, and with the blazing sun outdoors most folks were keeping to the shade as opposed to surrounding the stage, but there was a nice among of attendees.
Much of the discussion was about making a show that was modern while maintaining the elements that they grew up on. They also had to be more careful about what they talked about because this, being open to the public, meant that they had to bare in mind of spoilers, having to reveal one given the hot topic that it was. They kept from talking too much about the cliffhanger the first season ended on, but did note that fans would not have to wait too long for the resolution as the second season was just about ready to go. There was no time for audience Q&A given the thirty minute time limit, though I'm sure most folks also wanted to avoid being under the hot sun any longer than they had to.
It was a nice presentation and offered a decent taste of what a Comic Con panel was like. Though they did have a monitor, it only displayed the names of those present on the stage and nothing more. While most of the summer heat was offset by being located near the harbor, lots of folks wanted to get away from the sun as much as they could and not brave being burnt so that they could be up close to the stage. Nevertheless, it was a public alternative for those unable to get a badge to attendee and was therefore a winner in my book. The second season of Voltron: Legendary Defender is scheduled to stream on Netflix sometime before the end of the year.
Yo-Kai Watch Voice Actor Event
For years, the Nintendo Gaming Lounge had been a popular destination for folks throughout the Comic Con weekend as it was an opportunity for gamers and fans to try out some of the latest games Nintendo had on tap. This year, they decided to expand the public experience by hosting a panel of their own with the Yo-Kai Watch Voice Actor Event. Present for the panel were Alicyn Packard (Jibanyan), Joey D'Auria (Whisper), and Melissa Hutchison (Komasan).
After a late start to ensure kids were seated or positioned comfortably, they opened with the actors providing voices to mascots of the present characters before switching to the panel proper. They aired a trailer of the show's "second season" and then the actors went into talking about what it was like voicing the show and how different it was compared to other shows they've worked on. The main attraction was the three of them performing a live voice demo to a couple scenes from forthcoming episodes. While they had trouble being in sync with what was happening on the screen, it was still fun watching them perform. The panel ended with a number of fans getting to partake in a giant group photo after finding tokens under their seats.
While certainly a little more kid oriented than the typical Comic Con panel, this was another nice alternative for the general public to experience something that would normally take place within the Convention Center. The voice actors certainly had a fun time, even when they were trying to keep pace with what was happening on screen during their voice demo. It's events like these that have made Comic Con such a fantastic experience to attend, whether it was onsite or off. New episodes of Yo-Kai Watch air daily on Disney XD.
---
Ashley Eckstein, Nathan Sawaya, and Andrew MacLaine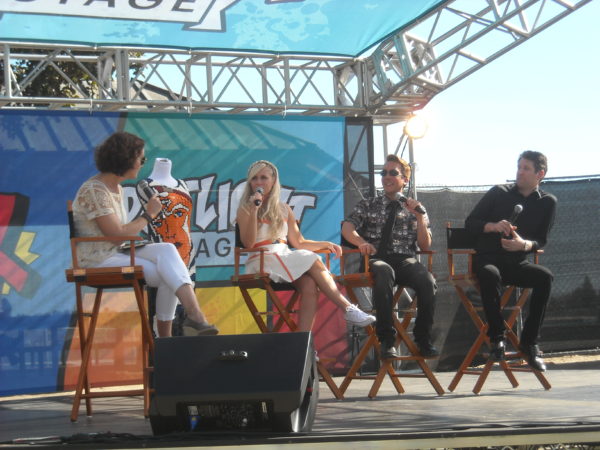 Later on at the spotlight stage at Entertainment Weekly's Con-X, Ashley Eckstein dropped by along with fashion designer Andrew MacLaine and Lego-based artist Nathan Sawaya. They were primarily present to talk more about Eckstein's Her Universe mainstream geek fashion for girls and the fashion show she had started running annually during Comic Con with MacLaine having been a winner of the fashion show a couple years back.
Much of the discussion was centered on a particular dress Eckstein wore during this year's fashion show, which was an Ahsoka Tano dress that was made almost entirely of Lego bricks and managed to be wearable. The trio talked about the work that went into making this dress and how they managed to pull it off. Eckstein would go on to talk more about the goal of Her Universe while adding Star Wars animation tidbits here and there, such as confirming Ahsoka returning in the third season of Star Wars Rebels, though keep her lips closed about what the character's ultimate fate was.
After the panel, Eckstein was set up at a table to do free autograph signings, which got long really quick, while the Lego dress was on display. I went up to her so we could chat fondly of how beautiful the "Twilight of the Apprentice" episode was. After she personalized an Ahsoka 8 x 10, I got her to sign my copy of the Only Yesterday Blu-ray. She was quite breathless as she had yet to sign anything related to the film up to that point, which made me feel all the more happy to meet her again.
Suicide Squad Belle Reve Experience
There were two really popular offsite experiences at Comic Con this year. One was for Game of Thrones. The other was for Suicide Squad. For either exhibit, the average wait time in line was around 3-4 hours. Of the two I went with Suicide Squad because I honestly didn't know what I was going to get myself into and such surprises usually panned out well for me. It did with the Thunderbirds Are Go experience.
Upon entering, a group of folks were led to a holding cell where a video transmission from Amanda Waller (played in the film by Viola Davis) gave a short briefing. After an event staffer explained the Samsung virtual reality process for a little bit, we were brought into the main room which was packed with attendees trying to do one of many activities. There was one that had folks painted up like one of the more colorful looking characters. Another had folks receiving tattoos, though it was probably rub on tattoos given kids were out and about. There was one that allowed for interactive photo videos of attendees placed within an animated get up of a character. With a token, folks could get a free water bottle and one snack of their choice. The T-shirt station was full so quickly that it was capped before I could get to it.
The main attraction was a virtual reality experience. Utilizing the 360 photography feature that Samsung had been introducing of late, folks got to experience watching an action scene from the film as though they were placed in a 360 degree environment. This made viewing very interesting as it allowed for an experience different from any one else by trying to track the action in a unique manner. After the scene ended, director David Ayer appeared and briefly added more about the technology before having us go through the scene once again, only this time from the perspective of Harley Quinn (played in the film by Margot Robbie). This turned out to be a whole lot of fun and made me look forward to the film even more. Suicide Squad busts into theaters August 5.
---
Reception and Art Exhibit for Nancy Cartwright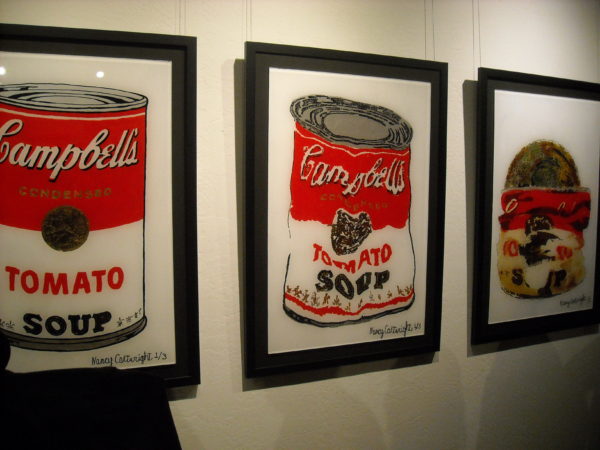 Most everyone would know that Nancy Cartwright was the talented voice behind Bart Simpson on the ever popular animated series The Simpsons. But few would know that she actually had an interest in art long before she ever considered becoming a voice actress. That interest had returned over the years and now she had enough pieces to launch her first art exhibit. And what better stage to hold it than at the famed Chuck Jones Gallery in downtown San Diego during Comic Con.
Shortly after the gallery opened and attendees got a good look at the work on display, Cartwright took a brief moment to explain her interest in art, having met Chuck Jones and his influence on her, and the method that appeared to be working best for her. This method was similar to the old cel painting technique, where she painted from behind and started with the front features before adding the next layers of color and paint. She displayed the nervousness and excitement I'm sure any one would have launching their first exhibition and reception as it was a opportunity for fans to see her in a new light.
They had set things up so that fans could meet her in person, but pictures and autographs were reserved for those who bought prints of her work, which there were only a few copies of. I initially talked to her about her early interest in art and more about her method of painting, which she said she discovered more recently as being what worked best for her. I really liked the artwork she displayed, which was a nice mixture of familiar pieces with her personal touch along with original work that was interesting to look at. I liked it enough that I went ahead and purchased a print of a piece showing a Campbell's Soup can devolving.
Alex Hirsch
Gravity Falls might have ended earlier this year, but the fandom continued to glow ever brighter. At Comic Con, Disney Publishing would be releasing a few days early copies of the highly anticipated Journal 3, which would be a recreation of the key book seen in the animated series. Furthermore, creator Alex Hirsch would swing by their booth a couple times over the weekend to sign copies of the book he co-wrote. So you knew fans were going to be running for their lives to get a spot in one of the signings.
The second the exhibit floor opened, it really was a race to the Disney Publishing booth in order to ensure a spot in the Alex Hirsch signing. I managed to be among the top third even after making a sudden stop at another booth to grab an intriguing freebie. It was fun watching fans squirm with excitement at the opportunity to both purchase a copy of Journal 3 before it was released and to later get it signed by Hirsch. I took a look behind me and found the line to stretch far beyond what I could see, that was how popular this show had become.
At signing time, Hirsch had brought along Stephanie Ramirez, an animator and designer at Disney Television Animation who illustrated portions of the book that acted as new entries by Dipper and Ford. Given the popularity of the appearance, and despite there initially being a limit of 100 spots, it was essentially sign and go like the group signing last year. I barely managed to get a picture of Hirsch waving before I was shooed out for the next person to get his autograph, although we managed to share a couple quick words. Journal 3 is now available, though high demand may cause availability to vary.
---
Animaniacs Live!
The finale for me and many Comic Con attendees was a preview performance of Animaniacs Live! Headed by Rob Paulsen (Yakko) and songwriter Randy Rogel, this is a touring concert with them along with Jess Harnell (Wakko) and Tress MacNeille (Dot) performing songs from the show. The concerts will feature an accompanying orchestra, but the attendees that packed the room beyond capacity didn't mind that the music was pretty much Randy playing on keyboard. It was just an absolutely fun atmosphere from start to finish.
The more well-known and popular songs were obviously going to be on the playlist, such as Yakko's World and Wakko's America. Everyone got to perform pretty much in full I'm Mad, though MacNeille lost her spot at one point, allowing Paulsen and Harnell to joke around at her expense while Rogel kept the piano playing in tune. One song that I'm sure most folks would not be familiar with right off the bat was Put a Brain in the White House, which was used in a Kids WB commercial during election season twenty years ago and seemed appropriate now. There was a fun Q&A session, during which MacNeille killed it with an impression of Sarah Palin, before they led everyone in the room to sing the show's theme song.
It was clear that everyone in the room was just having a great time regardless of their age. While the majority of attendees were older fans who grew up on the show, Paulsen noted how its recent addition on Netflix had helped in attracting a new generation of fans who were also present and smiling with glee. In many instances, folks wanted to sing along to some of the other songs, which I'm sure a good majority did anyway just in quiet voices. It was announced that the concert tour would kick off on April 15, 2017 at the La Mirada Theatre for the Performing Arts in La Mirada, CA with a full schedule to be released sometime soon.
Scroll down to the bottom of the page to view our exclusive footage of four of the songs performed.
Cosplay
At any given convention, chances were that more than half the attendees were dressing up. Fans just loved to express their love for a particular property or character by appearing as them when meeting fellow fans. And everyone would enjoy it rather immensely. There was even the annual Masquerade costume contest, though I missed out on seeing it this year. Nevertheless, I managed to come across a winning costume in a fantastic Lumiere from Beauty and the Beast, which I learned had been awarded Judges' Choice.
I liked a duo dressed as the red and blue and the black suit variants of Spider-Man seen in the third Sam Raimi film meeting up with a nice Mary Jane Watson. This one girl did an excellent Cammy from Street Fighter. I also managed to spot someone who was dressed as Helga from Atlantis: The Lost Empire and she was both surprise and delighted someone knew who she was playing and that they were a fan of the film like her. There was an adorable pair of kids dressed as Lilo and Stitch and a teen looked wonderful as Moana. And the line for the Alex Hirsch signing was filled with folks dressed up as characters from Gravity Falls.
And the costume fun wasn't just confined to the Convention Center. Out on the streets of San Diego throughout the weekend there were hundreds of people walking around in the blazing heat dressing up, usually in groups. A personal favorite was "The Legion of Boom(stick)", which was this army of men dressed up as Ash from the Evil Dead series, chanting the various one-liners from our hero. I also liked a Joker riding around the city in a wicked custom motorcycle.
---
Entertainment Weekly's Con-X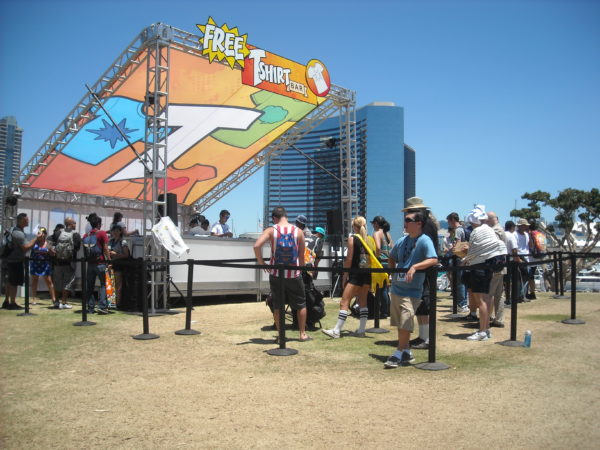 As noted above, Entertainment Weekly offered the public a free Comic Con experience throughout the weekend. Taking place at the north park of Embarcadero Marina, it featured a great many number of events and activities that provided a taste of the atmosphere found in the Convention Center. We're talking a build your own T-shirt station, create your own SweeTarts flavor, free donuts with posters and pins for the upcoming Power Rangers film, and photo op stations based on Kubo & the Two Strings, Captain America: Civil War, and American Horror Story: Hotel.
Of course, the main attraction was that they had set up their own panels. The roster of appearance would seem limited since there was only one stage upon which to hold panels, Entertainment Weekly did a fine job putting together a nice mix of programing that would appeal across the board. There were comic book creators, television and movie stars, and even a Harley Quinn costume contest. In the evening, they would have parties and screen episodes in full of The Adventures of Superman, Star Trek, and Batman on big screens for nighttime pleasantries.
One appearance I caught featured the cast of MTV's Teen Wolf, attracting a large number fans to crowd the stage. The cast primarily played a trivia game for an hour as a means of telling behind-the-scenes stories and giving hints to what will be coming up in the next season. After the panel, the fans immediately ran up for pictures and autographs, which the cast had no problem doing for several minutes before being escorted off. Another appearance I got to check out was for Lucy Lawless. After talking a bit about what's to come in Ash vs. Evil Dead as well as having helped launch a generation of action heroines as Xena: Warrior Princess, the fans also went up for pictures and autographs. I managed to get a couple photos with her.
Offsite Events
In addition to the Suicide Squad and Thunderbirds Are Go experiences, there was a hefty number of offsite activities that folks could check out if they had the time and patience to wait in line. Probably the easiest to get into was a display for Batman v Superman: Dawn of Justice as it was simply providing photo ops to the full size Superman statue seen in the film as well as the Batmobile. Afterward, fans could choose one of a number of freebies. Most folks chose the mini bag so they could carry around things they collected. I went with the Wonder Woman crown because it was the more interesting of the freebies.
A popular display was the South Park 20 exhibit. Recreations of well known scenes from the past nineteen seasons of the series were set up for photo ops. At the end of which, fans would be treated to a sneak preview of the forthcoming South Park video game The Fractured, but Whole. Yet in walking by the exhibit, I was treated to a different kind of surprise in the appearance of actor Anthony Anderson, filming a special for Spike TV called Anthony Anderson: Lost at Comic Con. He stuck around to film an interview segment with exhibit staff to be used for Comedy Central with him talking about his favorite South Park moments.
The biggest offsite event, though, involved the truTV series Impractical Jokers. One, they took over Dick's Last Resort and turned it into the Hall of Jokers, offering free food and activities related to the show that would result in fans receiving freebies. Then they took over the Park at Petco, a section of the baseball stadium that was an actual park offering a nice view whenever there was a baseball game. Dubbed the Impractical Jokers Block Party, it offered more food, fans to experience some of the punishment activities, and meet the four stars of the show. There had to be over a thousand fans who showed up and they crowded around whenever one of the Jokers appeared. A couple of them willingly jumped into the middle of the sea of humanity to give photos even after having done a regular autograph session.
---
Random Sightings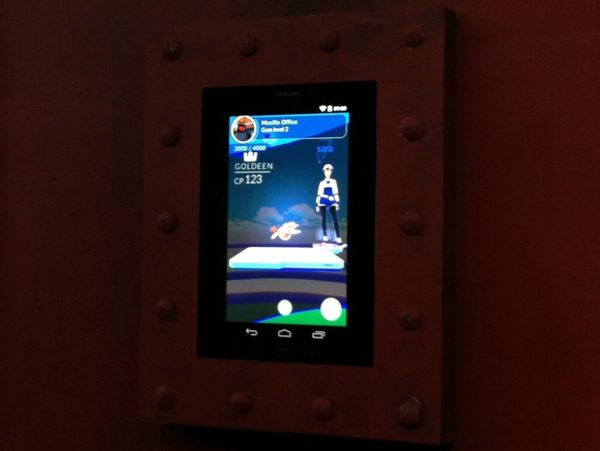 Virtually ninety percent of people were playing Pokemon Go throughout the weekend. It was my understanding that there were some rare Pokemon present and folks were looking to catch as many as they could. This made waiting in line bearable for many, though Comic Con staffers warned against loitering into rooms during panels just to find Pokemon. That didn't stop someone from hacking one of the tablets at the Suicide Squad experience and downloading the game on there. Even the display's staffers were seen playing the game.
Hall H was notorious for being the most packed location in all of Comic Con as that was where the major programs would take place. It would lead to many camping out over night just to ensure their place among the 6,500 the room can hold. Yet there were times when scheduling was such that one could end up walking in as opposed to waiting. I heard that happened on Thursday with the seemingly only major panel of note was the Trolls panel due to the appearance of Justin Timberlake and even that was not full. Attendees of that panel received one of four colorful Troll wigs, but because it wasn't a full house my uncle was able to ask for all four with no issues. Someone even gave me their freebie for no reason.
I think famed film critic Leonard Maltin could now be classified as a true geek because this was the third year I saw him at Comic Con. And I don't recall him being part of any panel this year. He was just hanging out at the Dark Horse Entertainment booth having a good time.
On the shuttle bus ride back home for the night on Saturday, we passed by a hotel that was doing something very interesting. They were showing Finding Nemo in full and had it projected on one of their outside walls so folks wandering around downtown could see. All of us were quite amused and actually considered telling the driver to pull over so we could watch!
---
Below are more exclusive pictures and videos from 2016 San Diego Comic Con.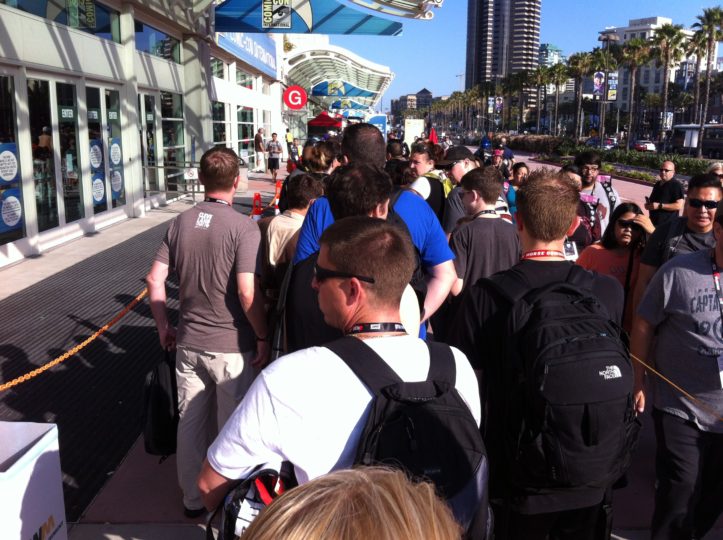 8am on Day One and already the lines were packed.
Olmec (Legends of the Hidden Temple) quizzed attendees for prizes at the Nickelodeon booth.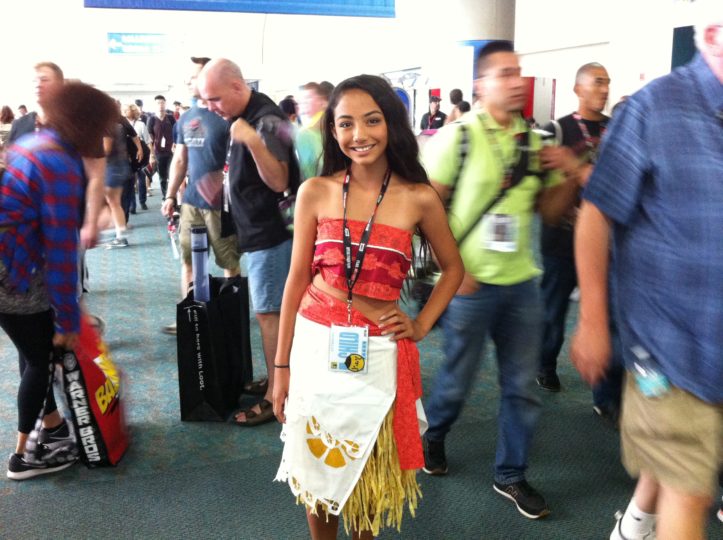 A cute Moana making her way to the namesake panel.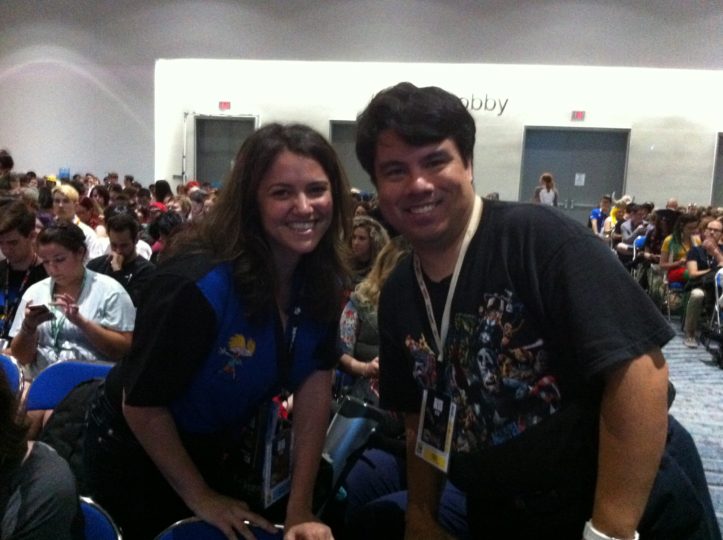 Dan with Hey Arnold! voice actress Anndi Lynn McAfee.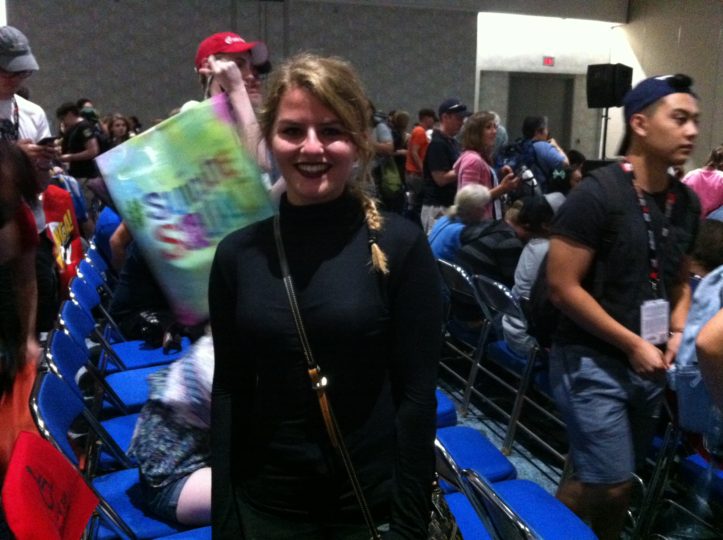 A cute Helga (Atlantis: The Lost Empire) shocked and excited someone recognized her.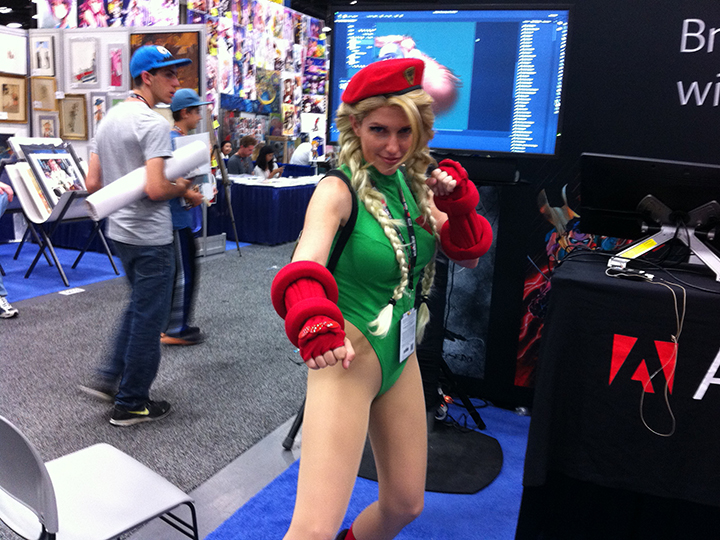 An excellent Cammy (Street Fighter) hanging out at the Adobe booth.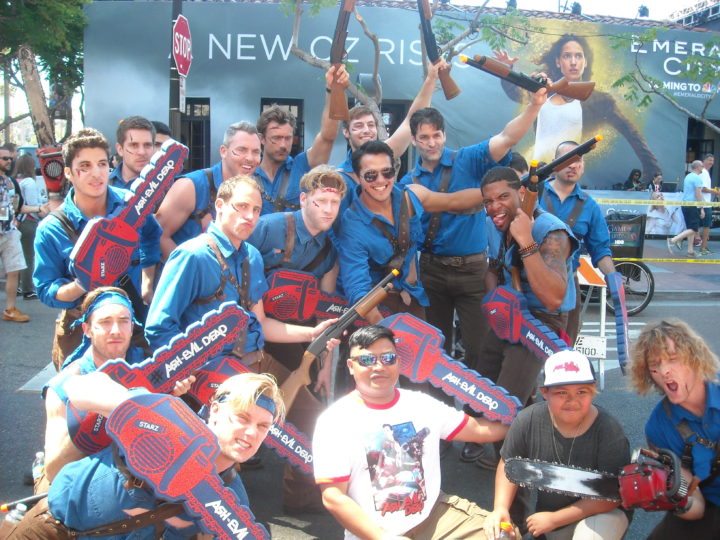 The "Legion of Boom(stick)" (Ash from Ash vs. Evil Dead) wandering the streets of San Diego.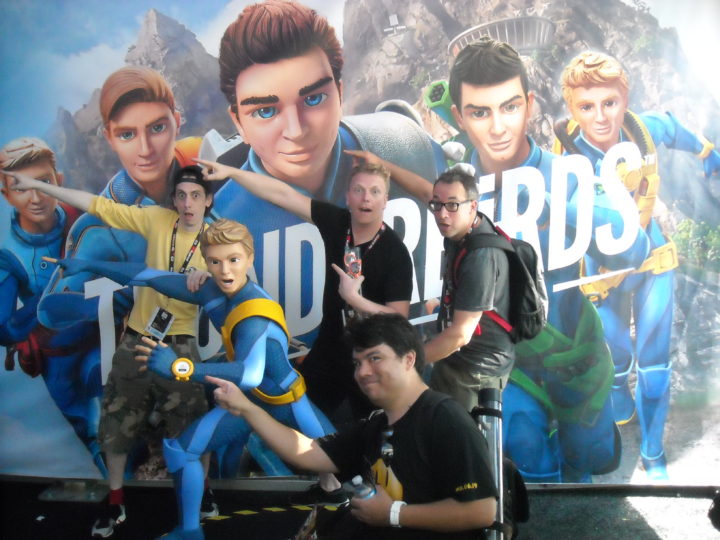 Dan with Thunderbirds Are Go voice actors (from left to right) Rasus Hardiker, David Menkin, and Andres Williams.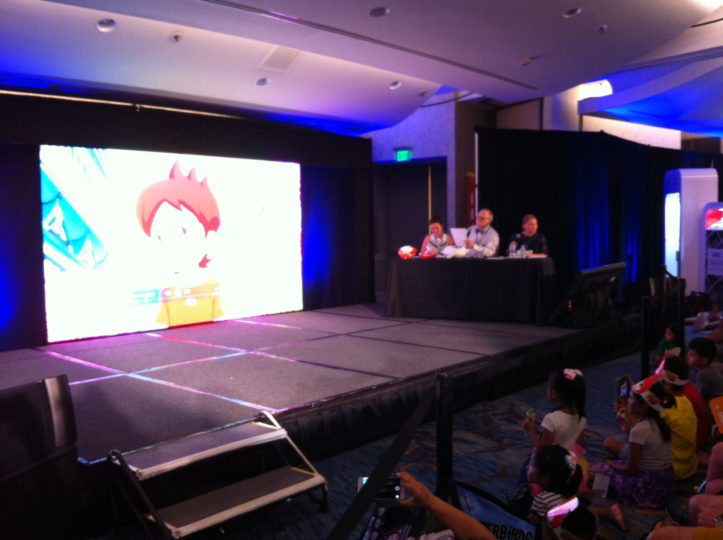 Alicyn Packard, Joey D'Auria, and Melissa Hutchison performed a live Yo-Kai Watch voice demo at the Nintendo Gaming Lounge.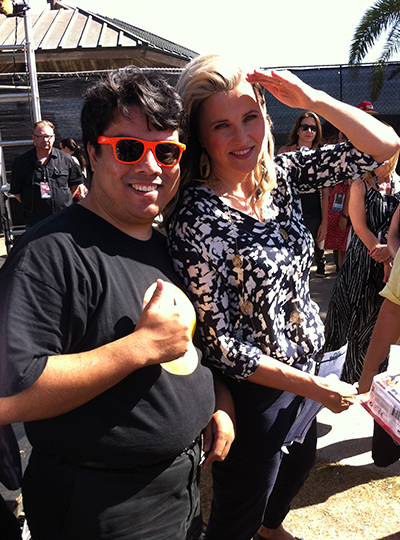 Dan with Xena: Warrior Princess herself Lucy Lawless.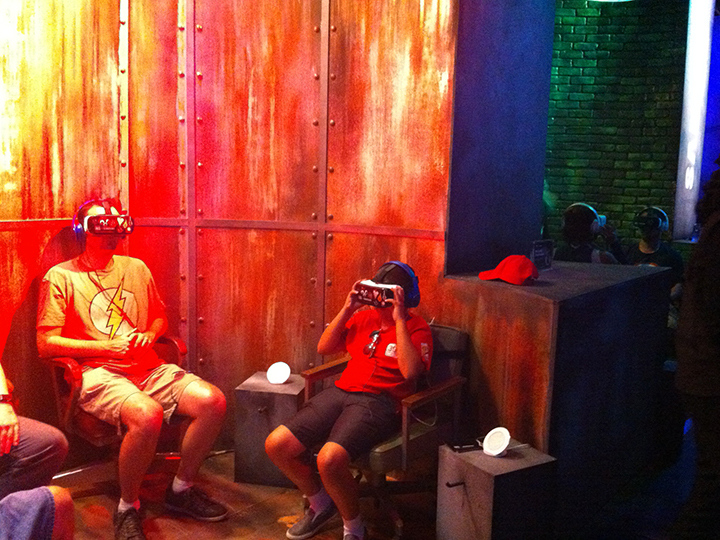 Fans tried out the VR attraction at the Suicide Squad Belle Reve Experience.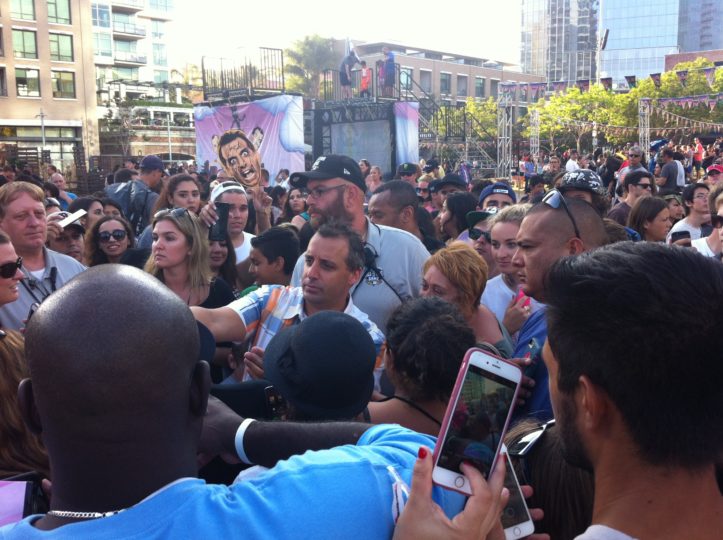 Impractical Jokers star Joe Gatto surrounded by dozens of fans at the Impractical Jokers Block Party.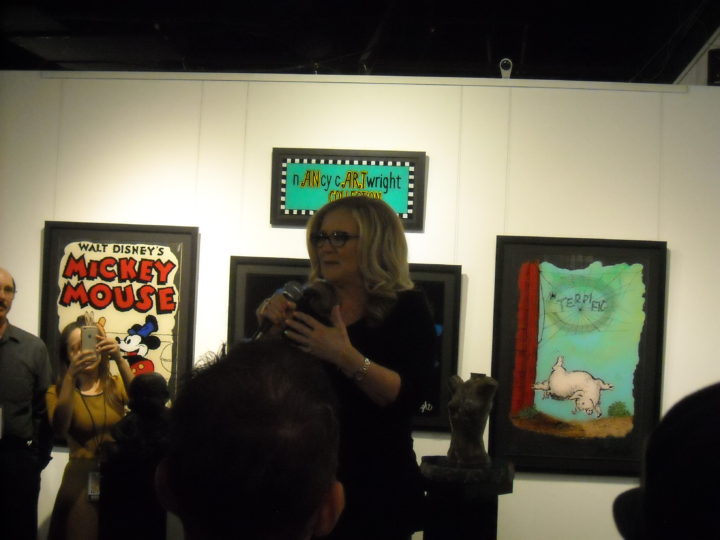 Nancy Cartwright welcomed fans to her first reception and art exhibit at the Chuck Jones Gallery.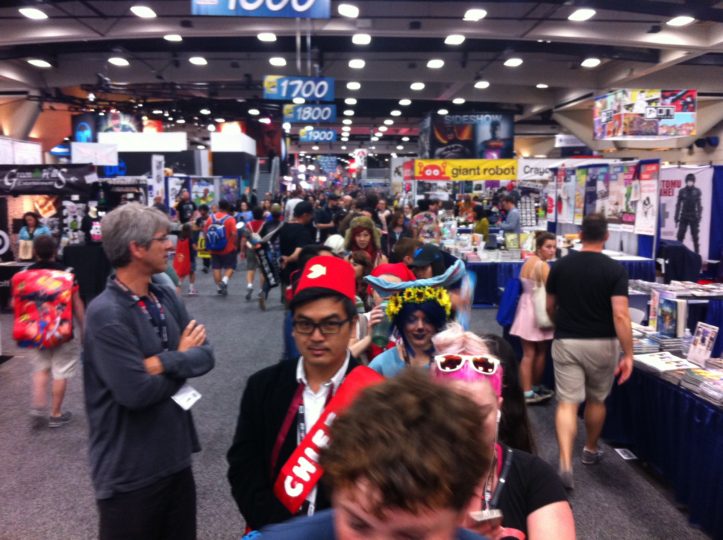 Fans formed an endless line for the Alex Hirsch signing at the Disney Publishing booth.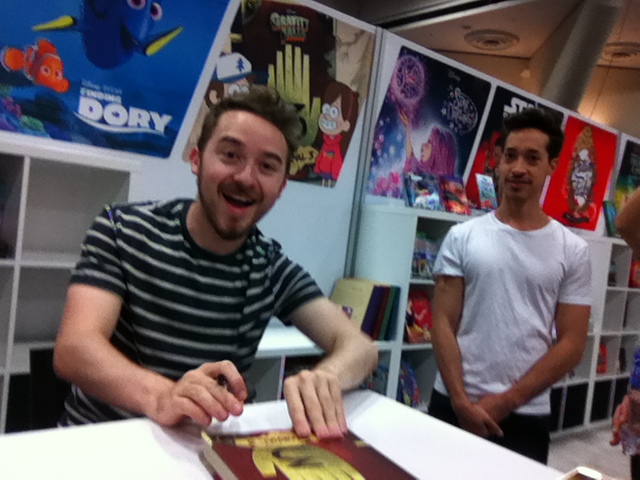 Alex Hirsch greeted fans while signing copies of Journal 3 at the Disney Publishing booth.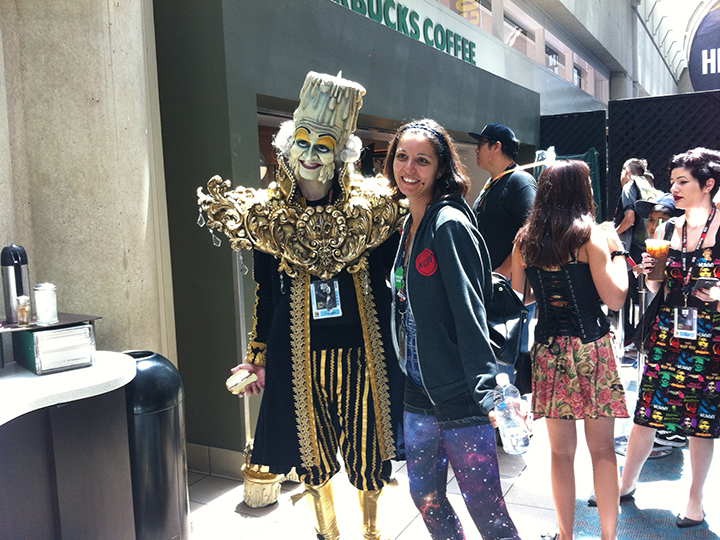 This fantastic Lumiere (Beauty and the Beast) won Judge's Choice at the annual Masquerade costume contest.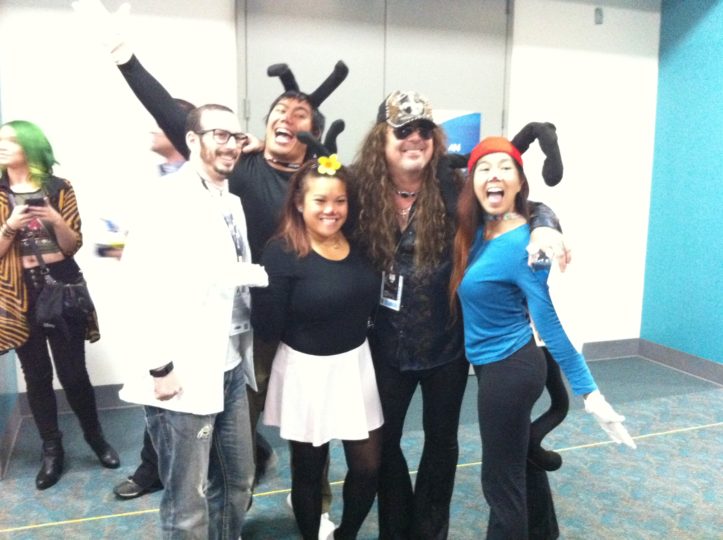 Jess Harnell hung out with fans after Animaniacs Live!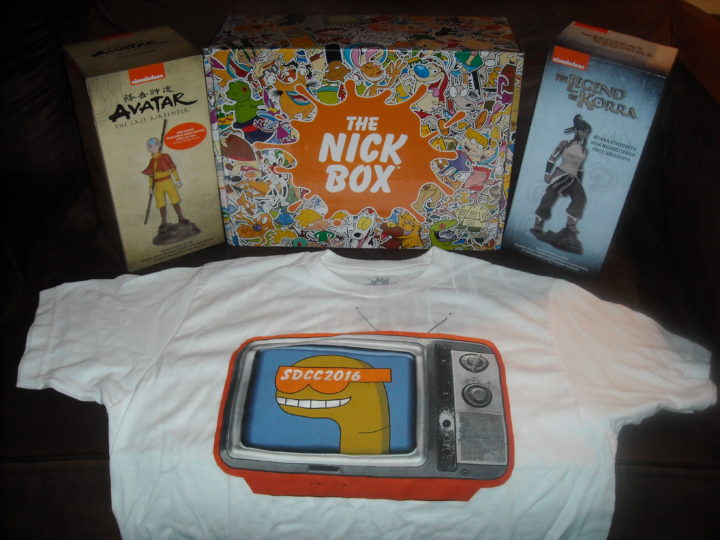 Exclusive merchandise from the Nickelodeon booth.
Jess Harnell (Wakko) performing "Wakko's America" during Animaniacs Live!
Rob Paulsen (Yakko and Scratchansniff), Jess Harnell (Wakko) and
Tress MacNeillie (Dot) performing "I'm Mad" during Animaniacs Live!
Rob Paulsen (Pinky), with songwriter Randy Rogel performing "Put a Brain in the White House" during Animaniacs Live!
(CAUTION: Some slight profane language present.)
Rob Paulsen, Jess Harnell, Tress MacNeillie, and Randy Rogel led the
audience to a sing-along of the main theme to end Animaniacs Live!