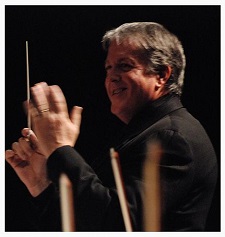 On Saturday, June 4, 2016 at 7pm, the historic Orpheum Theatre movie palace in downtown Los Angeles will host the Los Angeles Chamber Orchestra (LACO), who will be showcasing the interplay of music and film with LACO @ the Movies: An Evening of Disney Silly Symphonies, a program of dazzling and delightful Academy Award-winning animation created by Walt Disney Studios between 1929 and 1939, with orchestral scores performed live by the Los Angeles Chamber Orchestra, led by six-time Emmy award-winning composer Mark Watters.
From symphonic to jazz, and featuring the Orpheum's 1927 Wurlitzer, one of only three remaining original theatre organ installations in theatres in Southern California, the music by such luminaries as Leigh Harline and Carl Stalling will be arranged for live orchestra by Watters and Alex Rannie.
We are so delighted to have Mark Watters tell us about this intriguing project. The composer and music director of so many Disney scores, including the Aladdin, Little Mermaid and Goof Troop TV series, Aladdin And The King of Thieves, and Kronk's New Groove, Mark is a six-time Emmy award-winning composer and conductor whose diverse career spans 400 television episodes, feature films, DVDs and video games. He has served several terms as Music Governor on the Television Academy's Board of Governors, and is in his third year as Co-Chair of the Academy's Creative Arts Emmy Awards Committee. He holds the distinction of serving as music director for two Olympics: the 1996 Centennial Games in Atlanta, and the 2002 Salt Lake City Winter Olympics.
His numerous appearances as guest conductor have included those with the Los Angeles Philharmonic, the Los Angeles Chamber Orchestra, the London Symphony, the Detroit Symphony and numerous others. In 2002, he was asked by John Williams to co-conduct the Academy Awards. Last year marked his third tour conducting Star Wars In Concert, this time in Japan with the Tokyo Philharmonic.
Recent projects include serving as music director for the highly acclaimed animated series, Have A Laugh, a three-year project to restore and re-record 60 classic Disney shorts from the '30s and '40s. 2012 marked his debut with Pixar Animation Studios with his original score for Time Travel Mater and serving as principle arranger for Pixar In Concert, which has enjoyed numerous performances around the world. Most recently, he scored the 2013 Oscar-nominated short, Get A Horse.
---
AnimatedViews: Mark, this is such an exciting project! This music really deserved such an homage.
Mark Watters: First of all, I think these are neglected gems, both visually AND musically. Created in the 1930s, the Silly Symphonies laid forgotten for years. Some of them had a second showing in the '60s on an occasional episode of Walt's TV show, The Wonderful World Of Disney but other than that, they have been, if not entirely forgotten by the studio, certainly neglected. Also, the philosophy behind them was that music would take center stage and not simply be background underscore. There is very little dialogue, if any, so the music is really called upon the tell the story.
AV: Indeed, with the Silly Symphonies, we realize the capability of music to tell stories as its own means.
MW: The absence of dialogue opens the arena up for the music to do much more than usual. As we all know, dialogue is king. No matter how brilliant a composer's music is, if it is distracting from the dialogue, then it will be turned down. The early Mickey, Donald and Goofy shorts also had very little dialogue. As the art form matured, so did the stories. They became more character driven so they started having more and more dialogue.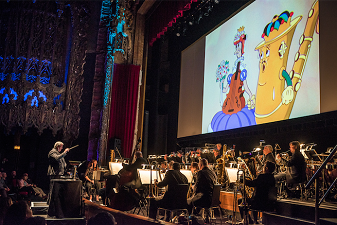 AV: What are the challenges of such a project?
MW: The challenges are numerous. As with any performance of a film score live to picture, the arrangers have to take several pieces of music that were recorded separately and piece them all together to be played consecutively. As a result, the orchestra has to make sudden changes in tempo, instrumentation and style that, previously, would have been dealt with one at a time. In many of these shorts, the tempos are quite fast, the music quite challenging and, even though we will have the benefit of a click track to follow, none of this music is familiar to the musicians so it is hard work!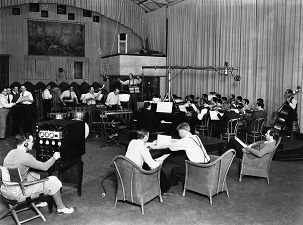 AV: Can you tell me about the original recordings during Walt's time?
MW: Alex Rannie, who adapted all of these (with the exception of Music Land, which we did together) is an encyclopedia of early film score history and trivia, so he would be the one to ask this question, but I'll do my best. We are matching the original instrumentation almost 100%. If the original score only used 1 violin and 1 cello, then that is what we are doing. The orchestra will be 29 players but some of the shorts are using a smaller group. The Skeleton Dance is the smallest at 13 musicians.
Originally, the sound effects were recorded by the orchestra, primarily by the percussion section. Gradually, as technology improved, recorded sound effects were blended in; and finally, they replaced much of what was done by the orchestra as far as sfx were concerned. We are duplicating these wonderful sounds and our percussion section will have a ball! The Skeleton Dance is a tour-de-force for the percussion section.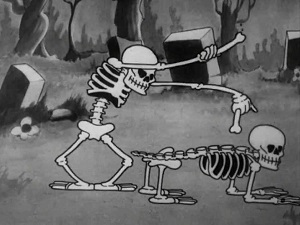 AV: Was it easy to retrieve the original sheet music?
MW: Disney has a great music library, run by my good friend, Booker White. They have, literally, everything stored away or, in this case, on microfilm so getting the original music was made easy by the studio.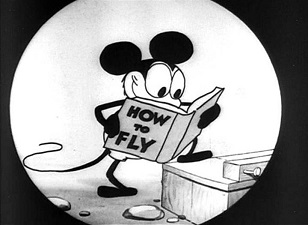 AV: You'll play Plane Crazy. How would you personally describe Carl Stalling's style?
MW: Plane Crazy, which was done in last year's program, The Tunes Behind the Toons, was the first short to have a synchronized score. By today's standards, it is quite primitive. While utterly charming to watch, the music is quite simple. Stalling was still attempting to figure out this new thing called film scoring. His style certainly matured during all his years at Warner Brothers doing nothing more than score cartoons. The Warner Brothers shorts were all about comedy, and Stalling was a master at this. He was rarely called upon to provide sentiment, charm, love or tenderness. It is interesting to imagine how Stalling might have evolved had he and Walt not had a falling out. Walt, essentially, banished Stalling from the company for having the temerity of working for another animation studio.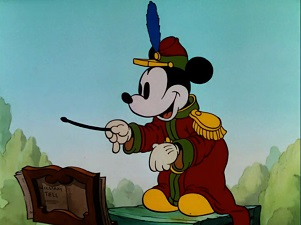 AV: Your program features four of the greatest cartoon music masters ever: Frank Churchill (Three Little Pigs), Leigh Harline (The Old Mill, Music Land), Albert Hay Malotte (The Ugly Duckling) and Ollie Wallace (Mickey's Trailer).
MW: All of these composers were so well trained and accomplished at their trade. They could do it all: jazz, classical, comedy. Leigh Harline's The Old Mill has such heart and tenderness and then there is Music Land, also by Mr. Harline, which is so funny and brilliantly conceived.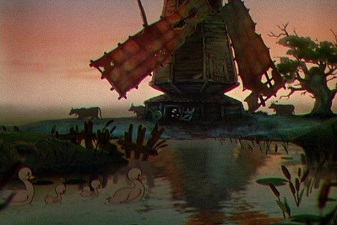 AV: There's a lot of classical music references in Disney's early cartoons.
MW: Walt loved it when the composers quoted famous classical pieces as well as popular folk tunes but they had to be careful regarding copyrights, obviously!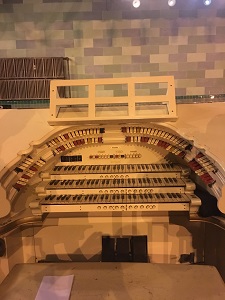 AV: How do you use the Wurlitzer organ of the Orpheum?
MW: The finale to Music Land features an all-out war between "The Land of Symphony" and "The Isle of Jazz". Their weapons are music, so Leigh Harline put together this ridiculous but wonderful layering of two completely different pieces of music. Boogie Woogie vs Wagner's The Ride Of The Valkyries! If Charles Ives had ever scored a cartoon, this is what it would have sounded like!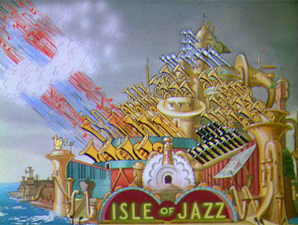 AV: For Sorcerer's Apprentice, how did you manage to adapt Paul Dukas' huge orchestrations for a chamber orchestra?
MW: The thing I discovered when I adapted The Sorcerer's Apprentice was how relatively easy it was to adapt it for chamber orchestra. In many cases, he would, for example, write two horn parts but simply double them with a four horn section. The same would occur in the woodwinds and the strings. It was fun to work on the stripping down of this great piece to a chamber orchestra size but I never had to leave out any lines as a result of having not enough players.
AV: What would you like the audience to keep from the upcoming experience?
MW: Hearing live music is better than watching YouTube! Disney shorts represent an important period for the studio. So much of what was learned during the production of these shorts were later applied to their full-length feature films such as Dumbo, Bambi and Snow White And The Seven Dwarfs.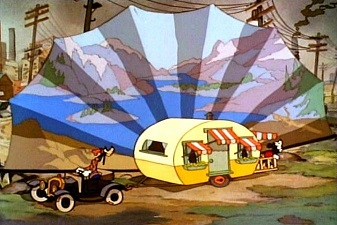 ---
---
---
---
Our warmest thanks to Mark Watters.