The following is the second of a four-part retrospective article on the history of DreamWorks Animation through its films leading to the purchase by NBC/Universal on April 28, 2016. Catch up on Part One here.
When DreamWorks Animation was founded in 1994, it was as a division in a new major Hollywood studio, DreamWorks SKG. With co-founder Jeffrey Katzenberg at the lead, they released films that covered all forms of animation – hand-drawn, stop-motion, and computer generated – in an attempt to compete with the industry elite in Disney, from where Katzenberg had been fired just a few years before. To further set themselves apart, DreamWorks Animation pushed for more mature and dramatic storytelling that was seen as absent from the more family-friendly opposition.
While critical and commercial reception for the films had been mostly good, it wasn't until the release of Shrek that DreamWorks turned into an animation powerhouse. Then Shrek 2 became the first animated feature to gross nearly a billion dollars worldwide, positioning the company to possibly dethrone Disney at the top of the industry mountain. The animation unit was riding high, only to venture out as a separate entity when DreamWorks' parent studio began to crumble on the tenth anniversary of its creation. DreamWorks Animation was on its own, which meant every dollar made or lost would be important.
---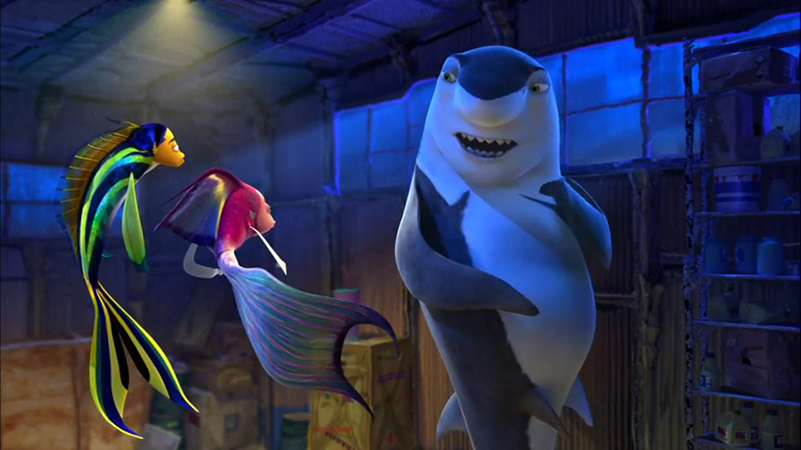 Shark Tale
Directed by Vicky Jenson, Bibo Bergeron, and Rob Letterman
Release Date: October 1, 2004
"Who in the halibut trips underwater?"
Shark Tale was the last film released before DreamWorks Animation became an independent production company just a couple weeks later. The film centered on Oscar, a low-level fish who dreamed of living the high-life. But when he would be falsely identified as a sharkslayer, the fame would go to his head and his little lie would create big consequences.
Shark Tale would be the first computer generated film DreamWorks animated in-house as opposed to in conjunction with Pacific Data Images. While it didn't look as polished as the Shrek films, Shark Tale had some very impressive animation that really played up the expressions of the characters. Couple this with the vibrancy of the colors and the film was extremely pretty to look at. Admittedly the animation has not aged well over the years, but it was nonetheless impressive at the time.
But while the visuals were neat, the story just never seemed to click. It struggled with being an animated parody of classic mafia movies that tried to appeal to audiences of all ages. As if to off-set the mature elements, the film was packed to the gills, pun intended, with pop culture references, to the point that they get rather annoying. I'm sure I wasn't alone in feeling that the mafia parody and the pop culture references clashed together so badly that it made the narrative not as fun as it was trying to make itself out to be.
Shark Tale was initially a big commercial success, having scored the second highest opening for the studio in North America at the time after Shrek 2. It also received a nomination for the Best Animated Feature Academy Award. But the film ultimately did not have any sort of lasting legacy. I got the impression that audiences lost interest over time, which appeared to be the case as it was often compared less favorably to the much beloved Pixar feature from the previous year, Finding Nemo.
Shark Tale would gross a worldwide tally of $367 million against a budget of $75 million, making it a box-office hit at the time. It is available on DVD.
---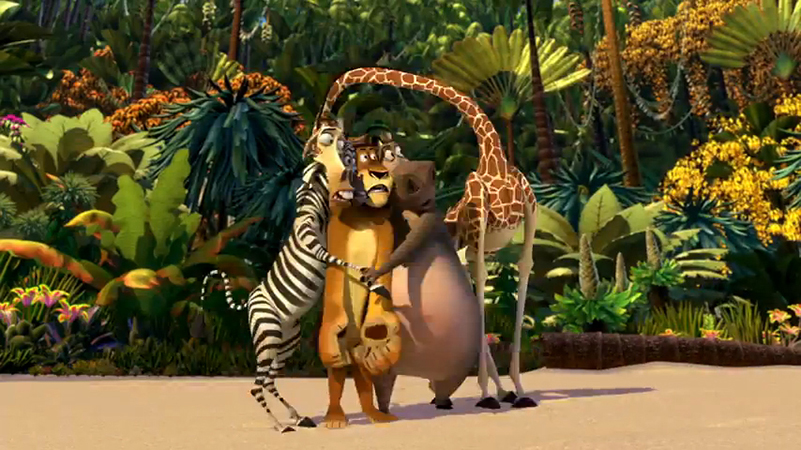 Madagascar
Directed by Eric Darnell and Tom McGrath
Release Date: May 27, 2005
"My life is half over and I don't even know if I'm black with white stripes or white with black stripes!"
Madagascar was the first film released by DreamWorks Animation as an independent production company. When Marty the zebra was interested in reconnecting with his roots, it resulted in a series of calamities that landed some of the animals from the Central Park Zoo in New York to an untamed section of Africa, which would have a troubling affect on star attraction Alex the lion.
Madagascar could visually be seen as a being a combination of Shrek and Shark Tale. DreamWorks continued to push computer generated animation into achieving the squash and stretch method that had been tried and true with traditional animation, while PDI added polish and enhanced some of the more realistic aspects of the designs such as fur when dry or wet, ocean waves, and the details in animal anatomy. The result was what I saw as a unique look that was all its own and rather fun to watch.
Whereas Shark Tale was loaded with pop culture references, Madagascar pulled back and seemed to concentrate on developing characters and their personalities. And there certainly were a lot of characters presented. But because there was so many to flesh out, it was almost to the detriment of the story, if you ask me. There were moments where I wondered where the story was going and actually felt I was watching two or three different films happening at the same time. Nevertheless, the seemingly episodic nature of the film was enjoyable for the most part.
Madagascar was a major hit, becoming the second most profitable DreamWorks feature at the time after Shrek 2. Despite a mostly mixed reception from critics, audiences adored the colorful characters and their personalities enough that DreamWorks recognized they had another franchise on their hands. The film would spawn additional sequels and short films as well as spinoff television shows based on the Penguins and King Julien.
Madagascar grossed a worldwide tally of $532 million against a budget of $75 million, making it a huge box-office success. It is available on Blu-ray and DVD.
---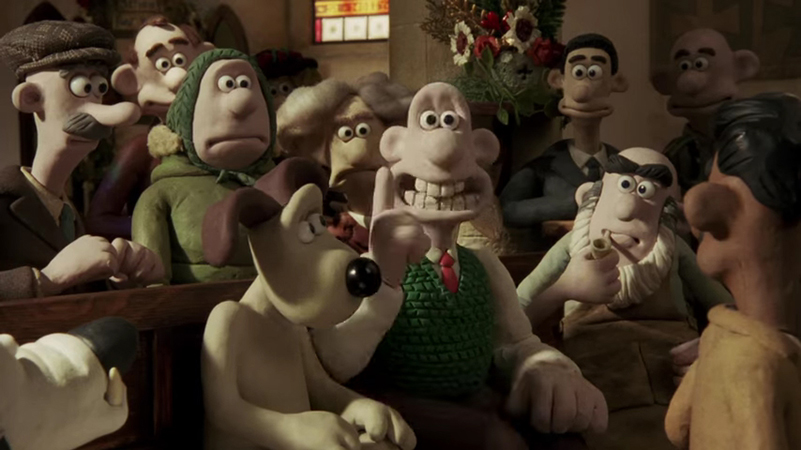 Wallace & Gromit: The Curse of the Were-Rabbit
Directed by Nick Park and Steve Box
Release Date: October 7, 2005
"It's a veritable vegetable paradise!"
Wallace & Gromit: The Curse of the Were-Rabbit was the second feature from the partnership between DreamWorks and Aardman. It was also the first feature in the beloved Wallace & Gromit series. In the film, Wallace and Gromit had started their own humane pest control business in Tottington Hall. Their services were called upon when a mysterious creature was spotted at night, rampaging through the valuable vegetables being grown ahead of the popular Giant Vegetable Competition.
Having gained the confidence to develop feature-length films following the success of Chicken Run, Aardman decided to make their next project around their most popular characters in the cheese-loving inventor and his canine companion. Because Wallace & Gromit were so beloved, it seemed important for creator Nick Park and his team to make a feature-length story of the duo work and, to accomplish that, they stayed true to what worked best and utilized the trademark stop-motion animation and the witty storytelling to their most effective.
The result was certainly a fantastic, often thrilling film. Part of the joy I found with the Wallace & Gromit stories had been this uncanny ability to take something that would otherwise be deemed silly and yet play it off as somehow sophisticated. A scene like Lord Quartermaine getting sucked into the ground and nearly ending up in one of Wallace's contraptions was a nice illustration of this, resulting in laughs from all ages. What's more, there clearly was a great amount of heart in the film. The care and dedication put into the designs and crafting the story was evident throughout.
Wallace & Gromit: The Curse of the Were-Rabbit become a much beloved film upon release. It won the Academy Award for Best Animated Feature and further enhanced the global presence of its characters. But DreamWorks was expecting even bigger things and, despite being profitable, it was revealed sometime afterward that the company took a write-down on the film not reaching their financial goals. Nick Park would later remark that the working relationship between DreamWorks and Aardman started to dissolve during production with DreamWorks constantly trying to alter material to be more appealing to American children.
Wallace & Gromit: The Curse of the Were-Rabbit grossed a worldwide tally of $192 million against a budget of $30 million, making it a box-office hit. However, DreamWorks reportedly lost $29 million as the film was not as successful as they had hoped. It is available on DVD.
---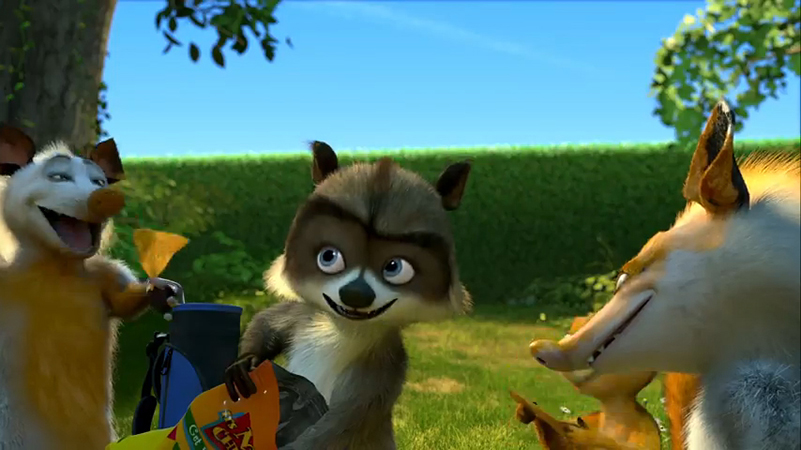 Over the Hedge
Directed by Tim Johnson and Karey Kirkpatrick
Release Date: May 19, 2006
"That, my friend, is a magical combination of corn flour, dehydrated cheese solids, BHA, BHT, and good old MSG, a.k.a. the chip. Nacho cheese flavor."
Over the Hedge was the first DreamWorks Animation feature released under the distribution deal the studio made with Paramount Pictures. Based on the comic strip by Michael Fry and T. Lewis, it told the story of a con artist raccoon named RJ. Threatened with his life if he didn't recover the food he had lost for a vicious bear, he would enlist the aid of woodland creatures to steal food from the housing development that had overtaken their home under the pretext of helping them stock for winter.
It seemed clear to me in watching Over the Hedge – then and now – that this was the point that DreamWorks Animation really started to fine tune their in-house animation tools without having to rely so much on PDI. There was a great combination of realistic textures, such as the strands of individual hair on fur and the detail of skin pores on both animals and humans, mixed with the squash and stretch principles carried over from traditional animation that made the film look the most impressive from the studio since the Shrek films.
The storytelling was more focused than previous in-house films, had much less reliance on pop culture references, and the characters appeared and acted more organic. But I think what hampered the film a bit was in the voice casting. Some worked very well, like Steve Carell as hyperactive squirrel Hammy and Wanda Sykes as sassy skunk Stella. Others just didn't sound right. I didn't think Bruce Willis was the right choice to play RJ, no matter how hard he may have tried. Garry Shandling had fine moments as cynical turtle Verne, but he couldn't project natural terror and panic whenever his character was in such situations.
Over the Hedge did manage to be a profitable film for DreamWorks. It had a nice commercial run and it even won over audiences in different ways. Younger kids enjoyed the occasional slapstick nature while older adults where humored by the sly satire on American consumerism. But while the film was a success, its performance wasn't seen as being enough for the studio to launch another franchise.
Over the Hedge grossed a worldwide tally of $336 million against a budget of $80, making it decent box-office hit. It is available on DVD.
---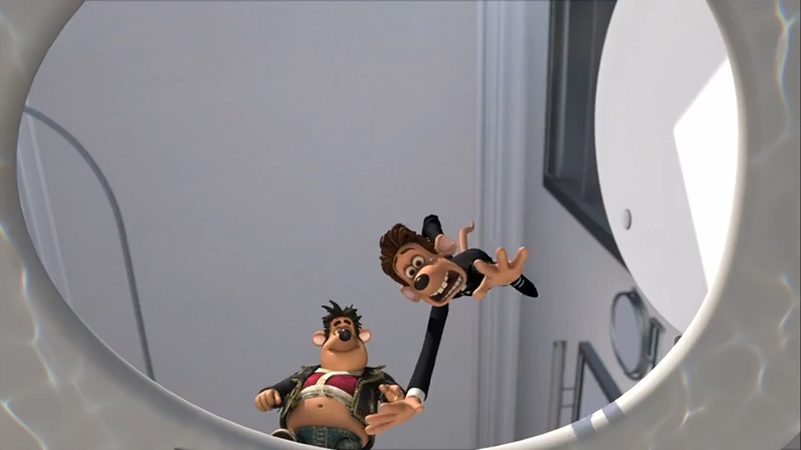 Flushed Away
Directed by David Bowers and Sam Fell
Release Date: November 3, 2006
"No, no, don't break! There are things I want to do, sights I want to see! … That wasn't on the list."
Flushed Away was the last film released by DreamWorks in conjunction with Aardman Animation. It was also the first feature by Aardman that was computer generated as opposed to their trademark stop-motion. The film told the story of a pampered, domesticated pet rat named Roddy. When an intruding sewer rat flushed him down the toilet, he would find himself mixed up in a series of misadventures in an underground metropolis.
Known primarily for stop-motion animation, Aardman chose to develop Flushed Away with computer generated imagery due to the need for water effects that would otherwise damage Plasticine models. As such, the film looked the most polished Aardman film to date, though it managed to maintain the familiar visual style and presentation. This included keeping the textures looking like they were molded Plasticine models instead of having entirely smooth surfaces and details. DreamWorks would contribute animators presumably to help them out in understanding the new animation method and to get the film finished in a timely manner.
Even with the move from stop-motion animation to computer generated, Aardman still managed to maintain their witty storytelling approach. In fact, I think they tried to scale down what they could do through computer animation at times because they probably did not want to do things at the expense of the narrative just because they could do them. It's also I imagine why they ended up having their most star-studded cast to date. Their reputation created such fans out of Hugh Jackman, Kate Winslet, Ian McKellen, Andy Serkis, Bill Nighy and Jean Reno that they jumped at the opportunity to work with Aardman. And what lovely work they did bringing their characters to life in loveable fashion.
Flushed Away was not considered a box-office hit despite positive reception from critics and audiences. As if that weren't enough, reports came out that the relationship between DreamWorks and Aardman had been deteriorating throughout the film's production. With the perceived under-performance of Wallace & Gromit, DreamWorks apparently tried to exert more creative control over Flushed Away. This was seen as having affected the film's commercial performance. After three films, the partnership between DreamWorks and Aardman was terminated.
Flushed Away grossed a worldwide tally of $178 million against a budget of $149 million. DreamWorks reportedly lost $109 million as a result of the film not being as successful as they had hoped. It is available on DVD.
---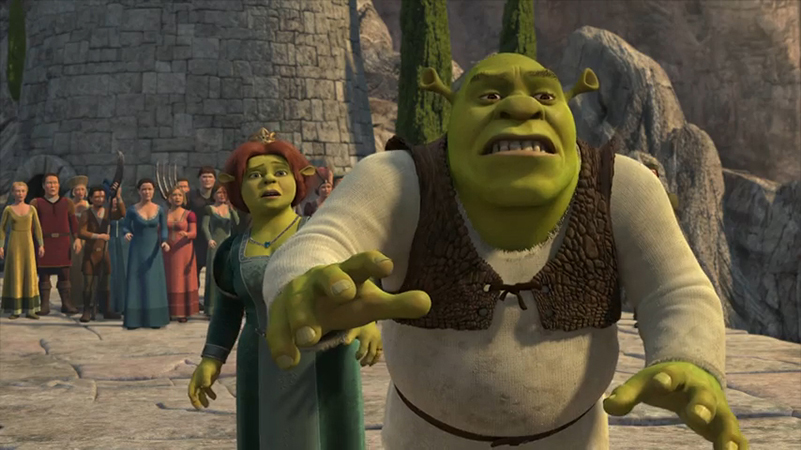 Shrek the Third
Directed by Chris Miller and Raman Hui
Release Date: May 18, 2007
"This is like totally embarrassing, but my friend Tiffany thinkest thou vex her so soothly and she thought perchance thou would want to ask her to the homecoming dance or something."
Shrek the Third was the first Shrek film released after DreamWorks Animation became an independent production company. Picking up from where the second film left off, Shrek and Fiona had received the blessing of her parents, but that would put Shrek in the predicament of possibly taking over the throne when Fiona's father would croak. What's more, Fiona was pregnant.
As with the previous films in the series, Shrek the Third was among the most impressive looking films in animation. This entry took a step further in improving the animation of human characters while still finding ways to add more definition to the non-human characters. Furthermore, the film continued the franchise's efforts in portraying realism while still allowing for fantastical moments that did not break the enjoyable illusion of believability.
Only I still felt the third film also continued trying to expand upon a narrative that quite frankly didn't need to done in feature-length form. That's not to say the story was bad. I just think it was setting itself up for disappointment if it wasn't executed just right. Shrek 2 managed to accomplish this, albeit with some issues that didn't make it perfect, but Shrek the Third had too many issues that prevented my enjoying it. From jokes that didn't quite connect and a storytelling structure that just wasn't charming to new characters that were not very impressive: while not terribly bad per se, it wasn't good either.
Given the popularity of the Shrek films up to this point, it was expected to be a big commercial success – and it was, becoming the highest grossing animated feature of the year. But while it was a highly profitable film, it didn't reach the same numbers as Shrek 2. Moreover, critical and audience reception to the film was less positive than the previous films in the series. Like me, there was a feeling that it lacked charm and failed to sustain interest. I couldn't help but notice that there was a growing fear that the bread and butter of DreamWorks Animation was losing its appeal.
Shrek the Third grossed a worldwide tally of $799 million against a budge of $160 million, making it a huge box-office hit. It is available on Blu-ray and DVD.
---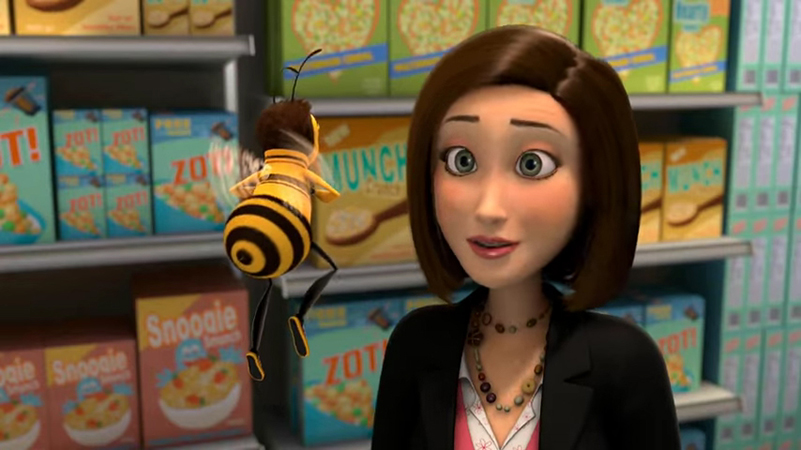 Bee Movie
Directed by Simon J. Smith and Steve Hickner
Release Date: November 2, 2007
"Why is yogurt night so hard?"
Bee Movie would be seen as a major venture for DreamWorks Animation as it was creatively driven by its star in comedian Jerry Seinfeld. Also serving as a producer and writer, Seinfeld was heavily involved in structuring and shaping the story of a bee named Barry B. Benson. Uncertain about spending the rest of his life doing just one thing, he would venture out and would break a sacred rule by communicating with a human after she saved his life.
Animation-wise, Bee Movie did not do anything that improved upon or pushed the limits of computer generated animation. That's not to say it wasn't good looking or any less impressive. I liked the design of the characters, to be honest. They worked well in playing up to their personalities and were fun to watch being brought to life. One could see how Barry would instantly be smitten with Vanessa with how nice she looks, both from afar and up close.
But at the end of the day, the movie clearly hinged on the storytelling. To his credit, Seinfeld tried to come up with what I thought could have been an interesting story about a bee and a human bonding. Then he tried to tell a message story suddenly about nature and how disturbing the order of things could lead to terrible consequences, which I didn't think worked as well as he hoped. The two stories didn't click together, as had been the case for many DreamWorks films that had difficulty trying to make a mature film that adults would appreciate without being too old for young children to understand and enjoy. I couldn't help but compare it less favorably to the first DreamWorks feature, Antz, which had some similar plot elements being echoed.
I bet even DreamWorks wasn't sure the film was going to be a success, let alone make a profit. The uncertainty in being able to sell the film to either kids or adults, or even both for that matter, probably played a part in the film not doing very well commercially. The reception from critics and audiences were just as mixed, not being quite sure if they found the film likeable or not. When all was said and done, the film was as forgettable then as it would be now.
Bee Movie grossed a worldwide tally of $287 million against a budget of $150 million, making it a modest box-office hit. It is available on Blu-ray and DVD.
---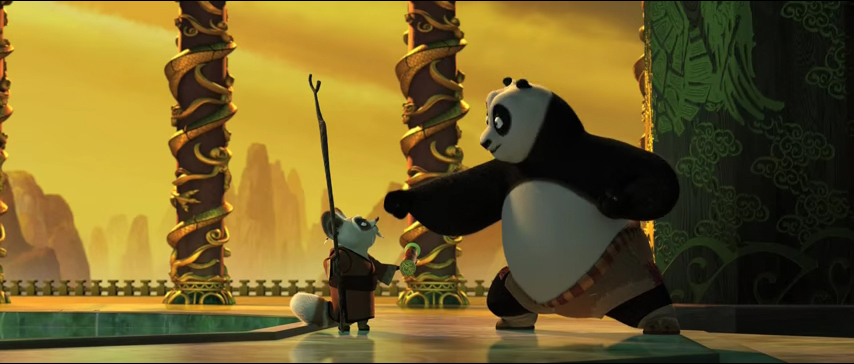 Kung Fu Panda
Directed by John Stevenson and Mark Osborne
Release Date: June 6, 2008
"He was so deadly, in fact, that his enemies would go blind from over-exposure to pure awesomeness!"
Kung Fu Panda was an attempt at creating an animated feature around martial arts using anthropomorphic animals. The story centered on an energetic, yet accident-prone giant panda named Po. A die-hard fan of kung fu, he would find himself chosen to be the legendary Dragon Warrior much to the chagrin of his heroes the Furious Five and the stern Master Shifu.
The film was seen as the most complex that had ever been animated at DreamWorks. In wanting to capture the visual artistry evoked in the live-action martial arts films that inspired them, the animation team clearly pushed themselves and their tools beyond their limits. The end result was a film that was beautiful to look at, regardless of what was happening on the screen. Whether it was an appreciation of the scenery the characters inhabited or the action sequences themselves, such as a thrilling fight upon a wooden bridge, Kung Fu Panda achieved visual splendor.
The film was initially conceived by then company executive Michael Lachance as a parody of the genre, but the filmmakers instead wanted to make a character-driven wuxia martial arts story that happened to be a comedy. This was a decision that made viewers like myself very happy as the narrative was heart-warming and absolutely fun. And with a fantastic cast headlined by Jack Black that one could tell was clearly having a great time recording, it was a pleasant journey that one would love to revisit time and again.
Kung Fu Panda would overtake Madagascar as the most successful feature from DreamWorks Animation outside of the Shrek series. The film would be the first DreamWorks film to be nominated for the Best Animated Feature Academy Award since the studio won it three years prior. It would be the foundation for a franchise that included more feature films, short films, a television special, and a television series on Nickelodeon. But perhaps its biggest impact was in China, becoming the first animated feature to gross over a million Yuan and earning praise for a respectful representation of their culture.
Kung Fu Panda would gross a worldwide tally of $631 million against a budget of $130, making it a massive box-office hit. It is available on Blu-ray and DVD.
---
Roughly four years into being an independent production company, DreamWorks Animation was doing okay. Madagascar was big hit right out of the gate, and the studio would later score another huge success in Kung Fu Panda. But getting to this point was not easy and the company took some hits along the way.
Over the Hedge and Bee Move were not as successful as the studio had hoped, even though they made some profits. Shark Tale was just as nearly forgotten despite initially being a hit. Creative clashes and under-performance at the box-office for Wallace & Gromit: The Curse of the Were-Rabbit and Flushed Away, despite high critical and audience reception and an Academy Award for Wallace & Gromit, led to the dissolution of the partnership with Aardman.
But perhaps what started to make folks worry was the performance of Shrek the Third. While it was still a massive hit and among the highest grossing animated features ever, its numbers were not at the level of Shrek 2. Furthermore, its critical and audience reception was the least positive in the franchise to date. One could imagine there being concern that the Shrek series may not be able to carry DreamWorks Animation any further.
In Part Three of our look at the history of the DreamWorks Animation films, we witness the company relying more on developing franchises by releasing many sequels to some of their biggest hits.