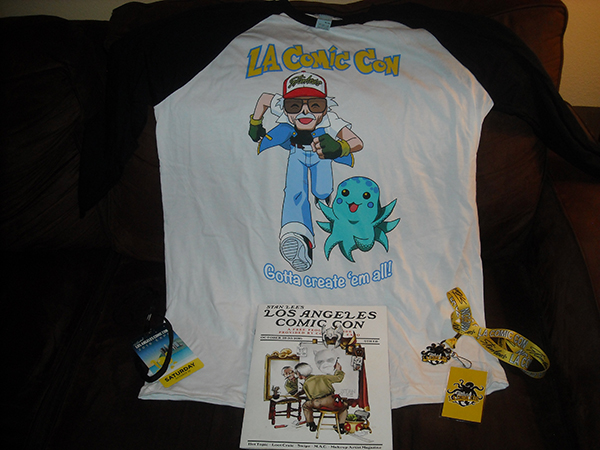 For the sixth year, Stan Lee provided Los Angeles with a comic book convention to call their own at the Los Angeles Convention Center during the weekend of Halloween. Previously known as Comikaze, it was rechristened Stan Lee's Los Angeles Comic Con a couple months ago and will be known as such moving forward. While it's not quite the pop culture explosion that the San Diego Comic Con is, Los Angeles Comic Con boasts an impressive roster of talent and activities that is rather affordable for folks to attend. All this while everything is crammed into only a couple days and, while there is something for everyone, this convention, perhaps more so than even San Diego, is really about pre-planning and setting priorities. And even then they change on the fly because there are so many opportunities open that it's hard to pass them up. Before you know it, your budget is already down to just a small fraction of what you brought in.
Despite being a veteran of conventions for nearly two decades now, this year's Los Angeles Comic Con was the toughest to plan and the toughest to stay on course because there were so many things I wanted to do with so little wiggle room in time to do them. Plans to attend some panels fell through due to important photo ops whose times overlapped and even trying to work in a schedule of when to go where didn't pan out because lines were not moving as quickly as I had hoped. Having said that, I actually had a fun time with the one day I managed to endure attending. I thought about doing a second day, but the one day I went left me too exhausted, both physically and financially, to do another go around!
Nevertheless, I did accomplish the key things I wanted to do and managed to get in a few surprises along the way. It can turn into the most hectic convention if you allow the opportunities to overwhelm you. But if you can manage through and maintain focus on the important ones, Los Angeles Comic Con makes for an excellent, and easier to get into, alternative to San Diego.
---
Pinky and the Brain's Maurice LaMarche and Rob Paulsen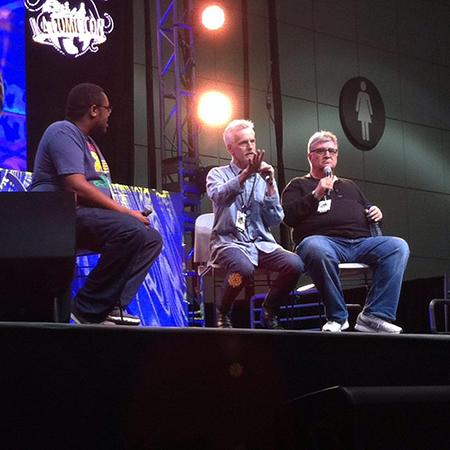 One of the unique features of this convention has been the inclusion of the Hot Topic Main Stage on the show floor. This is where they hold panels, usually in 30 minute intervals, every attendee can check out and enjoy. There were numerous popular panels this year, among them was a panel celebrating the legacy of Pinky and the Brain through voice actors Maurie LaMarche and Rob Paulsen.
Super geek Andre Meadows served as moderator, but merely let Rob and Maurice loose to tell fun stories since they only had so much time. At one point they played around with how, if The Brain had run for President in this year's election he would've won. This led to them touching upon mentioning a lost episode that they did record, but was never animated, in which Rob voiced Brain and Maurice voiced Pinky. All of these, and more, had them and Andre jokingly request fans to get some hashtags trending in an effort to get the attention of Warner Bros.
A fan question regarding the Pinky, Elmyra, and the Brain series revealed how, while Rob and Maurice enjoyed working with Cree Summer and others who added to the mix, they also understood that the original premise had been altered and not entirely for the good. As Rob pointed out, Elmyra was crazier than Pinky that the latter essentially became the straight-man of the trio, which didn't work.
It was a fun time to be had and how packed the area surrounding the stage was showed how much fans enjoyed the duo. While nothing necessarily new involving Pinky and the Brain was announced, Rob continued to express how happy he was that Netflix was now streaming the entire Animaniacs series, allowing new generation of fans to be introduced to characters that have endured.
---
Justin Roiland and Dan Harmon Signing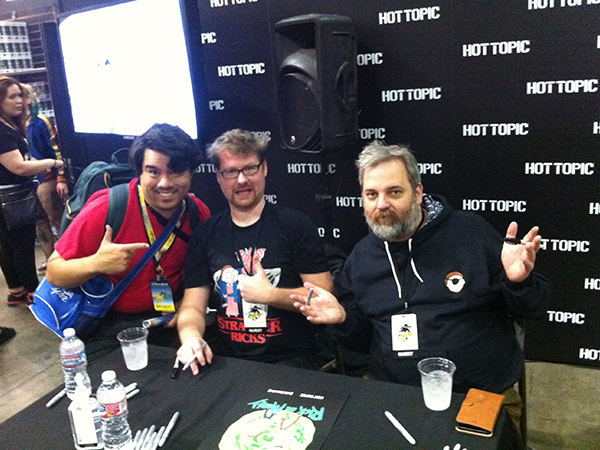 Just days prior to the event, it was being promoted that Rick and Morty creators Justin Roiland and Dan Harmon would be having a free signing at the Hot Topic booth. Naturally any and all fans of the series were on pins and needles to ensure they got their chance at meeting them. The booth said they would not allow anyone to line up until about thirty minutes before the schedule signing, so many walked laps around the booth until word came down that they could officially line up. And when word came down, it was chaos.
Fans crowded into each other as badly as any event at the San Diego Comic Con, though fortunately not to the point of aggressive pushing and shoving. Eventually the line was able to even out, but it was still a huge mess as the line had to go out much further than usual. And when the signing did come, it was slow moving at first. Part of it was that there were lots of groups squeezing in. The other was that Justin and Dan were game at signing additional items on top of the booth provided poster, but it was eventually decided that only the poster would be signed. Fans though were able to get in quick pictures if they were quick.
Because I was running overtime on a paid photo op elsewhere, I didn't really get a chance to say much to either of the two beyond saying "Hi!" and an ever quicker "Enjoy the show" comment. I was, though, able to get a picture in with them. By the time I got to them it was roughly forty-five minutes after the start of the signing and I was what was considered a good position in line. I never did find out how long Justin and Dan were willing to stay to sign autographs, but they were expected at the Hot Topic Main Stage later in the day, so I imagine there were unfortunates who couldn't get in because they had to cap the line.
---
Wonder Woman 75: A Retrospect of an Icon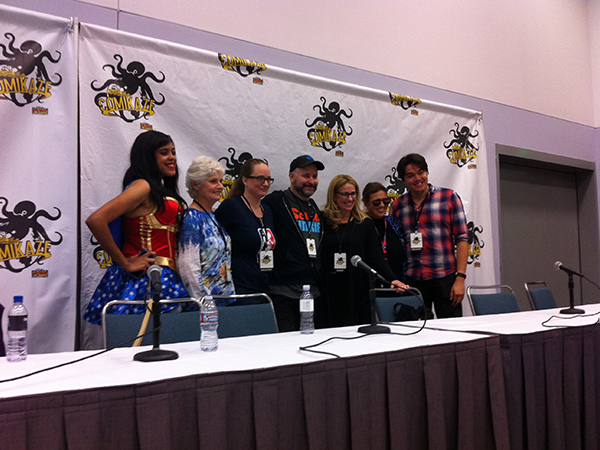 I got into this panel late, but still managed to hear a lot of great things that were discussed. Moderating was Londyn Jackson from History of the Batman and featured Shannon Farnon, who voiced Wonder Woman in the classic Super Friends cartoon, and Susan Eisenberg, who voiced Wonder Woman in the acclaimed Justice League and Justice League Unlimited animated series. Also on the panel were the creative team of Wonder Woman '77, the comic book sequel to the Lynda Carter TV series, in writer Marc Andreyko and cover artist Cat Staggs, Comic Book Resources managing editor Albert Ching, and Christie Marston, the granddaughter of Wonder Woman creator William Moulton Marston.
A lot of the discussion by the time I got there was about the impact of the Lynda Carter TV series and how the Wonder Woman character had managed to stay relevant in society ahead of the long-awaited live-action feature film starring Gal Gadot. Marc noted how it seemed the time had come for Wonder Woman to really explode and told about how when the DC Superhero Girls toys were gone within an hour of being put up for sale at his local Target. They further elaborated how they believe the upcoming film will lead to a breakthrough for female driven films both on-screen and off-screen.
They didn't have a whole lot of time left for fan questions, but one fan managed to kick start a lovely discussion about the boy who went to the San Diego Comic Con a couple years back to relay how proud he was to be a fan of Wonder Woman despite the grief it caused him back where he lived. The community rose up in support of him, leading to the story being translated into the comics to great acclaim and fanfare. The panel told how this was proof that Wonder Woman transcended gender and races, appealing to every fan of every type. I got a chance to briefly shake Shannon's hand afterward and expressed how much I enjoyed the Super Friends cartoon growing up. A lovely woman to meet in person indeed. Wonder Woman will hit theaters June 2, 2017.
---
DAF Radio Presents: Darkwing Duck @ 25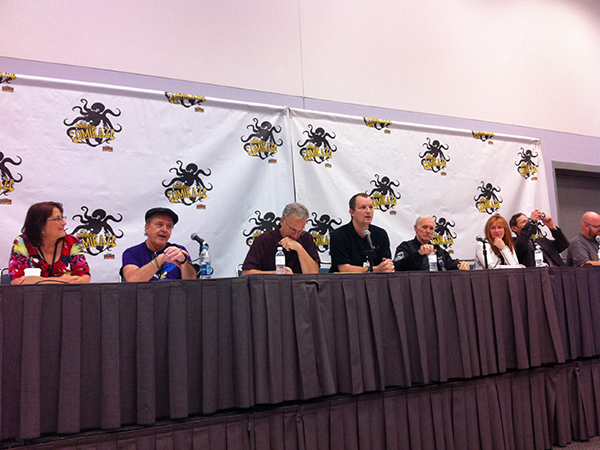 The folks at DAF Radio hosted a 25th anniversary panel on the popular Disney animated series Darkwing Duck. Moderated by Jason Schlierman, it featured series creator Tad Stones, voice director Ginny McSwain, author of the current Darkwing Duck comics Aaron Sparoow, and voice talent Jim Cummings, Katie Leigh, Michael Bell, and Michael Gough. There was a late start as DAF Radio wanted to get their audio equipment running, but eventually just gave up and had the panel proper.
Having been to at least one previous panel in which Tad Stones was featured, the man likes to talk a lot about the programs he's worked on and how they were created. Only this time, he managed to share some of the limelight onto Ginny, who not only was participating in her first convention panel, but was seen as an important figure in developing the characters through their voices. Cummings noted how he always referred to Tad as Darkwing's father and Ginny as his mother.
The voice actors got to explain some of how they came about finding the voices to their characters, Bell in particular had to work out Quackerjack's voice quickly as his initial idea had apparently been taken by Dan Castellaneta for Megavolt. The discussion eventually went into expressing love and tribute to the late Christine Cavanaugh, noting how her voicing Gosalyn shaped her into becoming the heart of the show. It also led to them reminiscing about other actors who had passed on such as Hamilton Camp and Dana Hill. During all this, Tad let slip that Darkwing will appear in the DuckTales reboot. This immediately led a fan to question if this meant DuckTales and Darkwing in the same universe really was canon despite Tad's previous stance. Tad did confirm Darkwing would officially be canon to DuckTales, but not in the way we would expect.
With regards to the comic, Aaron got to explain a little bit of how he had to convince BOOM! Studios to let him adapt Darkwing Duck. He didn't talk about the breakdown in the relationship that resulted in the series moving to Joe Books and him having to rewrite the early issues, but the others on the panel firmly stood behind Aaron and voiced their approval that he's been doing justice to the series with his work. The panel closed with the actors acting out pages of the comic book, which the audience enjoyed a great deal. The Darkwing Duck comic is currently being published monthly by Joe Books.
---
Celebrity Photo Ops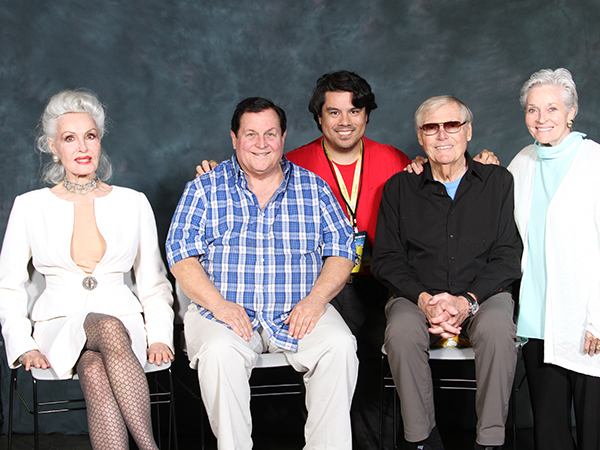 One of the key features Los Angeles Comic Con has that a lot of other major conventions do not is their photo ops. Using a professional photograph service, they set up one particular area that is spent all day doing photo op sessions with some of the big names present at the convention. Obviously Stan Lee would be the one most people would like to be photographed with, but there were many others whose names folks would love to have their picture taken with. And while these photo ops end up generally being shoot and go, leaving little time to interact, it's still great to hang out with celebrities even for a moment. For me, there was a great number of them I wanted to meet and I had to narrow it down to a select few due to time and money.
The first one was with Cary Elwes. Best known for The Princess Bride, Elwes is a well-liked actor who has occasionally done voice work, in particular Quest for Camelot and the Disney produced English dubbing of Studio Ghibli films Porco Rosso, Whisper of the Heart, and The Cat's Return. Cary was really cool, and not just through his appearance, as he made it a point to shake everyone's hand, greet them warmly, and just make the whole atmosphere fun.
The main thing for me was the photo op with the surviving cast of the Batman television series in Adam West (Batman), Burt Ward (Robin), Julie Newmar (Catwoman in Season 1 and 2), and Lee Meriwether (Catwoman in the 1966 movie). This year marked the 50th anniversary of the show and with the awesome animated follow-up Return of the Caped Crusaders having been released recently, I was not going to pass up on this opportunity. And though their appearance ran thirty minutes late, largely due to them coming from a panel and Newmar willing to sign autographs as she went, I still went in with a huge smile on my face to meet them even as the photography crew were rushing folks in and out.
As it were, I took advantage of a photo op that happened to be one that the Batman cast ended up overlapping, which was some of the cast of The Flash television series in Candice Patton (Iris West), Danielle Panabaker (Caitlin Snow), Shantel VanSanten (Patty Spivot), and Teddy Sears (Zoom). Of the three photo ops I attended, this was the one had a bigger line attached, largely because The Flash is ongoing and has a huge following. Not to mention a lot of the fans wanted to meet Candice. All four were very cool, even with things running over as they were, and enjoyed hanging out with the fans when able.
---
Amanda Conner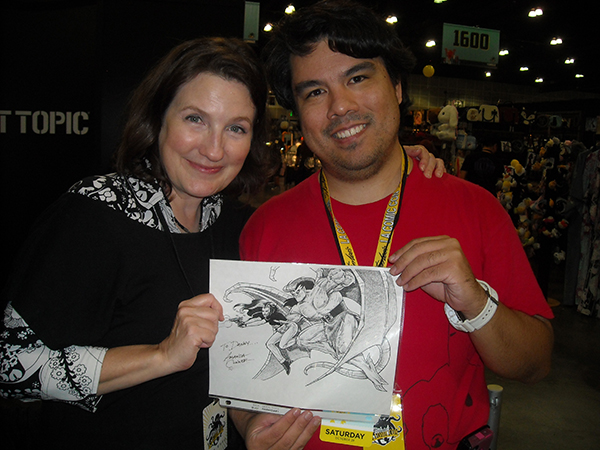 I wanted to make sure I got a chance to meet Amanda Conner. Through all the chaos, I managed to catch her just as all the booths and tables were closing shop for the night. Along with husband Jimmy Palmiotti, Amanda has been on the creative end of many of the Harley Quinn comic books over the last couple of years with Jimmy writing and Amanda illustrating. But one of the things few people didn't know was that, among her first gigs as a comic book artist, Amanda illustrated nine of the first twelve issues of the comic books to Disney's Gargoyles that were published by Marvel. I know because I used to collect them and I just remembered the night before the convention that I had an illustrated print she signed twenty years ago.
Amanda was quite taken aback when I showed her the print as it apparently had been a long time since she last saw any over her Gargoyles work. She even had to take a picture so that she could have something to remember by. I particularly liked how horror filmmakers Jen and Sylvia Soska happened to be swinging by and were in awe of the illustration as well. In fact, everyone was geeking out over the illustration too much to do anything other than admire the illustration. I eventually got my picture taken with her before we were all told to start packing up as most everyone else had for the night. Still, it's fun to simply hang out with creators and do nothing but oogle at their work for a while.
---
Cosplay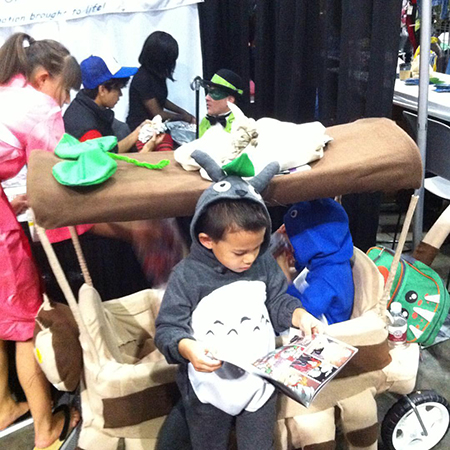 As with any convention, there were plenty of costumed attendees out and about. Because of the presence of comic book artist Rob Liefled, many were dressed as his most popular creation to date in Deadpool. In fact, there were a number of Deadpool variants throughout. One even combined Deadpool with Baymax from Big Hero 6, producing what was presumably known as Baypool. My personal favorite was one going the distancing in crafting a costume that looked like it combined Deadpool with the Hulk-buster Iron Man suit and Spider-Ham, resulting in something like Hulk-buster Hampool. You have to admire the dedication and craftsmanship that went into a costume like that.
The most adorable I saw was a family dressed up as characters from Hayao Miyazaki films, primarily My Neighbor Totoro. In fact, their baby buggy was made to look like the Cat Bus. Very cute. I managed to catch another great collection of Spider-Man folks, this one comprised of Peter Parker Spider-Man, Miles Morales Spider-Man, Mary Jane Watson Spider-Woman from Renew Your Vows, Spider-Gwen, and Alien Symbiote Spider-Man. It's always interesting seeing folks dressed up as characters as they are about to get their photo taken with the actors or creators because it definitely shows how much love we have for them. I can only imagine the glee it must of been for those dressed up as how the characters in the Batman television series looked to get their picture taken with at least Adam West and Burt Ward.
---
Celebrity Sightings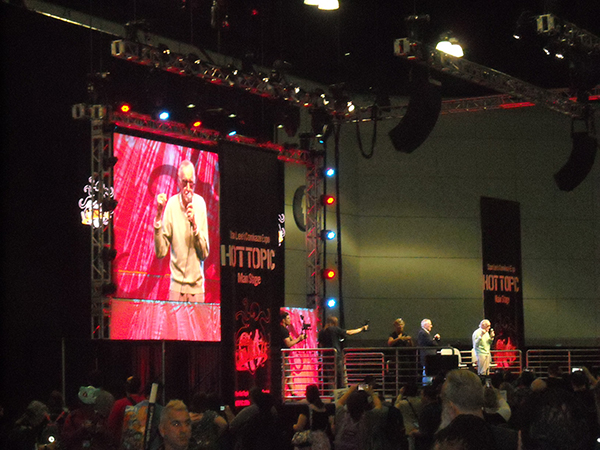 There was just so many things going on at Los Angeles Comic Con, and that's when you take only Saturday into consideration. So many people to see and so many panels to try to attend that it's even harder than San Diego Comic Con to try to plan out what to do. And that's if things don't end up running over in time, like a couple photo ops I did. To give you an idea, here's a rundown of the known voice actors that were present for autographs and photos pretty much throughout the day:
Lauren Landa (voice of Sailor Neptune in Sailor Moon), Richard Horvitz (voice of Invader ZIM), Rachel Kimsey (voice of Wonder Woman in the upcoming Justice League Action), Phil Morris (voice of Green Lantern in Justice League), Shannon Farnon (voice of Wonder Woman in Super Friends), Carlos Ferro (voice of Dom in the Gears of War video games), Darin De Paul (voice of Ardyn Izunia in Final Fantasy XV), Susan Eisenberg (voice of Wonder Woman in Justice League), Amanda Miller (voice of Sailor Jupiter in Sailor Moon), Tara Sands (voice of various Pokemon), Michael Gough (voice of Jambalaya Jake in Darkwing Duck), Michael Bell (voice of Quackerjack in Darkwing Duck), Sandy Fox (voice of Sailor Chibi Moon in Sailor Moon), Katie Leigh (voice of Honker in Darkwing Duck), Veronica Taylor (voice of Ash Ketchum in Pokemon), Lex Lang (voice of Poe Dameron in Lego Star Wars), Jim Cummings (voice of Darkwing Duck), Hynden Walch (voice of Starfire in Teen Titans), Greg Cipes (voice of Beast Boy in Teen Titans), Scott Menville (voice of Robin in Teen Titans), Tara Strong (voice of Twilight Sparkle in My Little Pony: Friendship is Magic), Maurice LaMarche (voice of The Brain in Pinky and the Brain), Rob Paulsen (voice of Pinky in Pinky and the Brain), and Kevin Conroy (voice of Batman in Batman: The Animated Series).
The convention had no shortage of major celebrities either. In addition to Stan Lee himself, Kevin Smith was on hand to host a live podcast with the Batman television series cast. Smith's Comic Book Men cohorts Bryan Johnson, Ming Chen, and Michael Zapcic where also present, hosting a number of panels as well. Representing Star Trek were Nichelle Nichols, Walter Koenig, Denise Crosby, and Robert Picardo, the latter having his birthday celebrated during their panel. Mike Colter, star of the new Luke Cage series on Netflix, was present along with stars of Aliens in Michael Biehn, Lance Henriksen, Mark Rolston, and Jenette Goldstein.
Again, all of this happened on Saturday. There were a number of them who stuck around for Sunday, which featured additional guests, but this roster of talent alone that was present for autographs and pictures made it very tough to meet all one would have liked to have met. It was very much about planning and even then that tended to fall apart rather quickly due to long lines and overlapping times.
---
Watch exclusive footage from the 2016 Stan Lee's Los Angeles Comic Con below featuring the Pinky and the Brain,
Wonder Woman 75th Anniversary, and Darkwing Duck 25th Anniversary panels.
---
Below are more exclusive pictures from 2016 Stan Lee's Los Angeles Comic Con.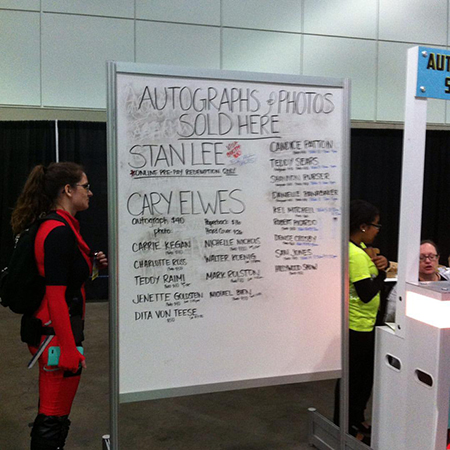 The convention kept tabs of who was available for photo ops and for how much.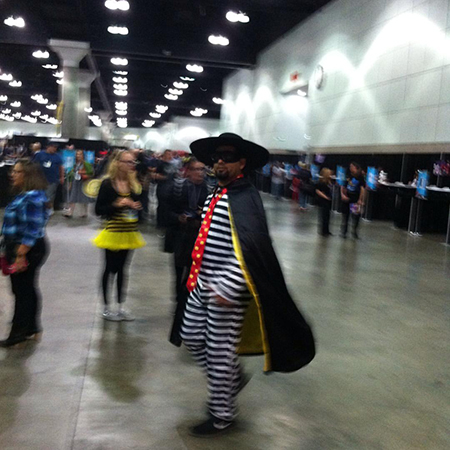 The McDonald's Hamburgler is on the loose!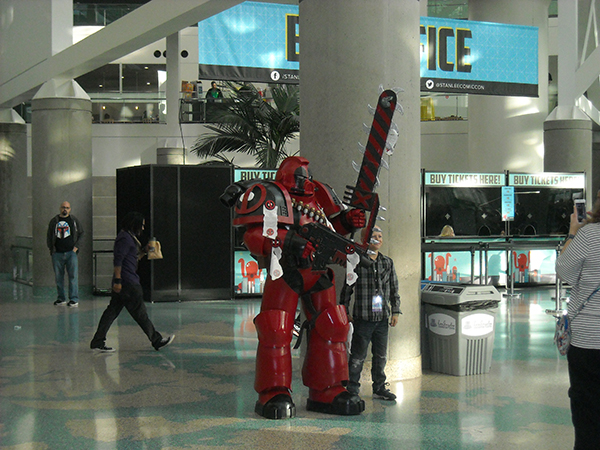 I guess we call him Hulk-Buster Hampool…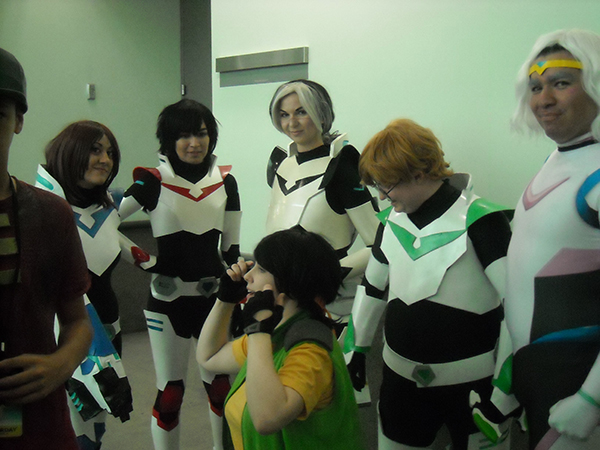 A gender-bending cast of Voltron: Legendary Defender.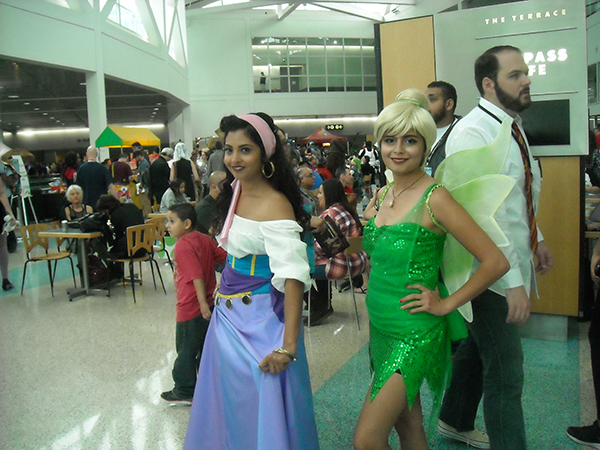 Esmeralda (The Hunchback of Notre Dame) and Tinkerbell (Peter Pan) hanging out.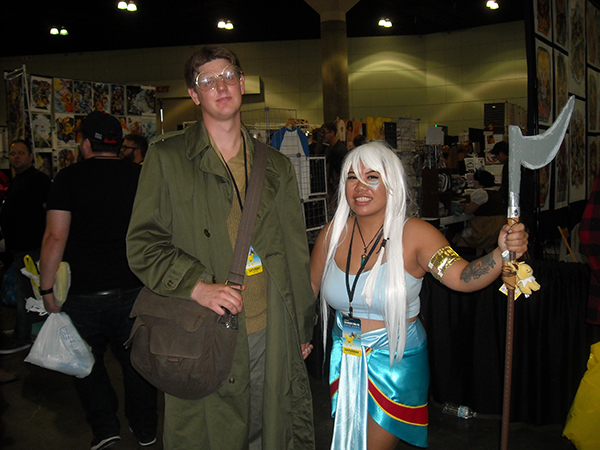 A cute Milo and Kida from Atlantis: The Lost Empire.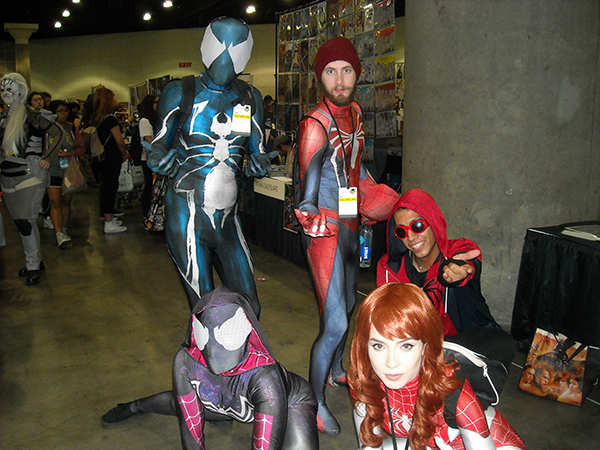 The Spider-Man army ready to swing into action.