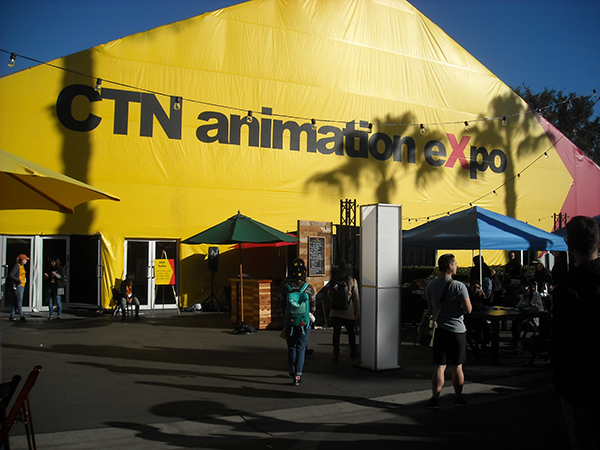 The Creative Talent Network was founded ten years ago by veteran animator Tina Price as a means of bringing animation talent together from all over the world to form a greater community that would support and spotlight one another. In 2009, they launched their first animation expo to further promote the talent and the industry. Since then the CTN Animation Expo has been held every year at the Marriott Hotel and Convention Center in Burbank, California, drawing thousands of attendees with live demonstrations, workshops, presentation panels, conversations with creators, and artist exhibits. With attendance being as high as over 60,000, this is regarded as one of the biggest animation conventions in the business. This year's convention took place from November 18 through November 20.
While registration was open to the public, a great many of the key events and features of the convention were primarily intended for aspiring animators and art students. As such, one needed the VIP or 3-Day Passport tickets to have a chance to attend panels and presentations and even then there was a limit to how many could be let in. This left most attendees only able to get Exhibit Only and Exhibit Only Plus tickets. These would mean that they would only be able to check out the Exhibit Hall, where hundreds of artists and animators had tables set up to promote themselves, sell merchandise, and perhaps do some drawings. Exhibit Only Plus allowed attendees to check out live demonstrations of traditional animation, digital animation, painting, and more from some of the top artists in the industry.
A unique feature at the convention was the presence of some of the top animation studios like Disney, DreamWorks, Pixar, Sony, Industrial Light and Magic, and Nickelodeon. But they were not there to promote themselves or their products. Rather they were there almost specifically conducting portfolio reviews. Even a school like DigiPen was there looking to enroll students. As talent was the main focus of the convention, there was pretty much no cosplay at this convention. I did spot one person who was in costume hopping around sprinkling fairy dust on other attendees, but that was really it. And besides, it didn't really seem necessary as there were costumed models at various stations doing life drawing sessions. Life drawing sessions went on throughout the convention, almost non-stop as I found at least four going on at different places at the same time.
Coming in late to register for the event, I was only able to get an Exhibit Only Plus ticket for one of the three days. Of course, I really did not know what to expect because, while I've been attending conventions for nearly twenty years, this was the first that was specifically about animators and art. It would be my first experience as to how CTN was run and operated. And I was ultimately blown away by what I saw. It was great interacting with a lot of the animators and artists I admired as well as seeing some of them demonstrate their craft. Here are some highlights:
---
Andreas Deja Live Demonstration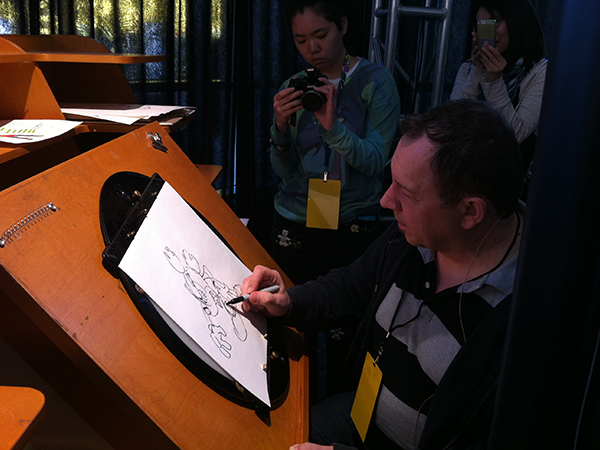 So many people went straight to the spot where Andreas Deja would be conducting a live demonstration first thing in the morning. This was no surprise as he is one of the elite animators of the last thirty years. The roster of characters Deja was the supervising animator of was very impressive indeed: Roger Rabbit in Who Framed Roger Rabbit, Gaston in Beauty and the Beast, Jafar in Aladdin, Scar in The Lion King, the title character in Hercules, Lilo in Lilo and Stitch, Mama Odie in The Princess and the Frog, Tigger in Winnie the Pooh, and Mickey Mouse in a number of projects, just to name a few.
Deja conducted his demo by drawing his characters, with a sharpie of all things, and telling stories about them as attendees were free to ask questions whenever. Right off the bat, everyone wanted him to start with Scar. As he was drawing Scar, one of the stories he related to how there were meetings regarding where the scar would be before they settled to around the eye. He next drew Yzma to fan interest, even if he only developed her for when the project was Kingdom of the Sun before it was ultimately changed to The Emperor's New Groove. This set up a discussion about missed animation opportunities, one of them being that he would have liked to have animated Esmeralda in The Hunchback of Notre Dame had he had the chance.
Without a prompt, he moved into drawing Roger Rabbit, discussing how he had a lot of fun drawing more cartoon-style characters over time. He noted that the film was one of the toughest because of the need for character positions to be perfect in order to match the live-action environments. Illustrating Tigger kicked off talk about the Nine Old Men, relating to the book Deja had written fairly recently. He noted how the legendary animators had interesting comments about one another, such as Milt Kahl claiming Frank Thomas and Ollie Johnston were great animators, but apparently not that good at actual illustration. The discussion of the Nine Old Men continued as Deja next drew Mickey Mouse, noting how when he and other animators were working under them that the young talent would sneak into the offices after hours and try to take animation sheets that were in the trash as they understood how valuable they were.
When he drew Hercules, he explained the difficulty it was to tone down the designs Gerald Scarfe (the renowned artist best known for his edgy work on the film Pink Floyd: The Wall) had done so that Hercules would be more visually appealing and heroic while maintaining his "Aw shucks!" personality. In drawing Jafar, he noted that he usually tried to illustrate characters around their voice actors. This wasn't the case as voice actor Jonathan Freeman looked nothing like how they were going to design Jafar. My asking a question about Lilo & Stitch led to him drawing her, my question having been if any of his ideas for when he was initially tasked to draw Belle's sister Clarice (a rejected idea from the first pass at Beauty and the Beast) had transferred over to Lilo. He responded that there wasn't, because of the differing personalities and designs. He also related that his favorite Lilo scene got cut because a woman during a test screening didn't realize Nani was Lilo's older sister and instead that she was her mother based on that sequence.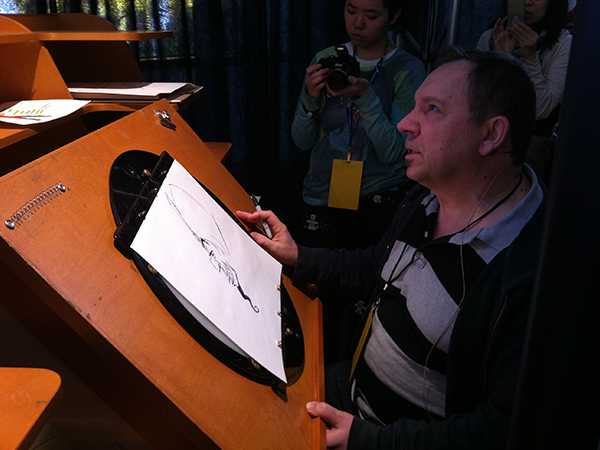 Deja later drew Mickey for a second time, but shifted to the monster version from the 1995 short Runaway Brain. He related to how after completing the short the animators were given jackets with "Monster Mickey" and he went to Disneyland Paris, prior to the film's release, where a worker reprimanded him for wearing what was seen as a disrespectful depiction of Mickey. He said that his attempt to tell her about the then-upcoming short fell on deaf ears.
He then moved on to Mama Odie, talking about how he had fun despite the small amount of screen time the character had. What he enjoyed was using her chin to express a lot of the personalities since she was blind and was therefore not able to use her eyes. Deja finished his demonstration drawing Gaston. With the classic Disney villain, Deja remarked on how he had to resist drawing him less heroic-looking given the bombastic performance Richard White was giving.
As he was wrapping up his session, Deja mentioned how after leaving Disney he was trying to figure out what he wanted to do. After teaching for a year at the UCLA Animation Workshop, he did a commercial for a bank, but really did not like the experience. This ultimately lead to him to his current project, the independent short feature Mushka. A select few were able to get in on the viewing of the film in its current state, which had been promoted as merely a surprise presentation prior to the convention. His session ended with his illustrations being given out. I was able to get the Monster Mickey illustration which, aside from the Scar that would have been one of the hardest to claim, I liked a lot. Deja signed it and I got my picture taken with him before I could get trapped by all of the admirers crowding around him. Just an excellent experience to watch the man draw and talk and it pretty much made my day. Everything else that happened at the convention ended up being pleasant bonuses.
---
Anthony Holden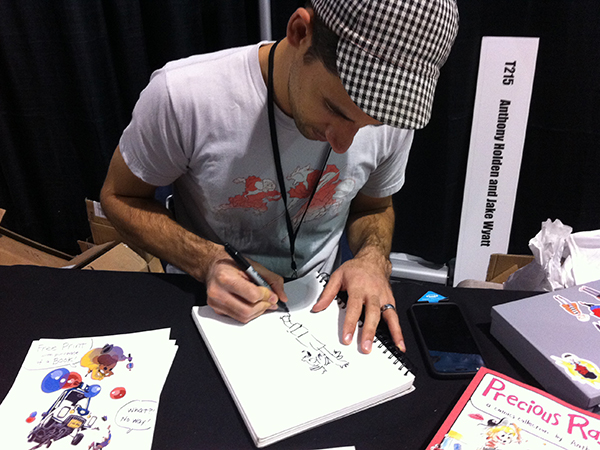 Going through the list of artists who had a table in the exhibit tent, a name that popped out for me was Anthony Holden. Holden is a contract artist, who worked for a few years as a story artist for DreamWorks and Laika, his most recent work being on Kubo and the Two Strings. But why the name popped out for me was that he had just written and illustrated one of the two back-up stories for the first issue of the new ongoing Amazing Spider-Man: Renew Your Vows comic book series.
In talking with him, Holden was very proud of his story, which chronicled a sweet and hilarious day of bonding between Peter Parker and daughter Annie May. He was also very happy with the reception it was getting, to the point that many fans wanted Marvel to have his work be featured more regularly. Thanks to crowd-funding, he had a new sketchbook and a collected volume of his semi-autobiographical comic strip Precious Rascals for sale. I picked up Precious Rascals and was also able to get him to sketch Annie May Parker, slightly recreating one of the most popular panels from his story. A fun man to meet and I will be very much keeping an eye on more of his work.
---
Genevieve Tsai
Genevieve Tsai is a character and concept designer who has worked for many studios for ten years. Among her credits include the film Free Birds and the video game Sly Cooper: Thieves in Time. More recently, Tsai started receiving some attention for doing the interior illustrations of the book Rescue Sirens: The Search of the Atavist written by director Chris Sanders and his wife Jessica. As such, her table was going to get a lot of looks.
Getting to meet Tsai was fun and she had a new sketchbook, which she said had just came off the press, and featured a collection of her designs and sketches for Rescue Sirens. That was an easy pick up for me. For my sketch, she asked me what was my favorite animal and after blanking for a minute went with a dragon, which she proceeded to draw. I asked her if the plan to turn Rescue Sirens into a series of books was still on and she said that Chris and Jessica were halfway through writing the second book. In the meantime, she was putting some more work into her personal project Cherry Hijinx, which was previewed in her sketchbook. A lovely person to hang out with, though I clearly wasn't the only one thinking that way as I had to depart before her table got crowded.
---
Bob Scott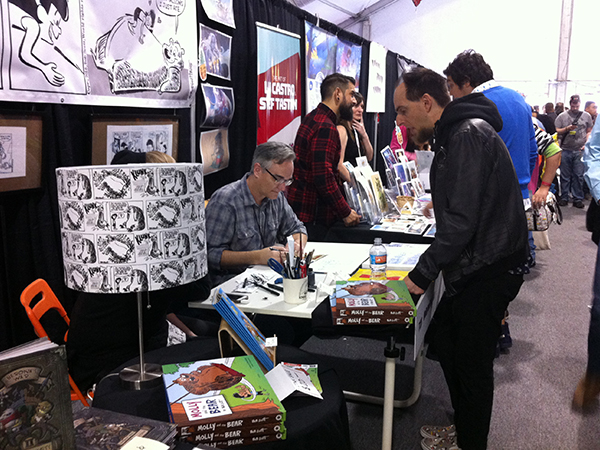 Bob Scott is a long-time animation veteran who has worked for virtually all the top studios at one point throughout his career. He even scored an Emmy nomination as one of a number of directors for the Garfield: His 9 Lives TV special. Scott was present when DreamWorks started, serving as supervising animator of Miriam in The Prince of Egypt and Miguel in The Road to El Dorado, before moving over to Pixar for over ten years. He also developed his own comic strip called Molly and the Bear.
Scott was definitely someone I wanted to meet after looking through the names. For while he drew Miriam, there was another work of his that I was a big fan of. As soon as I walked up to him, I thanked him for being a supervising animator of Danny in the under-appreciated gem Cats Don't Dance. We spent a great deal talking about how special the film was to the both of us as he had great fun animating on the film. After buying a hardcover collection of Molly and the Bear, I managed to get him to do a sketch of Danny, which he admitted he hadn't done in a long while. But after a few strokes with his sharpie, he found his rhythm and did a pretty good illustration.
I asked him how he's been doing at Pixar, only to discover he had moved over to Walt Disney Feature Animation and was doing story art for Wreck-It Ralph 2. We were very much looking forward to seeing how that will turn out. Just a wonderful man to meet and an even greater treat to look back fondly on a particular film he enjoyed.
---
James Lopez Live Demonstration
James Lopez is a long-time animator who has worked for Disney, DreamWorks, and Don Bluth throughout his career. While he didn't have a whole lot of characters he was lead or supervising animator of, his most well known being Pain from Hercules, he was well liked and respected. Enough so that he had a successful crowd-funded campaign to produce a full-length traditional animated feature in Hullabaloo that garnered a great deal of attention and publicity.
Lopez had both a booth and a live demonstration spot where he showed off his continuing to complete animation on Hullabaloo while promoting it throughout. When I got a chance to check things out, he was showing off to some interested viewers an unique technique he had for illustrating in-between frames of a character moving. This proved to be especially useful if one had a desk that was backlit. This was fun to watch and quite informative.
While the film hasn't been released yet, Hullabaloo seems to have drawn quite the following since it was first announced. Key merchandise Lopez was selling had sold out and occasionally one of the live models would appear in the booth dressed as one of the characters for artists to draw. There was no real time table announced for when the film will be released, but it was believed that it was nearing completion and would be available soon.
---
Russ Edmonds Live Demonstration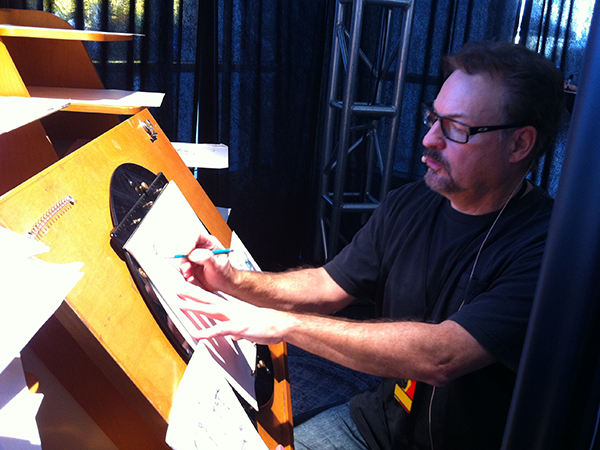 Russ Edmonds is a well known Disney animator from the Renaissance period. He was regarded for having drawn mostly animal characters such as Max in The Little Mermaid, Phillipe in Beauty and the Beast, Infant Simba and Sarabi in The Lion King, and Kala in Tarzan. He did get to animate human characters, though, like Phoebus in The Hunchback of Notre Dame and Vinny in Atlantis: The Lost Empire. Edmonds recently opened up his own animation studio, but still works for Disney on occasion doing story art for TV shows such as Randy Cunningham: 9th Grade Ninja. At present, he is putting together a book on drawing and animating animals and better understanding their anatomy for illustration.
Edmonds' demonstration was certainly different from the others I'd seen the whole day. For one, he unconsciously recreated what his desk would typically look like, paper all over the place and unorganized to the point that he would be constantly flipping through them just to find a particular sheet. The other difference was that he didn't draw any of his characters. He did show off some of his animation sheets for Phillipe and Infant Simba, but he otherwise took this opportunity to teach animation to everyone present. It turned out to be a lot of fun.
As he was still writing his book on drawing and animating animals, he took the opportunity to show off a good way to animate a dog running from one point to another while using three spheres to identify the head, chest, and back end. It wasn't long that he got into a rhythm that he was just animating, barely speaking and pretty much forgetting that there were dozens of people watching him. And we were in awe and fascinated by the process that we didn't talk either, we just watched. This ended up providing another lesson in animation as the first rough pass at a scene was about getting the movement down and letting it flow. Within twenty minutes, he had shown us how to quickly animate a one-and-a-half second scene of a dog running from one point to another.
I was able to catch a word with Edmonds after the demo and briefly discussed how the first drawing was always the most challenging to do because illustrators always tend to think it needed to be perfect. He added that animators constantly push themselves to just let the drawings flow and go back to make the illustrations better looking later in the next couple of passes. It was great to hear from an animator like Edmonds, which him actually animate, and then to personally talk to him. A fantastic opportunity if there ever was one.
---
Tom and Tony Bancroft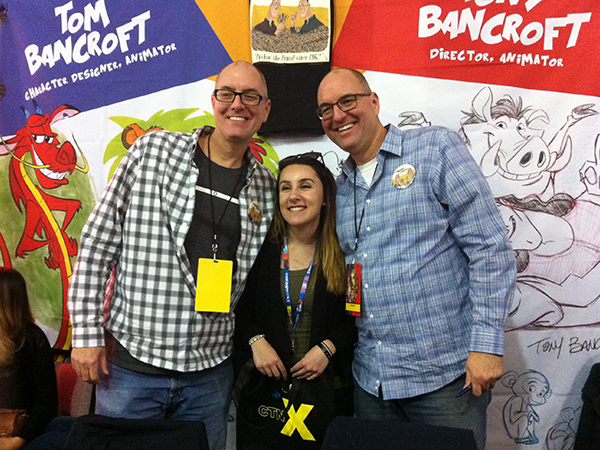 The Bancroft brothers have apparently been regulars at the CTN Animation Expo since its inception. Well-known and beloved names in animation, they worked on some of the biggest Disney titles such as Beauty and the Beast, Aladdin, The Lion King, and Pocahontas, just to name a few. Tony was supervising animator of Pumbaa in The Lion King and Kronk in The Emperor's New Grove, and would also direct Mulan, with Tom serving as supervising animator of Mushu. In-between independent animation jobs, the duo have their own popular podcast where the two and many others discuss the animation business.
The Bancroft brothers were an extremely popular draw, so much so that they were often being pulled from one conversation to another, pausing in the middle of sketches to chat with friends. Even a trip to the bathroom takes a long while because they end up chatting with someone for a long while. Because they're so likeable and game to talk about anything animation, you couldn't really be upset at them for getting so easily distracted. They were just so much fun to talk to and hang out with, something I did a lot of during my time at the convention really, and not just because I commissioned an illustration from them that would be a birthday present for my nephew.
I did purchase Tony's sketchbook and Tom's hardcover artbook, which had been crowd-funded and was hot off the presses. I also managed to ask Tony about how things were going with the next film he was directing, Animal Crackers. He said animation was projected to finish in January and if things with the distributors work out the film might have its premiere as early as April. Always great fun talking with the guys whenever their attention was not elsewhere.
---
Watch exclusive footage from the 2016 CTN Animation Expo below
featuring live demonstrations from James Lopez, Russ Edmonds, and Andreas Deja.
---
Below are more exclusive pictures from 2016 CTN Animation Expo.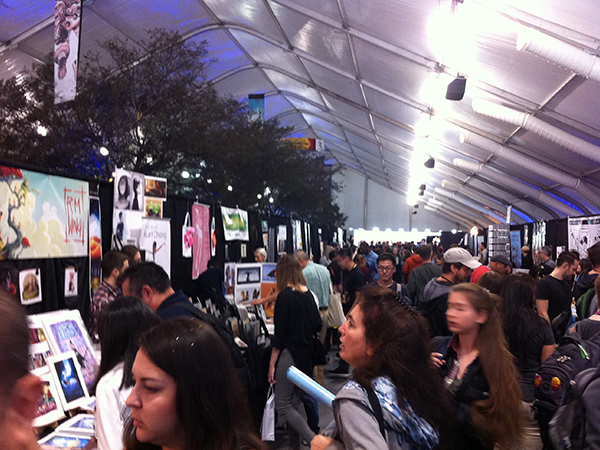 Attendees meeting the hundreds of artists with tables in the Exhibit Hall.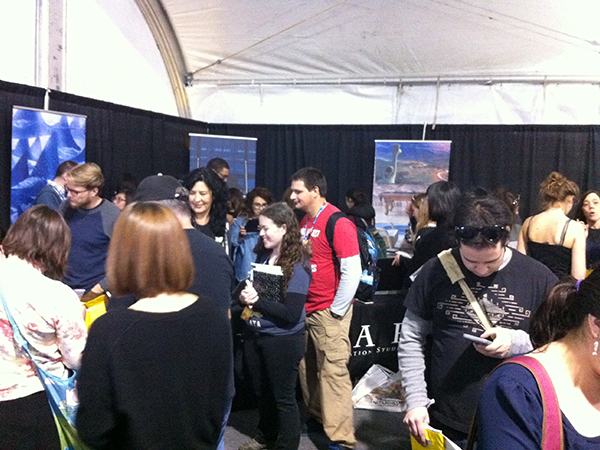 Pixar was one of the many studios conducting portfolio reviews throughout the weekend.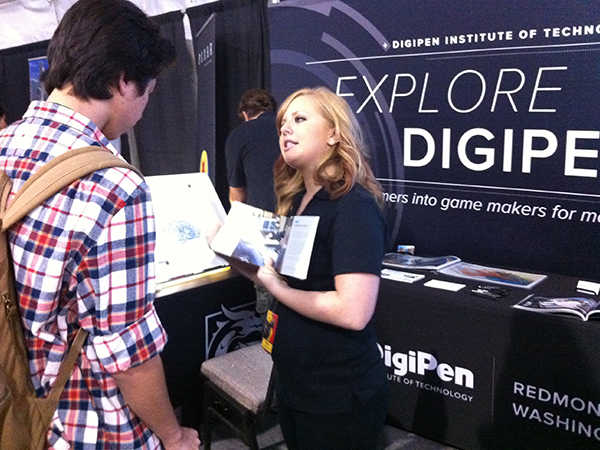 Video game school DigiPen promoting their animation program to potential students.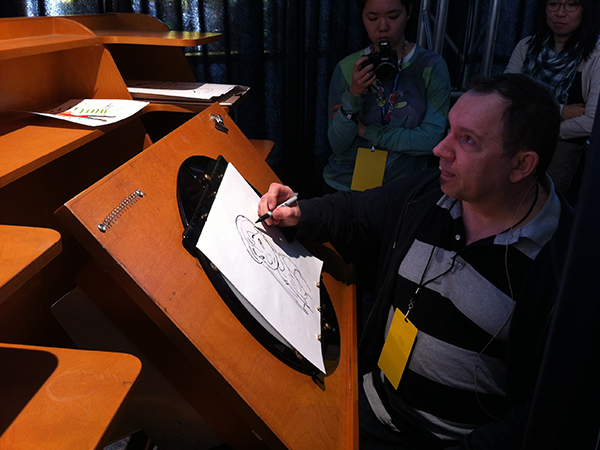 Andreas Deja drawing Lilo from Lilo and Stitch.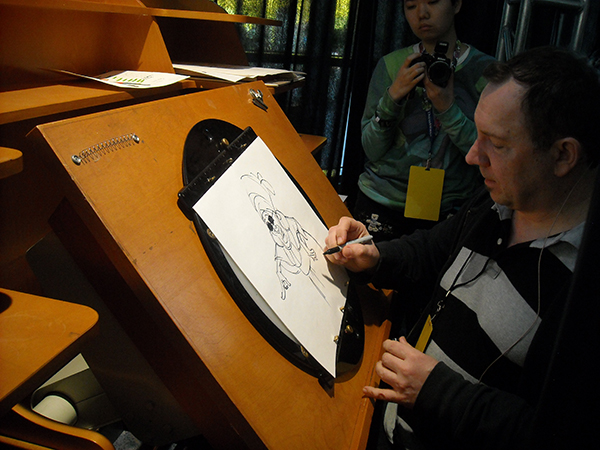 Andreas Deja drawing Mama Odie from The Princess and the Frog.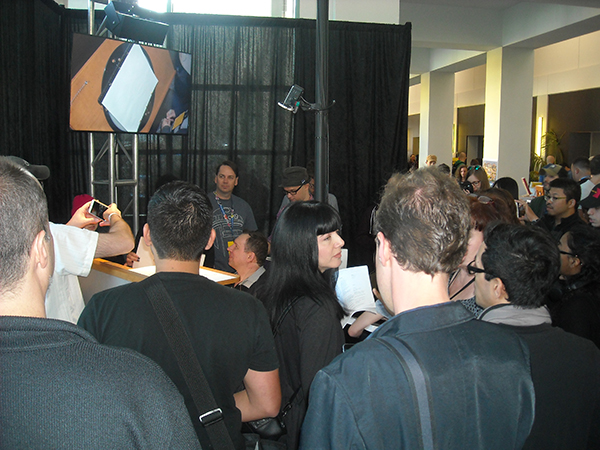 Dozens of attendees crowd around just to watch Andreas Deja draw.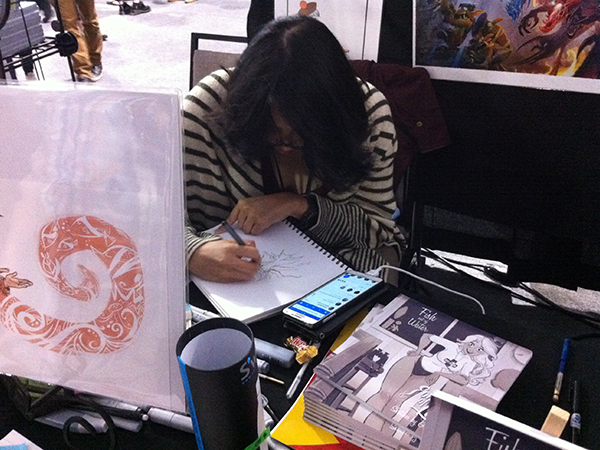 Genevieve Tsai illustrating while selling her new sketchbook and prints at her table.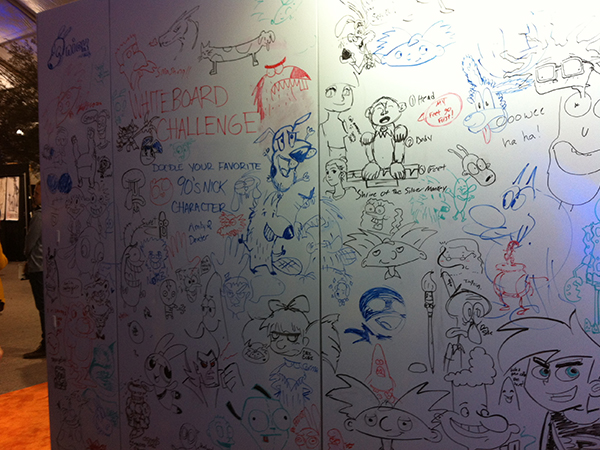 Nickelodeon invited attendees to draw on one side of their booth.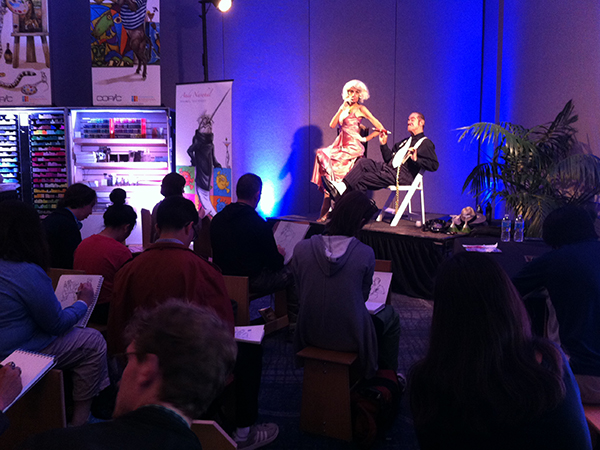 One of the many life drawing sessions taking place throughout the weekend.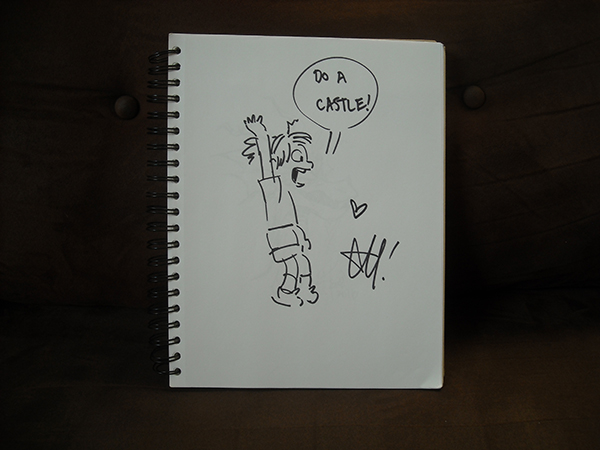 Annie May Parker from Amazing Spider-Man: Renew Your Vows by Anthony Holden.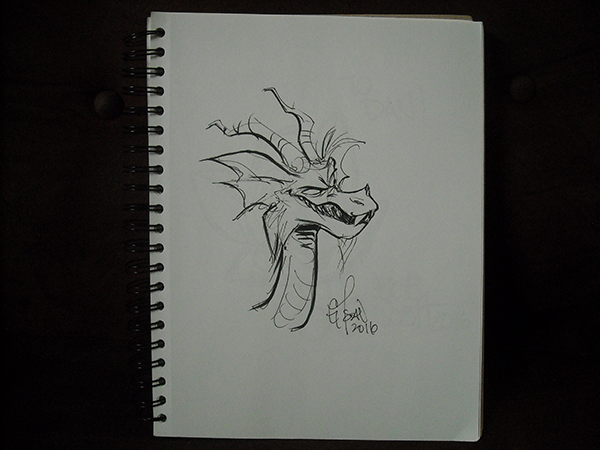 A dragon illustration by Genevieve Tsai.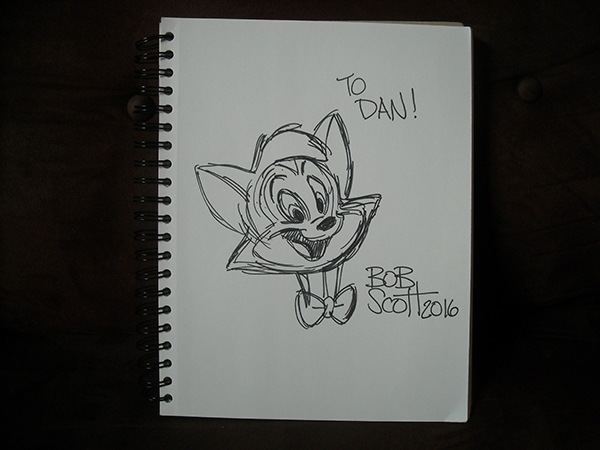 Danny from Cats Don't Dance by Bob Scott.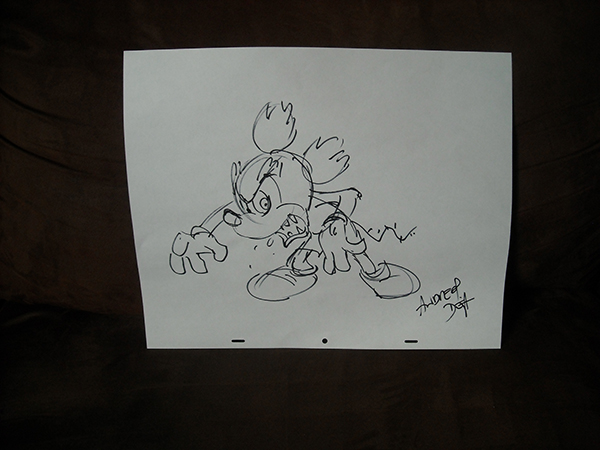 Monster Mickey from Runaway Brain by Andreas Deja.