Last year, 2015 brought us Inside Out, more Avengers, Star Wars and a heap of interchangeable animated features, plus that infamous "future date" when Marty McFly and Doc Brown arrived in their flying DeLorean time machine.
Flash-forward twelve months, and what a difference a year makes, with 2016 bringing us…um…more Avengers and Star Wars (as well as this, surely the funniest thing of the year), along with a heap of interchangeable animated features!
But it was a considerably better year for such fare, especially from the Disney camp, and here to wade through it all one more time and give their own picks of the year and last-second holiday gifts are our own band of merry reviewers and news contributors. Yes, it's time for…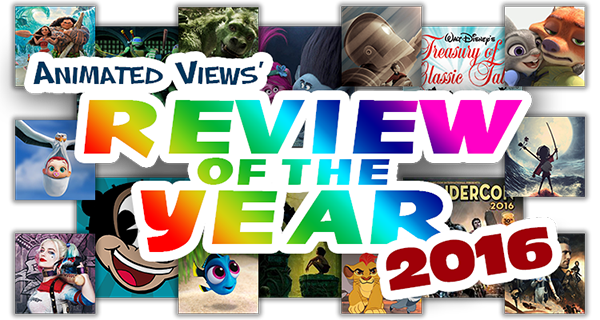 ---
Ben's Picks
And so 2016 ends as it began, as a new Star Wars film graces the big screen, with Rogue One proving, as with last year's offering, that the Force is strong with Disney and that the franchise is in good hands. While not comparing to the original trilogy, Rogue easily beats Episodes I – III as the prequel fans have been looking for, even if the CG resurrection of Peter Cushing isn't as good as the teenage Tony Stark in this summer's Captain America: Civil War and the blink-and-you'll-miss Princess Leia comes direct from the uncanny valley.
Cap 3 was a riot, refreshing the Marvel Cinematic Universe just when it might have begun to feel a little stale and remaining victorious atop the superhero genre, with rivals DC all but crashing and burning with their own, too hastily assembled team-ups. On the opposite end of the spectrum, the poignant independent Florence Foster Jenkins was a witty, warm, and not just a little bit wise reminder of top-flight filmmaking and superlative performances.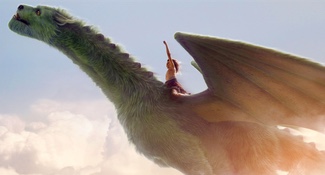 In a record-breaking year, Disney also reigned triumphant at the box-office, topping and tailing the year with its Disney Animation offerings of Zootopia – a comedy with something to say – and the exquisite Moana – still in theatres and highly recommended – while even Pixar's Finding Dory made a billion bucks even though it just wasn't very good, unlike supposed failure Alice Through The Looking Glass and moderate hit Pete's Dragon, which both proved the Studio is at the top of its game creatively if nothing else. And who knew that Jon Favreau's The Jungle Book would turn out as enchanting as it did?
In fact, Disney's only real dud this year was The BFG, and that was really an Amblin production, where Spielberg's usually assured touch eluded him. That rare misfire aside, Disney ruled and, in fact, I may have to declare Pete's Dragon [right] to be the most unexpectedly enjoyable movie of the year.
Other studios couldn't really compete: in animation we got sequels (Kung Fu Panda 3, yet another Ice Age), an independent (The Little Prince) that sadly got dumped by its distributor, and firsts that felt like sequels (Secret Life Of Pets, Trolls, Storks), but thank goodness for Kubo And The Two Strings to not only bring us a unique feature but also keep the stop-motion medium going strong. In live-action, things weren't much better, with an over-abundance of big budget fare that outright disappointed (Independence Day: Resurgence being laughably bad) or was merely okay (Deadpool being not half as meta or clever as it thought it was), a perfect example being Star Trek Beyond, which was perfectly fine but unspectacular.
Smaller budget and independent films may have offered different angles but also struggled to make their mark, the result being one of the most wide-open Oscar races as we head into awards season, leaving the real gems to be catalog titles coming to Blu-ray for the first time, such as the classic Frankenstein and Marx Bros. Silver Screen Collection sets from Universal. Otherwise, home video stayed pretty stagnant this year, with an almost complete lack of "great" titles coming to Blu-ray, especially as far as animation is concerned (although we finally did get The Iron Giant collector's edition the film deserved), where only the independent distributors are doing any solid work.
Once again, books provided more nourishment for the animation collector, with another collection of They Drew As They Pleased: The Hidden Art Of Disney's Musical Years, The 1940s Part One from Didier Ghez, a welcome revision for JB Kaufman and Russell Merritt's Walt Disney's Silly Symphonies: A Companion To The Classic Cartoon Series (but sadly only illustrating how sad it is that we can't study these films on Blu-ray), and even the frivolous The Art Of Minnie Mouse gave us interesting visual riffs on one of Disney's oldest characters.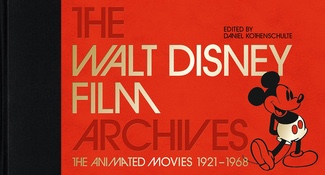 Two books really excelled this year: The Walt Disney Studios: A Lot To Remember provided a genuinely fascinating look at the physical Studio itself, but by far the publishing highlight of 2016 must be Taschen's awesomely assembled behemoth The Walt Disney Film Archives: The Animated Movies 1921-1968, the first in a planned five-part compendium [right] and expensive for sure, but lavishly produced, exceptionally engrossing and packed with art that even the most ardent of followers won't have seen before; simply wonderful!
In other media, I was struck by Glenn Close's reprise of her iconic Norma Desmond in the limited revival of Andrew Lloyd Webber's Sunset Boulevard in London's West End, which was a unique and clever staging accompanied by new, gorgeously lush orchestra arrangements which I wish we had the opportunity to purchase and enjoy again on CD.
Sadly, 2016 was also marred by a high number of celebrity deaths, with a shocking number of well-known and well-loved filmmakers and performers, as well as too many personal friends much closer to home, passing away and unfortunately marking the passage of time as it seems to speed ever faster and faster by us. So please enjoy it all while you can, especially at this time of year, and I wish you all my best wishes for 2017. Stay tooned!
---
Dacey's Picks
There are a few animated movies I have yet to see from 2016 (I'm probably going to be the only person here who doesn't list Kubo as one of his favorite films of the year!), but of the ones I did, Zootopia [below right] was the standout. Disney could've simply made a funny movie with talking animals and entertained with that alone, but they went above expectations by delivering some of their most sophisticated storytelling to date and essentially producing an animated neo-noir thriller. The company's winning streak continued with Moana in November, another terrific musical from directors Ron Clements and John Musker with appealing characters and great songs. DreamWorks also had a pretty good year – despite the controversy surrounding their purchase by Comcast – with Kung Fu Panda 3 being a visually spectacular and emotionally satisfying conclusion to one of the strongest animated franchises from the studio. And I'm almost embarrassed by how much I loved Trolls, which provided delightful, candy-coated escapism towards the end of what wound up being a pretty stressful year for me.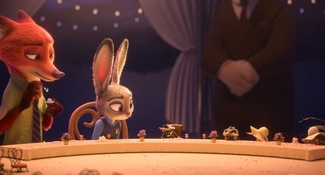 Good messages are nothing new to find in animated movies, of course, but this year seemed to be one in which they were especially positive. Zootopia's morals were perhaps the most effective – and timely – but films like Panda 3 and even Trolls also had encouraging things to say. One thing I noticed repeatedly throughout 2016 and very much appreciated was a real evolution in how male/female friendships were portrayed in animated movies. Trolls, Zootopia and, most surprisingly, Moana all featured bonds that were quite strong between opposite sexes without them necessarily having to turn romantic. That's a very important and healthy thing for kids (and adults, for that matter) to see.
On the live-action front, Alice Through the Looking Glass was probably one of the more underrated films of year, which in spite of getting an arguably unfair critical beating was an extremely enjoyable time travel adventure with a hilarious performance from Sasha Baron Cohen. Also unsuccessful with the press – but a much bigger hit with audiences – was Suicide Squad, which not only provided me with exactly what I wanted in a summer blockbuster, but also finally gave the most iconic character from Batman: The Animated Series a chance to shine on the big screen. Margot Robbie was easily the MVP of the film (even outshining a very solid Will Smith), giving us a Harley Quinn who was sexy, funny, vulnerable, and ultimately lovable.
As for Marvel, they went on to prove why they're the best at what they do, with Captain America: Civil War giving fans everything they expect from the franchise at this point. But it was Doctor Strange that truly dazzled, with jaw-dropping special effects and some of the most exciting action sequences since Mad Max: Fury Road. Finally, on a non-action movie related note, I must confess that I've always been a sucker for the Bridget Jones series, and if Bridget Jones's Baby really is the end of it, then it has ended on a very funny, warm, and heartfelt note.
On the small screen, Nick's Teenage Mutant Ninja Turtles continued to be one of the best series reboots currently on television, offering a perfect balance of the goofy humor from the original show and sometimes shockingly mature – and intense – storytelling. Now past 100 episodes, it's hopefully not in danger of being cancelled before it concludes. Disney Junior, meanwhile, is still on a roll when it comes to pleasing the smaller set: The Lion Guard wowed by quite possibly having the best production values seen in any animated show on the air right now, and displays just what The Diz is capable of when they produce their television in house.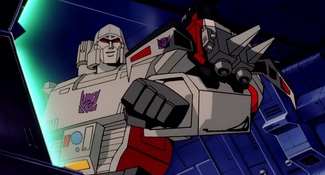 The real shock, though, might've been Elena Of Avalor, a seemingly unnecessary Sofia The First spin-off that actually ended up being better than the show it was based on, with bright animation, fun characters and impressive guest stars that ranged from Hector Elizondo to George Takei (who, yes, got to say his most famous line). And Captain Jake And The Never-Land Pirates, once again, ended up providing Saturday morning-style adventures that both kids and big kids could enjoy.
In terms of discs, it was great to see Shout! Factory give 1986's Transformers: The Movie [right] one of the best Blu-ray releases of the year, with a terrific restoration, nice extras, and pretty sweet steelbook packaging. And Brad Bird's gem The Iron Giant – no doubt beloved by most who come to this website – at long last got the attention it deserved from Warner Bros, even if the collector's gift set was a bit pricey for many.
As I said earlier, I have yet to see many of the year's animated films, which means that I haven't endured whatever terrors Norm Of The North might hold (although I remain morbidly curious), while The Wild Life seemed to enter and leave theaters with no-one really noticing or caring. As for personal disappointments, while I didn't dislike Batman V Superman: Dawn Of Justice nearly as much as some others seemed to, it still wasn't the epic big-screen superhero showdown I had been dreaming about for more than ten years. But the real letdown for me was Independence Day: Resurgence, which I had hoped would be a rollercoaster ride in the same family as last year's Jurassic World, but was instead a jumbled, incoherent mess setting up a third entry that will almost certainly never get made…
---
Dan's Picks
It goes without saying that 2016 was a dominant year for Disney, producing not one but two fantastic animated films in Zootopia and Moana, both so good I still have a hard time picking which I would consider better! Pixar released another winner in Finding Dory which, while not on the level of the original Nemo, was still a lovely film with heart and charm. One of Disney's classics, The Jungle Book, was remade into a magnificent live-action feature, living up to the hype we gave it at the 2015 D23 Expo and then some; Marvel had the superior superhero features in Captain America: Civil War and Doctor Strange, and Rogue One [below right] was an excellent first effort from LucasFilm to tell a Star Wars story outside the main series. And this only covers the feature films Disney put out this year!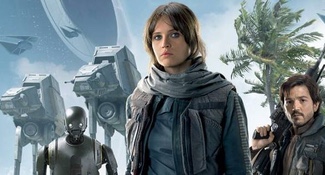 Disney television was just as successful: the final episode of Gravity Falls was an outstanding end to one of the best shows of the last decade; Star Wars Rebels continued to be excellent, highlighted by a heart-stopping battle between Darth Vader and Ahsoka Tano, and Star Vs. The Forces Of Evil ramped things up with great storytelling and character development.
Milo Murphy's Law got off to a fine start as a follow-up to Phineas & Ferb, while The Lion Guard and Elena Of Avalor displayed the kind of quality animation usually seen in features. Even the pun-tastic Disney Channel special Lego Frozen: Northern Lights was a fun watch. Coupled with the popular and entertaining Marvel shows and Lego Star Wars: The Freemaker Adventures, Disney offered a great combination of programming for everyone.
If there was a blemish to the incredible year Disney had, it was the sudden end to Disney Infinity. While it was long known the House Of Mouse was pulling out of videogame development and looking to license their properties instead, Infinity was one of the best-selling franchises and one had hoped it would last for another five years as it offered gamers the dream opportunity of mixing the worlds of Disney, Pixar, Marvel and Star Wars as they saw fit. Infinity getting shut down also appeared to affect other toys-to-life games, as the once lucrative genre began to lose a little steam.
Outside of Disney, the big acquisition of 2016 was the purchase of DreamWorks Animation by Universal. Already back on solid ground thanks to the successful release of Kung Fu Panda 3, the DWA deal puts Universal into true contention with Disney for multi-media dominance, with DreamWorks delivering a strong year itself in the form of Netflix shows like the ever fantastic Dragons: Race To The Edge and the launch of the awesome Voltron: Legendary Defender. Even their second feature of the year, Trolls, managed to be profitable at the box-office!
Elsewhere in animation, the beautiful Only Yesterday finally had an official American release and held up extremely well for a 25-year-old feature. Final Fantasy XV had a huge marketing blitz ahead of its videogame launch, releasing a fine anime mini-series, Brotherhood, and a gorgeous CG feature, Kingsglaive. While far from what would be deemed a quality film, I rather enjoyed the goofy, if childish, Open Season: Scared Silly and not just because I got to partake in Sony Animation's press day. Teenage Mutant Ninja Turtles returned to form on TV after a good deal of time spent in outer space, even if there was a fantastic crossover episode with their 1980s counterparts during that stretch, featuring the original voice actors.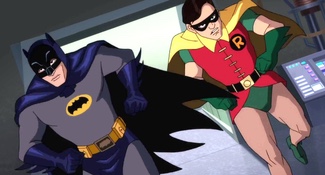 Perhaps the biggest surprise was Warner Bros. tripping with its superhero outings: Batman V Superman: Dawn Of Justice and Suicide Squad, despite both doing very well at the box-office, received polarizing receptions that forced drastic action within DC's film division, and the highly anticipated animated adaption of Batman: The Killing Joke was deemed mediocre due in large part to the addition of a first act that hardly had anything to do with the original story.
In fact, I would be among many to consider Batman: Return Of The Caped Crusaders [right] the best superhero film Warners would put out in 2016: set within the world of the 1966 series and even bringing back original actors Adam West, Burt Ward and Julie Newmar, this animated feature was a true delight in celebration of the show's 50th anniversary.
But it was once again about conventions for me this year, kicking off with WonderCon and meeting voice actors Stuart Townsend and Zelda Williams as well as elite comic book artist John Romita Jr. In addition to early looks at Voltron and Thunderbirds Are Go, the highlight was the word premiere of The Iron Giant documentary The Giant's Dream with a wonderful Q&A featuring Brad Bird. Then came the San Diego Comic Con, where I met Lucy Lawless and cast of the new Thunderbirds while checking out an early preview of Moana, celebrated anniversaries for Captain America and NickToons, and attended a fantastic Animaniacs Live! revue. Also part of the Con festivities was Nancy Cartwright, voice of Bart Simpson, launching her first art exhibition that was a delight to attend.
Next up was the newly christened Los Angeles Comic Con, formally Comikaze, as organized by Stan Lee's POW Entertainment. Arguably the most chaotic of all, there was no shortage of opportunities, from celebrating anniversaries for Wonder Woman and Darkwing Duck, to meeting Cary Elwes, Rick & Morty creators Justin Roiland and Dan Harmon, and the surviving cast of Batman (West, Ward, Newmar and Lee Meriwether). Finally, there was the amazing CTN Expo, one of the largest animation cons in the country. Meeting and getting sketches from story artist Anthony Holden, illustrator Genevieve Tsai and animator Bob Scott was fantastic, and there were wonderful demos from James Lopez, Russ Edmonds and Andreas Deja that were enjoyable and educational. These events, among others, made for a very memorable 2016.
---
James' Picks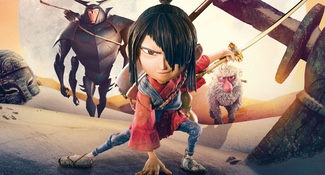 While 2015 was a fairly lackluster year for animated films, 2016 was better. Sure, there were no stand-out critical hits, but there was a lot of entertaining fare to be found.
But before we take a look back at the good stuff, let's take one last moment to remember the bad — in fact, two of the worst animated films in some time. In January, I was apparently one of the few people in the United States to see Norm of the North, a movie that took every bad animation trope and cliche out there and made an entire film out of them. Then they threw in some pervy upskirt shots because…why not? Norm has the distinction of being the first film to earn a zero rating from Animated Views!
Six months later, Blue Sky gave us Collision Course, the fifth installment in the Ice Age franchise, and what may well be one of the worst major studio animated movies in decades. The filmmakers seemed to have taken the things that made some of the previous movies so good and then completely tossed them out the window. It was an embarrassing film to watch as an adult. Luckily, as 2016 comes to a close, we can put these movies behind us and speak no more about them!
Now on to the good! What may be a record 30 animated films were released in the United States in 2016. A little more than a third of them didn't get wide releases, but that is still a staggering number and shows just how much animated films have become part of movie studios' bottom lines. I was luckily enough to see exactly half of the total this year and, while I didn't rate anything better than a 7 out of 10, I'd say at least 10 of the 15 films I saw were, at the very least, entertaining. I'm a fairly picky reviewer, so that's a pretty big deal coming from me!
For just the second time since we started these end of year pieces, a non-Disney/non-Pixar movie tops my list as best animated film. Kubo And The Two Strings [above right] is everything most traditional fare is not: full of heart but not necessarily heartwarming, fun but not necessarily funny, surreal but more real than most animated films. Kubo gets a lot of credit for originality, which is a good thing in a story about storytelling!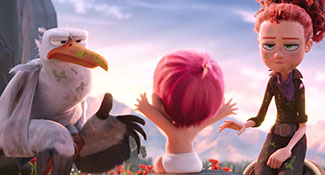 The writers mess with audience expectations with more than just basic plot twists — which Kubo has too — by subverting the way we expect things to play out in typical animated movies. Your kids probably aren't used to a story like this. And I haven't even mentioned the stunningly beautiful animation and unique designs! Kubo And The Two Strings is real storytelling magic.
My number two pick is going to be a little surprising. And I have gone back and forth in my mind for a month about whether I really wanted to choose it. But after seeing it again recently, but this time with my kids, it became a no-brainer.
Storks [right] is not a perfect film, and it's not high art. But it is absolutely hysterical, and one of the most enjoyable films I saw in theatres this year – animated or live-action. Zany, madcap comedy used to be what Warner animation was known for, and hopefully that is a tradition the company is reviving for themselves. In addition to the humor, the film is well-paced plot-wise, has some great voice acting, and features some really fun animation. Storks absolutely delivers.
As has happened several times in previous years, the final spot in my top three has a lot of potential candidates. But in the end, I went with the one I felt had the most depth – literally and figuratively. Finding Dory is a more than worthy successor to the original. Everything fans loved about Nemo can be found in this film, and it even surpasses it in one big way: fun. Sure the plot has a few too many convenient shortcuts and a completely over-the-top farcical finale that didn't feel like it fit in the tone of the world the filmmakers had created. But no one is better than Pixar when it comes to making you care about characters. And, yes, that usually means tears for audience members! Despite the flak they take for them, Pixar sequels are more often than not fathoms beyond the forgettable follow-ups from everyone else.
That's my top three animated movies for the year, but as I said before, there was a lot of fun to be had with many of the other films of 2016, so if you didn't get to the theatre as much as you would have liked, be sure to stock up on Blu-rays and fill up your Netflix queue!
---
Randall's Picks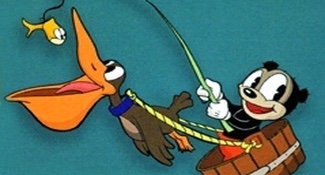 Two big things stick out for me in my remembrance of 2016, the first being the re-emergence of Disney as the premiere animation studio.
Classic Disney fans will find this very satisfying, as it's not just because Pixar's only effort this year was Finding Dory (despite its financial success, I still see it as a sequel only the bean counters asked for), or the recent fall of DreamWorks Animation (okay, Kung Fu Panda 3 was predictably good, but Trolls was about the last thing I wanted to see this year), the foreseen inanity of a new Ice Age film from Blue Sky, or Illumination running out of gas with their mediocre Secret Life Of Pets; no, Disney had two certifiably great films come out this year.
Zootopia was a crowd-pleaser for families everywhere, but also had a surprising depth that will have folks getting more out of this film on repeated viewings as they get older; and Moana was another blast from the legendary team of Clements & Musker. With two solid hits this year, Disney was in fine form in terms of both box-office returns and critical response.
The second big impression came on the home video front, where it was two small outfits that came up big. While Disney pumps out re-re-re-re-releases that lose more than they gain each time out, and other studios have abandoned classic animation altogether, it's been up to the little guys to bring cartoons and shorts to the forefront. Michigan-based Steve Stanchfield and his Thunderbean company have been a favorite of ours for a long time. Steve has been doing high-definition releases for a couple of years now, and he has been trying to ramp up production, with many titles in the pipeline.
Not as much came out this year as he had hoped, but he did produce a Blu-ray with a complete set of Cubby Bear cartoons [above right] from the early Van Beuren animation studio, and he is just now bringing out a set he calls Yuletide Flickers, featuring a large assortment of obscure live-action and animated short subjects. Even more exciting than Cubby, this year Thunderbean took preorders for their second Ub Iwerks set (after late 2015's Willie Whopper), this one being a two-disc compilation of Ub's Flip The Frog cartoons.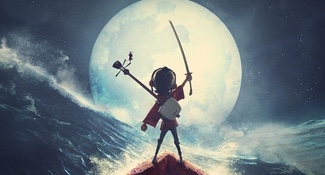 That one will be out in 2017, along with at least a few other discs that are sure to excite animation fans. Though there were only two new releases in 2016, Steve also put out numerous exciting "Specials" on DVD-Rs, for those that follow him on online forums or on Facebook. Meanwhile, Tom Stathes' Cartoons On Film brought out a fascinating collection of silent Bray Studio cartoons on Blu-ray, with a Bobby Bumps collection promised for 2017.
It bears mentioning that my favorite animated film of 2016 was Kubo And The Two Strings, an incredible and epic work of stop-motion animation [right]. I also greatly appreciated GKids' video release of April And The Extraordinary World, a traditionally animated (but on computer) film that utilized the steampunk aesthetic to good effect.
It was also good to finally see the semi-brilliant Studio Ghibli film Only Yesterday finally arrive in North America, just twenty-five years after it was made! Belladonna Of Sadness was a release of similar vintage and importance, though for adults only.
In the direct-to-video world, I might have to go with Batman: Return Of The Caped Crusaders, a nostalgic romp that sequel-ized the 1960s TV show, while providing commentary on how the character has been reinvented over the years. Though the script was really just so-so overall, and failed to reach the heights of the original series in terms of entertainment, it nevertheless provided a fun highlight of the year for those of us who grew up singing, "Nananananananana… Nananananananana… BAT-MAN!"
In publishing, I was certainly gratified to see IDW and Fantagraphics continue their reprinting of important Disney comics material, including IDW's first volumes of both the Silly Symphonies and Walt Disney's Treasury Of Classic Tales comic strips.
---
Your Picks!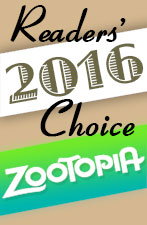 And now it's your turn!
For the fourth time in the five years we've been asking Animated Views readers to rank the best animated movies of the year you've chosen a Disney film.
This time Zootopia topped the list with a score of 59 out of a perfect 100. It earned 41% of the first place votes and appeared on a whopping 72% of all ballots.
There was a tie for second place. Kubo And The Two Strings and Moana both received a score of 32/100. Kubo easily outpaced Moana in first place votes, 21% to 12%. But Moana picked up more second and third place votes, earning a spot on 51% of all ballots to just 43% for Kubo.
Finding Dory came in fourth with 16/100, appearing on 32% of all ballots. And Your Name rounded out the top five with a score of 13/100 and appearing on 15% of all ballots.
---
---
And there we have it, folks! As unbelievable as it was, Disney managed to beat even their own massive 2015 with a heap of top-drawer offerings that look to only be continuing into the next year and beyond. Reboots and sequels stalled, although we had a huge number of animated offerings from other studios that provided more than just what even Disney could offer.
Did your own choices of 2016 make our lists, or did we overlook any films or other items that should have perhaps made our selections? Come join us in the Animated Views Forum to discuss your views and start the discussion rolling on what could feature on next year's end of year lists.
Until then a very Merry Christmas and a happy and healthy New Year to you and your families!
— Ben and the entire Animated Views team!