It's that time of year again – well, we're slightly past that time of year, but that gave us time to reflect, right!? – when we look back on the past twelve months and offer our appraisal on 2014's offerings in the world of animation on the big and small screens.
With 3D flatlining in the home, even largely in cinemas, an otherwise unexceptional year of features in theaters saw a decline in the number of big studio releases and an unbalanced lean towards franchise pictures. 2014 actually turned out to be 2013 all over again, with much more of the same on offer, including another Planes in the exact same release spot as if to hammer home the point. Thank goodness, then, for the rise of the independents, where The Book Of Life (especially), Song Of The Sea, Princess Kaguya and even the studio-sponsored Boxtrolls and The Lego Movie made the biggest splashes.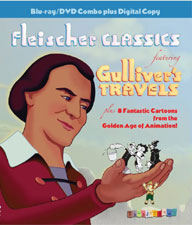 On DVD, the release of both new and classic animation slowed to a crawl as the studios largely completed their migration to the hi-def Blu-ray format, especially with the long delay of Warners' second helping of golden age Tom & Jerry cartoons, still without a firm date as we begin 2015.
Seemingly following in WB's steps, the big studios focused mostly on new releases over picking the real gems from their catalogs, with a slew of basic reissues from Disney bringing little new other than HD upgrades (and still no sign of a decent Frozen edition), and a continuing lack of past successes from DreamWorks, ostensibly a studio celebrating an anniversary year.
This has left a real gap for the independent distributors to fill, with the likes of Olive Films, Kino Lorber and the Screen Archives Entertainment-distributed Twilight Time providing the best from the studios' libraries: their tentative steps into animation have seen some fine HD Betty Boop collections and a special issue of the affecting When The Wind Blows, truly seeing a multiple of niches covered with one title.
Best of all has been the rise of Steve Stanchfield's unstoppable Thunderbean Animation, making the jump from exceptional standard definition DVD releases to unbelievable Blu-ray issues that build upon that initial promise, not just repeating what came before but completely raising the game for anyone looking to produce vintage animation programming for HD disc. With a total rehabilitation for the Fleischer Studios' landmark animated feature Gulliver's Travels after a devastating "professional" edition almost destroyed the unique legacy of that picture (and topped our worst section in 2009), Thunderbean excitingly looks to be going from strength to strength, and we can't wait to seen what 2015 will bring!
But, for now, back to the last year and our picks of the best, and the worst, of 2014…
---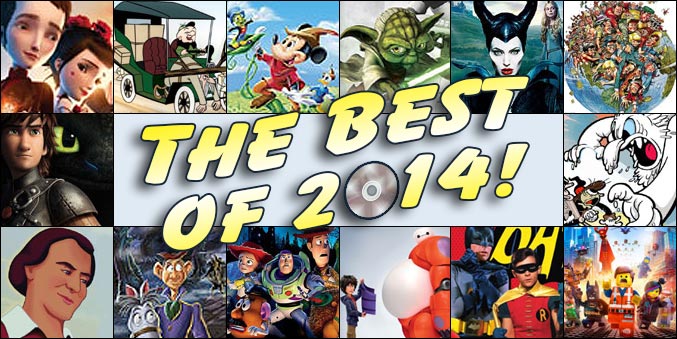 1. Technicolor Dreams And Black And White Nightmares / Gulliver's Travels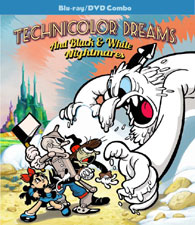 Classic animation won our poll in 2013 with another independent release, of the 1987 The Puppetoon Movie that celebrated with style the career of the otherwise unfairly overlooked George Pal complete with additional toons, feature-length documentary and his debut movie The Great Rupert. It's a release that was nearly usurped by Thunderbean's issue of Fleischer's Gulliver's Travels – had our copies of that disc arrived in time! In the past twelve months one might have thought another title would come and steal its inevitable crown…but who would have thought it would be yet another Thunderbean release!? With Technicolor Dreams, Thunderbean's Steve Stanchfield follows up that initial Gulliver disc with a further selection of truly vintage animation, setting himself up as the de facto label for classic animation releases. More can't come soon enough!
Support Animated Views and buy Technicolor Dreams And Black And White Nightmares or Gulliver's Travels from Amazon.com now!
---
2. Mr Magoo: The Theatrical Collection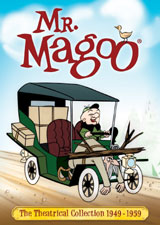 What's new, Magoo? Well, Sony's approach to releasing their classic Columbia animated shorts on disc, that's what, going by their licensing of the UPA-produced cartoons in a special TCM Archives collection in the past couple of years, and Shout! Factory's issue of these cartoons. Magoo's television shows were available previously, and this collection of his earlier, and much better, theatrical shorts was a long time in coming, but the wait was worth it, with three full discs of UPA goodness – including original CinemaScope ratio toons – as well as a fourth disc dedicated to the full-length feature 1001 Arabian Nights – previously only available on a rather expensive Warner Archive manufactured on demand disc – and a bunch of welcome extras. After the long wait a Blu-ray would have been nice, but with a general dearth of newly-released classic animation on disc we'll take this!
Support Animated Views and buy Mr Magoo: The Theatrical Collection from Amazon.com now!
---
3. Fun And Fancy Free & The Adventures Of Ichabod And Mr Toad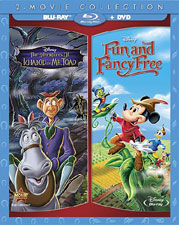 Disney's been on a mission of late to rush out their catalog reissues, aiming to pull Disney DVD collections over to Blu-ray sooner rather than later, but the results have been middling at best, going from the extremes of perfectly good new editions (Tarzan) to the dropping of significant classic extras (often for lower class direct to video sequel filler) or, in the case of Hercules, ignoring readily available material to present even less than the already barebones DVD! So imagine our surprise when this double-feature disc offered up a sneaky freebie, in HD no less: the complete 1941 behind the scenes tour of the Disney Studios, The Reluctant Dragon, in which humorist Robert Benchley visits Walt to pitch him an idea for a new film. Although a nifty featurette, amongst other things, was dropped from the Fancy Free DVD, this unexpected and excellent triple-feature proved to be Disney's release of the year.
Support Animated Views and buy Fun And Fancy Free & The Adventures Of Ichabod And Mr Toad from Amazon.com now!
---
4. Jack And The Cuckoo-Clock Heart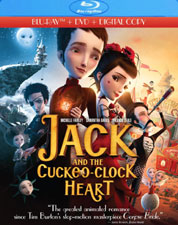 Independent and international animation (often one and the same thing!) has started to strike back in recent years, with Spain's Nocturna seeing a Blu-ray release recently, and France really making a splash with A Monster In Paris, Thunder And The House Of Magic, and our number four choice for 2014. An ostensibly bizarre premise hooked us all the same, with producer Luc Besson's (yes, the same European producer/director who flips between the likes of the Taken films and the more family friendly Arthur And The Invisibles franchise) film evoking a variety of visual techniques to tell its haunting but beautiful story. Staggeringly original and unlike any other animated film you might have experienced, Jack And The Cuckoo-Clock Heart is a dazzling masterpiece.
Support Animated Views and buy Jack And The Cuckoo-Clock Heart from Amazon.com now!
Read the full Jack And The Cuckoo-Clock Heart Animated View here!
---
5. Fantastic Mr Fox: Criterion Collection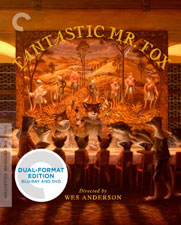 In a year filled with reissues, it's a bit of a shame that we can't really promote more original titles over the onslaught of HD upgrades, but at number five is one of the best. Criterion, a prestige label best known for their pioneering LaserDiscs of classic films that paved the way for the kinds of extras-filled releases we've come to expect on DVD and Blu-ray today, isn't known for its animation releases, save for a laser edition of Akira back in the day, but their arrangement with filmmaker Wes Anderson meant it was only a matter of time before his stop-motion adaptation of Roald Dahl's caper made an appearance in the collection. Fox Video's original disc was no slouch but Criterion adds a wealth of extra extras befitting such a fun film, and it seems to have finally given them the animation bug: a new edition for Watership Down is next.
Support Animated Views and buy The Criterion Collection edition of Fantastic Mr Fox from Amazon.com now!
---
6. Maleficent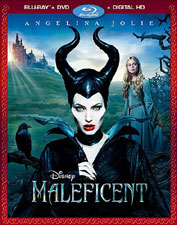 Disney's remaking of their animated classics continues this year with Cinderella and The Jungle Book next, with Emma Watson's perfect casting as Belle in an upcoming Beauty And The Beast confirming that the Studio has faith in this new direction – something surely only encouraged by the huge popularity of Angelina Jolie's turn as Sleeping Beauty's eponymous villain. Of course, with such a huge megastar in the title role, changes were going to be made, but for all the retrofitting and attempts to provide the reasoning behind Maleficent's later actions in Walt's 1959 classic, this was still faithful to the original source and absolutely gorgeous to look at. It's a shame that the Studio's disc was so lackluster in terms of extras, but as a slice of 21st century blockbuster moviemaking, this ticked all the boxes.
Support Animated Views and buy Maleficent from Amazon.com now!
Read the full Maleficent Animated View here!
---
7. The Looney Tunes Platinum Collection: Volume 3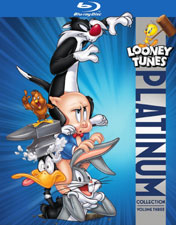 Not much new to disc, to be sure, but this third and by all accounts final compedium of Looney Tunes shorts managed to cover most of the bases in terms of bringing some of the most classic cartoons to HD. It's true that these releases were little more than combinations of previous Looney Tunes Golden Collection sets, and that's what probably did the line in early, with fans balking at springing for the same thing twice (and sometimes third or fourth time going back to the LaserDisc days) when the sometimes clueless bods at Warners failed to entice with many fresh samplings. However, drawing from releases beyond those golden sets, the huge amount of extras – while mostly repeats – still made for engrossing viewing.
Support Animated Views and buy The Looney Tunes Platinum Collection: Volume 3 from Amazon.com now!
---
8. The Pirate Fairy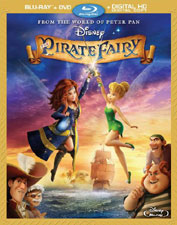 There's always a spot for direct-to-disc titles in our top choices and this Disney franchise continues to impress. Whereas the likes of Planes looks like the series has sputtered out after just two outings, leading Disney to resort to a third Cars to jump-start that franchise, the Tinker Bell movies – themselves released theatrically around the world – seem to get better each year, nudging closer and closer to their source inspiration (Walt's 1953 classic, of course) so that in The Pirate Fairy we even meet a young Jim Hook! A viable series that builds around and promotes a much-loved and iconic supporting character to leading status, these films use the best of the DisneyToon artists and often capture the feel of the classic features. With more adventures past the second star on the right to come, we haven't seen the last of Peter Pan's pixie pal yet!
Support Animated Views and buy Tinker Bell And The Pirate Fairy from Amazon.com now!
Read the full The Pirate Fairy Animated View here!
---
9. Toy Story Of Terror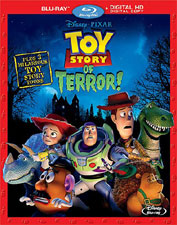 Sticking with home offerings in the bottom half of our list, the latest from Pixar's popular playthings saw a fun mini-adventure cooked up for a couple of Halloweens ago, making its journey from television to a terrific Blu-ray disc in 2014. The special itself, playing at just under a half hour without commercials, largely continued where the last film and three previous Toy Story Toons left off, with the toys now in the care of new owner Bonnie and filling in time, along with the recent Toy Story That Time Forgot, before the inevitable fourth feature instalment comes along in 2017. Best of all was the amount of extras To be enjoyed: a typical Pixar-packed affair saw commentaries, those Toons shorts, documentary featurette, deleted scenes and "vintage" commercials all making for a full-featured, super-value disc.
Support Animated Views and buy Toy Story Of Terror from Amazon.com now!
Read the full Toy Story Of Terror Animated View here!
---
10. Star Wars: The Clone Wars – The Lost Missions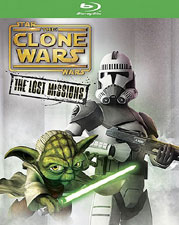 A thirteen-episode sith – sorry, sixth – season in all but name, The Lost Missions Blu-ray release finished off Warners' collaboration with LucasFilm after the company was sold to Disney and the Mouse House canceled the series. Debuting on Netflix before making their way to disc via Disney's set, these episodes maybe didn't tie things up as neatly as originally planned, but the inclusion of an entire 90-minute story arc presented as a work in progress was a considerably generous offering for those appreciated fans who had stuck with the show from its sometimes shaky beginnings. The use of Dolby Digital lossy sound over the lossless DTS of Warners sets was a minor step back, but the high-value visuals made sure the series went out in full force.
Support Animated Views and buy Star Wars: The Clone Wars – The Lost Missions from Amazon.com now!+
Read the full Star Wars Clone Wars: Lost Missions Animated View here!
---
---
Honorary Mentions
As you might – reading between the lines – see from our picks above, we haven't felt 2014 was a particular banner year, though that's not to say we didn't think there were a lot of good releases…just not too many exceptional ones! Still, there were plenty of titles that warrant a mention, especially the likes of Twilight Time's initial foray into animated fare with When The Wind Blows, a harrowing tale of nuclear fallout and how it slowly affects an old couple on the edge of death (and if you think that little summing up was jolly you should see the film!) coupled with a feature documentary on its director, himself with a story to tell. Twlight's not always easy availability and high price structure knocks this out of our Ten, but the film is well worth discovering again.
---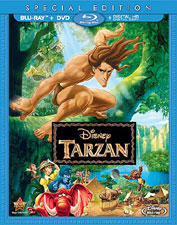 The aforementioned Thunder And The House Of Magic made a last-ditch play for the benefits of 3D, in a film that played the format for its fun value rather than just bringing depth to the image, while Nocturna's shout for traditional hand-drawn animation finally came out of the dark after some years in Europe with a lovely, crisp transfer that showed off this unique film's visual treats. Elsewhere, the bigger studios resorted to simple HD updates: Warners with the underrated Looney Tunes: Back In Action, DreamWorks with Spirit: Stallion Of The Cimarron and Disney's The Jungle Book: Platinum Edition (and its belated sequel), Mickey, Donald, Goofy: The Three Musketeers and Tarzan, the last of which was easily the best of an otherwise not particularly spectacular bunch that brought little or nothing new to their Blu-ray debuts.
---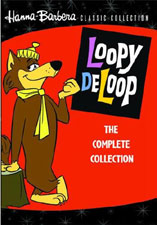 Good old DVD still had some tricks up its sleeve, with a missing piece of the Hanna-Barbera story coming to disc in the form of the Warner Archive's issue of their Loopy de Loop cartoons (also, ironically, originally a Columbia Pictures property) filling the gap between their theatrical and television eras, while Warners also brought the finale of the Animaniancs show to disc with fan favorite TV movie Wakko's Wish. Over at Disney's, their recent Emmy award winning series of Mickey Mouse shorts came to Walmart stores as an exclusive before seeing a wider release, while other offerings included the latest from Jim Henson's much-loved characters in Muppets Most Wanted (otherwise light on extras but with a unique longer cut of the movie) and a trio of Studio Ghibli issues (Princess Mononoke, Kiki's Delivery Service, The Wind Rises) kept up the quality and set the stage for more releases in 2015.
---
---
The Un-Mentionables: Worst Of 2014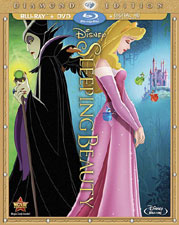 Disney again tops our best and worst mentions, finding the home video department at the ends of both extremes with their simply poor handling of some of the Studio's classics. While on the bright side there were no Sword In The Stone atrocities this year, the already mentioned Hercules was a dud disc without anything on it (when documentary material or even a direct to video prequel is to hand), and no less a supposedly prestigious title as Sleeping Beauty's Diamond Edition turned out to be a spectacularly duff affair, dropping copious amounts of extras from its previous Platinum Blu-ray and essentially using up a Diamond release slot where we'd have much preferred to honor the hugely missed Robin Williams with Aladdin's much-delayed release rather than a title simply being reissued to help promote the Studio's Maleficent.
---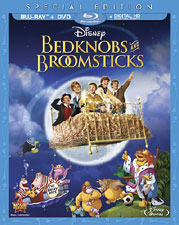 Perhaps most disappointing of all was their handling of Bedknobs And Broomsticks, where the much heralded 25th anniversary reconstruction of the full feature as originally envisioned was thrown out for the edited theatrical cut (which loses almost a half hour of footage and songs) – with no option to watch the extra scenes via branching methods. Perhaps, we wondered, it was because the restoration hadn't been finished in HD…but no – extra scenes were shown on the disc, and in HD, but in a deleted section only! Worse yet, this selection failed to include all the restored/then deleted footage, making a complete mockery of the entire process. With the film presented both ways on DVD in the past, and all elements available in HD, why did we not get the choice of both versions – or better yet just simply given the extended cut – on this "upgrade"…!?
---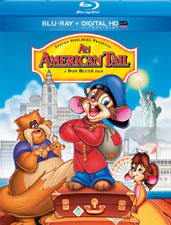 Disney doesn't have the field to itself, though, as if ever there was a missed opportunity then Universal's An American Tail was it: an awfully barebones BD for such a landmark film, and one from none other a producer than Steven Spielberg. Taking a hugely long time to come to the format to begin with, there were questions about a portion of its soundtrack (concerning a change in one sequence's voices that's plagued several past home video releases) and a total lack of extras seemed disrespectful to the film and its fans when surely filmmakers Don Bluth and Gary Goldman would have been happy to sit for an audio commentary, there is documentary material (including various promotional specials) in the vault, and even the inclusion of its theatrical sequel would have made for better value over the poor disc that actually came out.
---
---
Best Non-Animated Disc Of The Year
Both Rand and I wanted to make mention of the super Supermarionation behemoth collection that landed in 2014, celebrating the work of Gerry Anderson's science-fiction series by way of a newly commissioned feature documentary, further discs packed with milestone episodes of Anderson's classic shows, copious reproduction artwork plus a slipcase reprint of the definitive book on it all. However, as a limited edition set only available direct from the distributor in the UK, it's probably becoming pretty hard to locate, so rather than teasing any more than we have, we've gone for titles a little easier to come by.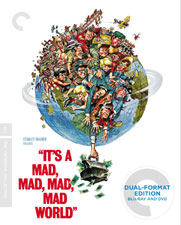 Ben's Pick: It's A Mad, Mad, Mad, Mad World
For me, the live-action release of the year came early: it was back in January when none so more a crazy film than It's A Mad, Mad, Mad, Mad World came to…the Criterion Collection of all labels! From its announcement the year before – celebrating the film's 50th birthday – I just couldn't wait. If ever there was a movie that captured the feel of looney animation then Mad World was it, its classic chase for cash plot (most recently recycled in the just as funny if underrated Rat Race) setting in motion a slew of similar comedy race movies (Those Magnificent Men In Their Flying Machines, The Great Race, Monte Carlo Or Bust) that would themselves inspire the classic television triumvirate of Wacky Races, Dastardly & Muttley and Penelope Pitstop.
Throw in the largest assembled cast of comic actors all at the top of their game (basically everybody that was funny, and still alive, at the time) including alphabetically listed principal cast Milton Bearle, Sid Caesar, Buddy Hackett, Ethel Merman, Mickey Rooney, Phil Silvers, Terry-Thomas, Spencer Tracy and Jonathan Winters, plus cameos from everyone else (in alphabetical order: Jim Backus, Peter Falk, Stan Freberg, Don Knotts, Carl Reiner, Dick Shawn, the Three Stooges, etc…) and, in alphabetical order, Jimmy Durante (literally kicking the bucket in one of his last roles), all corralled by legendary producer director Stanley Kramer, and you have an epic – and loud! – laugh out loud fest that is, as Kramer intended, "the comedy to end all comedies".
Debuting at over three hours in its premiere engagements, Kramer cut a huge amount of material for the film's road show release and even more when it expanded theatrically, resulting in a film that most people will have seen at less than two and a half hours. Restoration expert Robert Harris has been on a personal quest for over two decades, assembling material here and there and wanting to present the film as originally shown. An "expanded" LaserDisc edition offered much of the cut footage in the 1990s with Kramer's blessing, but on Criterion's disc, as well as also including the theatrical cut we know, we get to see the full fruits of his labors.
Is it perfect? No…much like the Richard Donner cut of Superman II this is essentially an unfinished work in progress, with material culled from various sources and of various quality. BUT…to see this at all is amazing detective and reconstruction work (ultizing some impressive and groundbreaking techniques), and even if a lot of the deleted material was cut with some valid reasons, there are still a terrific number of moments to rediscover, from extra one-liners to entire characters, with a poignant demonstration of how Buster Keaton's cameo would have played out in full, plus the restoration of Saul Bass' animated titles with their correct color tints and even content that played through the film's intermission!
Is It's A Mad, Mad, Mad, Mad World for everyone? Maybe not in this day and age where the process photography and the raucous humor may feel dated. But to those of a certain age, who either saw it originally or grew up with it on TV, for those that love the big widescreen comedies of the 1960s, or even for those that just want to see several comedy legends playing for straight laughs and throwing out zingers left, right and center, the movie is tough to beat. With most of the cast now up at that Big W in the sky, it's also great to be able to remember them in their prime here, which Criterion's copious amount of extras do excellently. Make up some old fashioneds the old fashioned way the way dear old Dad used to, and enjoy!
---
---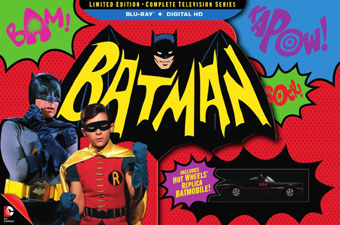 Rand's Pick: Batman: The Complete Series
This Blu-ray set may have fallen way short in terms of what it could have offered in terms of special features, but the episodes themselves look spectacular, and they're every bit as fun now as they were decades ago. The packaging is also pretty darn cool, with a few neat doodads to be found, not to mention an audio chip that plays the famous theme song!
I once figured that I could quit collecting if they ever released this series on disc. I suppose I'll never really stop collecting, but this Blu-ray set has filled a huge void in my collection. This was, far and away, the Blu-ray release of the year for me. Actually, to me, it's practically the most exciting Blu-ray release in history! No other TV series or movie has been such a Holy Grail in all my years of collecting.
I grew up on Batman, and have always loved it. It's still maybe my favorite show of all time. I don't care if some people hate it, while worshipping today's "grim and gritty" comics, or the harsh and messy Christopher Nolan films. Nope, I like a Batman that I can let my kids grow up with, a Batman that is more inspiring than scary. The bright costumes, unflinching morality, exciting action, and use of classic heroic tropes in Batman amazed and dazzled my young mind; and watching this series again only confirms its everlasting appeal. And it is so great that my little boy loves it too.
Aside from loving the show itself, viewing the reruns as a child also helped to lead me into the world of comic books, which further led to my interest in drawing and of course animation. So much of who I am came out of this show, even my real career as a healthcare provider. Watching Batman as a youngster was more than a hobby; it did much to form my sense of wanting to help others, not to mention righteousness and social responsibility. Of course, I didn't realize at the time that the show was done as "camp". Viewing the show now as an adult, while I can see that there is plenty of nudging and winking to be had, there is an earnestness in Adam West's performance that speaks to me. Having met West in person, and having seen him speak a few times, I know the man really believes in the awesomeness of Batman and the character's ability to inspire. And thanks to his performance, I do too. Look past the silliness, and there is a lot of heart to be found in the show.
---
---
2014 On The Big Screen: The Theatrical Toon Review
James swings our attention to this year's theatrical releases to pick his top three…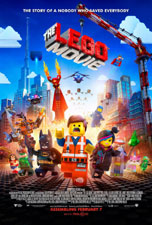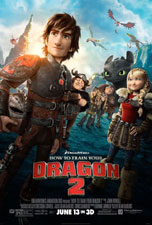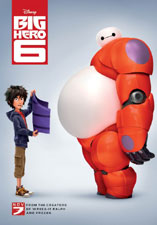 1. The Lego Movie
I'm not sure I've ever been more pleasantly surprised by a movie than I was after seeing The Lego Movie. Sure, I expected it to fun. But this film took fun to a new level. On top of that it also had a wonderful story — layered with meaning and infused with emotion. And if that wasn't enough the animation and voice acting were top notch as well. All from a movie based on a plastic brick toy. Without a doubt The Lego Movie was the top film in a year very good for animation.
Read the full The Lego Movie Animated View here!
2. How To Train Your Dragon 2
While it didn't quite reach the same heights as the original, How To Train Your Dragon 2 was a very worthy followup. While other DreamWorks films were crashing everywhere, the team in charge of this property filled the screen with most of the things that made the first so amazing. The dynamics between a boy, his dragon, his family, and his community still felt real thanks to some amazing animation, that were at times thrilling but, maybe more importantly, at times tender and poignant.
Read the full How To Train Your Dragon 2 Animated View here!
3. Big Hero 6
Most years we only find a couple of films that we really feel are the cream of the crop, so we give our third spot over to a film that, while maybe not a blockbuster, was one that we felt was worthy of some attention for coming out of nowhere to impress, surpass low expectations, or surprise us. This year that might be The Book Of Life, one of the most beautiful films in years, along with some unique music and lovely acting performances, or maybe a film that didn't get a wide release, like Jack And The Cuckoo-Clock Heart, but was still able to build up a loyal group of supporters for its compelling story, outstanding visuals, and solid direction.
But we actually have a strong candidate vying for an earned spot on our list. Disney had some big shoes to fill with their first release after the worldwide phenomenon that was Frozen. And while they may have aimed for a different demographic, they didn't disappoint with Big Hero 6. An action heavy blockbuster inspired by Marvel was just what the (inflatable) doctor ordered after a year of listening to people sing Let It Go non-stop! An interesting and diverse cast (with their accompanying voice talent) and some impressive animation designs headlined what was nothing more than a pure fun time at the theatre.
Read the full Big Hero 6 Animated View here!
---
---
What Did YOU Think? The Animated Views Readers' Pick Of The Year!
For the third year running we polled you, our friendly neighborhood
Animated Views
readers, to rank your top three animated movies of the year!
Frozen
was the runaway winner in 2013, but things were much tighter this year. Here are your top picks: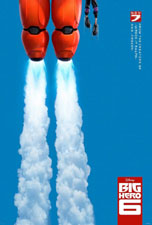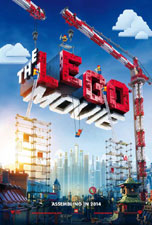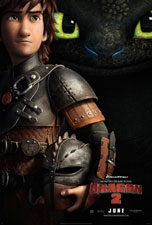 For the third year in a row, Disney was your choice with Big Hero 6 bounding to the top spot with a score of 44 (out of a possible 100). The film received 24% of the first place votes and appeared on 61% of all ballots.
In a close second place was The Lego Movie with a score of 41. It actually received the most first place votes with 26%, but had fewer second and third place votes, appearing on 54% of all ballots.
How To Train Your Dragon 2 may have been the biggest audience pleaser of the year, but came in third place in our poll with a score of 39. The film took 23% of the first place votes and appeared on 54% of the ballots.
In fourth place with a score of 12 was The Tale Of Princess Kaguya, which appeared on 19% of all ballots. The Book Of Life rounded out the top five with a score of 10 while appearing on 16% of all ballots
Thanks to everyone who voted!
---
---
Well, that's our lot for 2014. How did we do? Did we leave some off the list that you'do have to liked to have seen, or did we pretty much nail it on the head? Maybe we included some titles that we've overrated here? Why not come tell us your picks and join the discussion in our Animated Views Forum, where we're already debating about the films coming out in 2015 and beyond. The huge amount of animation hitting screens these days isn't always a mark of quality over quantity (as DreamWorks have painfully found out the hard way), but in many ways this is also a massively exciting time in animation, with the independents scoring wider releases and bigger successes than ever and pushing everyone to up their game. With a huge amount of anticipated titles on the way, join us in twelve months and see what makes the list next time around!
Until then…stay tooned!
— Ben, Randall, James and the entire Animated Views Team!