---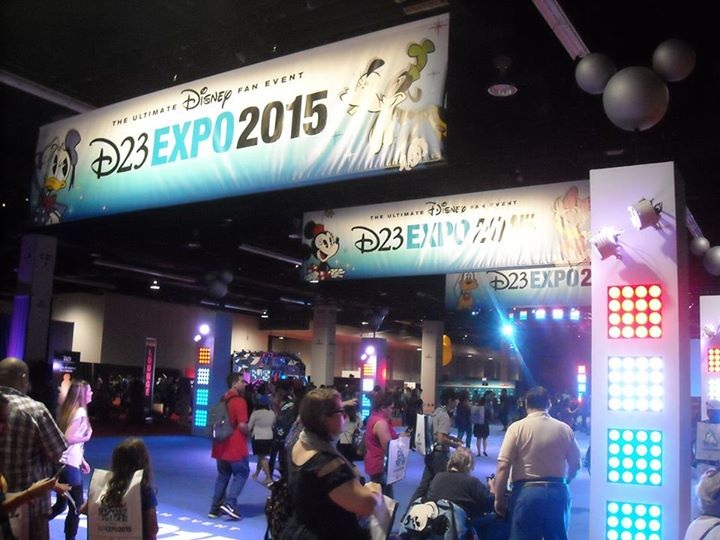 Our Animated Views correspondent, Daniel Short, was at the D23 Expo a few weeks ago, and by all accounts it sounds as though he had a total blast. In his exclusive recap for us, he talks about meeting the Frozen songwriting team, attending the 20th anniversary celebration panel for Toy Story, and being present when footage from several upcoming Disney movies was shown to the public for the very first time. Enjoy!
D23 Expo 2015 is in the books. Let me tell you, it was an amazing experience. Arguably one of the best conventions I've ever been to, and I've attended the San Diego Comic Con consecutively for the last 15 years. Disney put together a fantastic showcase of their properties that had me floored by the end of the first day and left me impatient for their next convention in 2017.
The studio enforced a very strict no cameras and no phones policy during some of the programs. In the programs in Hall D23, which seated nearly 8,000 attendees, staffers had us seal all of our cameras and phones in bags. Furthermore, to make sure that no one was "cheating," staffers would walk the aisles with binoculars in tow and others were positioned in balconies and rafters wherever available. Of the four programs I attended, only the Disney Interactive program did not have these policies enforced.
---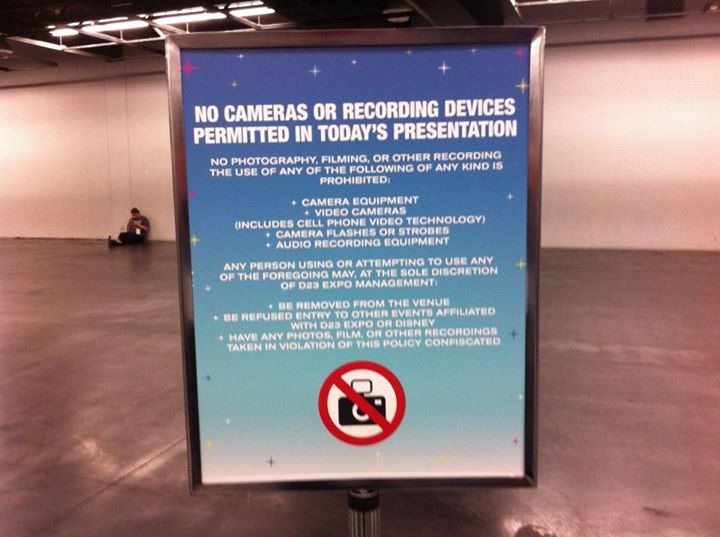 It wouldn't be a major convention if it didn't involve attendees having to wait in line. Fortunately, the wait for major programs in Hall D23 was one that attendees could actually relax a little during. For one, the lines were set up in the basement-like Hall E. This meant that attendees were indoors and were thus able to avoid the hot summer temperatures and sunlight by having cool air conditioning. Because of the anticipation surrounding the events, many were willing wait for roughly four hours or more before the programs were scheduled to start, so D23 saw to it that monitors were set up and that old Disney cartoons and features from the Disney Movies Anywhere app were shown to keep everyone from getting bored.
There was a concession stand, but it was only open on Saturday. Nevertheless, staffers were a bit lenient by letting folks to step out of line for a while and return so long as someone was present to hold their spot. This allowed for folks to be able to move about to use the bathroom, charge their electronic devices, grab some food, and even explore the show floor without having to remain in line at all times. Still, staffers did warn us that once it was time to start seating attendees, which they tried to do at least an hour before scheduled start time, their spot in line would likely be lost so it was best to be back before then.
---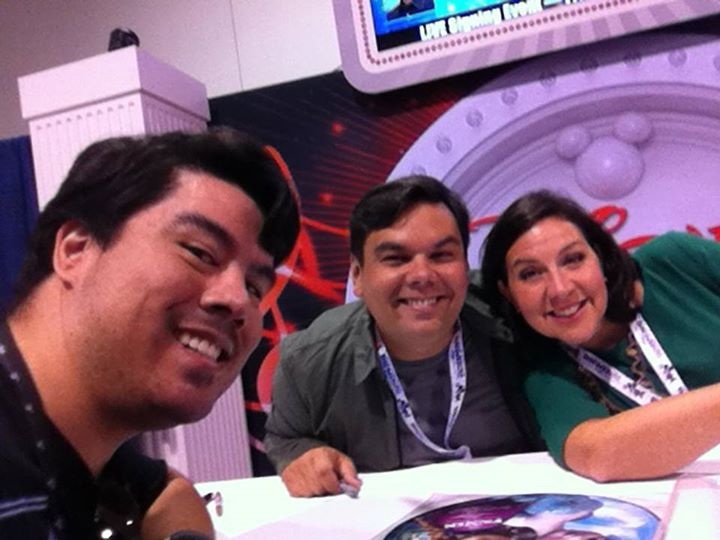 Robert Lopez, Kristen Anderson-Lopez, and Tom MacDougall
The Disney Music Emporium booth hosted a special autograph session with the famed husband and wife song writing team behind the mega hit tunes from the mega hit film Frozen, Robert and Kristen Lopez, along with Disney's Senior Vice President of Music Tom MacDougall. The condition for the signing was that one had to buy either the Frozen CD or picture disc vinyl consisting of only the movie's songs, which would also be the only items they would sign. Given I already had the soundtrack, I went with the picture disc as I could at least display it.
Robert and Kristen were great fun to meet. Robert liked that he got to meet a fellow Filipino and we discussed me hoping to see their new stage musical Up Here before its premiere run in San Diego ended. They did note that there were probably some tweaks they could make before it hopefully makes the jump to Broadway, but they were nonetheless proud of their show.
After getting a selfie with the them, I did converse with MacDougall individually about how he went about determining the type of music genre used for movies at the studop. He noted that it came to listening to various genres while going over the storyboards during the early stages of production and finding one that matches the emotion of the scenes being reviewed. Turned out to be a great booth to visit overall.
---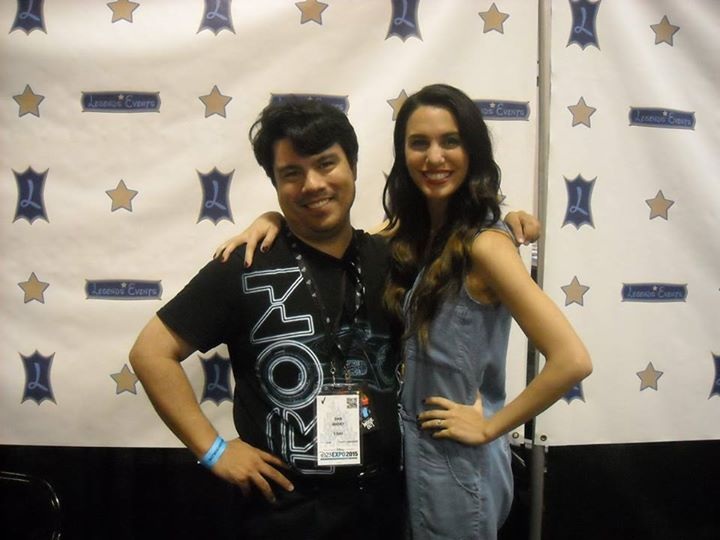 Christy Carlson Romano
I managed to get word days ahead that Christy Carlson Romano, the voice of Kim Possible, was going to be at D23 based on a Tweet she made of wanting to see a couple of the mini-concerts at the convention. I just didn't know if she was going to have some kind of signing happening. Fortunately, I saw that she had a table set up and would be present throughout the weekend.
Romano was a delightful person to meet. We had fun talking about Yuffie, a character she voiced in the first Kingdom Hearts video game and Final Fantasy VII: Advent Children. We noted that the Yuffie photo sheet she had for handouts, which I got a signed copy of, used the Final Fantasy logo. "Probably would've gotten more looks if I had used Kingdom Hearts," she mused. It was a good time hanging out with her before someone else was given the chance to meet her.
Pixar and Walt Disney Animation Studios: The Upcoming Films, Hosted by John Lasseter
The animation program became one of the greatest experiences I have ever had at a convention. The presentations were spot on and did more than enough to elicit interest in everyone who attended. Add in the fantastic hosting job by John Lasseter and the surprise guests that appeared and it was a magical evening that no one in the room was going to forget anytime soon.
There was a feeling that a lot of the story was being revealed for a lot of the films during some of the presentations, reaching dangerously close to spoiling all of the key plot moments. This resulted in a funny bit during the presentation for Moana where the fate of someone close to the heroine is revealed, some of the audience reacted somberly, and Ron Clements jokingly responded, "It is a Disney film." Hopefully, however, more was being "teased" than given away.
---
The Zootopia presentation helped in sparking great interest in the film, and not just because Gennifer Goodwin appeared to explain the backstory of her character Judy Hopps. The explanations of how there was more to Zootopia than just the concept of a society of anthropomorphic animal characters made attendees fascinated in the world that was being created by the Disney animation staff. They screened a couple scenes from the film, with the last one killing everyone in the room with laughter. Zootopia comes to theaters next spring.
The biggest announcement of the evening, though, was probably Gigantic. Very loosely inspired by Jack & the Beanstalk, the film is set in Spain during the Age of Exploration, with Jack discovering a full world of giants in the sky above with their own society and hierarchy. It's all enough to spark great interest in Tangled director Nathan Greno's attempt to create the "definitive version" of the story. I really enjoyed the song "My Little Man," which Robert and Kristen Lopez presented and sang to corresponding early storyboard art. I liked what was screened and am very much looking forward to seeing more. Gigantic is currently set for a 2018 release.
Moana was a big delight for attendees, and not just because Dwayne "The Rock" Johnson appeared. Johnson's presence, to be sure, was explosive, and helped get everyone as pumped about the film as he was. The clips shown were really good, in particular one involving a most curious "character" that I won't elaborate on here. The presentation was capped by a fantastic performance by one of the film's main musicians–Opetaia Foa'i and his band Te Vaka–of one of the songs from the movie accompanied by a warrior tribal dance. Moana sets sail on the big screen in time for the Christmas season of 2016.
---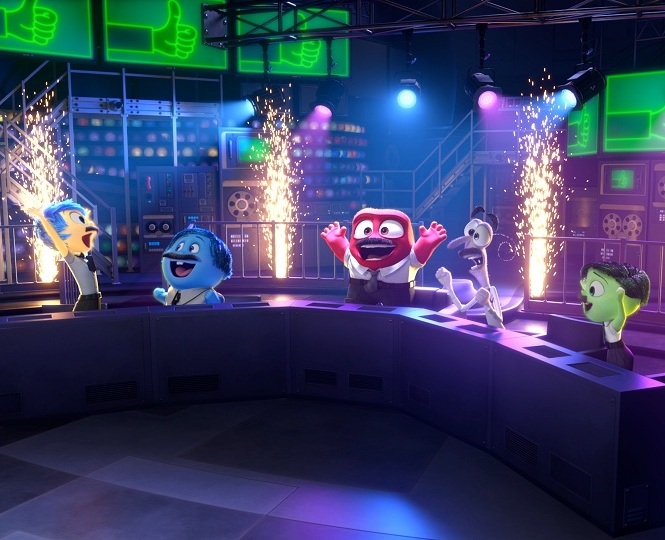 I had a feeling there was an opportunity for the forthcoming Inside Out follow up short Riley's First Date? to be screened in full at D23 and I was right. The short was hilarious, doubly so considering my older brother will likely go through the same situation with his child very soon. Joking aside, the short was just a great comedy piece that added to the wonderful world presented by the Pixar hit. Riley's First Date? will be included as an extra on Inside Out's Blu-ray release in early November.
The Good Dinosaur looked to be another emotional journey for animation fans, as if one would expect any less from a true Pixar original. The clips they showed really touched a lot of folks and had them wanting to see the film in full so they could find out what happens to the characters in the end. A strong way to evoke interest, if you ask me. The Good Dinosaur stomps into theaters this Thanksgiving.
The Coco presentation fascinated folks. Director Lee Unkrich didn't actually reveal much other than a brief summary of the plot. The presentation reel, which probably won't be part of the final film, did give a sense of how the film is expected to look, which succeeded in garnering interest from the attendees. I do share the opinion of many, though, that it will be interesting to see how it differentiates itself from last year's well-received The Book of Life, which I liked. Coco is currently set to open in 2017.
The Finding Dory presentation was very good, allowing for Ellen DeGeneres to display how happy she was that she was finally getting to do a sequel to Finding Nemo. The clips they showed were excellent and promised to flow with the first film swimmingly, no pun intended. Bringing out cast members Ed O'Neil, Ty Burrell, and Katlin Olsen to help flesh out the new characters we will be seeing was a nice touch, and I did like the short footage they had of Burrell's character. Finding Dory splashes onto the big screen next summer.
Ending with Toy Story 4 was a good move. Not just because it was the 20th anniversary of the first film's release, but it came off as bringing full circle the journey of Pixar from where it was then to where it is now. While they didn't really have anything to present outside of a couple pictures of John, Andrew, and company brainstorming, we were nonetheless excited about what the new film will be about. And I don't think there could have been a better way to close the whole program out than with Randy Newman performing "You've Got a Friend in Me" live. Toy Story 4 comes out in 2017.
---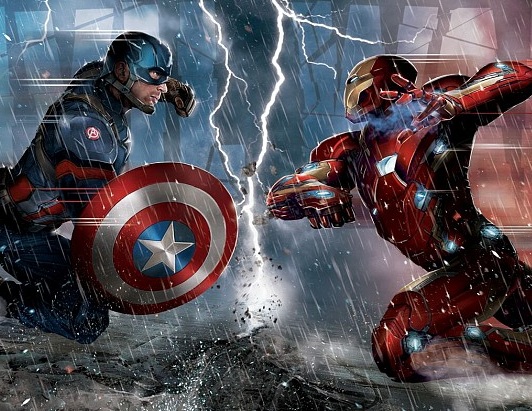 Worlds, Galaxies, and Universes: Live Action at the Walt Disney Studios
Given that it was a chance to preview the slate of films Disney, Marvel, and LucasFilm had in store for the next two years, it was without question this was probably the most anticipated of all the programs at D23. The sizzle reel that was screened at the start of the animation program, with flashes of some of the live action films to be presented, only intensified interest. With the bar raised so high, it's probably why I think that while the program was very good, it made us feel that more could have been shown.
Marvel went first and they kicked things off with a look at Doctor Strange. Even though production wouldn't begin until November, the conceptual designs displayed was good enough to give attendees a taste of what they can expect visually and it got us all excited. Doctor Strange opens in time for the holiday season of 2016.
Then there was a fine presentation for Captain America: Civil War. Chris Evans and Anthony Mackie, who flew in the night before from Germany where production was wrapping up, did their part in generating further interest just right. It was enough to gett the attendees excited. The footage shown was excellent, playing up the serious atmosphere of the story and getting everyone psyched for its release next summer.
Switching gears to Disney Studios, they opened with The Finest Hours. Chris Pine was brought out to talk a bit about making the true life story and actually meeting one of the survivors from the tale. The footage shown added to what was seen in the trailer, which hopefully was thrilling enough to spark attendee interest to see the film. The Finest Hours opens in January.
---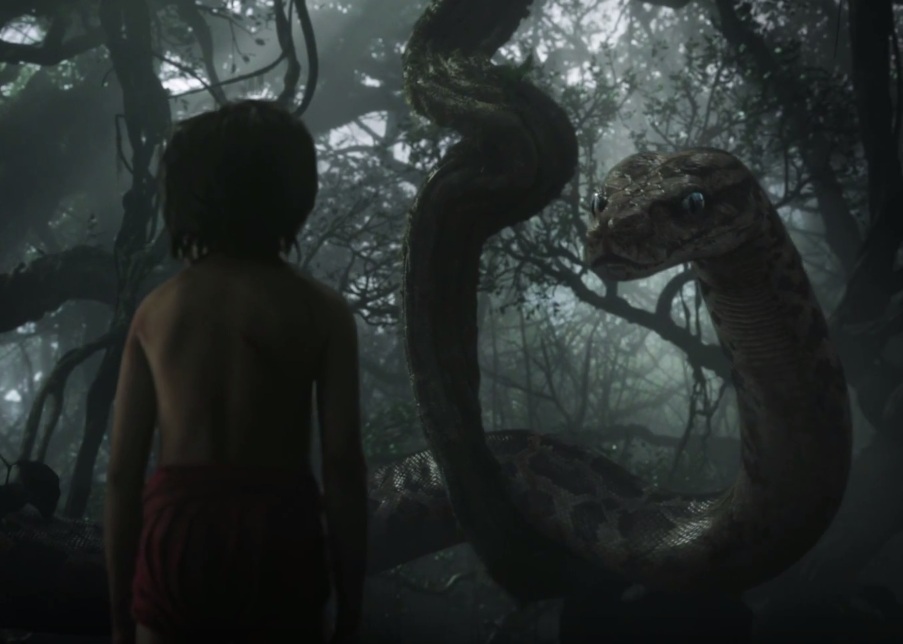 I doubt anyone would have expected the presentation for the live-action adaptation of The Jungle Book to be the talk of D23 when all was said and done. It stole the show in more ways than one. Jon Favreau did a fantastic job pitching the film to attendees. Add in the fun atmosphere provided by appearing stars Ben Kingsley, Lupita Nyong'o, and newcomer Neel Sethi and we were ready for whatever footage they might have had to present.
I'll gladly repeat what I reported during the weekend: "Even in work in progress, Jungle Book looks AMAZING!" It was visually stunning and beautiful to look at. I can only imagine how much better the final product will look. And when you got to the one scene that literally stole everyone's hearts, you felt that Favreau just might pull off making this into one of the most incredible films from Disney next year. The standing ovation we gave the presentation was richly deserved. I liked Sethi going pink and saying as if bewildered by the love he was receiving, "That's me! What did I miss?!" The Jungle Book comes to the big screen in April.
Next up was Alice Through the Looking Glass, the sequel to Tim Burton's blockbuster hit. While Mia Wasikowska was present to talk briefly about returning to Wonderland and reuniting with her co-stars, it was the footage presented that had everyone excited about the possibility of this being a pretty good sequel. Attendees liked Sasha Baron Coen playing Time (which is literally a character in this movie) and the concept of time travel was intriguing. Alice Through the Looking Glass opens next summer.
Perhaps the more fascinating film presented was the forthcoming remake of Pete's Dragon. Star Bryce Dallas Howard was present to explain her love of the original film, the intrigue of doing a new take on the story, and how it was being shaped for a 21st century audience. The footage showed did garner some interest, but attendees certainly wanted to get a good look at Elliot, which they sadly only got the smallest of teases of. Pete's Dragon flies into theaters next August.
There was a brief preview of another true life story Disney is doing called The Queen of Katwe. Nyong'o came back out to talk about her experience in meeting the real family that were the subjects of the story with still photos of the film were displayed. With no footage, it was treated as filler. The Queen of Katwe opens in 2016.
The aforementioned sizzle reel featured glimpses of the live-action Beauty and the Beast, including a look at Emma Watson wearing the iconic gold dress. Attendees screamed at seeing this and couldn't wait to see more. Instead, we ended up with video messages from Watson, Luke Evans, and Josh Gad along with mostly behind the scenes footage of the "Gaston" number. While what was presented was nice and still generated positive buzz, the lack of real footage disappointed everyone. Beauty & the Beast opens in 2017.
---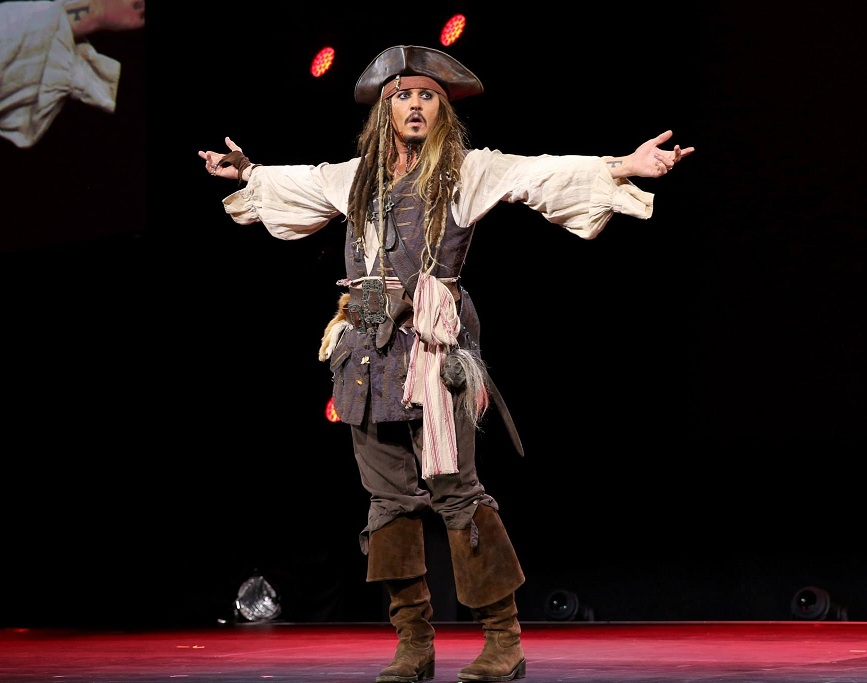 Disney Studios wrapped with Pirates of the Caribbean: Dead Men Tell No Tales. There was no footage to show, but the attendees were still treated to something just as delightful. Johnny Depp coming out as Captain Jack Sparrow. Everyone just lost it as he swaggered about and acted in character throughout his appearance, taking a simple bit of him throwing grapes at the audience and making that into a fantastic show. Now that was a great way to off-set lack of footage disappointments. Pirates V sets sail on July 7th, 2017.
The LucasFilm presentation was going to be an interesting showcase if what JJ Abrams said was true and that there wasn't going to be any new footage of Episode VII. What they did show off was the full slate, where there would be a Star Wars movie coming out every year. The first on-set photo of the Rogue One cast also helped along with the official announcement that Jurassic World director Colin Trevorrow would helm Episode IX.
Abrams appearing along with the new faces of Star Wars John Boyega, Daisy Ridley, and Oscar Isaac to reveal the expo exclusive poster got fans excited. But it was the surprise appearance of Harrison Ford that sent every attendee into a frenzy. It was a good few minutes before everyone finally stopped screaming, squealing, and hollering long enough for For to get a couple sentences and then they were back to making noise. It was quite the entertaining sight and shows just how psyched attendees were for The Force Awakens, which (as you all know by now) opens everywhere December 18th.
I actually liked that the program ended with Bob Iger coming out to present the plans for the Star Wars lands. It was still part of the live action programming theme and worked as a segued into the parks and resorts program to take place in Hall D23 afterward. Attendees really liked the appeal of how immersive in the whole universe of Star Wars the lands will be, with cast-members getting to dress in alien costumes and make up, causing many to whisper and murmur interest in applying for jobs once they are made available.
---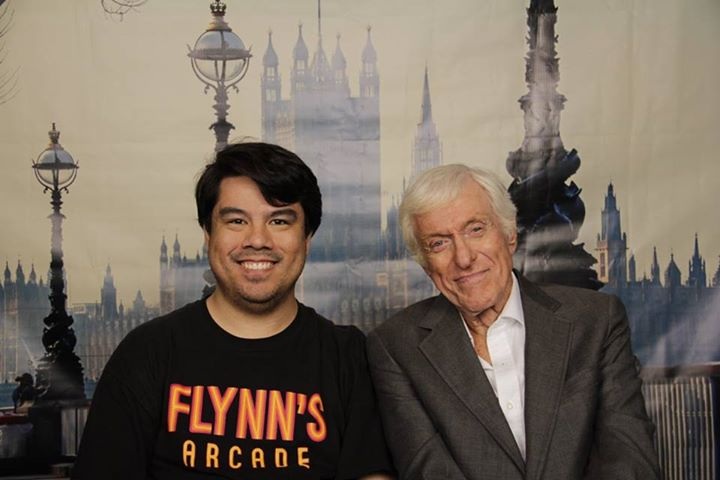 Dick Van Dyke
There was a great deal of delight when folks discovered there was an opportunity to meet one of the biggest entertainment legends of all time, Dick Van Dyke. Not just getting an autograph from him, but also a photo op. Sure the photo op cost $100, but everyone knew it would be worth it. After all, it's Dick Van Dyke!
Upon purchasing my ticket into the photo op, I was told of where folks would be queuing up and I decided to join those who were already there even though the scheduled time was not for another hour and a half. This turned out to be a good call on my part as the line got bigger and bigger within a matter of a few minutes. D23 staff constantly had to lay down new tape the line was wrapping around so many times. Needless to say, attendees were taking seriously the belief that this was a once in a lifetime opportunity that will probably never happen again.
Given how many people were lined up, D23 staff were trying their best to enact the shoot and go process so they could get as many people in as they could given the amount of time they had for the photo shoot, which was loosely set up in a near professional manner. Nevertheless, Mr. Van Dyke looked to be having a very good time meeting the fans, however briefly. Those who were able to get in quick words of appreciation to him were returned with warm smiles. I managed to get in a quick note while the staff was kicking me out how I grew up on The Dick Van Dyke Show thanks to my grandparents, which Mr. Van Dyke smiled widely and chuckled at. A wonderful moment I'm very glad I got to do.
---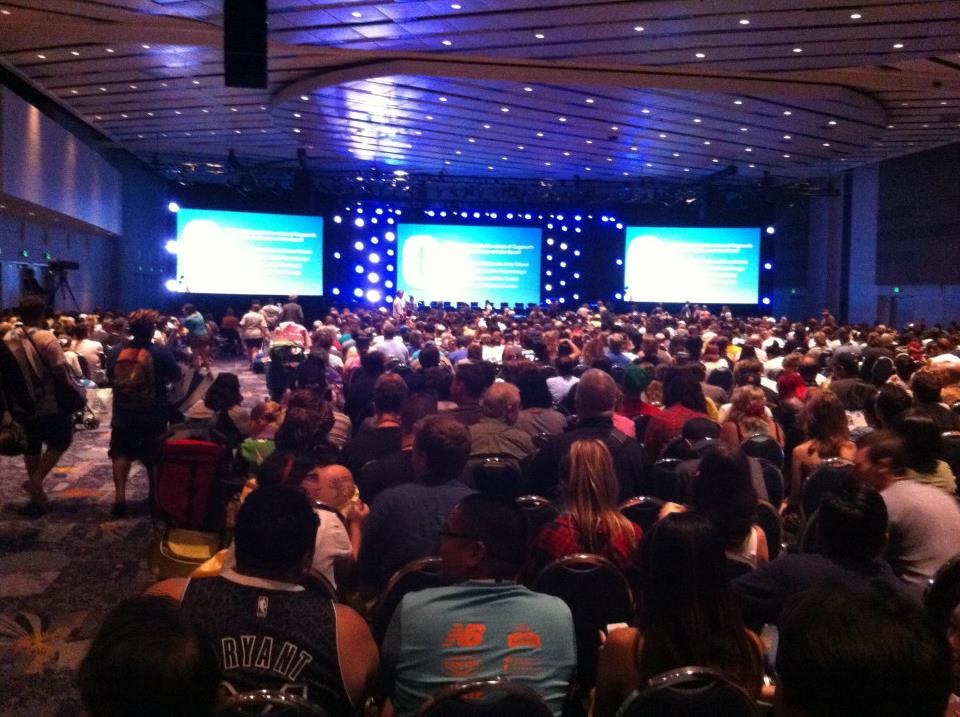 Toy Story: 20 Years Later, the Original Crew Looks Back
This year marks the 20th anniversary of the release of Toy Story, which changed the landscape of animation in nearly every form. To celebrate, John Lasseter hosted a special look back at its development in nearly all of its stages. Joining him in a round table-like setting were original crew members Andrew Stanton, Pete Docter, Lee Unkrich, William Reeves, Eben Ostby, Ralph Eggleston, Galyn Susman, Sharon Calahan, and Bob Pauley.
Now, I'm fairly sure that pretty much all of the stories told in the program have been told before elsewhere. It did, though, come down to which ones each individual attendee knew. Nevertheless, we loved hearing Lasseter and the gang just talk and reminisce about Toy Story no matter if we had previously heard some of their tales. Going along with the storytelling were various production art and photos being displayed as well as playing a clip from Tin Toy and the original first test footage to add context of where they were in development.
Some of my favorite stories included Doctor explaining just how naive they were at various points in production. "We figured we'd only need seven animators, one layout artist," he began. "Andrew and I would work on story and when we were done with that–"
"Done!" Stanton interrupted to emphasize.
"Yeah," Doctor resumed with a chuckle. "When we were done, we'd then supervise the animation. We ended up needing at least 27 animators and Andrew and I were rewriting the story until the end."
"I'm still rewriting," Andrew humorously added.
There was a fun bit in which they talked about how dedicated Tom Hanks was. What they figured was going to be a simple "No!" scream during the climatic chase to reach the moving truck, Tom ended up giving them about 20 takes each with varying degrees of emotion. Lee Unkrich, as editor, managed to find a way to get just about all of them into the one scene.
There was also mention of Joss Whedon's contributions. Their favorite was Buzz's line "You are a sad, strange little man and you have my pity." They noted how everyone during story pitches would die laughing right at "strange little man" because it was placed perfectly and they loved how it would was delivered.
Another favorite was how some of the stars reacted after watching the film. Annie Potts, voice of Bo Peep, watched the film with her husband. When it ended, they turned and told the crew, "You're going to make lots of money!" Stanton then reflected on a press junket prior to the film's release. He, Doctor, and presumably Lasseter took a walk and were passing by some yachts. They managed to run into John Ratzenberger, voice of Hamm (and an endless number of Pixar characters since then), who told them in reference to the yachts they were passing, "Start picking yours out."
It was clear that everyone were quite proud of the film they made and were still in awe at the success it spawned. The way they told the stories made it seem like old friends getting together to chat about past events as they remembered it as opposed to speaking to a live audience. It was a nice little program, and one that many wanted to be a part of as exiting the room took a good while to achieve with so many people attending.
---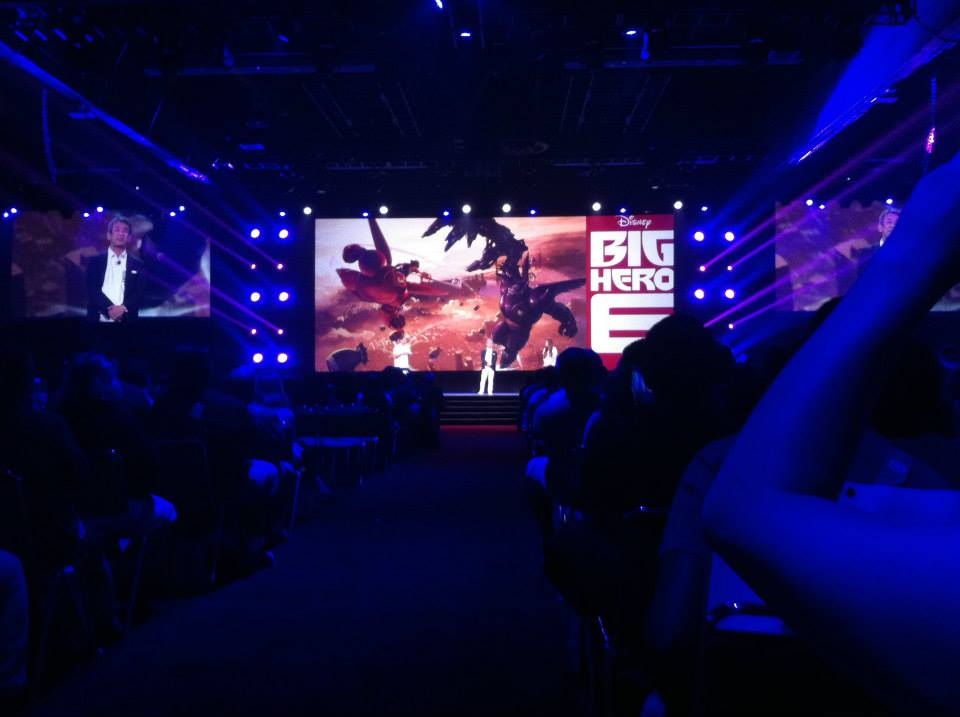 It's Game Time: Disney Interactive Takes the Stage
While it was clear that the Disney Interactive program was not going to be as highly anticipated in the same way either the animation or live action programs were, it nonetheless garnered a full house. Not to mention that the presentations they had in store for their heavy hitters were more than enough to generate interest among even those who were not gamers.
Kingdom Hearts III kicked things off and, as reported, Big Hero 6 was the major announcement. Fans definitely wanted more news, but the prospect of a Baymax vs. Baymax encounter was enough to satisfy their hunger for the time being (the plot of the game will involve the Baymax that was lost in the other dimension at the end of the film being brought back). Maybe the forthcoming D23 Expo in Tokyo in November will show a lot more. No release date, however, was revealed.
Mobile gaming saw the announcement of what could be the next addictive title in Magic Kingdoms. The game allows players to build their own Disney park as they see fit with a running adventure story placed in from time to time. I really liked the attention to detail that they were putting into the game, not just in including existing park attractions, but encouraging the creation of new ones.
There was a part that went further into exploring Disney's upcoming interactive project Playmation. What really helped the presentation was showing off footage of kids trying it out, allowing us to get a feel for how this would be done. I think it has somepotential to really be special if it is executed just right. The rest of attendees appeared to like what they saw as well.
---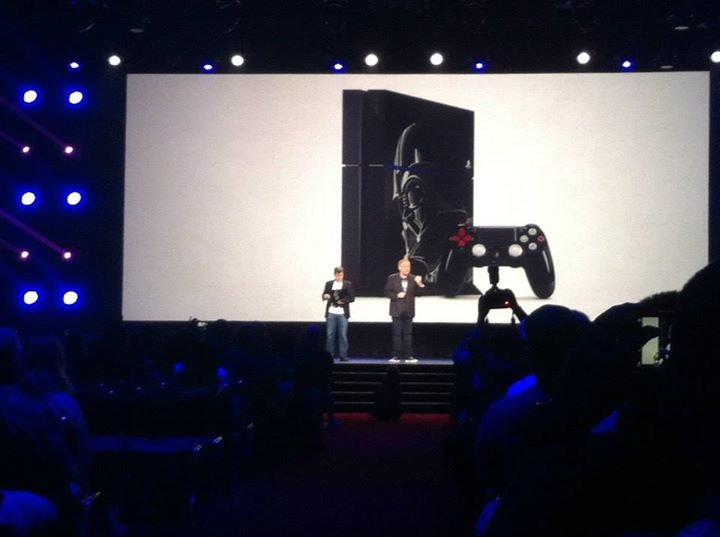 Next up was Bandai Namco to talk about the recently released Star Wars Battle Pod arcade machine. They announced that a premium edition of the machine will be made available that people can actually buy, so long as they have $100 thousand to spare. Otherwise, two premium edition cabinets will be made available to play at Dave and Busters in Hollywood and Round 1 Bowling Alley in Santa Ana. An excellent looking game, but it was such a tease given the huge price tag to get one.
Moving on to the highly anticipated Star Wars: Battlefront. Electronic Arts announced the Battle of Jakku DLC, which will serve as a "prequel" to explain events leading up to The Force Awakens. The DLC will be made free in December, though those who pre-order it will get early access when the game launches in November. They then had a great gameplay reel of fighter squadron mode, which will allow for over twenty players at a time to engage in epic aerial dog fights. I just may end up picking up this title down the road given how good the presentation was.
Sony hit the stage to announce their exclusive Darth Vader designed Playstation 4 console. It will be released this holiday season bundled with either Battlefront or Disney Infinity 3.0. They announced that there were two vouchers for the bundles hidden under our chairs and attendees immediately dove to the ground, some nearly throwing their chairs up. Among the two winners was a cute little kid, who I imagine was having the best day ever. Primarily for dedicated Star Wars fans, but the design looked really cool.
The program ended with Disney Infinity. The announcements of the new figurines coming along with details on the Marvel playset get everyone jazzed up. The Kingdom Hearts fans went nuts at Sora's Keyblade being the 3.0 ultimate weapon unlock. with attendees being the only ones to get the D23 exclusive King Mickey costume power disc. But it was the reveal of Force Awakens characters Finn and Rey figurines along with stars John Boyega and Daisy Ridley themselves coming out and then giving the figures to lucky fans that brought everything to a solid close.
---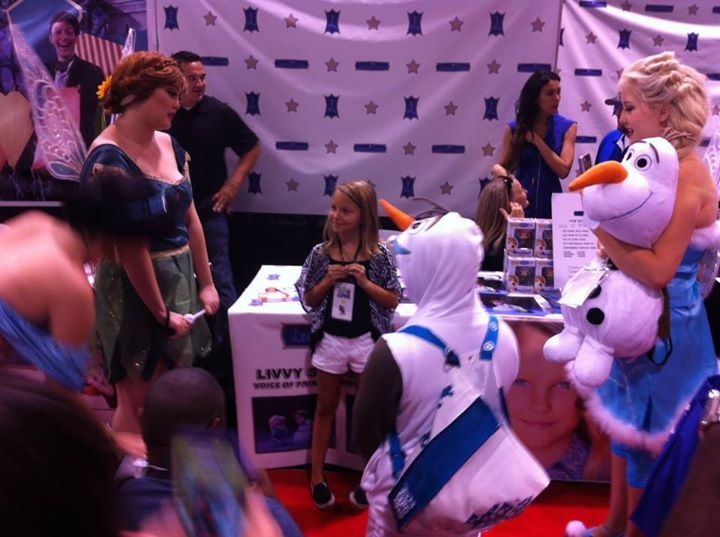 Livvy Stubenrauch
Present at the expo was Livvy Stubenrauch, who was the speaking voice of Young Anna in Frozen. It was interesting seeing her with an autograph table as some times folks passed her by, wondering who she was and why she had a table. Once folks realized what she did, there were sequels of delight. A particular favorite moment I caught were a number of Frozen fans, some in costume, showering her with admiration.
When I finally got a chance to get a picture with her, she was pre-signing some autographs. When it was time for the picture, she proceeded to hop about randomly and talked to me about Reese's Peanut Buttercups. "Sorry, she's a little hyper," her mother (or guardian) explained. It's like I was hanging out with my niece. She even looked like her, too. She stopped hopping long enough for us to have our picture taken. After the picture was taken, she went back to hopping happily, which made shaking her hand fun. Such a delightful little girl.
---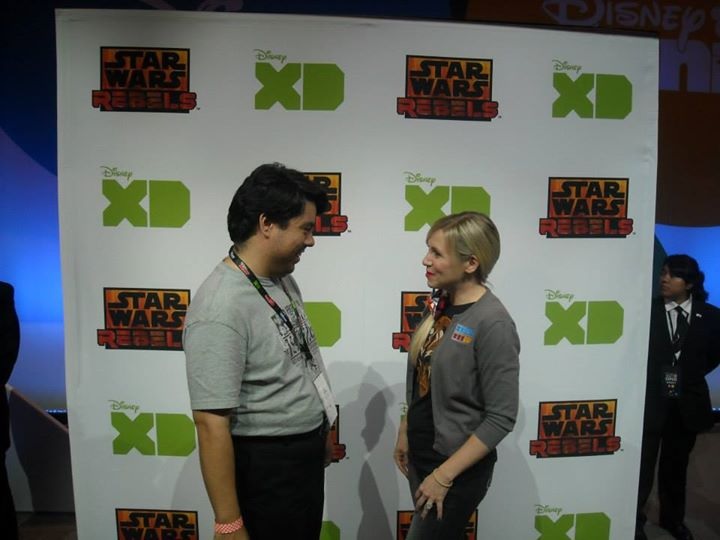 Ashley Eckstein
There were a couple opportunities this year where I could have met Ashley Eckstein, the young lady best known as the voice of fan favorite Ahsoka Tano from Star Wars: The Clone Wars and more recently Star Wars Rebels. There was Celebration and Comic Con. For Celebration, her appearances were so packed as soon as the doors opened that the chances to meet her were slim to none. At Comic Con, she hosted a special screening of Spirited Away, but it was a ticketed event and there was no guarantee to actually meet her. So when an opportunity to meet her at D23 popped up, I made preparations to ensure I got in.
This meant waiting around in the Disney/ABC TV Pavilion for an hour almost needlessly before they actually began the proper line up two hours before her scheduled appearance. But knowing the line for her would fill up very quickly, I endured and was among the first to get in. Some folks were trying to get a better understanding of the wording of the appearance being labeled as a Star Wars Rebels photo op, giving the impression that Ashley might not be the only one to appear. In the end, it was just her, but I was fine with that.
When it was my turn to get my picture taken with her, she immediately said, "Nice to see you again." I was taken aback for a second, but recovered quickly to say it was nice to see her again as well. "I'm sure I've seen you before," she noted upon realizing what she said and I pointed out that she probably caught sight of me during Celebration, which she agreed with. Unbeknownst to me, the photographer apparently did a test snap of us chatting to get a better feel of how my camera operated before taking our picture properly, so I got a neat bonus. A very nice young lady to meet and worth the long wait.
Bill Rogers and Camille Dixon
The husband and wife team of Bill Rogers and Camille Dixon are respectively the voices of Disneyland and California Adventure. Throughout the weekend, Rogers would be on Center Stage right as each day was ending recording personal greetings on fans' phones. His messages were different for each fan and I can only imagine with amusement the reaction callers would have to suddenly hear the Disneyland voice just as they were about to leave a voice mail.
On the last day, as D23 staff was asking us to leave with the show having officially ended, some of us managed to quickly line up for a last second picture with Bill and Camille. I would have been considered the last one as a staff was behind me to prevent others from jumping in with us, but it looked as though they made an exception to a fan after I got my picture taken with them. Nonetheless, it was fun to meet the park voices in person, however briefly.
---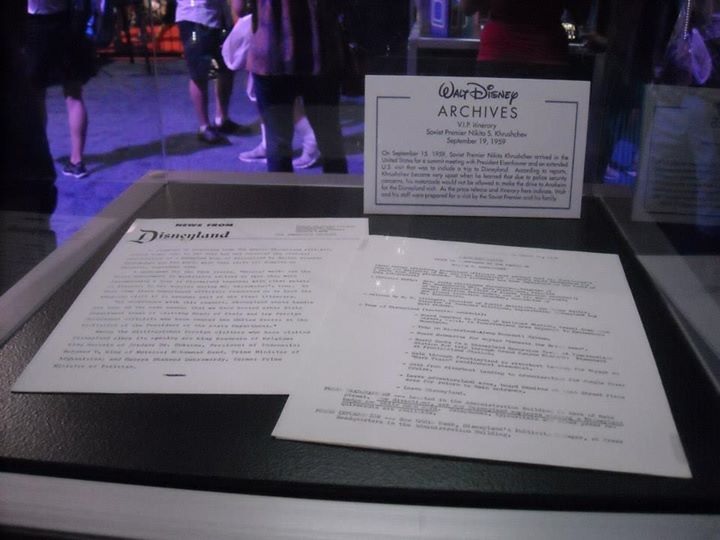 Walt Disney Archives Presents – Disneyland: The Exhibit
I joined my friends in checking out the Disneyland Exhibit on the showfloor. To celebrate the park's 60th anniversary, there was a great display of some of the attraction pieces attendees may fondly remember from past visits. There were even some really neat additional displays.
Right from the beginning there's a great display for the book Little Man of Disneyland. An original print of the book was showcased along with the cover art piece. And there was a video monitor of John Lasseter expressing his love for the book and reading it. We liked it so much that when we finished with the exhibit we went over to the Random House booth to pick up our own copies of the book.
Popular behind the scenes items on display included the very first Disneyland ticket ever sold, which belonged to Walt's brother Roy, VIP guest book signatures from the likes of Robert Kennedy and Elizabeth Taylor, and a fascinating series of correspondences over a failed attempt at then-Soviet Premier Nikita Khrushchev to visit the park in 1959.
It was also great to see some of the past and older pieces from attractions like Star Tours, Fantasmic, and the Country Bear Jamboree. They also displayed early looks at Club 33, the band leader suits Mickey wore during anniversary events, the various celebrities who have visited the park over the years, and at the end of the exhibit the Disneyland proclamation Walt wrote was displayed. This was a very fascinating look at Disneyland's growth and evolution over the past 60 years and well worth checking out.
---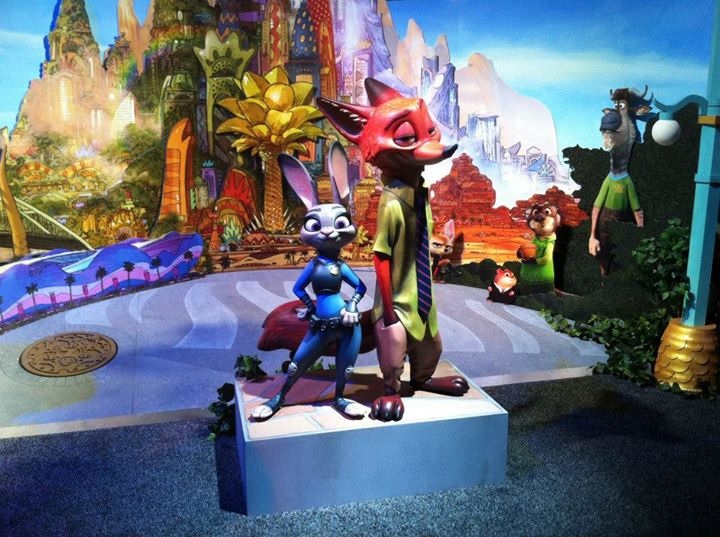 The Walt Disney Studios
There was a display section dedicated to some of the upcoming movies from Walt Disney Studios. These included life-size models of the characters from Zootopia, Moana's raft, an early look at what the beanstalk may look like in Gigantic, and the various costumes for Alice Through the Looking Glass. It was a fairly simple display designed to garner some interest in the upcoming projects and for fans to get pictures taken with the models that had been set up.
There were also various things that occurred at the display. Among them were fans doing an interactive photo op with a digital looking glass. At times, the center theater would host a special program and later special autograph sessions would take place in the back. My favorite display, which was technically outside of the main display area, showcased a small fraction of John Lasseter's shirts.
---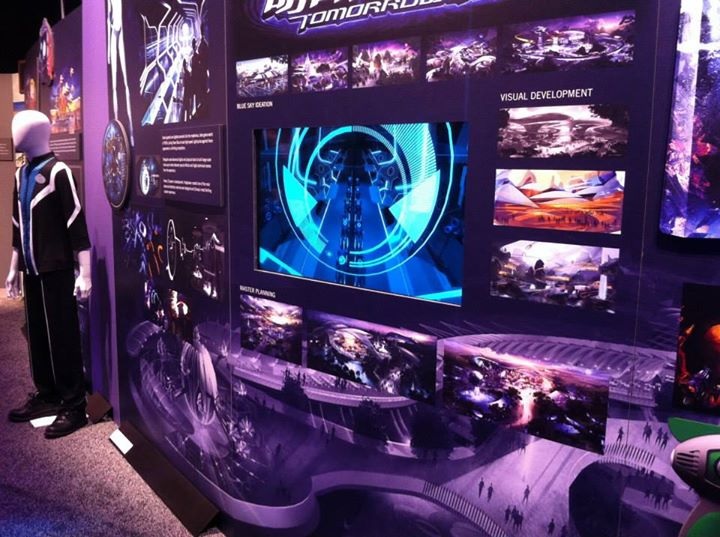 Walt Disney Parks and Resorts
Next to the display for Walt Disney Studios was the display for the Disney parks and resorts. I didn't get a chance to get a good look at the World of Avatar addition to Walt Disney World, as one had to get into line to access the closed display. I did, though, got a chance to see what is going to Shanghai Disneyland.
It was great to see what is being planned for Shanghai Disneyland. Enough to make me wish some of these attractions will come stateside. The one I want to see over here is the Tron additions to Tomorrowland. They look quite stunning and the video model of a planned ride was just as fun to watch.
I like how Disney will be going out of their way to make Shanghai Disneyland a different and unique experience from the other parks. The folks over there will surely have a great time with what will be coming to them based on the concepts and displays that were presented on the D23 showfloor.
---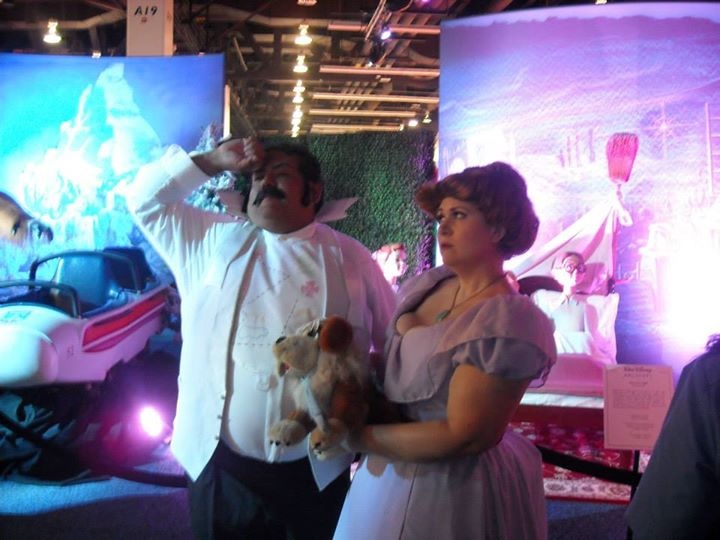 Cosplay
Attendees going to conventions in costume is present so regularly that it's pretty much seen as an essential function. This was no different at D23, although costumes were certainly geared more towards all things Disney, so one shouldn't expect Harry Potter or Superman or certainly The Walking Dead present.
I was interested in seeing if there were any unique choices on display. We were sure to get a number of Elsas and Annas, and just as sure of Marvel and Star Wars costumes now that Disney owned the properties. I was keeping an eye out for costumes not necessarily done before.
---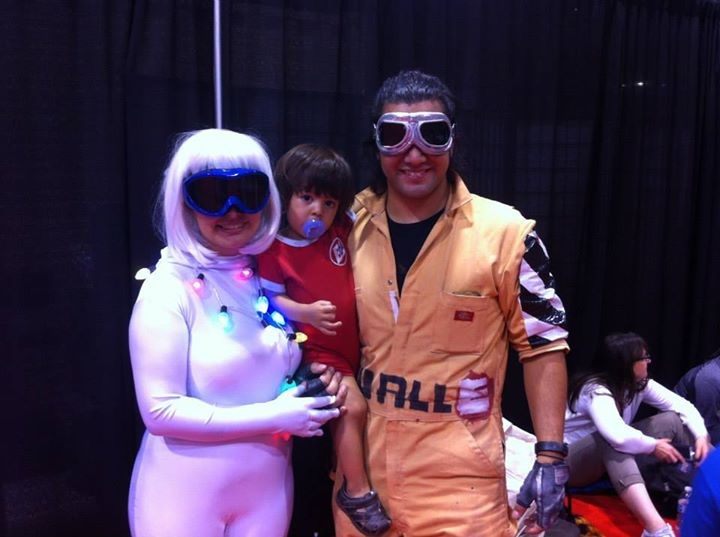 A good example were my friends dressed up as Mr. and Mrs. Darling. Along with a Nana plushie in tow, they caught a lot of attention given the unique choice of going with those characters, and were quite popular in the Disneyland Exhibit display where older pieces from the Peter Pan's Flight attraction were present.
One particular costume set I liked was a family that did humanized WALL-E and EVE. While the concept was not new, they made the costumes very well. What's more, they had their infant child with them, wearing the B&L baby clothes, giving off the impression of WALL-E and EVE being parents. Just absolutely cute, if you ask me. I also liked a lovely Meg I spotted while waiting for the Disney Interactive program and a cute couple as Oswald The Lucky Rabbit and his lady love Ortensia waiting in the general admission line on the first day.
---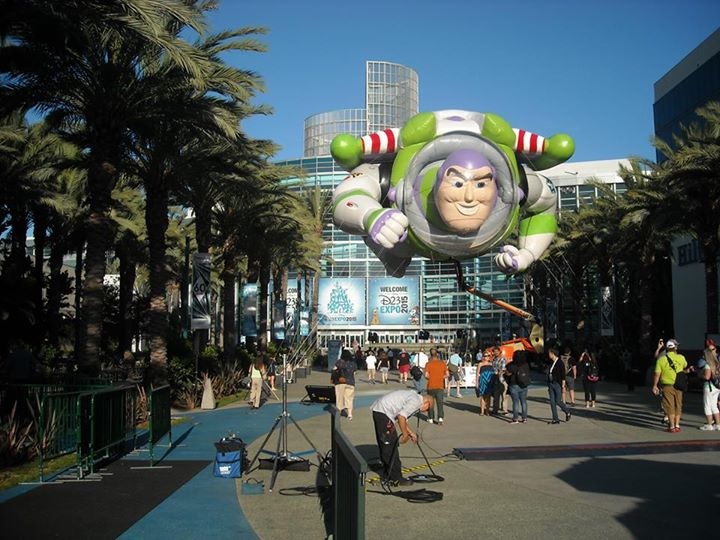 Random Sightings
During the first day only, the Buzz Lightyear float seen in the 2008 Macy's Thanksgiving Day Parade was present at the front of the convention center. Certainly a great way to welcome attendees to D23. I imagine it was taken down so that it wouldn't get damaged by the food trucks present throughout the weekend.
Attendees pretty much said the same thing when it came to seeing if they could get their hands on some of the D23 exclusive merchandise being sold. "Good luck." The lines were super long, and that was just to get into the official Disney Store booth. Just imagine how long the checkout process was. There was word that on the first day there was a fight over the dolls that caused damage to one of the store's walls. As such, I pretty much avoided even attempting to get in.
Mini-concerts with various Disney Channel stars were conducted on Center Stage throughout the weekend. One I managed to catch very briefly was Olivia Holt, star of the series I Didn't Do It.
Prior to the start of the animation (and presumably live-action) programs, trivia questions and an occasional teaser trailer displayed on the screens in Hall D23. At one point, a featurette spotlighting a Disney fan was screen. Right as it started, I heard screaming a good few feet over to my right. It turned out that the girl being profiled was in attendance and her friends were excited. Her name was Ashley Kashar and she had joint problems at a very early age. She was inspired by her love for The Little Mermaid to overcome obstacles and was eventually healed fully by age sixteen through competitive swimming. When the featurette ended, her friends made sure everyone knew she was in the room while she sat blushing. In some ways, this helped bolster the greatness of the animation program that followed moments later.
---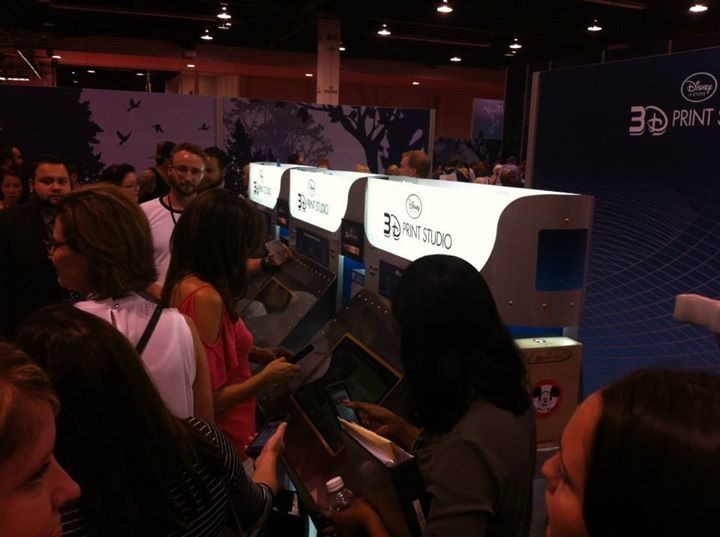 One display on the showfloor offered attendees the chance to create their very own figurines of themselves as either a Mouseketeer, a Stormtrooper, or Iron Man. And the figurine would be ready to take home on that day. This was offered at the touring Marvel Experience, only I believe this one was more technologically advanced as multiple people can participate at a time. I never did find out how much it would cost to have your own figurine made, but if the prices at the Marvel Experience were any indication, it certainly wouldn't be cheap.
While waiting for the Dick Van Dyke photo op, I went to the bathroom and something interesting happened. I think I stood next to Ed Asner in the urinal stall. That's certainly not something you're able to say every day!
It's not uncommon for celebrities to hang out and chat with one another. Though I'm not sure what Corey Feldman was trying to accomplish, wearing a woman's head cover, as if he needed to be incognito, when chatting with Christy Carlson Romano on the second day. His autograph table was set up right next to her.
Getting a photo op at the Disney/ABC TV Pavilion also netted attendees pre-signed autographs, which appeared to also be printed duplicates from a master so that the stars wouldn't have to spend time signing so many I guess. Those of us in line for the Ashley Eckstein photo op found ourselves being offered leftover autographs from Allison Holker of Dancing with the Stars, the cast of Lab Rats, and the cast of I Didn't Do It. I picked Lab Rats randomly.
Final Thoughts
I can't express enough in words, or even in pictures, what a great time I had at this year's D23 Expo. I enjoyed it so much that I can't wait for the next convention in 2017 and am already starting to think about my plans for it. There was so much to experience and while I wish I could have seem and done ever more, what I did get to experience was phenomenal.