In his first piece for our site, Daniel Short, who has been to the convention frequently in the past, writes about what he experienced and saw, including meeting Lilo & Stitch and How To Train Your Dragon director Chris Sanders, attending Disney's The Power Of 2D panel, and seeing Pixar's short film Sanjay's Super Team. Enjoy!
The 2015 San Diego Comic Con is in the books. It was another hectic, yet satisfying annual event that has so much going on with so little time to get to as many things as humanly possible. In comparison to some past years, my venture may come off as a little low key. I nevertheless accomplished some of my goals and got a couple neat items along the way to feed my fandom.
Disney Infinity 3.0
A popular off-site setting during the week was the Disney Infinity Pop-Up Shop. Open to the public, the shop allowed folks to demo the Disney Infinity 3.0 playsets and figures while also providing free snacks and drinks.
I got to play as Ahsoka Tano in the Twilight Of The Republic playset, Disgust in the Inside Out playset, and Sabine Wren in the Rise Against The Empire playset. For Rise Against The Empire, I got to pilot an X-Wing in the Battle of Yavin. Piloting the X-Wing is much different than piloting flying vehicles not just in previous Infinity entries, but also in video games in general.
The shop also displayed various concept art of the characters, the approach to looking for the right design that will have the characters fit the style of the game, and numerous collections of prototype figures that included Princess Leia and Darth Maul.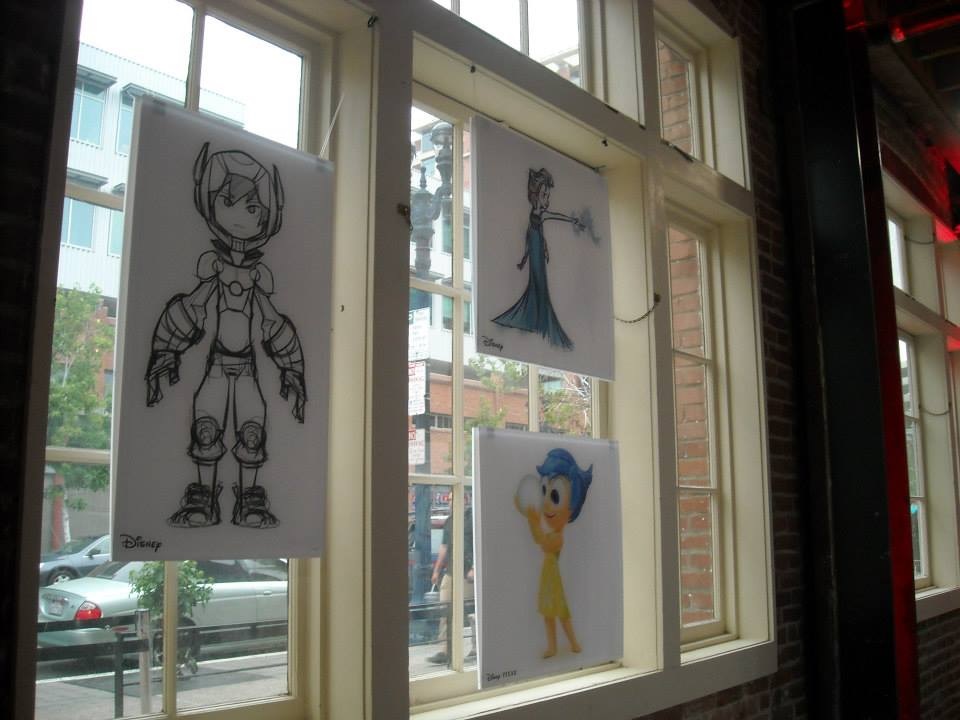 Artwork of Disney heroes Hiro, Elsa and Joy
as they appear in Disney Infinity.
Playing any of the demos at least once netted players a free lithograph of concept art. It was understood that they would provide a different lithograph each day, giving folks a bit of an incentive to come back throughout the week. But that wasn't the only freebie the shop was offering.
Folks could participate in an interactive video op where one player or groups were placed in a background setting of their choice with an Infinity character of their choice. Completing the op would result in the participants earn one free pre-release figure of their choice between Regular Mickey Mouse, Quorra from Tron: Legacy, Sadness from Inside Out, Yoda from Star Wars: The Clone Wars, Sabine Wren from Star Wars: Rebels, and Darth Maul. I picked Sabine.
As it turned out, that wasn't the only way to score a free pre-release figure. Pre-order any of the Disney Infinity 3.0 starter packs in the presence of a shop employee and one would receive right then and there Darth Vader. Of course I was going to pre-order the Saga set at that moment. And thus, I left the shop with two pre-release figures
and a lithograph.
Chris Sanders
Lilo & Stitch and How To Train Your Dragon director Chris Sanders is a regular at the San Diego Comic Con and generally always has something new to sell at his booth. Usually it is a new sketchbook and some additional merchandise. This time around, he and his wife Jessica were selling the novel they wrote together, Rescue Sirens. It is the first in a planned series of books about mermaids who disguise themselves as human lifeguards to watch over and protect humanity. Sanders also does the covers, but interior illustrations are by character designer Genevieve Tsai.
The cover art for Chris Sanders'
upcoming mermaid adventure book.
Sanders didn't have a new sketchbook this year. When I asked him about it, he noted that he's been too busy with various other projects to really put a new one together. He was, though, hoping to put together a compendium that would include a mix of old and new sketches for a future release. Something to keep and eye out for.
J. Scott Campbell
J. Scott Campbell is a highly recognized and extremely popular comic book artist due to how he draws his ladies. He broke through with his Danger Girl series and now makes a living primarily doing covers for Marvel, prints, and commissioned work. This year, the big deal was his beautiful alternate cover to Amazing Spider-Man: Renew Your Vows #1 featuring Mary Jane Watson in her wedding dress, which was being sold exclusively through his web site. Being a fan of his work, in particular his Mary Jane, I picked up a color print lithograph and the actual comic with the cover in illustrated form.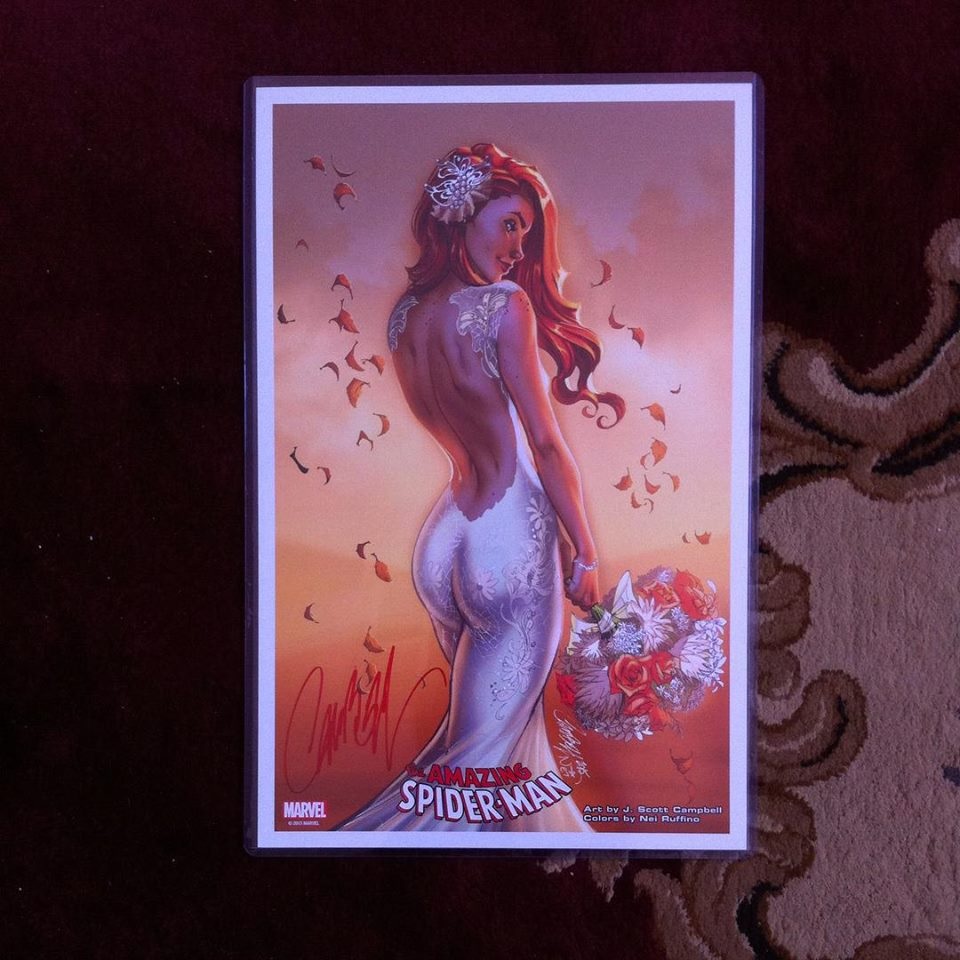 Artwork of Mary Jane Watson
in her wedding gown
Speaking with Campbell, I learned that he was finally going to release a new fairy tale calendar. For the past few years, he's been doing his own pin-up variations of fairy tale characters, often times designed in ways to echo familiarity to their Disney counterparts. I remember a couple years about there was this great photo op where a group of girls cosplaying as Disney Princesses hung out at his booth while that year's calendar was being sold. He skipped doing the calendar last year, but the demand for a new one was such that he's bringing it back with the release being around end of summer, or beginning of fall.
I should note that the comic copy of Amazing Spider-Man: Renew Your Vows #1 was taken to the Comics Guaranty (or CGC) booth. Through them, they would get the book graded with Campbell's signature. Most folks tend to go through the CGC route as a means of enhancing the potential profit value based on the book grade. That's more secondary to me as I wanted to make sure the book would be graded and remain as was for as long as possible. Of course, it will be about three and a half months before I get the book back, but I think it will be worth it.
Sanjay's Super Team
Pixar returned to Comic Con with a special preview screening of the short that will play before The Good Dinosaur, called Sanjay's Super Team. Director Sanjay Patel and producer Nicole Paradis Grindle were there to present the short in full and showcased a great deal of behind-the-scenes material, including Patel doing the pitch of the story's original version.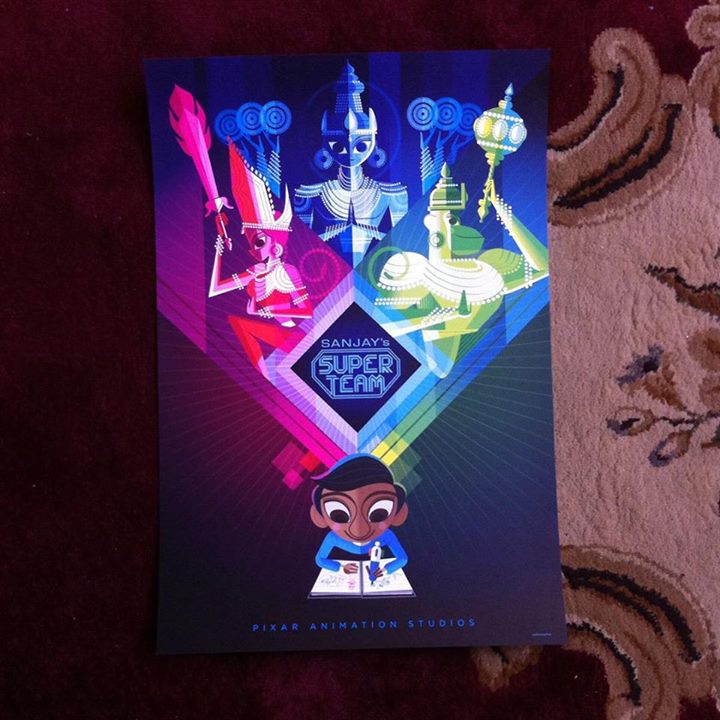 The poster giveaway for
Sanjay's Super Team
To summarize, the short was loosely inspired by the director's own struggles in developing an identity in a modern society while having trouble embracing his Hindu background. It was beautifully animated and told a nice, wonderful story. Later in the panel, they played a clip of Patel showing the short to his dad and the emotional reaction that resulted. Patel noted that his dad had not seen a movie in possibly forty years.
The behind-the-scenes material was great, showcasing the stages of development. Patel and Grindle discussed some of the references used to help realize the director's vision for the story, such as looking to Hindu films for unique visual styles and turning to anime for the type of cinematography he wanted.
Audience members who got to participate in the Q&A received an exclusive lithograph poster of the short. Most of the questions were related to asking Patel for advice on getting into the business or developing their own storytelling voice. I asked him about his coming about to choosing the Hindu deities presented in the short and he mentioned how Vishnu was originally going to be the only one to appear, but his story team convinced him to add more and they chose the others based on what they represent.
Gravity Falls
I skipped out on attending the panel and instead looked to get in on the autograph signing. When I went to line up about an hour before the scheduled start time, I was glad I made this decision as there was already a hefty amount of people waiting. When the panel ended, which was about a half hour before the signing, the line behind me was massive. Let me repeat that, the line for the Gravity Falls signing was hefty in front of me and massive behind me.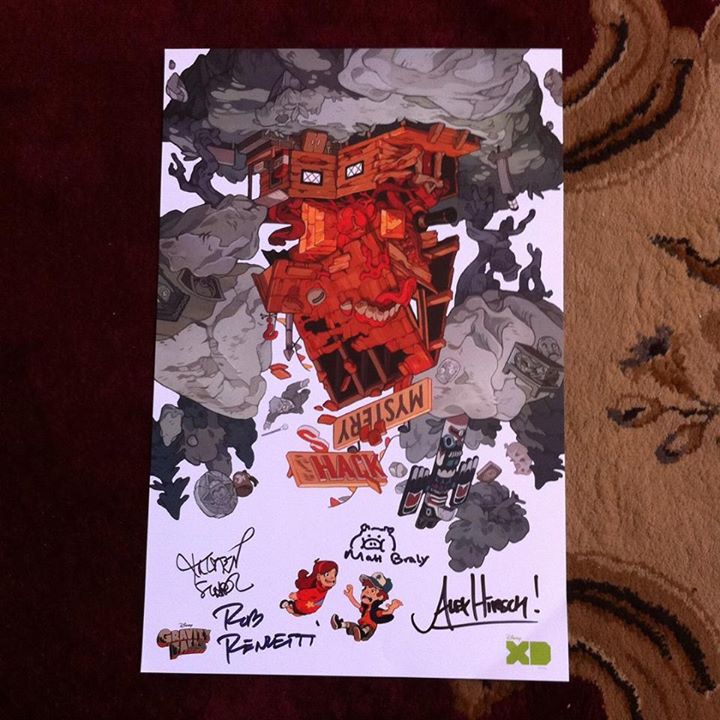 The giveaway poster for Gravity Falls
Due to the gigantic line, Comic-Con staff had let it be known that the Gravity Falls panel would only be signing one item, be it the poster Disney was providing or one fans brought themselves. They also wouldn't be doing photo ops as they wanted to get through everyone as quickly as possible with the time allotted. The panel consisted of Alex Hirsch (creator and voice of Stan Pines), Kristen Schaal (voice of Mabel Pines), Rob Renzetti (supervising producer), and Matt Braly (director).
While waiting in line, I did a sketch of Mabel and Stan and threw in some goofy dialogue. Looking over the sketch, I thought I overdid it on the dialogue and didn't leave enough room for autographs, so I was going to get the poster signed. As Schall started signing my copy of the poster, she noticed the sketch. I explained what happened and she insisted they sign it anyway. How nice!
EG Daily
Voice actress EG Daily (Rugrats, The PowerPuff Girls) had a table in the autograph area. She drew a sizable crowd and interacted with everyone for a good period of time each. Through this I learned that she would be launching a voice-coaching seminar on Amazon in a few weeks.
Brian O'Halloran and Marilyn Ghigliotti
Clerks stars Brian O'Halloran and Marilyn Ghigliotti, Dante and Veronica in the film, had an autograph table together. I would think that Kevin Smith and Jason Mewes might have dropped by to visit them at some point, but not while I was there.
I got in a good conversation with O'Halloran about the Clerks animated series, with his lamenting that the series should have been on UPN as planned. UPN had a 12-episode order all ready to go when Disney (which owned Miramax and subsequently Clerks at the time) stepped in, not wanting one of their properties on a network they believed was not even third-rate. I wished them luck with the forthcoming Clerks 3, which has been announced as being the next film Smith will make after Mallrats 2.
Floyd Norman: An Animated Life
Comic-Con offered a first look at the trailer for the forthcoming documentary Floyd Norman: An Animated Life. The Disney Legend has become a bit of a regular at Comic-Con, with his highlights being his time-to-time participation in the Quick Draw. Norman was on the panel along with the filmmakers Michael Fiore and Erik Sharkey, his wife Adrienne, long-time partner Leo Sullivan, the documentary's composer Ryan Shore, and some of Norman's associates in Gary Trousdale, Paul Dini, Tom Sito, and Ken Mitchroney.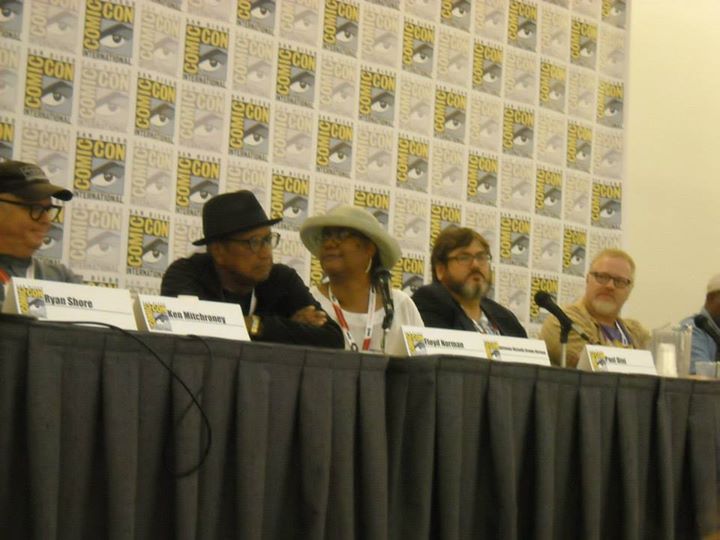 Members of the panel for the
Floyd Norman documentary.
Everyone had a great time in going over Norman's career. He talked about when he was called in to help Walt Disney with story issues on The Jungle Book, noting how that was the most fearful position in the company because that meant he was going to be side-by-side with Walt almost at all times instead of on occasion. There were stories of when Floyd and Adrienne met, how he and Sullivan gave Trousdale his first job in the animation business, and how he and Mitchroney were looked upon as the troublemakers whenever they worked together at Pixar, as they would fool around with Jack Benny and Rochester routines, telling one that killed everyone in the room.
While a proper release date of the documentary hadn't quite been announced, the audience felt we got a great deal of what we can expect to see from the stories told throughout the panel. It also provided an even greater appreciation of the life and career Norman continues to lead.
After the panel, I got a chance to converse with veteran Disney director Gary Trousdale, expressing my love for Atlantis: The Lost Empire not only with the hardcover illustrated screenplay for him to sign, but also explaining how me and my friends have done Atlantis-themed role-playing over the years. The last bit caught his fancy and he was delighted to see that there are such fans of the film out there. It was noted during the panel that Trousdale is now working in DreamWorks' theme park attractions division.
My Little Pony: Friendship Is Magic
I've been going to the My Little Pony panel at Comic-Con ever since they started showing up there about three years ago. Each year, the attendance gets bigger and bigger, making one wonder if they should think about moving into a bigger room for next year.
The panel was, as ever, moderated by Hasbro Vice President of Development Mike Vogel, and this year featured supervising director Jayson Thiessen, newly promoted to Hasbro Head of Storytelling Meghan McCarthy, director Jim Miller, Hasbro Development and Production's Brian Lenard, and voice cast members Ashleigh Ball (Rainbow Dash, Applejack) and Andrea Libman (Pinkie Pie, Fluttershy).
The panel previewed the rest of the show's fifth season in presenting two animatics, one showing a scene from the two-part season finale, and the other previewing the song to be sung by guest star and Tony Award winner Lena Hall. Ball and Libman got a chance to play around as their characters for the fans while also revealing that they've started recording for season six and Thiessen sheepishly noting that a true My Little Pony movie was in the works. After showing off the trailer for the next Equestria Girls special (titled Friendship Games), they went on to take questions from the audience.
Audience questions for My Little Pony are always an interesting venture, as the panel encourages the kids getting in line to ask questions before the adults. At the same time, a lot of the questions tend to deal with potential spoilers that the staff can't reveal yet or possibilities of incorporating fan theories and ideas. This year, questions with the latter certainly picked up after the events of the 100th episode.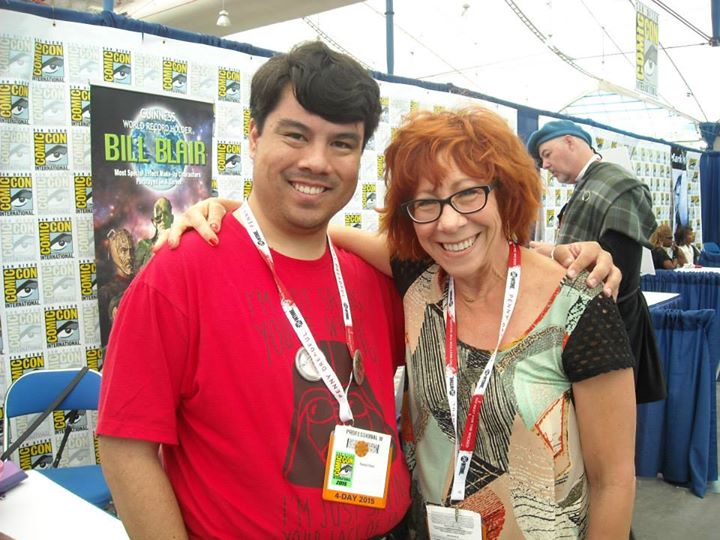 Dan with Legend of Korra
voice actress Mindy Sterling
Mindy Sterling
A couple years ago, I got lucky enough to get into the Legend Of Korra signing and had a poster with a great deal of cast and crew signatures, even a couple sketches. Given that she's the voice of Chief Lin Beifong on the show, I figured I would get Mindy Sterling's signature added to the poster.
Traffic delayed her from getting to her table on schedule, so I spent a moment speaking with her son about whether there's been a worry of her getting typecast following the success of Austin Powers series, in which she played Frau Farbissina. Mindy finally showed up and was energetic from the start. She made a quick mention of enjoying her work on Korra, playing a different kind of strong woman than that of Frau Farbissina, before her attention was set on someone cosplaying as Dr. Evil.
Disney Animators: The Power Of 2D
Believe it or not, this turned into a full attendance panel. I was looking for a good seat and thought I found one in one of four open seats. But as I was about to set my things down, someone asked if all four were open. I looked up and it was Tom Bancroft and with him were his brother Tony, Floyd Norman, and I believe Ken Mitchroney. I graciously pulled out and let them take the four seats. There was fortunately an open seat behind them.
As I sat down, a man behind me was asking the girls he was sitting next to what their favorite Disney movie was. When they replied that it was The Little Mermaid, a grin came over his face and introduced himself as Rick Farmiloe, supervising animator of Scuttle. The girls had to control their squealing, especially when he offered to draw Scuttle for them. I managed to squeeze myself into the mix and get a Scuttle drawing of my own as well while the girls were fangirling over meeting an animator of one of their favorite films.
The panel was moderated by Leslie Combemale of Art Insights Gallery and featured Willie Ito, Dale Baer, Randy Haycock, Tom Sito, and Mike Polvani. Combemale did a great job in structuring the panel with Ito explaining the old-school method of animation, Baer talking about the transition from traditional to CG animation, Haycock going into how his generation of traditional animators now saw themselves having to be essentially the Nine Old Men to the new generation of CG animators, Sito breaking down the technical differences between traditional and CG animation, and Polvani running a school that would educate CG animators in utilizing traditional methods and techniques. It was a highly informative panel that really got me thinking a lot about my perception of animation and thinking back on my own education in the field.
There was a brief Q&A with most of the questions being geared towards the hope of traditional animated features returning to theaters in the States. They also got into what little information they could reveal about Moana, which Baer and Haycock are currently working on for a Christmas 2016 release. After the panel, I managed to get Haycock to do a sketch of Princess Kida for me, though he admitted to not having drawn her in some time. I left behind the illustrated screenplay, so we couldn't dig that out for reference. Nevertheless, the sketch was still fine and, for an Atlantis fan such as myself, it was worth it.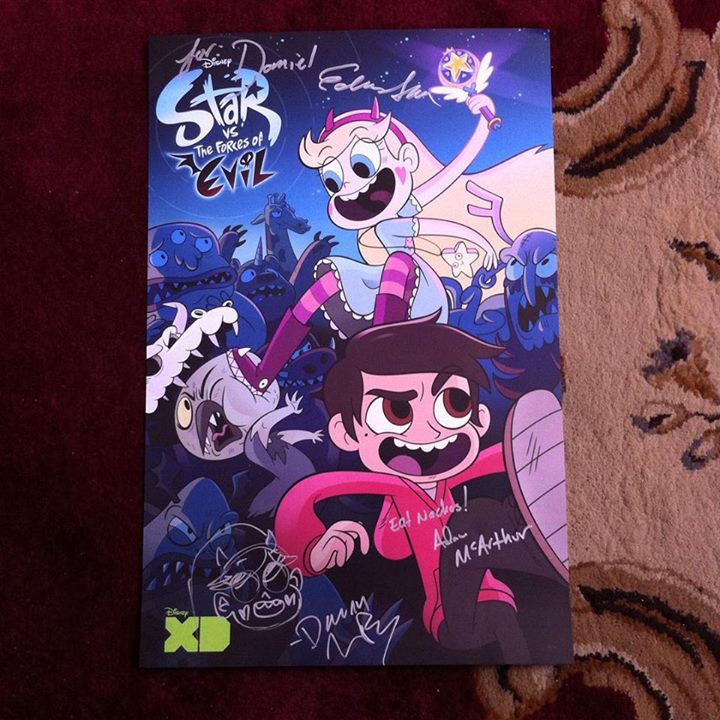 The Star Vs. The Forces Of Evil
giveaway poster
Star Vs. The Forces Of Evil
As with Gravity Falls, I skipped out on the Star Vs. The Forces Of Evil panel and went for the signing. While not as long as the former, there was still a healthy amount of fans for the latter. There was a bit of frustration from folks that the Comic-Con staff members were having difficulty setting up a line, and they were coming off a near riot situation with the back-to-back Cartoon Network signings. While hardly perfect, I think the staff did the best they could under the circumstances.
On hand for Star Vs. The Forces Of Evil were series creator Daron Nefcy and main voice cast members Eden Sher and Adam McArthur. It was not quite a sign and go situation, but there didn't seem to be a chance for photo ops considering how big the line was getting. Daron did do quick head sketches of Star alongside her signatures and enjoyed hearing about those who know people that are very much like the character, such as my niece.
Ash Vs. Evil Dead
One of the most hotly anticipated panels was for the forthcoming TV series Ash Vs. Evil Dead, bringing back the epic battle between Ash and the Deadites. While waiting in line to get in, I got interviewed by a camera crew from Starz, the premium channel that will be airing the series. We'll see if I do end up in some sort of promotional material, maybe for three seconds, but they did like my use of the free buttons their booth was handing out when speaking one of the signature quotes from the franchise.
The panel was moderated by Scott Aukerman of Comedy Bang! Bang! and featured Sam Raimi, Bruce Campbell, Lucy Lawless, Ivan Raimi, and showrunner Craig DiGregorio. Right from the start, they showed off the first full trailer for the show, and going by what was shown, this is going to be a fun ride in a world that fans cannot wait to revisit. The series premiere was also announced to be taking place on October 31, Halloween night.
The big delight for me was watching the banter between Raimi and Campbell on full display. The playful jabbing they threw at one another elicited some of the biggest laughs of the night. Later on, during a bit where Raimi looked to "audition for a new Ash", Campbell decided to hold an impromptu Ash cosplay contest. In typical Campbell fashion, he roasted just about all the cosplayers in their amateur designs, in particular the chainsaws, before it was ultimately decided that the winner was a girl who did a pin-up version of Ash.
When it went over to the Q&A portion, Campbell warned everyone that stupid questions asked at the microphone would result in him going rogue and looking for a better question within the audience. He lived up to that threat early on and the questions at the microphone from then on were looked upon as being acceptable in Campbell's eyes. They ended the panel by replaying the trailer with a bonus scene added.
Marvel Animation Presents
I came in after the panel had started, so I pretty much missed the details on the next season of Avengers Assembled, subtitled Avengers: Ultron Revolution. I did catch their showing off the character designs for the Inhumans and Vision, the latter character being modeled after his appearance in this summer's Avengers: Age of Ultron.
Running the panel was Stephen Wacker, Vice President of current series at Marvel Animation Studios, Cort Lane, Vice President of animation development and partnerships, and Eric Radomski, Senior Vice President of production and creator director of animation.
I did make it in time to see how the current season of Ultimate Spider-Man will wrap up with the Contest of Champions storyline, viewing a screening of a scene early in the arc. They then moved on to the next season, which they announced would make it the longest running Marvel animated series in history, and the first to go over 100 episodes. The next season is subtitled Ultimate Spider-Man Vs. The Sinister Six and will feature cameos of Agents Simmons and Fitz from Agents Of S.H.I.E.L.D., ABC's live-action Marvel adventure show.
They then moved on to Guardians Of The Galaxy. In addition to announcing the one-hour premiere date of September 26, with the first part getting a sneak screening earlier in the month, they decided to screen that first part for the Comic Con attendees right then and there. The show definitely fits in with the spirit of the movie while incorporating elements of the comics, as is standard with most Marvel animated shows. There are some nice visuals and pretty good animation. I'll have to watch the second part of the premiere to get a better feel of whether or not everything works.
Taking a page from the My Little Pony panel, the Marvel animation crew encouraged kids getting cuts to the front of the line for Q&A, and they received Guardians Of The Galaxy posters as a "reward" for asking questions. One question asked did reveal that the launching of Guardians effectively brought about the end of the short-lived series Hulk And The Agents Of S.M.A.S.H. There was a lot of interest in getting more female heroes featured and the crew appeared to be genuinely interested in making this happen down the line.
Quick Draw!
The annual Quick Draw! event remained one of the most popular events at Comic-Con. Hosted by Mark Evanier, three of the top well-known and fastest-drawing cartoonists illustrate some of the funniest scenes they can on the stop and to the delight of the fans.
Normally the cartoonists are comprised of Sergio Aragones, Scott Shaw, and a rotating third man, which this year was going to be Floyd Norman. This year would be a little different as Shaw injured his leg the week before and would not be able to attend Comic-Con at all. So stepping in to join Aragones and Norman was Mike Kazaleh, who had done animation for Ralph Bakshi and Warner Bros. and had also worked on comic books such as Ren And Stimpy as well as Usagi Yojimbo.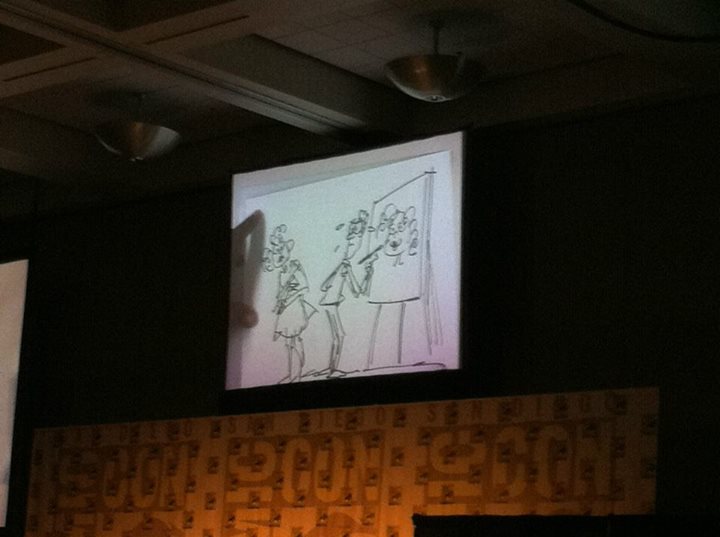 The Quick Draw! event continues
to delight Comic-Con fans every year
Early in the program, Evanier had the guys illustrate their thoughts of how Shaw was spending his time recovering. He then put his phone up to a microphone and called Shaw so everyone in attendance could wish him well. A nice little moment in the middle of all the hilarity that ensued.
Each year Evanier picks out one of the cartoonists and has them continue some kind of running theme throughout the event. This year, he had Aragones illustrate himself running in fear from someone or something. Among the various horrors chasing him were Donald Trump, Neil Armstrong, a dish washer, Mark Evanier, a shark, and more.
Other topics thrown out included achieving an entry on one's bucket list, jobs for Ant-Man outside of super heroics, what a Presidential candidate could do to not earn votes, the pitfalls of being Iron Man, and much more. The event left people in attendance in stitches with laughter at some of the illustrations the cartoonists come up with in mere seconds.
---
AKIMAN
Akira Yasuda, aka AKIMAN, was one of the most well known figures in Capcom for his designs. None are more famous than his character designs for the Street Fighter characters, with his visual conception of Chun-Li being one of the most widely recognized. UDON managed to bring him over to his very first International appearance to coincide with the group's publication of his variant cover for the SF 25: The Art Of Street Fighter book.
UDON hosted a rare signing at their booth, and entry required the purchase of the variant book, which they limited to 200 copies. They ended up having a couple problems getting the signing to run smoothly, as it turned out that 200 people was much more than the booth could accommodate, and they simply couldn't wrap the line around as it would interfere with other booths. Comic-Con staff members attempted to rectify this.
What's more, AKIMAN decided to add in chibi-head sketches of Chun-Li along with his signatures. A fun addition, but it did make the signing run longer as AKIMAN was one of those artists who took his time. Until they found out about the sketches, most folks waiting in line were getting frustrated with how long it was taking. Still, just getting a signature, let alone a little sketch, from one of the most revered names in the Street Fighter franchise made it worth the two hour wait for me.
There was an additional bonus where everyone who purchased the book were also entered into a contest to win a Chun-Li sketch AKIMAN did the day of his signing. The winner was announced during the UDON panel and was determined through the numbering of the books. Unfortunately, I wasn't the winner. Nevertheless, this set up made for a fun way to bring AKIMAN to the States.
Masquerade
The annual costume contest, generally hosted by Girl Genius authors Phil and Kaja Foglio, remains one of the most popular events at Comic-Con. In fact, for the last several years they've been adding more and more rooms to do simulcast screenings. Still, one of the more desirable spots to watch the cosplay event is in the Sails Pavilion because of the free food and the rave party that follows.
The entries this year were collectively decent, though there were not too many standouts. The big winner was called King Of The Force, which was a big musical display of what the Star Wars panel the night before might have been like. It was the big winner of the contest, that's for sure, winning a plethora of awards in addition to Best In Show.
A couple of other stand-outs included Challenge Accepted, in which a group took on Hugh Jackman's joke from last year's Tony Awards, when he claimed you wouldn't see Wolverine do a tap dance, and they went on to do a full Busby Berkeley number with a whole cast of X-Men characters doing a giant tap dance routine. Another was called Waltz 101, showcasing a number of Disney Princesses partaking in waltz lessons from the Fairy Godmother, only to break into dancing to modern songs from time to time and pulling out a beefcake standee with Phil's face Photoshopped on, much to Phil's chagrin and Kaja's laughter.
Freebies
I would be remiss if I didn't mention one of the other keys of Comic Con, the hunt for freebies. I've noted above a bunch of freebies received, from pre-release Disney Infinity 3.0 figures to other material obtained by attending panels or signings.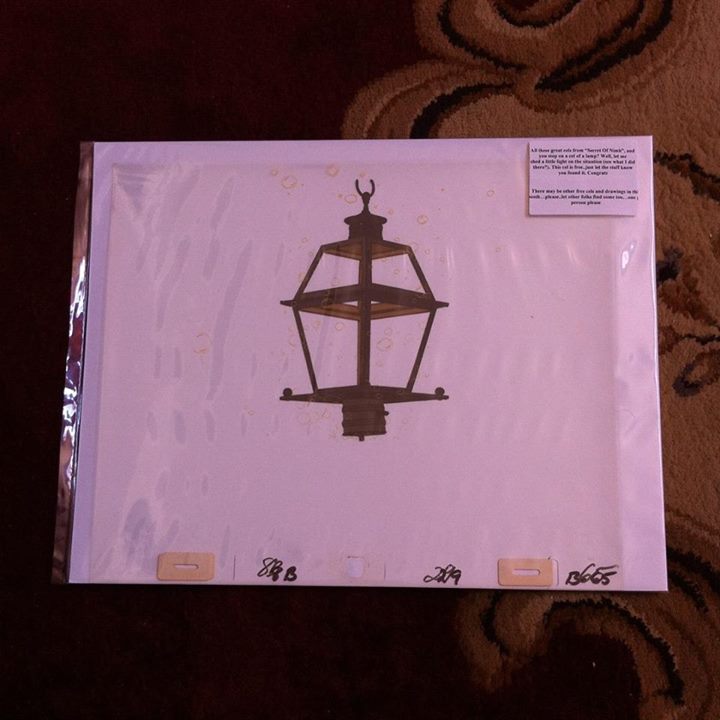 An animation cel from Don Bluth's
beloved The Secret Of NIMH
Often, freebies are obtained as bonuses for making some kind of purchase. In the UDON booth, collectable metallic cards were given based on the monetary amount of items purchased. The cards obtained are usually random, though one card in particular, a gold Evil Ryu, is earned through purchasing the Capcom Fighting Tribute book. VIZ Media had an early release of the Sailor Moon R: Part 1 Blu-Ray combo pack that included an exclusive Sailor Moon coin, and Fox had an early release of the X-Men: Days Of Future Past – The Rogue Cut on Blu-Ray that included a limited numbered lithograph that celebrated the 15th anniversary of the X-Men films.
A unique freebie I got this year came from the Van Eaton Gallery booth. I was sifting through the animation cels they had for sale from The Secret Of NIMH, and ran across one of the lamp elevator that had an interesting note saying that it was free upon informing a staff member in the booth. One happened to be right behind me and he explained that they occasionally hide cels they would give out for free, though usually with some sort of condition. He mentioned how one got a cel of a small sized Dirk The Daring and had to inform the staff that "Size doesn't matter." The guy not only did so, but he walked around the floor occasionally yelling out "Size doesn't matter!"

---
---
For more on Dan's trip to Comic-Con, you can check out his video logs posted on our forum, and also enjoy additional images posted below.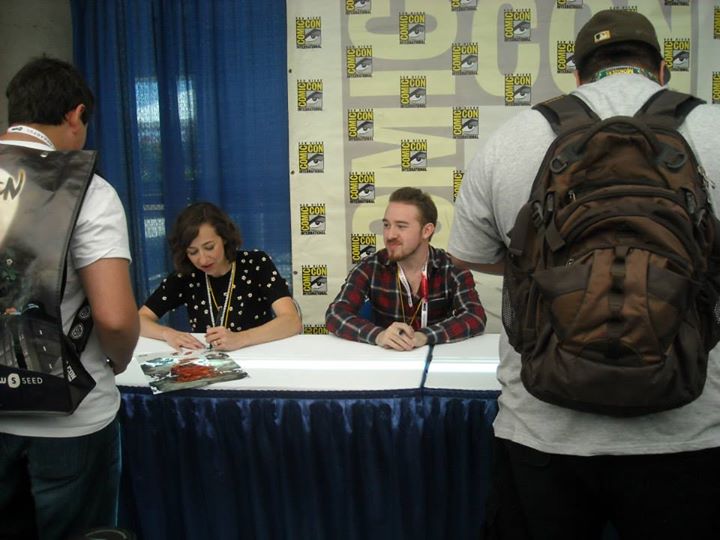 Kristen Schall signs posters after the Gravity Falls panel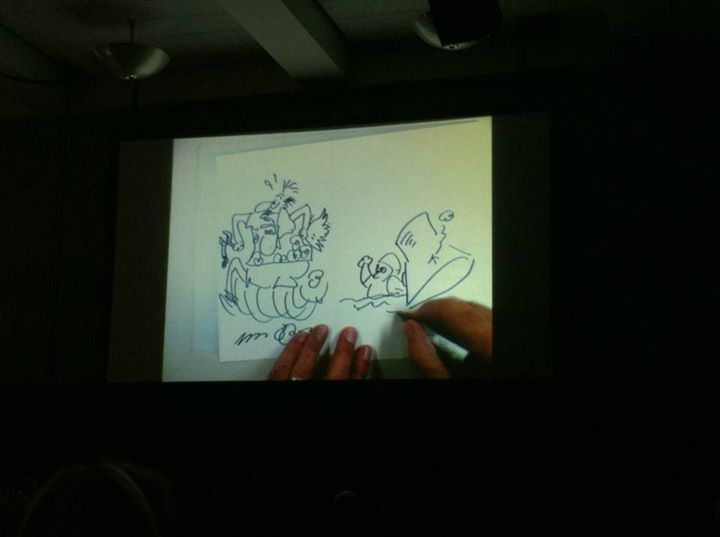 More wacky fun from the Quick Draw! event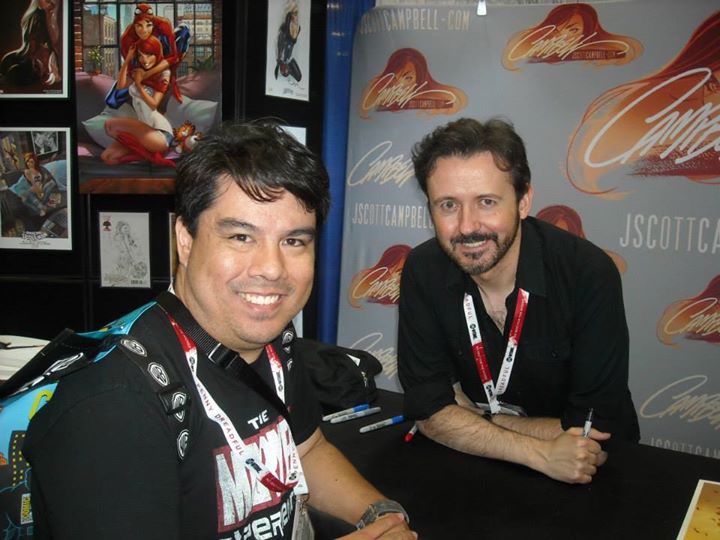 Dan with J. Scott Campbell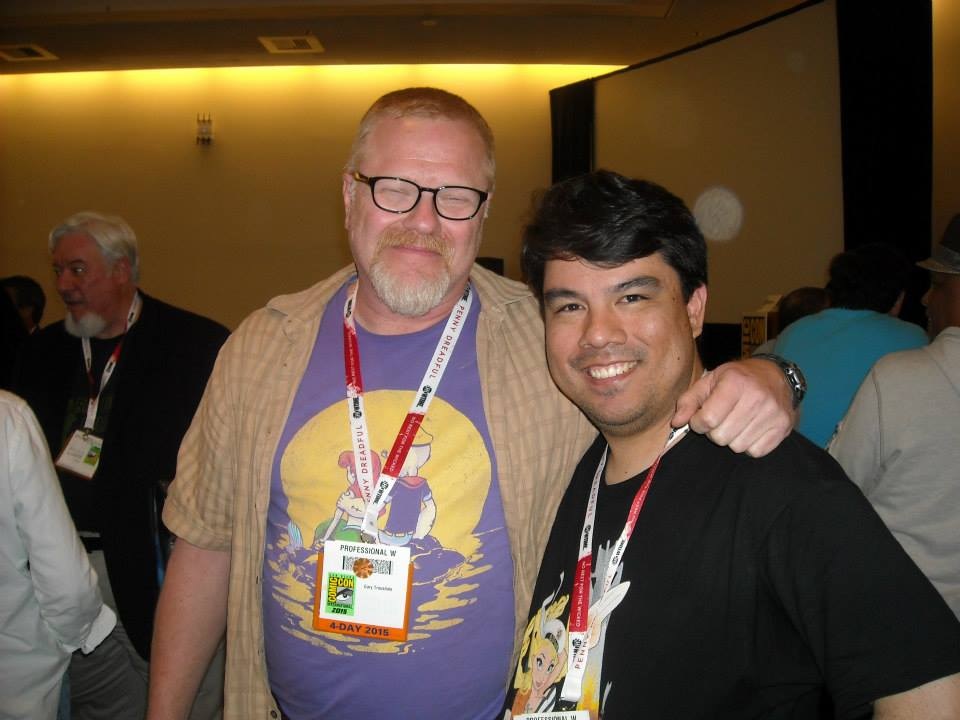 Dan with Atlantis/Beauty & the Beast/Hunchback of Notre Dame director Gary Trousdale