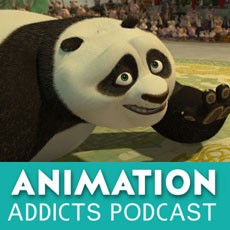 Learn more about The Rotoscopers!
It's back to back DreamWorks films for the Rotoscopers! This episode we tackle the 2008 CGI film Kung Fu Panda.
Highlights
Main Discussion: Kung Fu Panda
Drama at the Annie Awards. Panda sweeps!
First thoughts and recollections about the movie.
Is it easier to do martial arts in animation?
The 2D opening sequence is by the amazing James Baxter.
The Furious 5 meet Po.
Tai Lung and his epic escape out of the prison.
Morgan has issues with how long it took Po to be a master.
What we think about the message "there is no secret ingredient."
Major theme of the movie: You need to be ok with you.
Another theme: turning your weaknesses into strengths.
We rate it!
Voicemail
Don't forget to use the hashtags #AnimAddicts and #AnimAddicts89 when talking about this episode on Twitter!