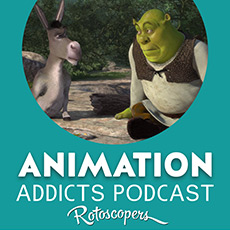 Learn more about The Rotoscopers!
The Rotoscopers review DreamWorks' second CGI animated film–the amazing, hilarious, irreverent Shrek.
Highlights
Main Discussion: Shrek (2001)
Morgan and Chelsea saw this movie in theatres together and bonded over the fairy tale and Disney parodies.
Mason goes in depth about the lighting, rigging, animation and character designs.
Animation technology really shows its age.
So quotable!
John Powell did the score. He's like a Rotoscoper for music–Disney, DreamWorks, and everything in between.
New DREAMWORKS theory: all DreamWorks films are biblical.
Which Eddie Murphy character is better? Donkey or Mushu?
This movie works because it points out the ridiculousness of fairy tales.
Duloc is a ripoff of Disneyland. But it's hilarious.
Donkey is so dense, but it's what makes him so endearing.
The theme of layers really is critical to the whole film.
The blatant transformation ripoff of the Beast's transformation. The toes!
Voicemail
Don't forget to use the hashtags #AnimAddicts and #AnimAddicts88 when talking about this episode on Twitter!
Links