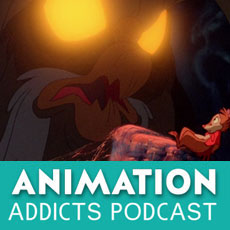 Learn more about The Rotoscopers!
All good things must come to a close–it's the final film in the Rotoscopers' Mice & Rats podcast series, Don Bluth's debut film The Secret of NIMH.
Highlights
Nerdy Couch Discussion
Main Discussion: The Secret of NIMH (1982)
Shout out to to the fan-made trailer by ELO1138.
The staples of a Don Bluth film: dazzle, Dom Deluise, and knobbly hands.
opening: some of the best writing in any of Bluth's film.
Why do we love Mrs. Brisby?
Classic movie trope: fear of flying.
The drama with Mrs. Frisby and Frisbee.
The owl and Nicodemus have elements of the same character.
Jenner: is he a good villain?
The amulet and its powers aren't quite explained. The scientific elements make sense; the mystical, not so much.
We rate it!
Voicemail
Don't forget to use the hashtags #AnimAddicts and #AnimAddicts87 when talking about this episode on Twitter!