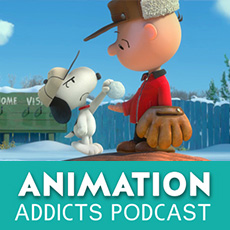 Learn more about The Rotoscopers!
The Rotoscopers jump into the world of Charles Schulz for Blue Sky Studios' 2015 animated film The Peanuts Movie.
Highlights
Mini Main Discussion: Cosmic Scrat-tastrophe (2015)
Main Discussion: The Peanuts Movie (2015)
What we thought about the animation and the translation to CGI.
The Peanuts Movie is about a small, bald Odysseus.
A very simple, episode story without hard driving plot.
Lots of promotion and marketing for this film!
Were the Red Baron scenes overkill?
Voiced all by real kids! Except Fifi.
The IMDB hate filter.
Favorite scenes?
Voicemail
Don't forget to use the hashtags #AnimAddicts and #AnimAddicts108 when talking about this episode on Twitter!