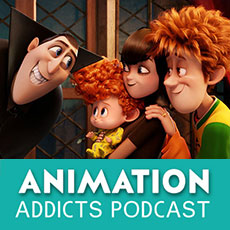 Learn more about The Rotoscopers!
The Rotoscopers get together for episode 105 of the Animation Addicts Podcast, where they review Sony's 2015 animated film Hotel Transylvania 2.
Highlights
General Info and the review embargo.
ANIMATION: Even MORE cartoony than the last film! Are we watching Looney Toons?
COMEDY STYLE: So many one-liners! GAGS UP THE WAZZOOOOO
"You know who the real monster is… Diabetes!"
Thoughts on technology prevalence in films.
CHARACTERS
The Plot and the Ending. Did they work?
Obligatory dance party!
Listener Twitter and Facebook questions.
Voicemail
How long do you wait to see a movie when it comes to theaters?
Don't forget to use the hashtags #AnimAddicts and #AnimAddicts105 when talking about this episode on Twitter!