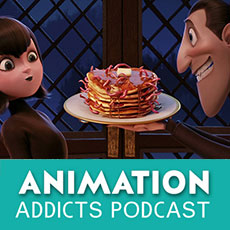 Learn more about The Rotoscopers!
Get ready for the sequel by recapping the original Hotel Transylvania with the Rotoscopers on the latest episode of the Animation Addicts Podcast.
Highlights
Lilo and Stitch Schedule Change
Main Discussion: Hotel Transylvania (2012)
First thoughts of Hotel Transylvania
World Rabies Day… Are we celebrating rabies?
Genndy Tartakovsky: Dexter's Lab & Powerpuff Girls, Samurai Jack film?, panned Popeye film, animation icon, master of timing
6 directors for this film
Animation style of Hotel Transylvania: Chuck Jones/Tex Avery… Wait, no live action reference?
Morgan's Motion Blur rant makes an appearance again in the podcast
Guess Who's Coming to Dinner, but animated… and w/monsters
Voice actors: Adam Sandler and phonebook friends, "Happy Madison Gang," Selena Gomez replaces Miley
Universal monsters fiasco: Why isn't Dracula's cape red on the inside? Why isn't Frankenstein green and where are the bolts in the neck?
Sony releases free rig for bellhop character
Are the tables monsters?
Jonathan respects Dracula instead of rebels
Other Characters: Werewolf, kids, Mummy, Frankenstein's Bride, Quasimodo
Have all the voice actors worked with each other?
Dance party at the end
Morgan is seeing Hotel Transylvania 2 twice
Ratings, Listener Twitter question
Voicemail
Don't forget to use the hashtags #AnimAddicts and #AnimAddicts104 when talking about this episode on Twitter!