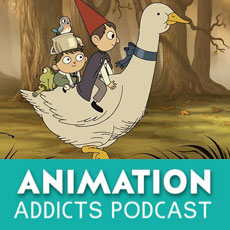 Learn more about The Rotoscopers!
It's our first episode picked out by one of the awesome Rotoscopers' patrons. RotoNation member Rachel Wagner selected the 2014 Cartoon Network miniseries Over the Garden Wall for this episode of the Animation Addicts Podcast.
Highlights
Main Discussion: Over the Garden Wall (2014)
General background and Cartoon Network info
Voice cast: Elijah Wood, Collin Dean, Melanie Lynskey, Christopher Lloyd, and more!
Fairytale story line; "How dare they make us think!"
Art style andthemes
What is the "Unknown?"
Voicemails
Don't forget to use the hashtags #AnimAddicts and #AnimAddicts102 when talking about this episode on Twitter!