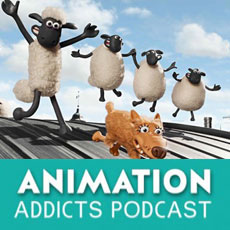 Learn more about The Rotoscopers!
The Rotoscopers are together for their very first live video show with a discussion and their reviews of the critically acclaimed Aardman Animations stop-motion film Shaun the Sheep Movie.
Highlights
Main Discussion: Shaun the Sheep Movie (2015)
Did very poorly at the US box office despite being critically acclaimed. Why do you think that happened?
No dialogue! Makes the other elements of the film (visuals, comedy, score) step up.
No need to be a Shaun the Sheep TV viewer to jump right into this film!
Amnesia in films. A common trope to create drama and tension.
The dog catcher is probably just a former cop who was let go from the squad.
It isn't a pet movie with a trip to the dog pound.
The Farmer's social media/viral rise to stardom as a celebrity hairstylist.
Chelsea enlightens us on what a "classy fart joke" is.
What makes Shaun the Sheep Movie so great: Shuan, dumb sheep herd, filthy party pigs, and the adorable baby sheep Timmy.
We rate it!
Voicemail
Don't forget to use the hashtags #AnimAddicts and #AnimAddicts101 when talking about this episode on Twitter!