Disney-Pixar (2013), Walt Disney Home Entertainment (2014), Blu-ray Disc, 22 mins plus supplements, 1080p high-definition 1.78:1 widescreen, DTS-HD 7.1 Master Audio, Rated: TV-G, Retail: $14.99
Storyboard:
The toys are back for a spook-tacular short-form offering timed to Halloween.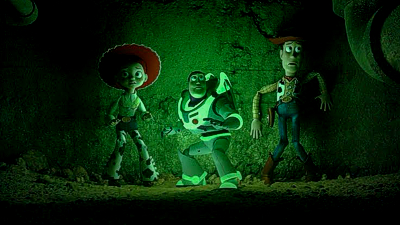 The Sweatbox Review:
While Disney "waits for Tom Hanks to make Toy Story 4", as none other than The Great Gonzo disclosed during the opening of the recent Muppets Most Wanted, the Studio does in fact seemed to have hit on a winning formula to keep the franchise's characters – and Hanks –on screen, by way of a series of shorts of the kind that has seen Mouse Chief John Lasseter able to expand various franchises without actually resorting to the law of diminishing sequel returns. The highly commercial Cars was first out of the gate, with a run of Cars Toons offering up non-canon tales of Mater and friends that played in the film universes but never affected them (indeed, the location of Tokyo, used for one of the better Toons, was revisited for Cars 2 without any reference or other connection).
With the supposed end of the Toy Story trilogy but a clear love of the characters and audience demand to see more, Pixar has been able to spin the franchise into a similar series of Toy Story Toons (all of which have been also assembled here, presumably to fill in a gap before the next collection of Pixar Shorts comes along), in the same way that Tangled Ever After and the upcoming Frozen Fever do for their respective original features. It's a solid concept: Lasseter is a known fan of the short-form medium and these mini-movies provide a training ground for new artists (indeed, a lot of this stuff is handled by Pixar's Canadian satellite studio) as well as allowing for experimentation in visual effects and characterization without the pressures of a big feature with a release date set in stone.
They're also call-backs from the classic days of Disney, when Walt himself would allow Snow White's Seven Dwarfs and Pinocchio's Figaro to appear in a limited run of theatrical cartoons and, most especially, Jiminy Cricket to go on to become a personality of his own, appearing in additional features, cartoons, information films and television specials well outside of his original Pinocchio role. Even Lady And The Tramp's Scamp secured his own comic strip before belatedly coming back to the screen in a direct-to-video sequel. And that's where Lasseter's plan also has its pluses: none of these extra films are intended as direct sequels, and so while they provide a way to see more of the characters the audience loves, they don't step on any sequel toes or profess to be anything more than they are. If you don't like 'em, don't worry…they're not really even placeholders for any eventual sequel that may still come along in future.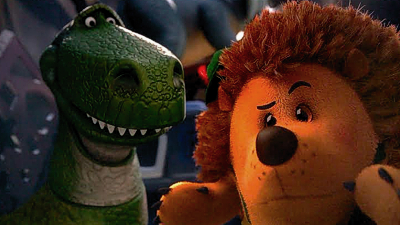 Except that, in this case, the Toy Story world is actually expanding through these stories now, so much so that new characters are being introduced and could conceivably turn up in future installments. Clearly following on from the events of Toy Story 3 in which Woody, Buzz, Jessie and the gang end up being transferred from Andy's possession to the bedroom of a new owner, a young girl named Bonnie, the Toy Story Toons have rather neatly progressed the story in small increments, unlike the Cars shorts or what we have seen so far from Monsters University. It's a nice little exchange, actually, leaving the feature pictures to have basically been Andy's story, and for these extensions (they don't quite seem to be "spin-offs") to be set in Bonnie's world, intentionally or not a clear differation between formats.
After a trio of shorter Toons, we stretch to a slightly longer featurette length (which in old money would have been called a two-reeler, the equivalent of a half hour of television without the commercials) for Toy Story Of Terror!. Making its debut on ABC around this time last year, the special's roots are presumably in the Toons series, which I suspect it was originally intended for – certainly the upcoming Toy Story That Time Forgot was created as such before being switched to the longer format and the Toons run seems to have ended just as these specials have arrived to take their place. It's a neat swap, since while the shorter Toons allowed for a freestyle approach that played more on situation ideas, the specials shore up more of an emphasis back on story, giving just enough time to develop an involving plot while still playing looser with the characters.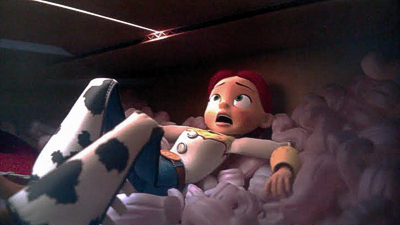 If Toy Story That Time Forgot looks to be a pastiche of B-movie conventions, then this Toy Story Of Terror! is a Pixar "scary movie", albeit one that's aimed at a family audience and uses a traditional suspense plot device. Nicely playing on from Woody's pal Jessie's established fears of confinement and abandonment, we find the gang en route in the truck of Bonnie's Mom's car, stopping off at a motel when heavy rain and a blown wheel halts their journey. With Mr Pricklepants providing an often hilarious scary movie running commentary in the post-modern Scream style, things are all nicely set up for the motel to take on a creepy aspect, which it soon does when something appears to be lurking in the shadows, coming for the toys one by one and picking them off…
Of course, it isn't as scary as it seems, and the explanation turns out to be suitably benign, but before the reveal does come the Pixar folks do their best to rustle up a scare and give us some fun Scooby-Doo type shocks, with the entire returning cast of Tom Hanks, Tim Allen, Joan Cusack, Timothy Dalton, et al all enjoying themselves. Best of all is the now traditional element of introducing new toys to the gang in each installment, and in Toy Story Of Terror we get a real keeper in the third-person speaking Combat Carl, a figure so perfectly cast in Carl Weathers (Apollo Creed and Action Jackson himself!) and deeply dipped in 80s nostalgia that I would swear I had one of these as a kid! My only worry is that, having proven his GI Joe styled credentials and seemingly off to find his owner Billy, Carl and his one-third scale figure Combat Carl Jr are able to pop up again sometime.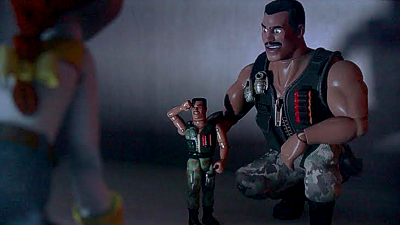 With ample references to the original films and an extension of that series in all but official sequel form, it actually seems like a pretty natural progression for the characters of Toy Story to continue in this fashion, especially at this level of feature-quality production. Director Angus MacLane, previously of the BURN-E short and the Toons series, seems to have a natural handle on the characters and situations and if the Pixar crew can keep finding new ways to have fun with the gang then I think I'd prefer more like this than a lackluster part four in the franchise. With a great sense of fun, good suspenseful sequences and plenty of comedy, there's nothing terrible about this Toy Story Of Terror!
Is This Thing Loaded?
Although not over-packed with extras, Disney has done its best to provide a solid package to what is essentially a single, featurette length television special, essentially plugging the gap between the end of Toy Story 3 and the upcoming new special Toy Story That Time Forgot, which surprisingly doesn't get a peek here. Instead, Pixar have created a bunch of Vintage Toy Commercials for toys and brands seen in this world, specifically the sure-to-be new regular Combat Carl (in classic 1980s TMS animation!), Old Timer and Transitron, in the traditional Toy Story style, and a very nice touch, seeing as this was ultimately intended for the small screen, is that the special can be viewed either as a stand-alone featurette or as a TV airing complete with these commercials playing in the program bumper spots!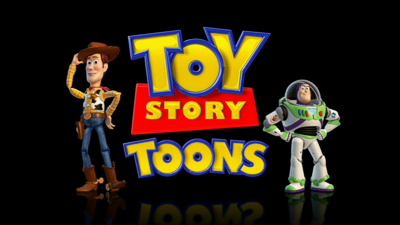 This trio of commercials can also be accessed from the Burton-esque menu with optional introductions from Angus MacLane, while he is joined by the special's director of photography and editor for a featurette-length Audio Commentary on the special itself which, predictably given the limited length, is a packed track covering everything from classic movie references to the newly introduced and resident characters and the way they affect, and are affected by, the events in Toy Story Of Terror! Following on from this, we see and hear more from the rest of the crew in the 12-minute Team Of Specialists behind the scenes mini-doc, ostensibly set up as a day in the life of director MacLane, but otherwise covering the new figures as well as the overall development of the special from concept to post-production in the usual but nifty fashion.
Staying with production progression and a generous seven-minute grouping of Deleted Scenes offers up several such uncompleted storyboarded moments, complete with optional editor intro and cut primarily due to the time constraints of half-hour TV more than anything else. An extra nice touch is the inclusion of almost 20 minutes worth of three theatrically released Toy Story Toons, all previously issued on various Pixar Blu-rays but here feeling more like a natural and welcome inclusion rather than a way to fill out the disc, especially with the added bonus of having each film accompanied by an optional Audio Commentary track with their respective directors (ported over, in the case of the first two, from the Pixar Shorts Collection Volume 2 and newly minted for the third).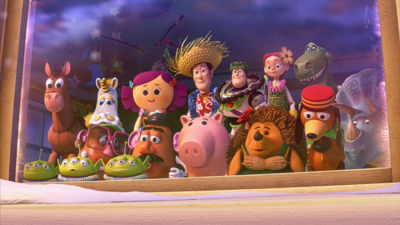 Playing with Cars 2 in theaters and on home video, the first of these is Hawaiian Vacation, which for many was the highlight of the Cars 2 experience! When their new owner is off on holiday, Ken and Barbie plan the ultimate getaway, though when their plans don't take off as expected, Woody, Buzz and the gang pitch in to make it a vacation to remember. Directed by Gary Rydstrom, it's an instantly likeable short that returns to the basic elements of fun that were largely suppressed by the third feature film, with the kind of mood that has been retained in further shorts and this disc's special. Here the characters have lost their mortality-dwelling funk and are clearly enjoying their new home, and there are some great gags, both in the animation and from the vocal performances, though I'm thankful that Spanish Buzz doesn't seem to have become a mainstay gag since then…it was a desperate laugh in the third film and just won't get any funnier.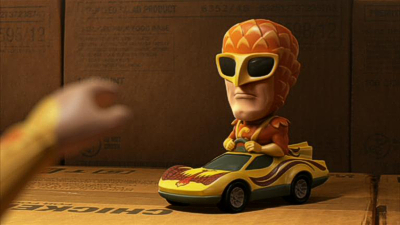 The excellent Small Fry continues to show the strength of the characters in the Toons format and is simply a delightful joy. Without the constraints of a feature film's story arc, there's the chance to play with specific comic story ideas that might otherwise go off in too much of a tangent in a full-length movie, and the sense of fun is palpable. Premiering with the Pixar-endorsed 2011 return to screens for The Muppets (but not included in that film's disc release), here there are pre-shadows of Lasseter's involvement in Disney's Wreck-It Ralph in the self-help support group meetings of rejected fast-food restaurant toys, in which Buzz has found himself trapped and replaced by a comically annoying miniature model. A true highlight that has me laughing out loud every time is a toy nod to the otherwise forgotten 1980s Disney fantasy adventure CondorMan. I want one…I have to have one!
Lastly, Partysaurus Rex has had a bit of a bumpy ride on its way to arriving in a dedicated collection after debuting in theaters with the 3D reissue of Finding Nemo and then turning up not on that film's disc but on the 3D Blu-ray of Monsters, Inc. Not the sharpest Toon in the toy box by any stretch to be honest, Rex is loud, disjointed and about as far away from the core Toy Story tone as could be imagined; indeed it makes for much more of a stable-mate to the Monsters University short Party Central, which I also did not think was very good, it being not much more than an alternate take on a sequence already in the film itself. Still, it's neat to have it here to make up a full package, as is a final one-minute promo, the Toy Story Of Terror! D23 Teaser providing a bit of publicity material and rounding things out nicely.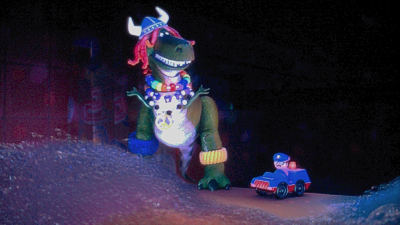 Case Study:
Toy Story Of Terror! gets the standard Disney treatment in its initial pressing, meaning that the cover art is replicated on an atmospherically nice looking and embossed slipcover, with a neatly shaded Toy Story logo that plays on the quasi-comic spookiness.
Ink And Paint:
At this point in time, computer generated animation on Blu-ray is theoretically as clean and good as it gets, and with Toy Story Of Terror! produced and rendered digitally there's no reason not to assume that a 1080p file was spat out by Pixar's computers and encoded directly onto the disc here. As with Disney's recent Prep & Landing featurette/specials, Pixar's high theatrical standards are stuck to here despite the shorter length, making for great bite-sized demo material.
Scratch Tracks:
As with the visuals, just because this is supposedly a TV endeavor doesn't mean that Pixar is going to scrimp on the soundtrack (featuring a Michael Giacchino score no less), and an as-usual exemplary Skywalker Sound 7.1 audio mix – yes, 7.1 – is more than up to scratch at matching animated fare from any of the other competing studios. French and Spanish languages get Dolby 5.1 dubs and subs.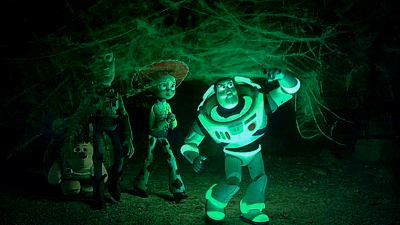 Final Cut:
It won't be long before some enterprising fan starts to cut these Toy Story shorts into some unofficial fan-made fourth "movie" if they keep arriving as routinely as they have been. With Toy Story That Time Forgot added to the list, Woody and Buzz's adventures look set to continue into the often referenced "infinity and beyond", which is perhaps the way I think I would prefer the series to play out. Sure, a Toy Story 4 would be neat, but one suspects that the Pixar gang know what they have to live up to and haven't quite knocked that particular nail on the old proverbial head yet.
With even Toy Story 3 sometimes in danger of riffing on elements we had already seen in the first two films, the Toy Story Toons and now these featurette-length specials allow for a little more fun and freedom in the storytelling. Rather than be tied to Halloween, however, I'm pleased that the toys will start to pop up around other holidays as well: I know that Prep & Landing has kind of filled a Disney slot for a festive special, but for a franchise built around toys, it's good to see that the upcoming Toy Story That Time Forgot looks to be exploring the perennial toy-giving season at Christmas, for instance…
Until then, though, this is a gift in itself…with a first-class, theatrical level production supported by typically Pixar-iffic supplements (commentary, making of, extra cartoons, etc, – all in HD), plus the best bonus of all being that rare beast of a reasonably priced Disney disc that should just push over $10 with discounts, you could say this is the best little disc of the year in terms of top-quality content value at well over 70 minutes. This is the kind of Terror! we need more of!
Animated Classic or Back To The Drawing Board?