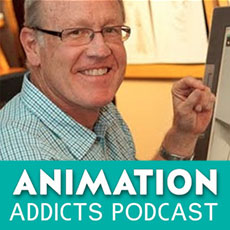 Learn more about The Rotoscopers!
Disney Legend, Glen Keane, takes a moment out of his very busy schedule to talk to Mason and Chelsea about his new short, Duet! Check it out! You won't be disappointed!
Highlights:
• Intro of Glen Keane and his short interactive film Duet
• What?! Glen listens to The Rotoscopers?
• CATCH N' FIRE!
• Glen talks about Duet and it's inspirations
• Why graphite?
• Listener questions
• Thomas Van Acker: What do you think is the most important aspect of animation that should be taught by teachers? Or what did you miss in your animation classes?
• Bridget Monica: What story (that hasn't been done!) would you love to see transformed into a full length animated film?
• Jessica Wersky: What role does faith play in your creative life?
• Don't forget to use the hashtags #AnimAddicts and #AnimAddicts82 when talking about this episode on Twitter!
• Blooper! Can we get Glen back?
• Glen was SOOO kind and went on to the Facebook fan page and replied to many of the the questions personally! Check it out HERE!