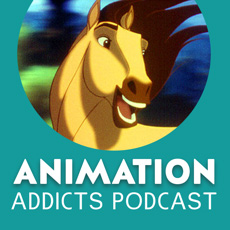 Learn more about The Rotoscopers!
It's Morgan and Mason for a M&M episode, where they review DreamWorks' 2002 traditionally animated film Spirit: Stallion of the Cimarron.
Highlights
• Main Discussion: Spirit: Stallion of the Cimarron
• Who are Kelly Asbury and Lorna Cook?
• Bryan Adam's soundtrack. Phil Collins/Tarzan knock off? Gotta love the early 2000s.
• "Tradigital Animation" – CGI opening scene with the eagle Morgan loves.
• Matt Damon is channeling his inner Matthew Broderick.
• Morgan's motion blur rant.
• What's with the colonel in the clouds on the DVD cover?
• Bryan Adams songs every few minutes. Do they all sound the same?
• Little Creek and the painted mare, Rain!
• Rain's "death"; not quite on Mufasa level.
• THE NOD!
• Listener Twitter Question: What would you rate SPIRIT and why?
• Mail bag! Michael, Lauren, Geri, Hule, Todge, and Courtney.