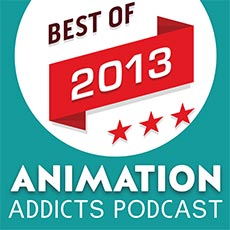 Learn more about The Rotoscopers!
We kick off the new year by looking back at 2013 and the best moments from the Animation Addicts Podcast. Also, we announce the results of the 2013 Rotoscopers Awards! Sit back and get ready for some good laughs from this past year.
Highlights
• 1st Annual Rotoscopers' Awards results!
• Our favorite moments from 2013! Including best intros, funny discussions and random fun you never heard!
• Voicemails from Jessica, Daniela, Jemma, and Susanna.
• Emails from Joshua, Esther, Abraham, Jemma, Michael, Arianne, Anibal, David, Stephanie, MB, Jarlett, Thomas, Shelby, and Lindsay.