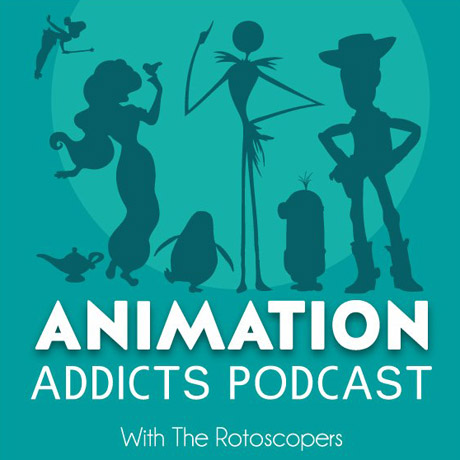 At Animated Views, we pride ourselves on our concise news coverage, in-depth reviews, interesting commentary, and revealing interviews — all brought to you by a diverse group of writers each with their own unique points of view. But outside of us all quitting our day jobs to do this full-time, we can't do everything we'd like to do! So we're happy to announce that we're teaming up with another group of talented and passionate animation fans to to bring you some different types of content from a whole new perspective!
For the past year Morgan Stradling, Chelsea Robson, and Mason Smith — The Rotoscopers — have hosted a fun and informative show called the Animation Addicts Podcast. More recently they've added a series of YouTube videos on different animation topics to their repertoire. And starting today you can keep up with them here at Animated Views!
Each episode of the podcast, which usually runs about ninety minutes, consists of a news roundup, a nerdy mini-segment (that can cover anything from animation principles to industry history), and a main discussion where they review an animated film from the past or present. The videos, usually running under ten minutes, while by design less structured and comprehensive than their longer audio counterparts, are more topical and have a wider ranging focus — subjects have included movies, music, books, and rumors.
We are very excited by this partnership and we think you're going to enjoy their work just as much as we do. Please help us welcome them by checking out their work here at AV and at their site, by following them on Twitter, YouTube, and Facebook, and by subscribing to them in iTunes.
Check out this video to learn more about The Rotoscopers in their own words: