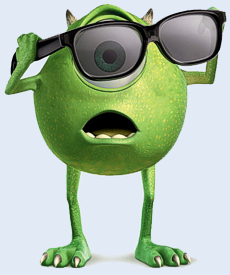 So the Mayans were wrong…but it's not the end of the world, because now there's a chance to see what we – and, for the first time you – thought were the best (and the worst) releases of the past year!
Overall it's been a mixed bag for releases: the Blu-ray format, still growing last year, has pretty much become the standard for home video releases now, with the blip of home 3D having come along with much fanfare two years ago but finding it much harder to sustain since. Indeed, at the most recent Consumer Electronic Shows in Las Vegas, there was a complete turnaround in the number of manufacturers who were not showing off any new technological improvements along those lines, with the latest CES pretty much predicting that home 3D is dead in the water.
Is it a surprise? What with having upgraded our TVs to stereo sets, then widescreens, then flatscreens, and through the migration to HD and the slow swapping of our VHS machines to DVD and now Blu-ray, is it any wonder, especially in an economic downturn, that the latest fad hasn't caught on? In theaters, 3D continues to survive, but mostly as a marketing gimmick where even the biggest new releases such as The Hobbit could only command a roughly 50% audience choice of 3D screens against the regular – and again cheaper – regular presentation, which arguably offered a brighter, sharper image at 48fps or not.
Disney, despite surprise success with a 3D reissue of The Lion King in 2011, found that perhaps that was simply down to a really good movie making it back to the big screen…and not because the animation was suddenly more layered. Later reissues for Beauty And The Beast, Finding Nemo and Monsters, Inc. support this: none of them made particularly big splashes at the box-office, audiences perhaps now wise to these updates being nothing more than promotional releases for the BD-3D combo packs coming to homes around one month later (and, in Beauty's very odd case, following the home 3D release several months before).
It's telling that some of the biggest films at the box-office at the moment, such as the excellent return to form for 007 in Skyfall and, whatever its merits (or not), the musical Les Miserables, are not presented in three dimensions, their stories and production values carrying the films quite nicely, thank-you, without gimmicky bells and whistles attached. Family fare – especially natively rendered CG movies – perhaps benefit best from the format, but even here the takings suggest a move away from the added cost from families on a big movie night outing.
So it's in the home that we find all the really good stuff this year, from a plethora of hi-def catalog updates from the major studios, to the release of new movies that surprised us with their classic, and classy, charm. But there were disappointments, too…and more of them that we'd particularly care for at a time when it seems there's a last push for Blu-ray before everything (uh-oh!) turns digital and packaged media goes the way of the Dodo. We're not there yet, and as long as the studios keep producing the good we collectors will collect them, which brings us, without further ado, to…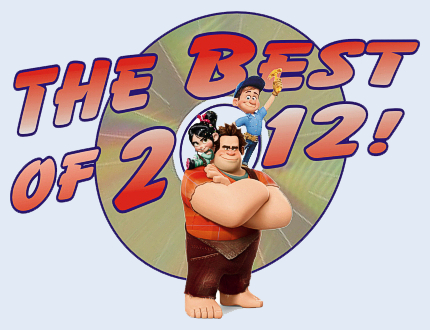 ---
---
1. Looney Tunes Platinum Collection: Volume 2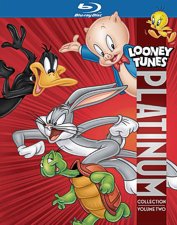 Warner Home Video (October 16 2012)
3 Blu-ray Discs, 365 mins plus supplements, $45
Despite a smaller, less elaborate packaging as opposed to the initial volume's "ultimate" (but, ultimately, redundantly overdone) collector's set, the Looney Tunes gang win out again this year. It's true that these are largely a repeat of what many die-hard fans might already have in their Golden Collection DVDs, but no-one else is doing classic short-form animation on Blu-ray like Warners is at the moment, and all these kinds of releases should be supported if we want to see more! Here you also get the pick of previous supplemental material and several fresh enticements, including new HD documentaries on Leon Schlesinger and Tex Avery, plus a vintage Avery profile that's worth owning the set for on its own. We sincerely hope this is not all, folks!
Read the full Looney Tunes Platinum Collection: Volume 2 Animated View here!
---
2. The Beatles' Yellow Submarine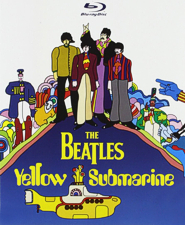 Apple/EMI/Capitol (June 5 2012)
Single Blu-ray, 89 mins plus supplements, $35
Rumors of Robert Zemeckis' motion-capture remake be gone – here's the original looking like never before! After MGM's non-16:9, degraded film print DVD from several years ago, Yellow Submarine was given a fresh lick of paint in the form of an all-new frame-by-frame digital restoration that brought the faded colors back to life without the side-effects of DVNR, reinserted the Hey Bulldog scene right where it always should have been, and gave the music a punch by way of a super-separated new DTS mix! The slight, slight gate weave inherent in the original element could and should have been eliminated, but it was a small concern: the rest of the package, including a deluxe sleeve with collectibles including a note from fan John Lasseter, was nostalgia wrapped up perfectly!
Support Animated Views and buy Yellow Submarine from Amazon.com now!
---
3. Cinderella: Diamond Edition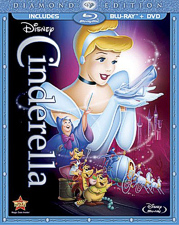 Walt Disney Home Entertainment (October 2 2012)
Blu-ray and DVD set, 74 mins plus supplements, $40
The much-derided Platinum Collection DVD set didn't exactly set a high bar for the Blu-ray to jump, so anything was likely to feel more substantial than that earlier offering, but we weren't expecting the jump to be as satisfying as it was. Offered in two Blu-ray configurations (a BD/DVD Combo and a more expensive BD/DVD/Digital Copy pack), it was the simpler two-disc set that better matched previous Diamond Edition cover art, with the extras the same across both editions, including a new animated/live-action short that, while fluffy puff, indicated some thought and care had gone into the overall package. Some previous supplements were missed, but included was the new Tangled short and a wounderous restoration for the feature. Not perfect, but near…
Read the full Cinderella: Diamond Edition Animated View here!
---
4. The Muppets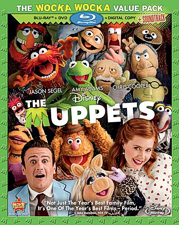 Walt Disney Home Entertainment (March 20 2012)
Blu-ray plus DVD, 103 mins plus supplements, $50
The Muppets have always been treated as almost-animated 'round these parts, and Jason Segel's warm, nostalgic, celebrational, Muppetational reboot of the dangerously close to decaying Jim Henson franchise was a triumph of appealing to old fans while bringing in new ones alike. Real magic sparked when audiences who remembered Kermit and company made the movie a hit in theaters (another sequel is about to shoot!) and took their kids along for the ride, and it's arguable as to who had the most fun! Heartwarming and closer to the core spirit of Jim's creations than anything to have come along under their name since the early 1990s, The Muppets was a Muppet movie made by the fans for the fans. Disney's Blu-ray wasn't totally stacked, hence the placing here, but was a solid presentation of a contemporary classic movie.
Read the full The Muppets Animated View here!
---
5. The Adventures Of Tintin: The Secret Of The Unicorn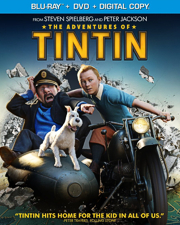 Paramount Home Entertainment (March 19 2012)
Blu-ray Disc plus DVD, 107 mins plus supplements, $45
Given its subtitle everywhere but in America, director Steven Spielberg's film was clearly the first part of an intended trilogy (or more), with his collaboration with producer Peter Jackson set to continue when they swap roles for the second instalment set for 2015. The uncanny valley curse of mo-cap was broken by the standout performances and keyframe-enhanced work of Weta Digital, with Spielberg's first use of these technologies bringing a new sensibility to animated filmmaking. His experimentation in 3D was less significant: the regular Blu-ray didn't struggle with depth anyway, and Paramount's disc provided several home theater demo moments and comprehensive extras. Purists may have complained, but Herge's spirit was here and his boy hero's adventures never looked so good!
Read the full Adventures Of Tintin Animated View here!
---
6. UPA: The Jolly Frolics Collection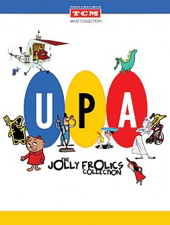 TCM Archives/Sony (March 15 2012)
3-disc DVD set, 270 mins plus supplements, $40
Hands down the niftiest surprise release of the year, this one came early in 2012 and is still only available direct from the TCM Archives website. Collecting no less than 38 theatrical cartoons from the legendary United Productions of America's golden age 1948 to 1959 run, and directed by the likes of John Hubley and Art Babbitt, these are mostly the rarely seen one-shot classics that influenced the design of animation across all the Studios in the 1950s, although space is reserved for long-time series characters Mr Magoo's debut (a theatrical collection for which was announced but delayed this year) and Gerald McBoing Boing. The stories can be as stark and graphic as UPA's style, their status cemented by TCM's extras here, including commentaries from Leonard Maltin and Jerry Beck!
Buy the UPA: The Jolly Frolics Collection from the TCM Shop now!
---
7. The Pirates! Band Of Misfits / In An Adventure With Scientists!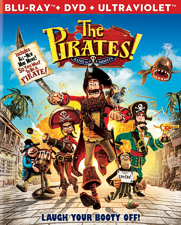 Sony Pictures Home Entertainment (August 28 2012)
Blu-ray Disc plus DVD, 88 mins plus supplements, $41
The original book and international title may have been deemed too highbrow for the American box-office, but whichever way you saw it, Aardman's second collaboration with their new studio home at Columbia/Sony Pictures Animation was a stop-motion marvel whose claymation technique rivalled the likes of ParaNorman and Frankenweenie's puppet models (and as seen by a surprise but welcome Oscar nod). As the Pirate Captain, Hugh Grant provided a sure touch as well as a slightly unexpected lightness of humor, relaxing into his role and seemingly having much fun with it, while the crazed plot took in a variety of epically-scaled and impressive locations. Like Arthur Christmas before it, Sony's disc didn't plunder the depths of the production but the presentation was superb.
Support Animated Views and buy The Pirates! from Amazon.com now!
---
8. Madagascar 3: Europe's Most Wanted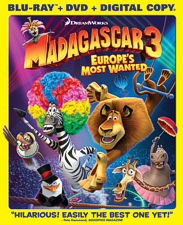 DreamWorks Home Entertainment (October 16 2012)
Blu-ray plus DVD with Digital Copy, 93 mins plus supplements, $40
An unexpected return to form for the previously thought creatively dead DreamWorks franchise, the animals of the zoo/Africa-set series showed there was still enough life in them to stave off competition from other, now desperately tired, CG animal movies (Ice Age, we're looking at you and you should know better). While we wouldn't balk immediately at a fourth film given the strength of the characters and frankly flippant – but hilarious – plotting going on here, it would need to retain the new leash of life that this third outing seemed to recapture after a stagnant second film provided nothing new. Here a total change of (impressively rendered) scenery provided a fresh and, in retrospect, perfectly natural backdrop to the New York Zoo animals' antics, while Paramount's disc was first rate.
Read the full Madagascar 3 Animated View here!
---
9. John Carter (Of Mars)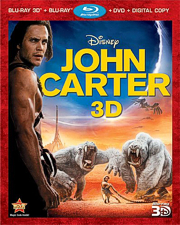 Walt Disney Home Entertainment (June 5 2012)
Blu-ray and Blu-ray 3D plus DVD and Digital Copy, $50
Unfairly trashed by the media (and then easily-led moviegoers who really should have not read the doom and gloom predictions and gone to see the film for themselves), the eventual reviews and word-of-mouth for Disney's big-budget, often-attempted, long in production take on Edgar Rice Burroughs' granddaddy of all sci-fi flicks turned out to be great after all – just as those who had faith in director Andrew Stanton from the start always knew. The marketing campaign for this live-action/CG combo could have attracted a large section of the aimed-for demographic, but the studio dropped the ball big time, almost not wanting to sell the film to audiences at all. The 3D wasn't worth the extra effort (look for the non-3D set), but Disney's BD at least provided the kind of treatment the movie deserved. Here's still hoping we get more…somehow.
Read the full John Carter Animated View here!
---
10. Superman Vs. The Elite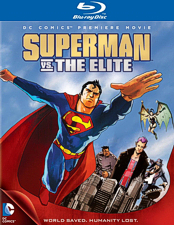 Warner Home Video (June 12 2012)
Blu-ray plus DVD, 74 mins plus supplements, $25
We always like to include at least one direct-to-video title on our list, and this year there were a few hopefuls. In all honesty, the awesomely original Blade anime from Marvel and Madhouse nearly made the cut, but for one thing: Blade was released to DVD-only, as were other Marvel anime titles. It was the year 2012 and, darn it, we want to see these things on Blu-ray! Still, we don't feel any doubts when placing Superman Vs. The Elite on our list, the movie being adapted by DC Comics writer Joe Casey from his original comic, where he makes a case for Superman while speaking out against antiheroes. If all the ideas had gelled better, and the animation been more consistent, this one could have climbed a bit higher up the list.
Read the full Superman Vs. The Elite Animated View here!
---
---
Honorary Mentions
---

While all great releases (hence why they made our top ten), we didn't feel 2012 had been a truly standout year across the board, both for new titles or catalog reissues. Not that we weren't spoilt for choice!
Disney especially seems to have woken up to the notion that Blu-ray might not be around forever, and has started to release a huge library of catalog titles in addition to its new and primary animated classics list, although the rate of release might be having some impact on their overall packages.
The beginning of the year saw a very nice HD debut for Walt's classic Lady And The Tramp, porting over the previous extras plus some new enticements and, even if the now seemingly abandoned 4:3 Academy version doesn't look like it's ever going to get reissued past a 1990s LaserDisc, at least the Blu-ray's transfer was spotless.
Disney also scored well with the latest in its Tinker Bell franchise, The Secret Of The Wings, also a first for the company in offering it in a 3D presentation for the home (the movie was also released in theatres internationally), The Secret World Of Arietty kept the Studio Ghibli titles rolling along, and The Rescuers/The Rescuers Down Under 2-Movie Collection brought back two of the Studio's most underrated animated features in wonderfully filmic presentations with a mix of old and new extras.
Most of Disney's 2012 Blu-ray upgrades did feature at least one new HD featurette (The AristoCats and, surprisingly, The Tigger Movie both spring to mind), but they could quite easily drop the ball, too, as seen below. On the whole, the Mouse House did more of what it does best and it was nice to see relatively obscure titles (Treasure Planet and Home On The Range) make straight switches in format even if new extras were not forthcoming.
A hit disc was the collection of Prep & Landing shorts just before Christmas, featuring top-notch animation and more than its fair share of festive spirit, while from Pixar the big titles included the Lamp's latest feature Brave (a pretty standard film, although Disney's disc was laudable) and a Pixar Shorts Collection: Volume 2, collating their more recent films as well as early student shorts. Even the Cinderella II & III set deserves a mention for its decent threequel – if you can get past the lamentable second film!
Disney don't get all the kudos, though, and there was room for other distributors to shine, with some fine extras to be found over on DreamWorks' titles: Puss In Boots may have felt a little "routine" as a movie, but the Studio awarded it with a heap of good supplements, as always, and their live-action counterpart, now teamed with Disney, delivered the big and cheesy, 80s-retro (but great family flick!) Real Steel.
The disc again featured in-depth production analysis, while DreamWorks' old partners, Aardman Animation, also found success at their new Sony home with the computer animated Arthur Christmas, a sweet holiday tale that may have been a little too Prep & Landing for some but still had its moments and looked great on disc.
Warners continued to show a strong hand in quirky Blu-ray collections such as Chuck Jones' Looney Tunes Mouse Chronicles, as well, of course, as their still innovative Archive Collection DVDs, which saw more strange television cartoons (Charlie's Amazing Chan Clan!?) making their way to DVD alongside classic live-action catalog titles and rarities such as Hanna-Barbera's undeservedly long-forgotten Heidi's Song and Bob Clampett's wonderful retrospective on his Termite Terrace years, Bugs Bunny Superstar.
Lastly, Lionsgate's Mad Monster Party's transfer may have looked a little rough in places but those who didn't buy the original DVD's upgrade will have found "new" extras and it's great to see catalog stuff like this coming to HD.
---
---
The Un-Mentionables: Worst Of 2012

As we see year on year, there's the very good, the not so good and, in some cases, the downright ugly! Some releases really shone in 2012, while others seemed to be quick cash-grabs, negating even the most token of new extras and pulling off that very shameful trick of actually dropping supplements from previous editions.
Some of these titles simply rehashed old transfers and sold "as new", while others were just very, very disappointing, and while Disney could be top of the tree in most respects, they were bottom of the barrel, too…
Topping this infamous list are a pair of Mouse House inadequacies: Pete's Dragon and The Great Mouse Detective. While we're big fans of both movies – and both movies looked great in new HD transfers – where were any new extras? Worse than that…where were the old ones!?
Earlier in the year, the Studio had made their catalog titles must-owns by providing some new enticements, but both Dragon and Detective missed out on perfectly usable previous bonuses – worse still, Dragon especially dropped the ball on several potential new inclusions, all readily available from the archives, that could have pushed the title well into our top ten. As such, these can only be recommended as almost bare bones discs, along with the lacklustre vanilla treatment for Dick Tracy.
Disney is also responsible for the two most disappointing sets of the year. Dropping a mountain-sized heap of excellent extras from the LaserDisc and previous DVD special edition, the Pocahontas 2-Movie Collection decided to make the dunderheaded choice of relegating those supplements to the dreaded Virtual Vault and replacing them with the 1995 film's fairly poor video sequel.
Again even more disparagingly, Pocahontas itself was missing its pivotal song moment If I Never Knew You, cut when kids squirmed in test screenings but restored for its tenth anniversary DVD. The sequence could be found as a deleted scene, but this didn't take into account its brief reprise toward the end of the film – simply put: why no option to watch both editions!?
The same criticism can be levelled at The Muppet Christmas Carol, potentially the best of the Muppet films, but ruined with the removal of another pivotal song moment. Originally cut from the US release of the movie again for kid-squirming reasons, When Love Is Gone is a central moment for Michael Caine's younger Scrooge character, the point where his life takes a turn for the worse.
Intact on international editions, When Love Is Gone made it into the initial LaserDisc and tape releases of the film, as well as at least one DVD reissue. As with Pocahontas, everyone agrees the song should be there, but Disney's recent Blu-ray edition failed us on this count, despite otherwise terrific extras and presentation. Extremely frustrating; again, why couldn't we have the simple option to pick which cut we preferred?
But perhaps our pick for bomb of the year has to go to Warners' Tiny Toon Adventures: How I Spent My Vacation, which really was little more than what seemed to be a VHS transfer bundled out on DVD.
There was no discernable remastering, the image was soft and blotchy, with color crosstalk, smudging and edge enhancement ringing across the interlaced image – and this being 2012 for goodness' sake! – while the sound was lacklustre and low in volume, with almost no punch to the LFE channel.
Totally extras free, the real laugh to be found here was with the $20 list price when a bargain bin $10 would have been more reasonable for the quality. Isn't it odd when a Studio like Disney or Warners can do so much good…and so much bad in the same year!?
---
---
Best Non-Animated Disc Of The Year
The classics kept streaming to Blu-ray Disc over the past year, even if some of the choices were more predictable in their offerings, mostly being hi-def upgrades to previously lavish DVD editions. New titles were expectedly sharp and booming on the format, but the old ones looked better than ever before too, with a slew of anniversary editions marking several birthdays for individual movies and studios alike…
---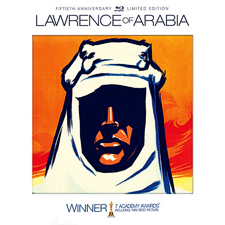 Rand's Pick: Lawrence Of Arabia: 60th Anniversary Edition
With all the great catalog titles coming to Blu-ray (finally, in some cases), it almost seems too easy to name the huge 007 Bond 50 collection of all 22 films so far, or the expansive gathering of The Master's later films for the 15-movie Alfred Hitchcock: The Masterpiece Collection, which got an even more deluxe packaging option in the UK. Yes, they each had lots of movies, and tons of bonus material…but not much that was actually new, with the Bond supplemental disc being barely worth a mention.
My runner up would be that perennial musical classic Singin' In The Rain, but for a main pick I think I'll have to go with Sony's absolutely lavish (and vast!) Lawrence Of Arabia anniversary set, with its dandy new transfer, some worthwhile new extras alongside all previous offerings, a decent-sized coffee table book, and more swag…all packaged in a LaserDisc-style package that made me misty and sentimental for those old times when a box set really was a box set!
---
Ben's Pick: Universal Classic Monsters: The Essential Collection

Rand has already touched on some of the more elaborate Blu-ray sets to come along this year, including the definitive Hitchcock Collection that helped mark Universal's 100th anniversary. There were plenty of others, too, such as first-rate presentations for Jaws in a terrific restoration, and the original, undiluted E.T. The Extra-Terrestrial, while Spielberg was also well represented with the jump to BD for Indiana Jones: The Complete Adventures (give or take the risible fourth entry), and almost making my top choice was Warners' restoration for Little Shop Of Horrors: The Director's Cut, with fully completed visuals and sound providing the original ending to Frank Oz's movie version of Howard Ashman and Alan Menken's stage musical.
Other classics were well represented with another Casablanca set that was worthy for its bonus discs of old and new archive Warner Bros. Studios documentary content, and there were nice HD debuts for Sunset Boulevard and the very first Best Picture Oscar winner, 1929's Wings, while the Hugo-hype around George Melies saw his landmark A Trip To The Moon wonderfully restored. There was also room for more recent fare as Titanic's 3D makeover, which wasn't essential but made for a very nice disc package, and foreign animation got a look in too, with Grave Of The Fireflies and Chico & Rita's US release.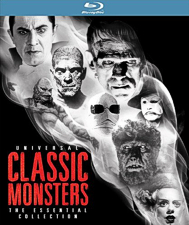 The new stuff is always great to show off a home theatre with, especially blockbuster visual effects films such as that now old staple, the superhero flick, and we got a doozy of a couple in 2012: The Dark Knight Trilogy came to an explosive end with Christopher Nolan's final instalment, and The Avengers achieved the impossible by juggling all the character and plot elements for a spectacular entertainment, even if the planned Cinematic Phase One set ran into its own troubles. It's always great to see old favorites again for the first time, in a way, with pristine HD transfers, and I was largely pleased with Disney's reissue offerings in animation and live-action (Ed Wood) if not always their extras packages.
Criterion have been very hot on further restoring their previous DVD library (The Game and the spooky Rosemary's Baby to name but two, finally got decent treatment here), but when it comes to vintage horror I've been a Frankenstein fan since waiting up late one night and watching it when I shouldn't have been. Those films have always stuck with me and I was never going to turn down the chance to own Universal Classic Monsters: The Essential Collection and, although there are probably other sets out there that I'll dip into more often (like that cool 007 Bond 50 set!), this one has the nostalgic charm that makes it my pick here!
---
---
Special Mention
James' Pick: Disney Channel's Gravity Falls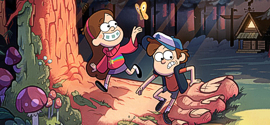 Before I reveal my top three big screen releases of the year, I wanted to mention Disney Channel's Gravity Falls, the first animated series I have made sure to catch live since Futurama. While technically not aimed at adults, the writing is top notch and much more complex than standard kiddie fare – they don't assume the kids are stupid!
It's also got a growing mythology like other sci-fi shows; not only is there no pretending the previous episodes didn't happen, they actually plan ahead and have things show up earlier in the run that aren't even mentioned until later. And the characters and dialogue are just fun!
---
---
2012 On The Big Screen: The Theatrical Toon Review
Now it's time to swing our attention to the theatrical releases of 2012! Here are James' highlights of the year:
---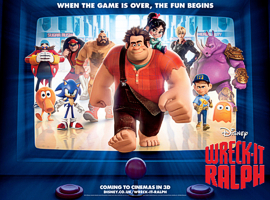 1. Wreck-It Ralph
Walt Disney Pictures
November 2, 2012
Director: Rich Moore
It would have been very easy to simply copy the Toy Story template in a video game world, but Wreck-It Ralph is able to blast past any comparisons to that film and stand on its own. With fun characters, clever arcade homages, and an interesting, exciting, and ultimately surprising and moving story, Disney is finally back on top of the animation high score list!
---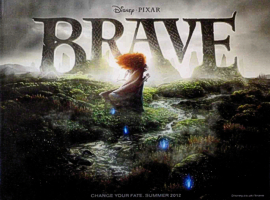 2. Brave
Disney/Pixar
June 22, 2012
Directors: Mark Andrews, Brenda Chapman
In several ways Brave is a very different beast from what we're used to from Pixar. While the writers finally break some of the storytelling stereotypes they have been known for, overall the plot is a bit too strait-forward and predicable. That doesn't make it a bad story though: at times exciting, touching and amusing, this movie proves that, like Cars 2 before it, a bad film for Pixar is still better than just about anything from the other studios.
---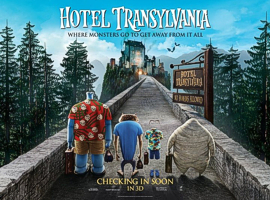 3. Hotel Transylvania
Sony Pictures Animation
September 28, 2012
Director: Genndy Tartakovsky
As usual the last place in our top three was a toss-up. What was different this time was the number of films that could have taken this spot: the freaky, frenetic and beautifully stop-motion animated ParaNorman; the oddly moving Frankenweenie; the gorgeous modern fairytale Rise Of The Guardians; the latest lunacy from Aardman, The Pirates! Band Of Misfits; or the funny finale from our favorite feral friends, Madagascar 3.
In the end, I'm going with the film that surprised me the most: Hotel Transylvania. From the moment I saw the first trailer I was expecting…not much! Definitely not a hilarious but poignant story of a dad dealing with the scariest thing imaginable – his daughter growing up too soon. Like all the films vying for the third spot, it has its problems, but I didn't enjoy any of those films more – and that's ultimately the point of a trip to the theatre.
---
---
What Did YOU Think? The Animated Views Readers' Pick Of The Year!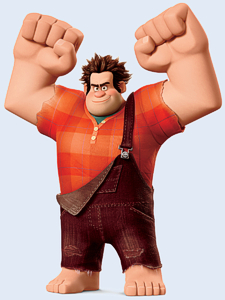 For the first time ever, we put the big question over to you, asking our Animated Views readers to rank your top three animated movies of 2012! Running away with the poll results was Wreck-It Ralph with 40% of the first place votes and an appearance on a whopping 68% of all the ballots!
Brave took the second spot – though the film only received 11% of the first place votes, it appeared on an impressive 45% of all ballots. Bringing up the rear was ParaNorman, with 14% of the first place votes and appearing on 34% of all ballots. In full, the rundown of your top ten choices for best animated movies of the year were:
• 1. Wreck-It Ralph
• 2. Brave
• 3. ParaNorman
• 4. Frankenweenie
• 5. Rise Of The Guardians
• 6. The Pirates! Band Of Misfits / In An Adventure With Scientists!
• 7. Madagascar 3
• 8. Hotel Transylvania
• 9. From Up On Poppy Hill
• 10. Dr. Seuss' The Lorax
---
---
---
So there we are again for another year! Did we manage to mention your favorites, or did we completely miss out some big titles important to you? As always we hope we've made a fair selection, but why not make your views heard in the Animated Views Forum and present your own Top Tens and comment on ours?
We'll be back here again this time next year with another pick of what we thought were the best theatrical and home video releases of 2013, which already looks packed with some pretty special titles on the way. It's all exciting stuff and, while we don't know what will be grabbing the top spots, we'll see you then!
– Ben Simon, Rand Cyrenne and James R Whitson.
---