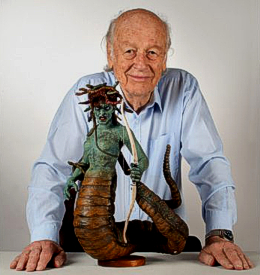 In news that will sadden many in the animation community, legendary stop-motion and visual effects pioneer Ray Harryhausen has died aged 92, The Hollywood Reporter has announced. Starting out under the supervision of George Pal (on his Puppetoon series) and original King Kong animator Willis O'Brien on the 1949 edition of the similarly themed Mighty Joe Young, Harryhausen soon became synonymous with the kind of fantasy blend of sci-fi and effects filled adventures that would become his trademark and earn him the title, "the grandfather of special effects".
Jason And The Argonauts secured his footing in the annuls of cinema history, but there was much more of note too, including a series of Sinbad adventures, a real-life special effect in One Million Years BC's star Raquel Welch, and the original Clash Of The Titans, as well as lifelong friendships with author Ray Bradbury and many other film fans both in the business and watching at home. Harryhausen's influence on folks in visual effects extends to this day: the bar in Monsters, Inc. was named for him, and he was a regular subject in documentaries, such as Aliens, Dragons, Monsters And Me (1986) and Gilles Penso's just-released (in the UK on Blu-ray) Ray Harryhausen: Special Effects Titan, which is still awaiting a US release.
There is little doubt that, without Ray's inspiration, stop-motion and visual effects – and even the movies today – would not have reached the state of the art they have achieved. For once a genuine legend, and one that was still advising and contributing to projects and retrospectives right to the end, will be truly missed.