If you're the kind of person who regularly reads entertainment websites like Animated Views, chances are good you're a movie lover. But a night at the theatre can be expensive and therefore something reserved for only the most anticipated of films, with everything else being caught on home video a few months later. But thrifty cinephiles have a new option.
Since its founding in 2011, MoviePass has been billed as "Netflix for theatres". They offer a subscription service that allows users to see almost all the movies on the big screen they want. Unfortunately, their first two attempts failed after pushback from theatre owners and complaints that it was too difficult to use from subscribers. With this third iteration they may have finally found a way to make it work for everyone.
For a flat $30-40 monthly fee (based on your home location) MoviePass allows you to see one movie in theatres every day. You're issued a special credit card and must download an iPhone or Android app. After arriving at the theatre you check in using the app which uses GPS to confirm your location. After selecting the movie you want to see using your phone, MoviePass automatically adds the cost of the ticket to the credit card. After that you just go to the theatre kiosk or window and buy your ticket.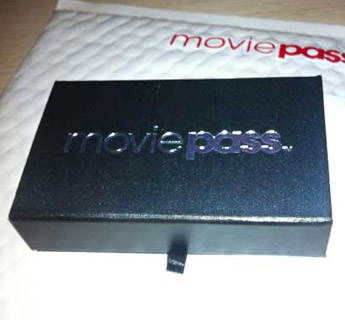 There are a few limitations. For now users cannot see 3D or IMAX films (though they may eventually add that feature). You can not use the service to see the same movie more than once. And, obviously, the theatre you go to must accept credit cards — but MoviePass says over 90% do. Another issue to note: a one year commitment is required, though billing is by the month. You can quit early but a fee is assessed. After a year you can quit after any month without penalty.
Other than the commitment though, the limitations seem surprisingly minor compared to the benefits offered. At the price they ask you break even after seeing about three films each month. While you are charged based on your location, where you presumably see movies the most, you can use the service anywhere in the country.
After signing up to get an invitation, I waited for my turn on the waiting list. You're given the option to tweet or post on Facebook about MoviePass which is supposed to move you up the list. I did so, and got an invitation fairly quick. I returned to the site to sign up for the service proper. After giving my personal info I was told the price for my area would be $35 a month. With billing details submitted it was time to wait again. While you are charged for your first month immediately, your subscription does not actually start until you receive your card in the mail and activate it. Within a week it arrived. I was expecting a standard sized generic flat envelope. But MoviePass has gone the Apple route and tried to made getting and opening the package a somewhat exciting process. The large envelope contained a black box embossed with the company name. Pulling a ribbon revealed the card attached to a velvet-like material on the top half of the box and a folded information sheet in the lower part. After signing the card (since it is technically a credit card), activating it was as simple as signing in to the website and typing in the last four digits.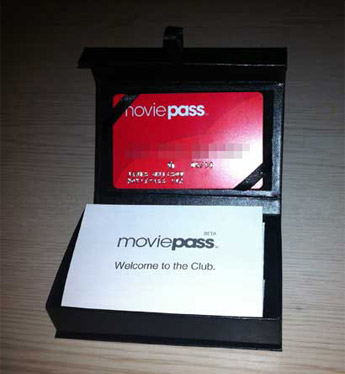 This model sounds too good to be true. It is relatively painless for users — credit and debit cards are the payment option of choice for many anyway, and checking in to locations via phone has been popularized by social apps like Foursquare. It's good for theatres who get full asking price for tickets without the hassle of vouchers and other third party tinkering required by previous versions of the service. And they get more seats filled in empty theatres and more concessions sold. The only question is can this business model work for MoviePass itself. It's hard to believe they can make money, but they claim the numbers work. They also plan to diversify their income streams. For example, they know their users' demographic info and what movies they've seen. Not only is that kind of data valuable to movie studios and theatre owners, they can also use it sell Blu-ray discs and other film products to subscribers.
Right now MoviePass is invitation only while they work out potential growing pains. But to celebrate the opening of the summer movie season which traditionally starts this weekend, they are allowing any one to sign up through Friday without an invite.
After using the service for awhile I'll be back with an update on how MoviePass works in actual practice.
More info:
• MoviePass
• The New York Times
• The Wrap
• Time
• IndieWire
• VentureBeat
---