So far, this year's awards season has been good to the creative team behind Room On The Broom. Last month, the Academy of Motion Picture Arts and Sciences announced it as one of only 10 films to make the shortlist for the Oscar for Best Animated Short. Broom followed that honor with a Children's BAFTA in the Animation category and an Annie nomination for Best Animated Special Production.
No one was more surprised than the film's directors, Max Lang and Jan Lachauer. "Well, you just never expect anything like that," says Lang.
Lang is no stranger to the awards season experience, thanks to his Oscar-nominated 2009 short, The Gruffalo. Co-directed by Jakob Schuh, Gruffalo was based on the wildly-popular children's book written by Julia Donaldson and illustrated Axel Scheffler. Unlike Broom, however, Gruffalo was overlooked by Annie voters. "The Gruffalo never got nominated for an Annie. So, we were not expecting it for Room On The Broom," says Lang.
What Lang did expect, though, was an enjoyable experience adapting another one of Donaldson's books. After Gruffalo, he immediately sought to adapt its literary sequel, The Gruffalo's Child. But Lang had to decline that project to take on another one: fatherhood.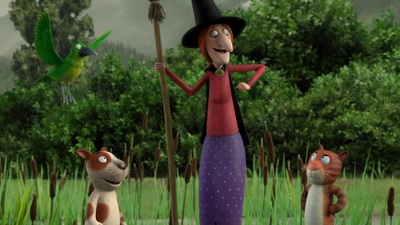 Fortunately, Magic Light Pictures was keen to adapt a third book by Donaldson and Scheffler, Room On The Broom. Released in 2001, the children's best-seller tells of a kindly witch who allows a collection of animals to hitch a ride on her broom, as they move from one adventure to the next while escaping a fearsome dragon.
Lang enthusiastically signed onto the project as co-director alongside Jan Lachauer, with whom he had studied at the prestigious Filmakademie Baden-Württemberg in Ludwigsburg. Since 2005, they had worked on about four student films together and were ready for their first major collaboration, it being Lachauer's professional directorial debut. With his wife and four-year-old daughter, Lang remained in London for most of the production, directing via Skype, while Lachauer worked "on the ground" at Studio Soi, co-founded by Gruffalo's Schuh, in Ludwigsburg.
Donaldson wrote the first treatment for the Broom adaptation, which Lang and Lachauer then translated into rough storyboards. "We showed her a lot, but she never really interfered with our work," explains Lang. "She just nudged us in the right direction. She'd say, 'In that world, that wouldn't happen.' Then we would go back and change the storyboard a bit."
Broom was unlike any project the directors had tackled. For Lachauer, it was an opportunity to collaborate with a larger group of people. "The teams were quite small [in film school] with 3 or 4 people maximum. But in this production, I learned how to have, I think, nine animators," says Lachauer. "I noticed how important it is to have a really good structure and know what everybody has to do. I had to manage this many people and still focus on the creative aspect of the film – that was the big challenge."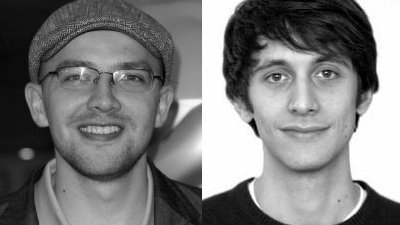 Max Lang and Jan Lachauer
Lang utilized lessons learned from helming Gruffalo to help Broom's production run smoothly, as the crew worked to blend computer animated characters with live-action miniature sets. With Gruffalo, sets were built in an area separate from the main studio; they were then transported and reassembled for the shoot. But for Broom, two set builders and a few assistants made the sets considerably smaller and closer to the studio. Always humble, Lang credits Studio Soi for these resourceful changes, noting their experience on Gruffalo's Child was a key reason for their innovative solutions.
Lang's time on Gruffalo increased his understanding of how to expand a children's book into a film. "When making The Gruffalo, a big question was how to extend a book that takes about six minutes to read into a 25-minute film. We struggled a lot with that," he recalls. "But when we started Room On The Broom, I knew what would and wouldn't work." The secret, he explains, was expanding the characters' personalities and motivations rather than the plot itself. For example, Lang noticed that Scheffler's illustrations show the witch's cat moving gradually from the front of the broom to the back; Lang used that observation as a springboard for the cat's ornery reaction to the broom's new riders. "We wanted to give all these little changes from page to page a bit of a story and work that into the characters."
Lang and Lachauer also looked to friends and associates to find traits for characters, such as an animator who served as inspiration for the enthusiastic, outgoing dog. "We had worked with him on The Gruffalo," says Lang. "When we started working on Room On The Broom, we were like, 'Oh yeah, we should base the dog on that guy!'"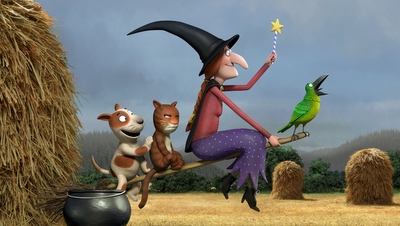 Unlike most short films, Broom features well-known actors in pivotal roles. Narrated by Simon Pegg, the film has a cast that includes Gillian Anderson as the witch, Sally Hawkins as the bird, and Timothy Spall as the dragon, respectively. "Luckily, a lot of the people we approached had already read the book to their children," says Lang. "They almost knew the book by heart when we came to them."
For the musical score, the directors turned to Gruffalo composer René Aubry. Although Broom is not directly related to Gruffalo and its sequel, Lang and Lachauer wanted the three films to seem set within the same universe. "René's music is a big part of that," says Lang. "It was an obvious choice to work with him again, because his music is so great."
Broom premiered on BBC last Christmas, to glowing reviews. In recent months, the film has been shown at various festivals around the U.S., qualifying it for awards consideration.
So, the question must be asked: Is there "room on the broom" for an Oscar?
"We certainly hope to get nominated," says Lang. "A lot of the other shorts are a bit more experimental. Our film is a bit more aimed to the general family audience, something children can watch but parents can enjoy as well.
"I don't think it's easy to win an Oscar," he concludes. "But we keep our hopes up."
---
Room On The Broom is now available to own on DVD.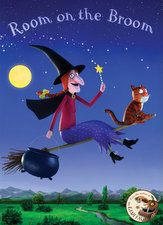 For more information on Room On The Broom, be sure to visit the film's official website and YouTube page.