Fans of offbeat animated movies rejoice: Bibo (Shark Tale) Bergeron's Euro-animated feature A Monster In Paris is finally headed to the US, when Shout! Factory unleashes the film on Blu-ray and DVD this April 16th, 2013! Mirroring the international disc release, the Blu-ray Combo Pack will also include the 3D and DVD editions of the movie while adding a Digital Copy. Originally premiering in its native France in the summer of 2011, A Monster In Paris enjoyed a healthy European release tour as well as limited engagements in the US. For more on the film and to view a trailer, click here:
---
A MONSTER IN PARIS
Featuring All Star Voice Cast of Vanessa Paradis, Catherine O'Hara,
Bob Balaban, Sean Lennon, Adam Goldberg, Jay Harrington, Danny Huston

INTERNATIONALLY ACCLAIMED MOTION PICTURE FINALLY ARRIVES IN AMERICA!
AVAILABLE ON DVD and TWO-DISC BLU-RAY 3D COMBO PACK WITH BLU-RAY 2D + DVD + DIGITAL COPY

IN STORES EVERYWHERE ON APRIL 16, 2013 FROM SHOUT! FACTORY
---
---
Venture into the delightful Parisian cityscapes of the 1910s and become spellbound by the visually opulent family adventure of A MONSTER IN PARIS, directed and written by Bibo Bergeron (Shark Tale) and produced by world renowned filmmaker Luc Besson's EuropaCorp and Bergeron's Bibo Films.
With an exceptional English-language voice cast of French singing sensation Vanessa Paradis, singer/song writer Sean Lennon, Catherine O'Hara (Penelope), Adam Goldberg (A Beautiful Mind), Bob Balaban(For Your Consideration), Danny Huston (Hitchcock) and Jay Harrington (Private Practice), A MONSTER IN PARIS harkens back to the classic tale of beauty and the beast, and delivers vibrant storyline packed with elegant characters, unforgettable song-and-dance musical numbers and beautiful CG animation that the whole family will enjoy!
This critically acclaimed international major motion picture also features enchanting, honey-toned vocals by Vanessa Paradis and Sean Lennon, with music score by popular French singer/songwriter Matthieu Chedid (aka M) and Patrice Renson.
On April 16, 2013, Shout! Factory, in collaboration with EuropaCorp, invites kids and families across America to a whimsical world of Parisian adventure and fantasy when Shout! Factory, in collaboration with EuropaCorp, unleash A MONSTER IN PARIS on DVD and on two-disc Blu-ray™ 3D Combo Pack. The Blu-ray™ 3D Combo Pack allows viewers to enjoy A MONSTER IN PARIS on the platform of their choice and includes spectacular movie presentation on Blu-ray 3D and 2D, DVD and a digital copy of the movie compatible with PC, MAC, iTunes, iPhone and AppleTV.
---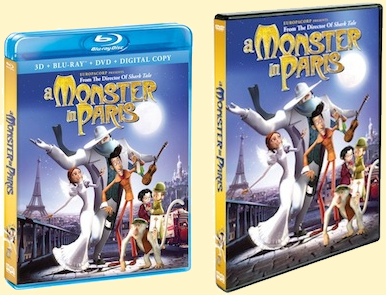 Pre-order available now at Amazon.com:
A MONSTER IN PARIS Blu-ray Combo Pack
---
SYNOPSIS
A wacky inventor, his camera-crazy best friend and a madcap monkey make a massive mistake when let loose in a mad scientist's laboratory. With lotions and potions spilling everywhere, the troublesome trio accidentally creates Franc, the product of a reaction between a common flea and one of the scientist's mystery concoctions. What they fail to realize, however, is that this 'monster' is actually a soft-centered soul with an astounding talent for music.
With the help of an enchanting nightclub singer Lucille, Franc becomes the talk of the town, just as stories of Paris 's newest monster attract the attention of the egotistical police commissioner, hell bent on securing a big prize to help his battle to become mayor. The unwitting scientists and the singer must team up to protect Franc, a monster with more than a musical career to protect!
Technical Information – BLU-RAY 3D COMBO PACK
• Movie presentation on Blu-ray 3D and 2D, DVD and a Digital Copy of the film
• Street Date: April 16, 2013
• Running Time: 1 Hour, 27 Minutes
• Aspect Ratio: 1080p 1.78
• Language/ Subtitle: English / English SDH
• Sound: DTS-HD Master Audio 5.1
Technical Information – DVD
• Aspect Ratio: Anamorphic Widescreen 1.78:1
• Language/ Subtitle: English / English SDH
• Sound: Dolby Digital 5.1
---
About Shout! Factory
Shout! Factory, LLC is a diversified multi-platform entertainment company devoted to producing, uncovering, preserving and revitalizing the very best of pop culture. Founders Richard Foos, Bob Emmer and Garson Foos have spent their entire careers sharing their music, television and film favorites with discerning consumers the world over. Shout! Factory's DVD and Blu-Ray offerings serve up feature films, classic and contemporary TV series, animation, live music and comedy specials in lavish packages crammed with extras. Shout's audio division boasts Grammy-nominated box sets, new releases from storied artists, lovingly assembled album reissues and indispensable "best of" compilations. In addition, Shout! Factory maintains a vast digital distribution network which delivers video and audio content to all the leading digital service providers in North America. Shout! Factory also owns and operates Timeless Media Group, Biograph Records, Majordomo Records and HighTone Records. These riches are the result of a creative acquisition mandate that has established the company as a hotbed of cultural preservation and commercial reinvention. Shout! Factory is based in Santa Monica, California. For more on Shout! Factory, visit shoutfactory.com