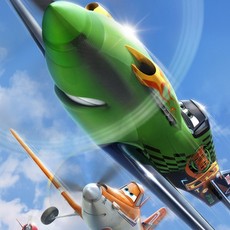 Walt Disney Studios announced today that Planes will have a special screening at this year's EAA AirVenture Oshkosh, the nation's largest gathering of aviation enthusiasts. The screening will take place at Wittman Regional Airport in Oshkosh, WI, on Friday, August 2 – one week before the film hits theaters nationwide.
---
---
Disney's Planes to take off at EAA AirVenture Oshkosh 2013
EAA AVIATION CENTER, OSHKOSH, Wis. – Everyone knows that Oshkosh becomes the busiest airport in the world the week of EAA AirVenture Oshkosh (July 29-August 4), and that airplanes take off all the time. However, 2013 will be a first for some very special "planes"…
The summer release of Disney's Planes, the animated comedy adventure from above the world of the popular 2006 film Cars, has the entire aviation community buzzing! Those attending AirVenture this year will have the opportunity to experience a special preview screening at the Fly-In Theater on Friday night, August 2, one week before the movie opens in theaters nationwide. Disney's Planes will touch all who see it and help them understand the thrill and excitement that flying offers.
Director and aviation enthusiast Klay Hall says, "Disney's Planes is a great underdog story. It has a lot of heart and a message we can all use: If we can believe in ourselves, step out of our comfort zones and get past whatever fear that's holding us back, we'd be surprised with the results. And that's exactly what happens to Dusty in this movie. He's a crop duster who's never flown above 1,000 feet, but he dreams of being the fastest air racer in the world. He has a lot of obstacles to overcome and needs to dig pretty deep to find the courage to become more than he was built to be. We're so happy to share the film with the passionate aviation community at AirVenture."
Prior to the movie, Hall will be present at the screening to talk about the making of Disney's Planes, sharing behind-the-scenes stories and secrets.
"The Fly-In Theater has become a signature event at AirVenture and Ford is delighted to host Dusty and the crew for a screening that no doubt will pack the house," said Kevin Keling, Director of Global Auto Shows & Events for Ford Motor Company, which each year sponsors the Fly-In Theater presentations.
The special preview screening is included with regular EAA AirVenture admission on Aug. 2. The Fly-In Theater is an outdoor facility with a five-story-high screen and full sound system that presents aviation and other action movies for AirVenture attendees during AirVenture. It is a favorite evening activity for all Oshkosh attendees, especially those from the adjacent Camp Scholler camping area.
Jack Pelton, EAA Chairman of the Board, says "AirVenture is a wonderful family event and we are absolutely thrilled to be a part of the ultimate family experience with this special screening of Disney's Planes." Dusty will be a real star of AirVenture this year in so many ways. We urge people to make plans now to join us for this special event."
Disney's Planes features a talented roster of voices, including Dane Cook, Brad Garrett, Teri Hatcher, Julia Louis-Dreyfus, Stacy Keach and more. The film takes off in theaters on Aug. 9. For more information, check out Disney.com/Planes, Facebook.com/DisneyPlanes and Twitter.com/DisneyPictures.