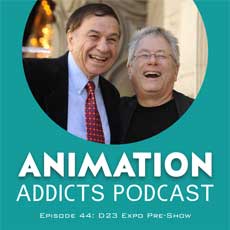 Learn more about The Rotoscopers!
A conference call with Disney songwriters and legends Alan Menken and Richard Sherman, where they talk about their upcoming concert where they'll sing from "The Disney Songbook."
This is a great interview with many of the writers from major Disney fan outlets. The first 15 minuets are questions just for Alan Menken.
• What are your favorite songs in the Disney Song Book? (outside of your own)
• What songs are you most excited to share?
• What is it about the Disney Song book that touches people?
• What is it like for you to perform for Disney Fans?
• How do you go about writing your songs?
• "You want to poke fun but you don't want to poke fun in a way that is hurtful."
• "The story doesn't get written without us." "We are very involved in the writing process."
• Do you have a say in who sings the songs?
• Will there be any 'Fan Boy' nervousness when you perform with Richard Sherman?
• Which of your more obscure Disney songs are you most proud of?
After which, we were joined by Richard Sherman when they were asked how the Concert would flow. Was it difficult choosing your songs? They'll share a little about how they got into Disney and some of their Non-Disney material as well. Both will share highlights in their careers and a few lesser known numbers.
• What movies would you both love to see go to the stage.
• What songs were surprise hits?
• "'Disney' is a wonderful platform for non-cynical material"
• Which of the other's songs do you like the best?
• What are you looking most forward to at the D23 Expo? – "Friends"
I felt like this interview was very open. I think the fact that they don't do press conferences a lot, even fewer together, that left them a lot more natural in answering questions. It felt almost like it was just a phone call between the two of them at times. I loved hearing the respect and appreciation between the two Disney Legends.
After Mr Menken was released, Richard Sherman (85 years) entertained the press as he talked about Mary Poppins, Chitty chitty Bang Bang and song writing.
• Did (the late) Robert Sherman know the appreciation of the Disney fans? Did he enjoy performing?
• What song was the most challenging to write?
• What songs do most people talk to you about?
• Walt's favorite song
• What is the difference between writing for a Movie VS an attraction?
• You have written many catchy and memorable songs. How do you do that without being repetitive?
• I have a good time. I've always been blessed to do what I love to do: writing songs
• "We didn't write the songs for the actors. We wrote for the character"
• Which of your more obscure Disney songs are you most proud of?
• What do you enjoy most about performing?