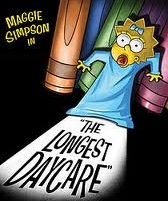 Ten animated short films–including Disney's Paperman and the Simpsons cartoon Maggie Simpson in The Longest Daycare–are in the running for this year's Best Animated Short film Oscar. Originally 56 films had been in the running for the prize. The ten films selected will now go on to the voting process of the awards, with 3-5 of them earning nominations, which will be announced on January 10th. The full press release can be found below…
The Academy of Motion Picture Arts and Sciences today announced that 10 animated short films will advance in the voting process for the 85th Academy Awards®. Fifty-six pictures had originally qualified in the category.
The 10 films are listed below in alphabetical order by title, with their production companies:
Adam and Dog Minkyu Lee, director (Lodge Films)
Combustible Katsuhiro Otomo, director (Sunrise Inc.)
Dripped Léo Verrier, director (ChezEddy)
The Eagleman Stag Mikey Please, director, and Benedict Please, music scores and sound design (Royal College of Art)
The Fall of the House of Usher Raul Garcia, director, and Stephan Roelants, producer (Melusine Productions, R&R Communications Inc., Les Armateurs, The Big Farm)
Fresh Guacamole PES, director (PES)
Head over Heels Timothy Reckart, director, and Fodhla Cronin O'Reilly, producer (National Film and Television School)
Maggie Simpson in The Longest Daycare David Silverman, director (Gracie Films)
Paperman John Kahrs, director (Disney Animation Studios) "Tram," Michaela Pavlátová, director, and Ron Dyens, producer (Sacrebleu Productions)
The Short Films and Feature Animation Branch Reviewing Committee viewed all the eligible entries for the preliminary round of voting at screenings held in New York and Los Angeles.
Short Films and Feature Animation Branch members will now select three to five nominees from among the 10 titles on the shortlist. Branch screenings will be held in Los Angeles, New York and San Francisco in December.
The 85th Academy Awards nominations will be announced live on Thursday, January 10, 2013, at 5:30 a.m. PT in the Academy's Samuel Goldwyn Theater.
Academy Awards for outstanding film achievements of 2012 will be presented on Sunday, February 24, 2013, at the Dolby Theatre™ at Hollywood & Highland Center®, and televised live on the ABC Television Network. The Oscar presentation also will be televised live in more than 225 countries worldwide.