Folimage (2008), Entertainment One (August 7, 2012), 1 disc, 91 mins plus supplements, 1.78:1 ratio, Dolby Digital 5.1, Rated PG, Retail: $19.98
Storyboard:
Two children search for their fathers. The girl's papa is working far away and has been buried under rubble. The boy's dad is buried under layers of greed. Together, the children try to get their dads back.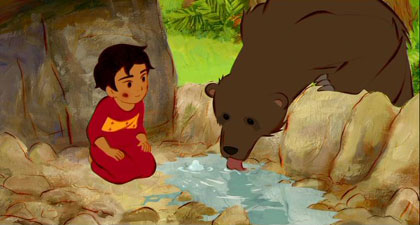 The Sweatbox Review:
One pleasant trend we've seen lately is the increasing appearance of animated foreign films being released in North America. Every year, dozens of these get made for overseas audiences, but very few ever make a dent in the US market. If it is in French, it may get a Canadian release. If it's in Spanish, it may show up in Latin America. But that US market can be a tough nut to crack.
So, thank goodness for GKids. After starting out as organizers of the New York International Children's Film Festival years ago, they branched out in 2008 as distributors of foreign films to theaters across the country. This has resulted in American audiences for Azur & Asmar, The Secret Of Kells, Chico & Rita, and A Cat In Paris. Of these, three garnered Academy Award nominations. Obviously, GKids has good taste. So, when they release another feature, it bears paying attention.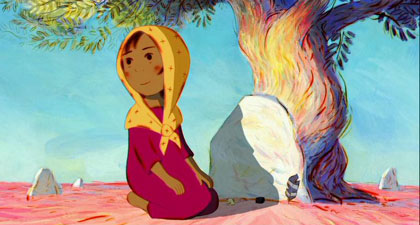 And that brings us to Mia And The Migoo, a French film that debuted in Europe back in 2008. This tale from Folimage (producers of A Cat In Paris) is a traditionally animated adventure about a young girl from what appears to be a tropical third world country, who sets out to find her father, who is working far away. Though she doesn't know it, her father has been trapped underground at his construction site. The workers at the site have come to think that the project is cursed, or at least being attacked by forces unknown, as there have been numerous incidents.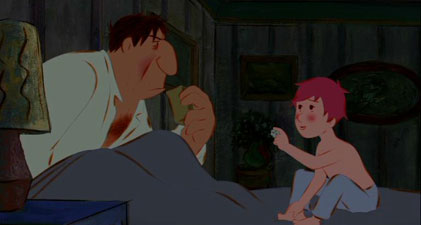 All of the publicity for this film centers on Mia, but there is a second child who carries much of the narrative, and I enjoyed his journey even more. Aldrin is the son of the project's developer. His dad Jekhide has poured everything he has into realizing his dream project of a tropical resort next to an isolated lake. He has bribed, coerced, and sweet-talked countless people in order for the project to happen, and is now desperate to land the final financial backers he needs, or lose everything. In short, he is a desperate man who has badly compromised his ethics, and has already seen his marriage crumble due to his single-minded determination to reach his goal. In his own mind, it has all been worthwhile, so far, due to the huge benefits he hopes to receive once the project is completed. Of course, Aldrin would disagree. Aldrin is staying with his dad, but obviously pines for his mother, a scientist who travels on polar expeditions. Jekhide focuses so much on his business dealings that he has lost sight of his son, who he prefers to be handled by his own mother, Aldrin's grandmother.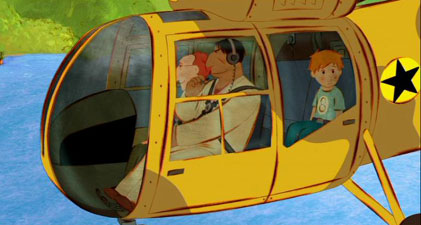 So, when the potential investors insist on seeing the project site, and Jekhide's mother is herself going on a trip, Jekhide is forced to take Aldrin with him. Seeing Aldrin trying to relate to his father is much more painful than watching Mia pine for her Dad. For me, that is the true heart of the story. It likely gives nothing away to suggest that Mia will find her dad in the end, but Aldrin's story has a resolution that is much more in doubt.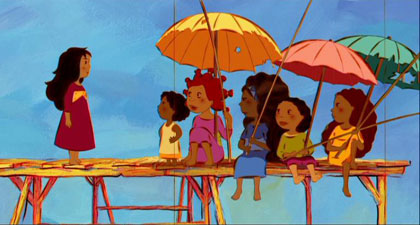 Initially, the two children are on separate journeys. Mia makes her way along the countryside, through jungles and rivers, with full resolve to find her father. She has to rely on the kindness of strangers to help her along the way (and incidentally to not instead hand her over to child welfare authorities). Aldrin, meanwhile, approaches the construction site alongside his father via plane and helicopter, though in a sense he is even further from his dad than Mia is.
After a while, one begins to wonder just how these "Migoo" of the title will figure into things. Hints of them are given for a while, but eventually they show themselves to Mia. The Migoo are guardians of the Tree of Life, which is being threatened by the resort project. They are behind the numerous "accidents" at the site, though their culpability in the plight of Mia's dad is glossed over. They do make up for that anyhow, by helping Mia on her journey, despite their silly blundering and arguing. Their incompetence as guardians is odd and nearly derails the story, but fortunately this film has a lot else going for it.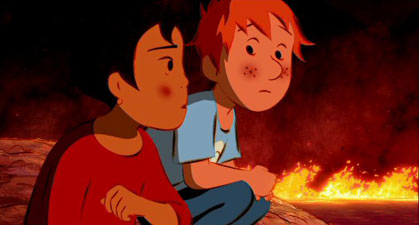 The emotional journey of both children (and their fathers) is naturally at the heart of the story, and makes for a decent to great movie all by itself. But what is really marvellous is the look of the film, with some very naturalistic animation, and painted backgrounds that evoke both Vincent van Gogh and the types of local artwork that one might find in a small outdoor market on a tropical land. Even the figures follow a similar approach, with smudged lines suggesting outlines, rather than the hard, definite strokes we've become accustomed to in American and Japanese feature animation. And there is detailing within blocks of color as well, further enhancing the hand-crafted look. This is the type of labor-intensive, artistic look we might normally associate with shorts, not features, and it is a breath of fresh air. You can really see the animator's beautifully un-sanitized work here, shining brightly.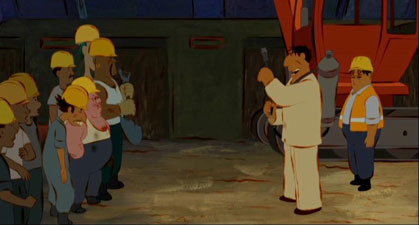 The film's thematic juxtaposition of real human drama and fantastic splendor is slightly uneven, as I found the goofy Migoo to be an almost unnecessary intrusion into what was shaping up to be a real nice little family movie. The end of the film gets into some mystical mumbo jumbo involving the Migoo and the Tree of Life, but the real story here is that of the two kids trying to find their dads. And, if you focus on that, as well as the terrific animation, you will find rich rewards in Mia And The Migoo.
Is This Thing Loaded?
One nice thing about reviewing product from smaller distributors? The lack of endless promotional material. This disc just has a quick FBI screen (can't ever get away from that, it seems), an identifier for the distributor, and then we get to the menu, and we're off! Under the category of bonus material, we have three items. First of all is the English language Trailer (2:33) for the film. Next are two half-hour featurettes.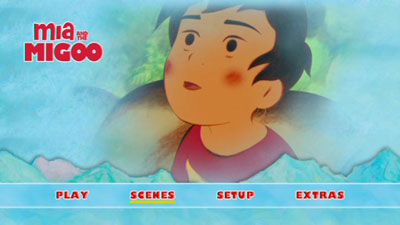 The subtitled Making of Featurette (25:57) (subtitled An Animated Destiny in its original French) is a lovely piece. From the film's first screening being introduced by its director Jacques-Remy Girerd, the featurette then goes back to chronicling the production of the film, through the eyes of the director and numerous artists as well as the composer. We find out that the film's music was composed before a single frame was shot, that the music was recorded in Bulgaria, that half a million drawings were used, and that the hand-crafted look of the film was largely due to an added layer to all the drawings, giving the characters their chalk-like appearance. Many behind-the-scenes shots are seen, from artists crafting their images, to the French voice actors doing their recording, the musical soundtrack recording session in Bulgaria, and even Girerd discussing how merchandising the film in Asia helped with the film's financing. Good stuff.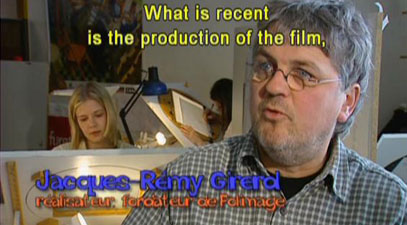 Jacques-Remy Girerd: Maker Of Dreams (23:50) takes a more personal look at the director's career, with glimpses of his short films, done in both clay and hand-drawn animation. It would have been nice to see these in full, but this is a fine featurette nonetheless.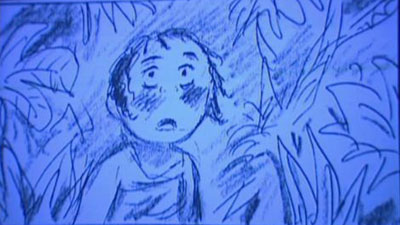 Case Study:
In keeping with the eco theme of the movie, Entertainment One has decided to package this DVD in a cardboard case that simply folds out to reveal the disc inside. The artwork is nice, though the durability of the packaging is certainly in doubt.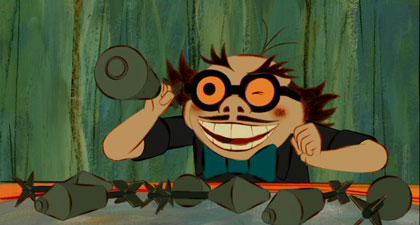 Ink And Paint:
This may only be a DVD, but it's hard to believe that the film could look much better on Blu-ray. (France has one, but not North America.) Colors are stunning, images flow perfectly across the screen, and nothing about the image is compromised in this sparkling transfer. The picture is free from dust or other blemishes, and the hand-crafted quality of the artwork is perfectly captured.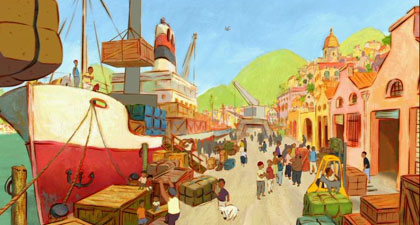 Scratch Tracks:
The 5.1 Dolby Digital sound is lively and clear to be sure, but falls short of being anything special. The adventure in the film is helped only moderately by the modest use of the surrounds. Most disappointingly, the original French audio track is not included. Only the "Hollywood" dub is featured here, utilizing the voice talents of Matthew Modine (a producer of the English language version), Whoopi Goldberg, James Woods, and Wallace Shawn. They are all great actors to be sure, but their voices (except for Modine's) are all a little too recognizable, and don't always suit their characters. John Dimaggio's Jekhide is very good, though, and as a true voice actor John is able to become the character, not just provide his own voice. I really wish we could get away from Hollywood dubs and just use experienced voice actors all around.
Final Cut:
Mia And The Migoo is a wonderful animated feature from France that broadens the landscape of today's cartoon movies. It is so refreshing to watch a film done not only hand-drawn, but using techniques that make it stand apart from the look of anything else out there. This, my friends, is a work of art. The story is not quite as strong as the art, but is still an effective tale of two children trying to find their fathers, one separated by distance and the other by his father's greed and selfishness. I enjoyed the film very much, and the hour's worth of bonus features only enhanced my appreciation for the film.
Animated Classic or Back To The Drawing Board?