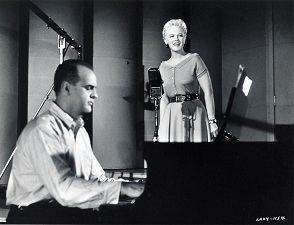 Very few realize it is the same person who sang Fever that sang and co-wrote the songs of Walt Disney's Lady and the Tramp.
Indeed, Peggy Lee [right, with Lady and the Tramp's co-writer Sonny Burke] was a versatile artist, as talented in popular and jazz music as in cinema. Her introduction to films resulted from being the Benny Goodman band's female vocalist from 1941 to 1943, at a time when all the major bands made cameo appearances in musicals.
She appeared with the Goodman band in two 1943 films released by United Artists: The Powers Girl, in which she sang The Lady Who Didn't Believe in Love, and Stage Door Canteen, in which she sang what would become one of her most enduring hits, Why Don't You Do Right?, later made famous again as Jessica Rabbit's signature song. (Although The Powers Girl was filmed first, Stage Door Canteen was released first.)
In the mid and late 1940s she appeared in a few musical shorts; she sang one song (Old Man Mose Is Dead) in a George Pal stop-action animated Puppetoon short titled Jasper's in a Jam; and she performed on musical-variety shows when American television was in its infancy. (Her earliest known TV appearance was in May of 1946.) She co-hosted a musical TV series with Mel Torme in the early 1950s, and was featured frequently on comedian Steve Allen's TV show at this time as well. Her work in early television helped her master the art of singing directly into a close-up camera.
In 1950 Peggy had a cameo role in Bing Crosby's Paramount musical Mr. Music (singing the light-hearted Life Is So Peculiar in duet with Crosby), and she also filmed ten "Snader Telescriptions" – precursors to modern-day music videos – which were shown both in theaters and on television. Five of the ten telescriptions were songs she co-wrote with her then-husband, guitarist David Barbour. The telescriptions have all been released, in different groupings, on several videotapes and DVDs.
Peggy's first full feature-film role was as Judy Lane, the female lead in Warner Bros. 1953 musical remake of The Jazz Singer, opposite Danny Thomas in the role originally played by Al Jolson in 1927. That same year she was scheduled to play the female lead in another remake — a musical version of Casablanca retitled Everybody Comes to Rick's, but this film was never produced. She was also one of several women (Judy Garland among them) announced for the title role in The Helen Morgan Story, which was ultimately played by Ann Blyth, whose singing was dubbed by Gogi Grant.
In 1955, the same year that Lady and the Tramp was released, Peggy was nominated for an Academy Award as Best Supporting Actress for her portrayal of Rose Hopkins, a downtrodden saloon singer (somewhat similar to the above-mentioned Helen Morgan), in the Warner Bros. musical drama Pete Kelly's Blues. The Oscar went to Jo Van Fleet (playing James Dean's mother in East of Eden) and Pete Kelly's Blues proved to be Peggy's last feature-film role.
Peggy later speculated that her portrayal of the fragile, deeply wounded Rose was so eerily effective that producers might have thought Peggy herself was similarly "damaged," and therefore unreliable as an actress. A more obvious reason for Peggy not appearing in more films was that overall production of Hollywood musicals had slowed dramatically by the mid-1950s. By the time MGM's Gigi was released in 1958, the golden age of the original Hollywood musical had essentially ended.
Peggy continued to appear very regularly on television throughout the 1950s, 1960s, and 1970s, usually in musical variety programs, but occasionally in non-musical dramatic or comedy appearances.Yet, certainly one of her most memorable contributions was for Walt Disney's Lady and the Tramp, where she not only co-wrote, but also sang most of the songs, and voiced a few characters, particularly Peg the dog.
We were privileged to talk about Peggy Lee with her granddaughter, Holly Foster-Wells, on the occasion of Lady and the Tramp's Blu-ray debut.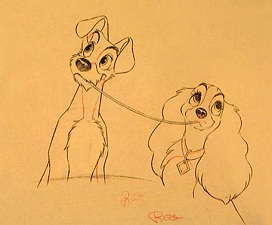 ---
Animated Views: I've read Peggy Lee began working on Lady and the Tramp as the voice of some characters. How did she become the songwriter of the film?
Holly Foster-Wells: According to Peggy, she was first brought on as a songwriter, and then Walt asked her to perform the voices of Darling, Peg, and Si and Am, the Siamese Cats.
AV: How did she get along with Walt Disney?
HFW: Peggy and Walt got along very well, and she admired him greatly. In her autobiography Miss Peggy Lee she refers to him as "charming" and said he had "the enthusiasm of a young boy."
AV: What was her relationship like with co-writer Sonny Burke?
HFW: Peggy admired Sonny a great deal, both as a friend and as a songwriter (among other songs, he wrote Black Coffee, which was a big hit for Peggy). It was Sonny who called Peggy in 1952 to see if she wanted to write the score with him for Walt Disney. He was the Artists and Repertoire man at Decca where, at the time, Peggy was under contract. Peggy has recalled many times how much she enjoyed working with Sonny on creating the songs for the film. She counts the experience as one of the highlights of her career.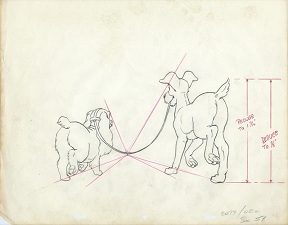 AV: Lady and the Tramp takes place in a small rural town. What kind of personal connection did Ms Lee have with the universe of the film?
HFW: Peggy grew up a small town in North Dakota, but it bore no resemblance to the charming town featured in Lady and the Tramp. Being a great lover of animals, I believe she would have been more connected to the film on that level.
AV: Why does she not sing Peace On Earth?
HFW: Though she didn't sing it in the movie, she did record this song in the studio. I'm not sure why this is.
AV: Can you tell me about her connection to Peg, the dog in Lady and the Tramp?
HFW: She was honored when Walt asked her if he could name the vampy dog Peg after her. This character had originally been named Mamie, but since that was the name of the First Lady at the time, Walt decided he should change it. Peggy was thrilled. She said that the animators fashioned Peg's sexy walk after Peggy's.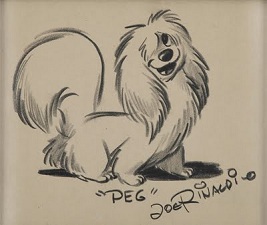 Another great contribution Peggy made to the film is that she saved Old Trusty's life. In the original script, he ended up dying. Peggy appealed Walt to keep him alive. She said that Walt felt it added drama to the story. After Peggy's begging, Walt acquiesced and kept Trusty alive.
AV: What does the new release of the film, and your involvement in it, represents to you?
HFW: My entire family is thrilled that Lady and The Tramp is being released on disc. My mother, Nicki Lee Foster, was interviewed (along with Sonny Burke's son, Peter Burke) for the bonus footage on the making of the film. Lady and The Tramp is a movie that my grandmother loved making and was very proud of. And all of her grandchildren, myself included, love watching it to this day. Now we watch it with our children, who are Peggy's great-grandchildren, and they share in our pride. When my four year-old son hears He's A Tramp at preschool, he tells his friends, "That's my Mama Peggy."
---
---
---
---
Our deepest thanks to Holly Foster-Wells and David Torresen, webmaster for www.PeggyLee.com for their kind help.