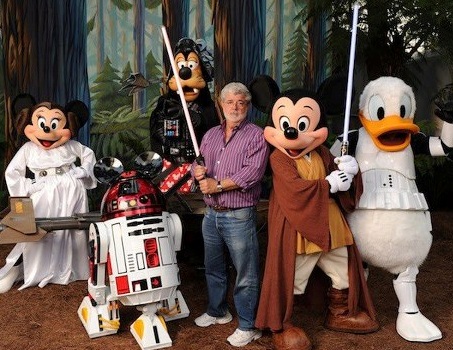 The Force is strong with the Walt Disney Company. Following years of hosting Star Wars Weekends at Walt Disney World, the Mouse House has proven that they can now buy virtually anything…including Yoda. The Hollywood Reporter says that Disney is set to buy Lucasfilm for $4.05 billion in cash and shares. In addition, the company also announced plans for a new trilogy of live-action Star Wars films, with the first to come in 2015. Kathleen Kennedy–a woman behind a seemingly endless number of blockbusters–will serve as Lucasfilm's new president, and will also be an executive producer on the upcoming Star Wars films. Although "retired," George Lucas will still be involved with the new movies as a creative consultant.
"For the past 35 years, one of my greatest pleasures has been to see Star Wars passed from one generation to the next," Lucas said.  "It's now time for me to pass Star Wars on to a new generation of filmmakers. I've always believed that Star Wars could live beyond me, and I thought it was important to set up the transition during my lifetime."
It is unclear where this will leave the upcoming 3-D re-releases of Star Wars films, which were set to be distributed by 20th Century Fox. It is also unclear where this leaves Cartoon Network's smash hit series Star Wars: The Clone Wars, which is owned by Turner Broadcasting. More news regarding the purchase is sure to turn up over the next few days.