Madhouse (2011), Sony Pictures Home Entertainment (July 31, 2012), 2 discs, 282 minutes plus supplements, 1.78:1 ratio, Dolby Digital 5.1, Not Rated, Retail: $19.99
Storyboard:
A human-vampire hybrid hunts for the four-fanged vampire that killed his mother. This leads to a trek across Asia, in which Blade encounters all manner of international vampires and a secret vampire war.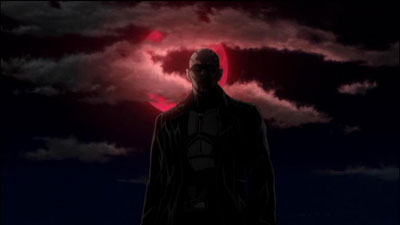 The Sweatbox Review:
To be honest, when I agreed to review this title, I wondered what I was thinking. I had no interest in this. I've never read a Blade comic, or seen any of the movies. And I'm just not that into vampires (well, except for adoring Buffy The Vampire Slayer and some classic Dracula films). However, once I started watching, I found this to be the most satisfying of the four Marvel anime series from Madhouse. Blade offers something more than standard but stylized superheroics— it has a truly interesting tale with outstanding art, and more than a hint of horror.
The character of Blade appeared first as a supporting character in Marvel's Tomb Of Dracula #10 in 1973. He went on to make a variety of appearances in other titles over the years, both in comics and black and white comics magazines, before finally hitting the big time in New Line Cinema's trilogy of feature films, followed by a short-lived TV series. Despite this time in the public eye, it could likely be said that Blade is not as top-tier Marvel hero— which made him a strange choice, at first glance, for the Marvel Anime project.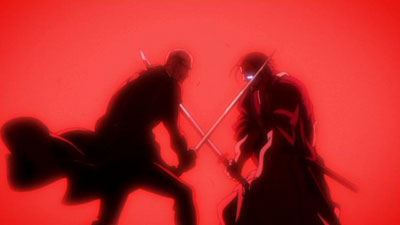 Once you see the results, though, you understand. The Blade property actually lends itself wonderfully to a certain type of anime, with its elements of gory horror and the lack of spandex. In fact, the choice of adding Blade to the project was rather inspired. It also resulted in the best of the four series to be produced. The series has much going for it, telling a great modern day story while also exploring Blade's past throughout the twelve-episode run. By the end of the storyline, the viewer has a great appreciation for who Blade is and what motivates him, who his friends and allies are, and where he is going.
Blade's origin is explored early in the show, at the same time that the present-day story is being presented. Blade is actually Eric Brooks, born in London to a prostitute who was attacked by a four-fanged vampire just before Eric was born. This led to Eric developing many vampiric traits, but none of the typical vampire weaknesses aside from bloodlust. Fortunately, Eric has a conscience, and struggles with his desire to kill, eventually aided by a serum that counteracts the negative effects of vampirism. Eric dedicates his life to killing vampires, and specifically hunts for the one that killed his mother— Deacon Frost.
In this story, Blade is joined on his quest by a young woman who had been also hunting vampires with her father (who inexplicably gets himself killed by one of them). Initially, the young lady hates Blade, but the silliness of that feeling is trumped by the realization that she and Blade are on the same side. Her journey to this conclusion is aided by Blade's friend, Noah Van Helsing (of the famed vampire hunting family). Together, the three of them travel throughout Asia on the trail of Frost and his mysterious organization, Existence.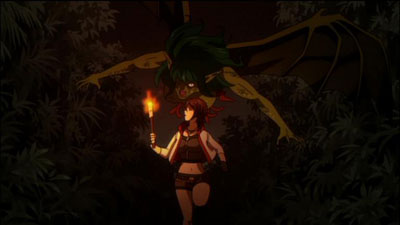 The genius of Warren Ellis, who is credited with this story, comes into play here as Blade and companions encounter numerous local tribes of vampires, based on actual Asian legends. We get winged Filipino vampires, elongated Indonesian vampires, and many more fascinating and grotesque variations. Additionally, the X-Man Wolverine drops by in Madripoor to join in some vampire killing, apparently while searching for AIM agents from his own anime show. As if that weren't enough, Blade also uncovers a conspiracy to rid the world of the ruling vampire elite, we learn the true story behind Deacon Frost, and all heck breaks loose. Yet, as epic as the story becomes, it remains all about Eric Brooks and the tragedies he has suffered in his life, juxtaposed against the tragedies of others and how they have dealt with them. It's poignant stuff, against a backdrop of vampire-killing mayhem. And I totally dug it.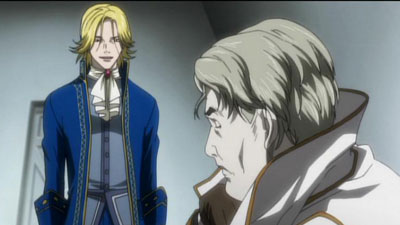 The art style here is realistic, though the action is quite stylized in a typically Japanese way. During intense scenes, still images are often utilized to great effect, both capturing the moment and harkening to the project's comic book roots. As Madhouse normally employs extremely good artists, they are as usual up to the task of combining realistic characters with the extreme action, resulting in a very satisfying show to watch. While some of the dialog comes across a little stiff, this may be as much due to the translation as the original script (and note that the subtitles often give a different interpretation than the English dub.)
This one is certainly only for mature viewers, with the expected amount of blood and violence, and a bit of strong language. If you're mature enough to handle that, this is a great exploration of the Blade character and a unique look at Asian myths. Anyone put off by the other Marvel Anime shows should still give this one a shot.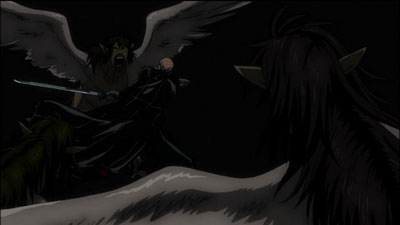 Is This Thing Loaded?
The Marvel Anime Universe: Blade Reawakened (10:20) has Marvel creative execs Cort Lane, Jeph Loeb, and Megan Thomas Bradner discuss the anime series from the Marvel perspective (not surprisingly, they are enthusiastic). Story man Warren Ellis also gives further remarks on using real aspects of Asian legends to enhance the story.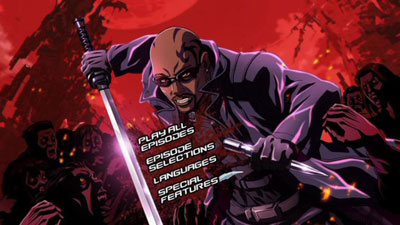 They continue their talk in Blade: The Vampire Slayer (6:40), but here they focus on the Blade from the comics, and how he has been traditionally portrayed. Barely any mention is made of the live action versions, but we do get to see a lot of cool comic book art.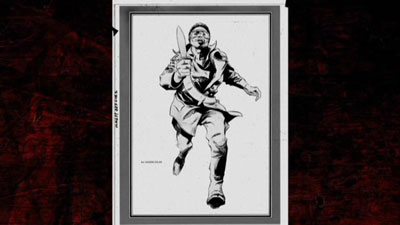 Special Talk Session: Marvel Anime's Blade And Wolverine (33:00) finally brings in the Japanese creators from Madhouse, where they have a lengthy and interesting discussion about crafting the show. While principally starring four men sitting on stools, there is also lots of studio footage, and glances of original production art. Despite the title, this is mostly about Blade, with minimal reference to Wolverine.
The second disc also has Previews for Attack Of The Show, Resident Evil: Damnation, Starship Troopers: Invasion, 21 Jump Street, Lockout, and The Raid: Redemption.
Case Study:
The keepcase holds a disc on each side of its interior, with an insert advertising Attack Of The Show!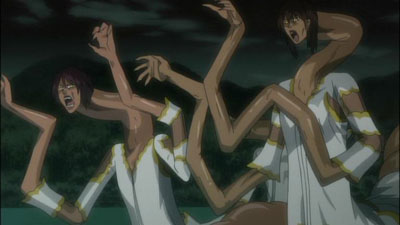 Ink And Paint:
The 16:9 video transfer does well to capture the show's action, and manages to keep a decent amount of detail despite the many dark scenes. Aliasing is barely noticeable, and even pans look pretty smooth. The source material is utterly free of any physical artifacts. The only complaint is that the image is on the ever-so-soft side, but it does as well as standard definition can. By DVD standards, this is really good. I only lament the lack of a Blu-ray release.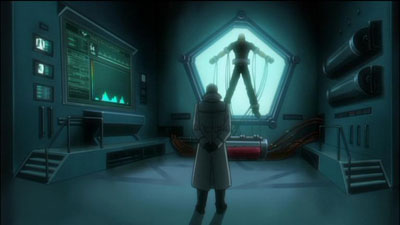 Scratch Tracks:
The disc defaults to Japanese language and English subtitles. In fact, these prints are for the Japanese version of the show, including credits and location captions. Either 5.1 track is very impressive, bringing vampire-killing spectacle to all corners of the room in effective fashion. Bass is just moderately good, but the total sound design rivals that of a feature, with great use of surround effects. English captions for the hearing impaired are also available, but there is no individual translation track for burned-in Japanese location captions.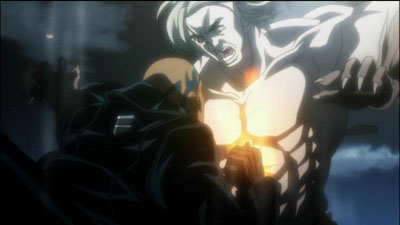 Final Cut:
This is an impressive show, and one that I'm glad I gave a shot. You likely have to enjoy vampire stories to get the most out of it, but be prepared for some non-traditional looks at vampirism, and not a bit of sparkling. This is heavy duty, epic storytelling for mature viewers, though the horrific elements are done fairly tastefully given the subject matter. I loved the international storyline, the exploration of Asian vampire myths, the many informative flashbacks, and the all-out action. The bonus features provide nice background, and the audio in particular is outstanding on the main feature. Recommended whether you're a Marvel Zombie or just looking for some good cartoon horror with some depth.
Animated Classic or Back To The Drawing Board?