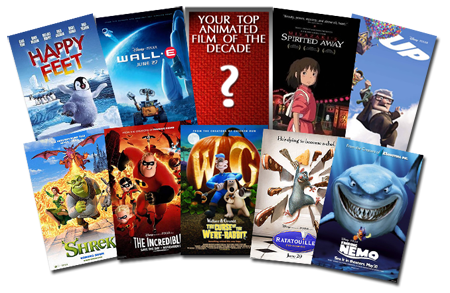 In December of 2010, I was running a poll asking our readers to pick the best animated films of the decade. Unfortunately during the final week of voting I had a major medical emergency. I didn't return full time to the site until the latter half of 2011. Since then, all those votes have been tucked away in a folder in my email box waiting to be tabulated. Thanks to a reminder from a forum reader who has apparently been patiently waiting for the results all this time, Animated Views is happy to finally reveal the votes.
Readers were given a list of over 100 films released theatrically in the United States from 2001 to 2010, and asked to rank their top 15. Write-in votes were also allowed. In total 118 titles ended up under consideration. The votes were counted by giving a score of 15 to a reader's #1 film, 14 points to their #2 film, and so on.
Please keep in mind the limitations of a poll like this. Obviously an online vote ends up as a popularity contest of sorts, not neccesarily a vote on quailty of the films. Also remember this poll was taken in the final weeks of the decade itself. So films like Chico and Rita (which had a limited opening in November 2010) while critically acclaimed had not been widely seen yet. And conversely, films that people had seen more recently might be ranked higher than if the poll had been taken today.
Thanks to all those who participated, and our apologies for not getting this out until a fifth of the way through the following decade!
— James R Whitson
| | | |
| --- | --- | --- |
| 1 | toy story 3 | 1573 |
| 2 | the incredibles | 1478 |
| 3 | WALL-E | 1362 |
| 4 | ratatouille | 1338 |
| 5 | up | 1285 |
| 6 | finding nemo | 1234 |
| 7 | spirited away | 1027 |
| 8 | monsters inc. | 1001 |
| 9 | how to train your dragon | 952 |
| 10 | lilo & stitch | 880 |
| 11 | tangled | 849 |
| 12 | kung fu panda | 795 |
| 13 | coraline | 699 |
| 14 | the princess and the frog | 582 |
| 15 | fantastic mr. fox | 577 |
| 16 | shrek | 506 |
| 17 | wallace & gromit the curse of the were-rabbit | 394 |
| 18 | cloudy with a chance of meatballs | 351 |
| 19 | howl's moving castle | 331 |
| 20 | the triplets of belleville | 330 |
| 21 | cars | 323 |
| 22 | persepolis | 312 |
| | despicable me | 312 |
| 24 | ice age | 277 |
| 25 | shrek 2 | 273 |
| 26 | treasure planet | 262 |
| 27 | ponyo | 247 |
| 28 | corpse bride | 235 |
| 29 | horton hears a who | 222 |
| 30 | the illusionist | 220 |
| 31 | the secret of kells | 218 |
| 32 | the simpsons movie | 215 |
| 33 | mary and max | 212 |
| 34 | tokyo godfathers | 207 |
| 35 | millennium actress | 203 |
| 36 | brother bear | 197 |
| 37 | bolt | 180 |
| 38 | sita sings the blues | 160 |
| 39 | paprika | 156 |
| 40 | happy feet | 152 |
| 41 | spirit stallion of the cimmaron | 136 |
| 42 | the polar express | 132 |
| | atlantis the lost empire | 132 |
| 44 | surf's up | 123 |
| 45 | the spongebob squarepants movie | 122 |
| | meet the robinsons | 122 |
| 47 | the girl who leapt through time | 115 |
| 48 | waltz with bashir | 114 |
| 49 | madagascar | 111 |
| 50 | hoodwinked | 96 |
| 51 | metropolis | 92 |
| 52 | ice age dawn of the dinosaurs | 81 |
| 53 | curious george | 79 |
| 54 | 9 | 70 |
| 55 | monster house | 67 |
| | ice age 2 the meltdown | 67 |
| 57 | madagascar escape 2 africa | 65 |
| 58 | flushed away | 64 |
| 59 | megamind | 58 |
| 60 | bee movie | 57 |
| 61 | final fantasy the spirits within | 56 |
| 62 | legend of the guardians | 55 |
| 63 | robots | 53 |
| 64 | ghost in the shell 2 innocence | 49 |
| | cowboy bebop the movie | 49 |
| 66 | open season | 48 |
| 67 | alpha and omega | 47 |
| 68 | over the hedge | 46 |
| 69 | home on the range | 45 |
| 70 | disney's a christmas carol | 40 |
| 71 | waking life | 33 |
| 72 | monsters vs. aliens | 32 |
| 73 | shrek forever after | 31 |
| 74 | astro boy | 29 |
| 75 | idiots and angels | 27 |
| | battle for terra | 27 |
| | azur and azmar | 27 |
| 78 | a town called panic | 25 |
| | a scanner darkly | 25 |
| 80 | teacher's pet | 24 |
| | steamboy | 24 |
| | star wars the clone wars | 24 |
| | shark tale | 24 |
| 84 | romeo and juliet sealed with a kiss | 20 |
| | barnyard | 20 |
| 86 | return to neverland | 18 |
| | chicken little | 18 |
| | $9.99 | 18 |
| 89 | planet 51 | 17 |
| 90 | TMNT | 15 |
| 91 | the wild | 13 |
| | roadside romeo | 13 |
| 93 | valiant | 12 |
| | the wild thornberrys movie | 12 |
| | the sky crawlers | 12 |
| | kaena the prophecy | 12 |
| 97 | the tale of despereaux | 11 |
| | shrek the third | 11 |
| 99 | sinbad legend of the seven seas | 10 |
| | eight crazy nights | 10 |
| 101 | the jungle book 2 | 9 |
| | mutant aliens | 9 |
| | beowulf | 9 |
| 104 | jimmy neutron, boy genius | 8 |
| 105 | hair high | 7 |
| 106 | igor | 6 |
| 107 | the trumpet of the swan | 5 |
| | pooh's heffalump movie | 5 |
| | everyone's hero | 5 |
| 110 | happily n'ever after | 3 |
| | doogal | 3 |
| 112 | rugrats go wild | 2 |
| | arthur and the invisibles | 2 |
| 114 | the ant bully | 1 |
| 115 | chico and rita | 0 |
| | fly me to the moon | 0 |
| | piglet's big movie | 0 |
| | space chimps | 0 |