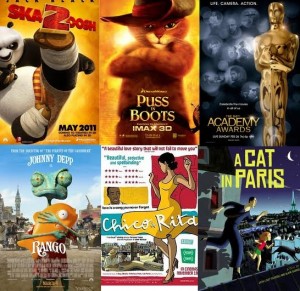 The nominations for the 84th Academy Awards have been announced, and like all years, there were quite a few surprises. Nominated in the Best Animated Feature category were Rango, Puss in Boots, Kung Fu Panda 2, A Cat in Paris and Chico and Rita. Notably missing from the category were Arthur Christmas and The Adventures of Tintin, two critically acclaimed animated films that were expected to be nominated. Tintin did score a nomination for composer John Williams in the Best Musical Score category. And Man or Muppet from The Muppets and Real in Rio! from Rio were the only two songs to be nominated in the Best Original Song category.
Meanwhile, the Best Animated Short category saw nominations for Pixar's yet to be released La Luna, A Morning Stroll, The Fantastic Flying Books of Mr. Morris Lessmore and Wild Life. And Harry Potter and the Deathly Hallows: Part 2, Hugo, Real Steel, Rise of the Planet of the Apes, and Transformers: Dark of the Moon were the selections for Best Visual Effects.
The winners will be revealed on February 26th.