Walt Disney Animation Studios (UK: April 15 2011 / US: July 15 2011), Walt Disney Home Entertainment (October 25 2011), 1 Blu-ray plus DVD and Digital Copy, 63 mins plus supplements, 1080p high-definition 1.78:1 widescreen, DTS-HD 5.1 Master Audio, Rated G, Retail: $44.99
Storyboard:
Pooh Bear and all of Christopher Robin's friends in the Hundred Acre Wood return to the big screen for the first Disney Animation feature in almost 35 years!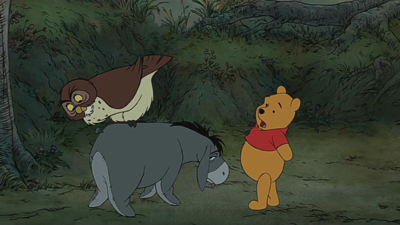 The Sweatbox Review:
When John Lasseter became head of Disney Animation in 2007 and swiftly closed down the direct-to-video unit that had become widely derided for churning out what became know as "cheapquels", he scored a minor victory for Disney fans everywhere frustrated that their favorite movies were being tarnished with these cash-grabbing blots on the original classics. Personally, I never had a real problem with DisneyToon Studios, as the division was eventually known after growing out of Walt Disney Television Animation, creating sequels to the more recent of the Studio's films, but I did question following up Walt's originals.
The likes of Cinderella II were bad enough, but then also came the "mid-quels", films that took place between scenes in the original movies. Well, fine, if they wanted to screw with the likes of Tarzan then that was their problem, but when it came to Bambi II – and despite however well that midquel might have been considered to turn out – it was, ultimately, a redundant story that didn't need telling other than for Disney to make a few bucks (geddit?) off the back of a film Walt himself had resisted sequelizing. I must begrudgingly admit to finding the initial concepts for Dumbo and AristoCats follow-ups intriguing, but it was right that the unit was shuttered.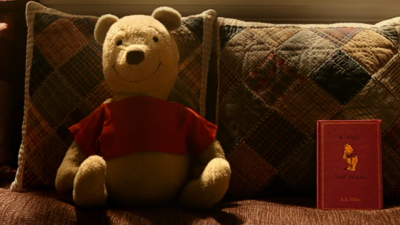 The second thing Lasseter scored with, in a much bigger way, was to return the tradition of hand-drawn animation to the Studio that had arguably advanced the medium more than anywhere else, re-building morale and an entire group of people that had been forced to embrace CG animation if they wanted to continue working at the Studio. The Princess And The Frog may not have quite been the knockout many fans were hoping for, but it was a solid return to the kinds of films made in the Studio's renaissance period in the 1990s and proved there was a place for classical Disney animation to thrive and survive.
Lastly, and no less importantly, I believe Lasseter completed his personal plan to revive Disney Animation with his next move, which brought Winnie The Pooh back into the fold as the theatrical property it originally was intended as. The Pooh franchise has always been a huge money-spinner for Disney: indeed, I remember reading somewhere that it was in some years the Studio's biggest earner with some $3bn made across consumer products of toys, books, television, film and video. No wonder the company wanted to keep producing new product in order to help shift the old stuff, but in the film and video arena it had to be said that Pooh was becoming a bear of very little appeal.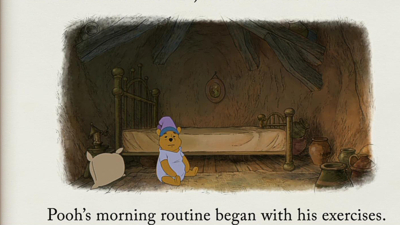 Since his debut in 1966, Winnie The Pooh quickly became a Disney mainstay. Created by British author A.A. Milne and based on his son Christopher Robin and his collection of stuffed animal toys, there was a danger that the very British nature might have been too Americanized by Disney, and an early outcry (even by American critics) at the release of the first Pooh featurette Winnie The Pooh And The Honey Tree for its use of director Woolie Reitherman's son as the voice of Christopher Robin quickly saw a renewed print replaced with a more suitable English reading (however, the stuffing of an old pedantic Beaver into Milne's Hundred Acre Wood escaped a culling in the hastily re-dubbed version).
The plan, as is now widely known, had been to produce a full-length Pooh feature after the success of the similarly British Mary Poppins a couple of years before. Walt was concerned that the characters were not as well known as the Poppins books, and decided to split the material up into sections and make an introductory featurette instead. Honey Tree was hugely popular with audiences and, following Walt's passing, some of the remaining material was put into Winnie The Pooh And The Blustery Day, even more successfully winning the Academy Award for Best Animated Short in 1968!
It wasn't until some six years later that Winnie The Pooh And Tigger Too completed the trilogy of Pooh featurettes, but by now the characters were as much a part of Disney as Mickey and the gang. Finally, all three films were combined as Walt originally envisioned for the feature The Many Adventures Of Winnie The Pooh in 1977, with new interstitial animation and a touching coda providing a fully-rounded feature experience, the episodic nature of the stories not bothering the fact this was ostensibly a compilation film.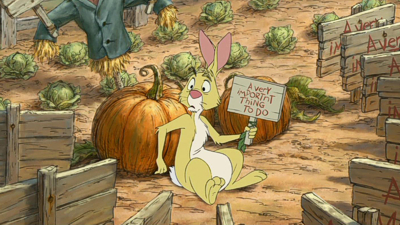 There was one final featurette, A Day For Eeyore, released in 1983 but this had been outsourced to another animation company and was mostly intended for television, where Pooh was becoming a popular "entry level" character for younger children to be introduced to the wonderful world of Disney. Over the years, he has been found somewhere or other in the Disney Channel schedules, starting with Welcome To Pooh Corner in 1983, were the Hundred Acre Wood was populated by live-action actors in Animatronic suits. Now since apparently forgotten, Pooh Corner was a charming show that followed on from the last of the animated Pooh featurettes and kept the childlike quality that still made the stories accessible for adults.
Pooh Bear returned to animation for 1988's The New Adventures Of Winnie The Pooh, a well-remembered if not exceptional series that slotted into the kind of programming that filled the Disney Afternoons. The show proved so popular that it brought about a resurgence of Pooh animated offerings, including a series of TV and video specials, beginning with Winnie The Pooh's Most Grand Adventure: The Search For Christopher Robin. The animation at this time strayed away from the "black marker" approach that Disney's television output took on at the time, but it also failed to capture the classic featurettes' 1960s Xerox style that so perfectly emulated the storybook illustrations come to life feel.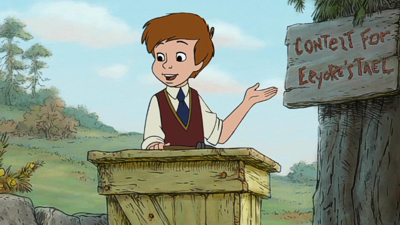 Pooh has actually returned to the big screen before, most notably with The Tigger Movie (2000), which did a fair job of trying to nail the looser Xerox look and even had a customary British star narrator in John Hurt. The inhabitants of the Hundred Acre Wood then took on their oddest look yet, in the puppet performed The Book Of Pooh, but quickly returned to animation. Tigger's success led to a slew of less artistic direct-to-video writ large outings (Piglet's Big Movie, Pooh's Heffalump Movie) but by the time of Pooh's Heffalump Halloween Movie it seemed that the spin-offs were getting their own spin-offs!
Another television program, My Friends Tigger And Pooh, debuted on Playhouse Disney in 2007 and proved to be an instant hit with the preschool age group, even if the purists got themselves into a bit of a fit over the conversion of Pooh to CGI and the addition of a completely new, non-Milne character, an – get this – American girl at that! Gone was the Britishness of Christopher Robin and in came what many might supposed to be the brash young tones of an annoying moppet, although anyone actually watching the show will find it's arguably closer to the original featurettes in tone than anything that came after them.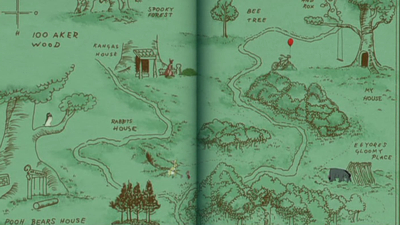 And so we come to these further adventures of Winnie The Pooh, which clearly looks back on the almost 35 years that have passed between the last of Walt's originally intended adaptations and this reboot – and promptly discards them completely. The title says it all: this is Winnie The Pooh, pure and simple, turning the book back to page one in order to return to the feel – and most importantly the look – of Walt's original adaptation of Milne's words and E.H. Shepard's artwork. The good news is, whatever one might have thought about some of the loose animation in the trailer, they've nailed it completely when it comes to watching it in the context of the movie itself.
There was some grumbling about the new roster of voices drafted in to perform some of the characters: whatever else one could say about the past few years' Pooh animation, no-one could argue the voices weren't in keeping with tradition. Mostly this was because, until recently, they were still being recorded by their original vocalists, until the recent passing of Tigger's Paul Winchell and Piglet's John Fiedler. Jim Cummings has been the bear of very little brain for a while now, long before Sterling Holloway went to the big honey pot in the sky in the 1990s, and he again essays the bear of very little thought here, as well as his stripy bouncy friend, although for some reason he doesn't quite nail Tigger in the same way.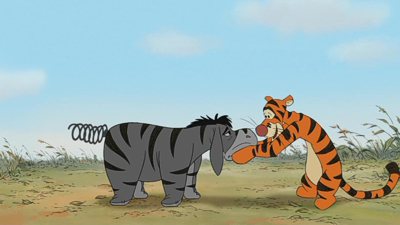 But Pixar storyman Bud Luckey (creator and narrator of Boundin') has been drafted in as Eeyore, and there are new voices for Owl (Craig Ferguson) and Rabbit (a real professional voice artist, Tom Kenny, who is sometimes perfect). The trailer might have made these more obvious but without a direct comparison between old and new there's really very little difference, especially again when one is hearing them in the context of the movie. Perhaps Ferguson's Owl is lighter toned (he often reminded me of standup comic Eddie Izzard) and Luckey's Eeyore is deeper and gruffer, but it's not as if they've miscast the performers and someone got another's character by mistake, and Jack Boulter's English Christopher is spot on.
Joining them as the ever half-sarcastic, half-supporting Narrator this time around is Monty Python's John Cleese, surely picked for his name value, but actually also doing a very nice job at capturing Sebastian Cabot's warmth. This was something I wasn't quite expecting, being that Cleese is known for his sharp, sardonic wit, but he eschews going for the easy mocking approach and provides a wonderfully affectionate reading that also provides an in for the adults to appreciate the gentle humor. And there's a lot of it in abundance: whatever sophisticated comedy factor you might be expecting (or not), I did actually laugh out loud several times more than in your average family movie of today, and for the right reasons.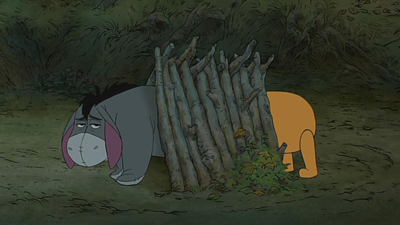 It's a little bit a shame that some of Christopher Robin's inaccurate spelling has been cleaned up here. Either he's growing up slightly and learning more, or more likely it's the child-protectors suggesting that Disney shouldn't be giving them bad ideas. There are some other examples that have remained, and the misunderstanding they elicit from the characters is part of the fun, but I did particularly miss the spelling of "howse" throughout as well as, to a lesser degree, Piglet's stuttering. But otherwise it's as if a day hasn't gone by since Christopher left Pooh at the end of The Many Adventures, and the recreation of Christopher's nursery and original opening dialogue for the opening titles only sets up the connection even more.
I wasn't too sure of actress/singer Zooey Deschanel's solo vocal in the opening Winnie The Pooh Theme, where a chorus of backing vocalists might have given it a more classic feel, but I grew to like the faint 1950s skiffle kind of approach the song took on and the other songs have a timeless quality about them…all except for the slightly too modern end credit track whose snare drum is just mixed way too high at the forefront and is like the equivalent of graffiti sprayed all over the artwork. But the other song contributions, from husband and wife team Kristen Anderson-Lopez and Robert Lopez, have a terrific knack of sounding like the golden age of simple but catchy Disney music.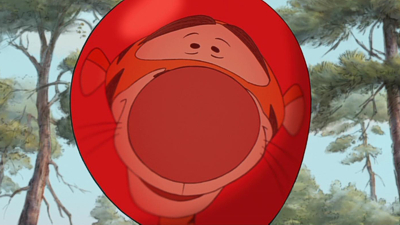 This is mostly because the songs are very close, especially in syntax, to those originally written by the Sherman Brothers for the original featurettes; indeed one can even sing The Honey Tree's signature tune I'm Just A Little Black Rain Cloud to A Pooh Bear Takes Care Of His Tummy a little too closely. It's nice that the songs don't have too much of a modern twist and sound authentically Sherman-esque, but to long-time fans they may come over as suspiciously familiar, and sometimes it's so close that it's a wonder the Shermans don't get some sort of adaptation credit. Likewise in Henry Jackman's musical score, the influence of the Pooh Theme is highly evident in a cute four-note motif that's basically an inverted version of the original theme (even if the more you hear it, the more in danger it is of becoming Cruella De Vil!).
There's no reason given as to why the Shermans – so recently still active on the stage version of Chitty Chitty Bang Bang and, indeed, The Tigger Movie – were not asked to return to pen the songs, or maybe they simply declined, but in attempting to get as close as possible, and with their kind of word-play in check too, there is an element of "borrowing" a little too much when it might have been simpler just to use the elements more transparently, and more enjoyable for the audience to hear more of the familiar themes. Winnie The Pooh is too seldom used, although there is a brief reprise for The Wonderful Thing About Tiggers (because that's what Tiggers do best), but when he sings the new It's Gonna Be Great he could almost be another stripy orange animated cat proclaiming the benefits of a certain breakfast cereal!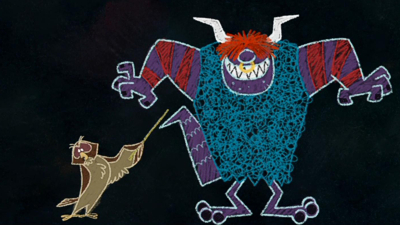 However, the rest of the film is as familiar as you might remember from The Many Adventures, and I especially enjoyed Pooh and company's many encounters with the typed text on the pages of the book they inhabit: "Pooh was so distracted by his rumbly tummy", says Cleese, "that he didn't notice that he was walking on to the next paragraph"! There's also a return to Milne's originals; based on five stories from the books, Winnie The Pooh has the same kind of episodic structure that featured in the older films, where a situation arises and it is resolved (usually by accident or in a not particularly satisfying way) before another situation comes along.
Here, there are attempts to find Eeyore a new tail, and rescue Christopher Robin from an infamous creature, the Backson, after Owl misreads a note that says he'll be "back soon", leading to a highlight chalkboard-drawn song sequence supervised by Eric Goldberg and reminiscent of Heffalumps And Woozles from The Blustery Day. Eeyore becomes a Tigger, too, and Pooh has another encounter with a swarm of bees that leads to another dream song sequence (possibly one too many), while the entire gang end up stuck in the very trap they had set themselves to capture the Backson, and Pooh says "Oh, bother!" a lot (too much, in fact, as to become an overused catchphrase).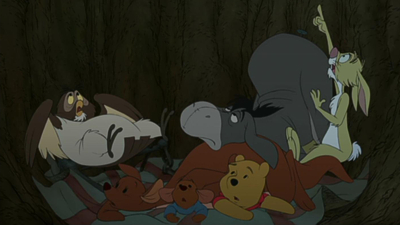 As directed by Meet The Robinsons' Stephen Anderson, with Don Hall, it's all drawn with a lovely throwback to the Xerox look and delicate watercolour backgrounds of the originals, with simple, appropriate animation that recalls the slightly more uncomplicated approach that the best Pooh films have always had. Of course, some of Disney's best hands are behind the cartooning, with Mark Henn drawing for Pooh and Christopher, Randy Haycock on Eeyore, Dale Baer's Owl, a frantic Rabbit from Eric Goldberg, Bruce Smith's Piglet, Kanga and Roo, and Andreas Deja getting to unleash a big cat of a different color onto the screen with Tigger, after admiring The Jungle Book's Shere Kahn for so long and previously animating The Lion King's Scar.
That's quite a small main crew to be providing the principal animation for entire feature, but then there is an army of clean up and inbetweeners behind them as the long ten minute credit scroll reveals. Then there's also the film's unexpectedly short running time to consider which, at just 53 minutes of actual animation excluding the credits, is one of the shortest Disney features, only just beating Saludos Amigos, which clocks in at 42 minutes, but still coming in a minute shorter than the 64-minute Dumbo even with those ten minutes of credits tacked on (it must be added, too, that there is further animation to be enjoyed within these end titles, with an amusing additional scene for those that stick around until the end).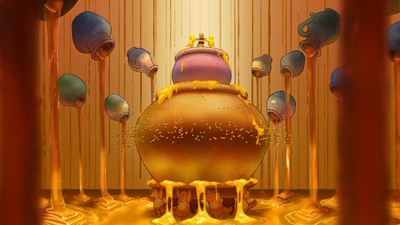 But quite why Winnie The Pooh is this short is a mystery…there are certainly some deleted scenes included in this disc package that could have bolstered up the length without detriment to the pacing of the film. I have a feeling it's more to do with television, and the need for the film to be able to play with the required number of commercials to bring it up to a 90-minute airing slot (it's seems no coincidence that Pooh's 63-minute run time is close to the majority of ultimately intended for television direct-to-video movies). However, that's not to be taken as a mark against it, and wherever this Pooh slightly fails to capture the charm of Walt's originals, it can't be said that it outstays its welcome.
If anything, there can be a sense of too much over familiarity, with routines and sequences that feel like new versions of what we've seen before, although as an experiment in creating a new animated feature – or just about a feature – on a shoestring budget (the use of pre-existing characters and a lack of effects heavy color shading brought the film in under a $35m cost) it succeeds very well. Does it really break away from the recent Pooh Bear films and feel extremely different in tone? Well, yes and no, but like the title character's penchant for his favorite food type, Winnie The Pooh is a fond reminded of the characters' roots, and a hunny sweet addition to the series.
Is This Thing Loaded?
It's paradoxical to think that, by the time Winnie The Pooh debuts on disc in the United States, it's already been seen around the world on television: just one of the strange facts about the film's release pattern. Although set in the otherwise very British Hundred Acre Wood, this hasn't meant any distinction for previous Pooh film, but here the film premiered in the UK back in the Spring, some three months before the US debut, and this was followed up by a home video release in late summer and a TV airing on the Disney Cinemagic channel in September…a very odd state of affairs for a "major" animated feature.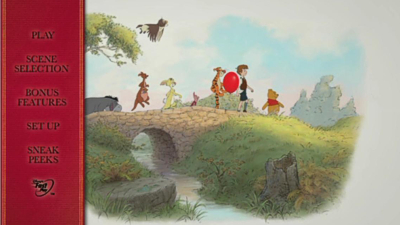 This is just one oddity about Winnie The Pooh worth noting, another being the strange fixation with bringing the film in at a specific running length, as directors Anderson and Hall seem to indicate in their series of introductions to a grouping of Deleted Scenes. Citing reasons of "pacing" and "time" over and over again in explaining why these 15 minutes or so of moments were lost, I can't but help think the film would have been stronger had most of them been allowed to play out in the final result, not only giving the movie length but also because I think these moments genuinely strengthen the characters and situations that set up arcs that will play out during the movie.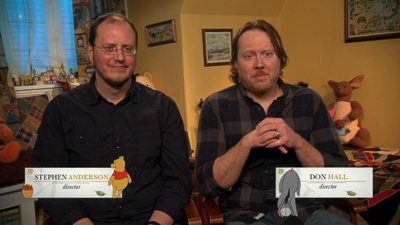 It's a rarity to say the majority of deleted or alternate would actually benefit a film when usually its clear they have been cut for the right reasons, but here a fully animated Extended Tummy Song doesn't add more than a few seconds to the length but gives us a proper introduction to Pooh and sets up his quest for a pot of honey that will continue throughout the entire film, as well as some wittier song lyrics. Rabbit's Friends And Relations, a storyboarded scene, is better removed so as to keep the plot simple, but a fully colored Original Eeyore Intro also sets up a plot point with more resonance and even offers us a dynamic between the donkey and Pooh Bear that's much more innocent and reminiscent of the originals.
Likewise an Original Tigger Intro may well have called back his debut in The Blustery Day closely, as the Directors insist was the reason for the change, but it must be admitted that it's a much more "Tigger"-centric introduction for the character here, with Cummings also sounding much more like the Tigger of old (and there's also, here and there, an almost spot-on Sebastian Cabot Narrator-type in the temp track before the decision was made to go with Cleese). Tigger's bouncing into the film isn't like Blustery Day anyway, with one running joke having Pooh finishing off his lines, a nice throwback but not quite like the original, which works better than the final film's version, where Tigger actually comes off as being slightly annoying as opposed to warmer and cuter here.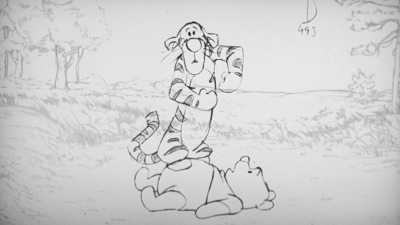 Pooh Searches For A Tail, the final cut scene presented here in storyboards, was also probably rightly cut, but I feel that any true Pooh fans would not deny the fully animated scenes presented here are superior and more in keeping than the same moments as they feature in the final film, but their removal is suspiciously a running time issue more than anything else. It does seem that, despite the intentions of creating a theatrical animated feature, the powers that be have decreed it still follow the tried and tested route of a direct-to-video process. This theory certainly adds up when one factors in the two clear "breaks" in the film at regular intervals exactly a third and two thirds through, which would make placing commercials an easier task, but it's no less a mystery as to why Pooh, which is ostensibly a Disney feature as any other, has been designed this way.
A documentary featurette Winnie The Pooh And His Story Too takes us on a whimsical trip back in history to learn about the origins of Pooh, Walt's development of the series of shorts and the eventual Many Adventures feature. Long-time fans won't discover anything new, but it's nicely narrated by Cleese in the same way as the movie, interacting with the book text and animation from Many Adventures and these further adventures, and over the course of eight and a half minutes, there's a healthy amount of information packed in, courtesy of the filmmakers and Disney and Pooh chronicler Christopher Finch, with everything from Pooh's naming to the weight of delivering a Pooh movie for today being suitably explored.
There's also a nice moment dedicated to Studio artist and director veteran Burny Mattinson, who has remained at Disney's his entire career and animated on the original Pooh featurettes, finding a role here as the supervising story artist and providing a link back to the originals. The intention of this film acting as a reboot is clear when none of the post-Many Adventures are mentioned at all, but best of all are the glimpses we see of that 1977 feature. Looking absolutely as pristine as this latest outing thanks to a digital clean-up, it can surely not be too long before we'll be able to own Pooh's original adventures on Blu-ray – whoo-hoo-hoo-hooh!
Winnie The Pooh's short length provided a perfect opportunity for one of the Studio's recently completed animated shorts to accompany it in theaters, and it's wonderful that it appears here, too, under a Bonus Shorts banner. The Ballad Of Nessie, narrated in rhyme by Billy Connolly, tells of how the Loch Ness Monster found her home in the highlands of Scotland after being turfed out of her original dwelling by the golf-mad MacFroogal. Although it feels more akin in tone to the kinds of featurettes the Studio released during the 1970s, it's a classic Disney short designed with the aesthetics of the 1950s cartoons and some of the supporting characters might have been picked right out of those films.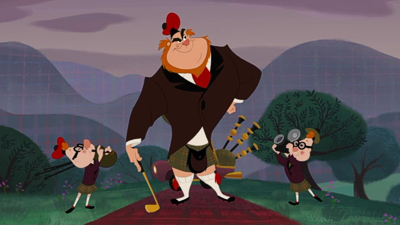 In fact, this has been produced with such a reverent eye to the Studio's films of that era that it could quite easily pass itself off as one of them, much as the recent Goofy cartoon How To Hook Up Your Home Theater managed to ape the How To… shorts of the 1940s and 50s. The Truth About Mother Goose came to mind especially, but this doesn't have its acerbic wit, with a final sentiment (that it's okay to cry) being a bit of a peculiar payoff. But there is much humor in the narration and its performance, with some amusing couplets for good measure, though animation fans will get the biggest kick in its five and a half minutes from a very wry tribute to Glen Keane!
Less essential is The Mini-Adventures Of Winnie The Pooh: Pooh's Balloon, a cut-down in the style of the recent Have A Laugh! shorts that presents the I'm Just A Little Black Rain Cloud sequence from Winnie The Pooh And The Honey Tree in a potted, re-dubbed and slightly rushed three minutes. John Cleese now narrates, with Cummings as Pooh and Jack Boulter re-recording for Christopher Robin except for his one line of singing which still sounds like Bruce Reitherman. These TV cut-downs are odd items that don't have much place outside the small screen, but that they appear to help pay towards digital restorations of can only be a plus. It was also fun for me to hear that song again: as a four-year-old and after saving up my allowance, one of the first Disney articles I ever bought was a Honey Tree storyteller record!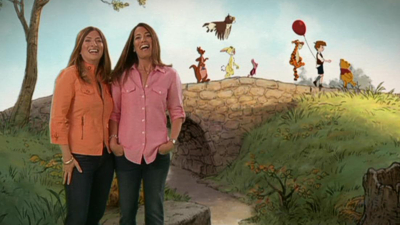 A Disney Song Selection and Sing-Along With The Movie are pretty self-explanatory, playing through the film's seven brief songs with or without onscreen lyrics for 11 minutes. Actually, these have been done nicely, with someone on the ball at Disney Home Video in that they've chosen a font that's reminiscent of the original Pooh featurette posters, and there's a fun bouncing red balloon that highlights the words. Finally, I was hoping Creating The Perfect Pooh Nursery was a look at the recreation of Christopher Robin's room for the opening titles, but unfortunately it's a clip featuring the two very scary, Stepford-like Baby Planners, Ellie and Melissa, proclaiming how great it can be to turn a room into a Pooh haven. I was glad these absurdly shiny happy people only shrieked at me for less than three minutes, but having a family member who has already decorated her child's room with Pooh characters and genuinely fantastic results, I can't say I was very impressed here.
On the DVD, three Deleted Scenes make the cut, as well as the great Nessie and Pooh's Balloon bonus shorts, and the not so great Perfect Pooh Nursery clip. Across the Blu-ray and DVD discs, Sneak Peeks are included for Disney's All-Access online concept, The Muppets, Cars 2, Lady And The Tramp, Tinker Bell And The Pixie Hollow Games, Movie Rewards, a pretty cool Disney Junior spot, Prep And Landing's next ABC adventure Naughty Vs. Nice, Beauty And The Beast's Enchanted Christmas, and the name-changed Tinker Bell And The Secret Of The Wings, previously The Mysterious Winter Woods, for some reason.
Case Study: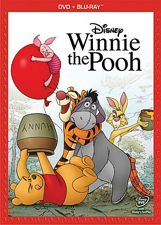 Winnie The Pooh is another of Disney's films that comes to disc in two packages, although the trick is here to pick which edition you really want.
There's a red-bordered "Blu-ray and DVD in DVD packaging" [right] that collects the discs we review here, but the true BD package, the blue-bordered "Blu-ray and DVD in Blu-ray packaging" also contains a Digital Copy disc for those wishing to catch up with Pooh on a portable player [as seen below, bottom].
Quite why both packages just didn't contain the digital file anyway, or why distinct Blu-ray and DVD releases were not considered is another ambiguity of Disney's home video marketing.
Both packages are otherwise similar, offering an approximation of one of the theatrical posters for the front of the sleeve, replicated on an embossed slipcover.
Inserts in both editions include the Movie Reward codes and promotions for other Disney product including the Winnie The Pooh soundtrack.
Best of all, there's a fun Pin The Tail On Eeyore fold-out game that follows the age-old rules of another donkey-pinning game I'm sure you're familiar with. Here the various "taels" from the movie are available to cut out before, blindfolded, you must try and pin one on Eeyore…a simple little extra that's a very nice touch.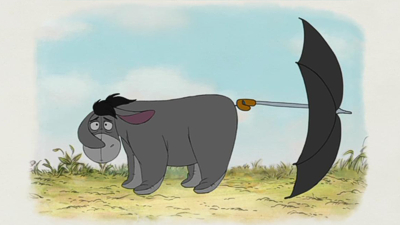 Ink And Paint:
With slimmer, sharper lines to the artwork thanks to the all-digital production, Winnie The Pooh looks a little too clean to stand alongside the original Many Adventures, but that's not a detrimental remark about the video quality. There's really nothing wrong with the images here at all, other than a slight lack of a human touch, ironic given that it's a hand-drawn feature, but take a look at the glimpses of the original Many Adventures we see in the supplements and you might agree that its rougher artwork still suits the Pooh material a little more. I guess we're so used to the look of film animation that to see the pin-sharp lines of digitally produced traditional animation reproduced so cleanly can sometimes appear to be too clinical and free of any human imperfections, but as being as close that one can get to the artists' drawings, it's as good as it gets.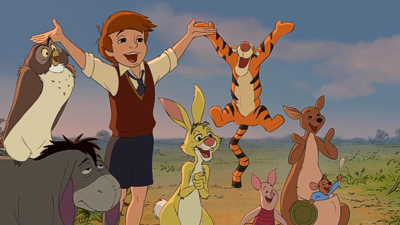 Scratch Tracks:
These further adventures of Winnie The Pooh don't make for the most rambunctious, action-heavy of features, and the film isn't even, it has to be said, as full of incident as its Many Adventures predecessor. So anyone expecting the soundtrack to be anything other than just a gentle, perfect companion to this sweet and mild film is going to be disappointed. Hence Disney provides a more than suitable 5.1 surround mix, though it's still delivered on the Blu-ray in DTS-HD Master Audio. There isn't much rear activity as one might expect in a film primarily driven by music and dialog, but it all sounds as balanced as it should be. Subs and dubs in French and Spanish 5.1 Dolby are optional.
Final Cut:
It's somewhat ironic that John Lasseter managed to close Disney's sequel division and then reclaim a classic property in a theatrical outing by making a sequel, but that is what has happened here. It doesn't quite manage to feel any different to the other recent films in Pooh's filmography, and although the animation is more an old-fashioned return to Walt's classics and the songs a reminder of a simpler time, I'm not sure I could honestly place Winnie The Pooh higher than The Tigger Movie as a solid second to the original The Many Adventures Of Winnie The Pooh.
This Winnie The Pooh feels like the Disney Studio treading water, somewhat of an odd step to be taking just as they were increasing momentum with The Princess And The Frog and Tangled, but then it's also a welcome reminder of the Studio's past and, maybe, a palette cleanser for what is about to follow. Whatever else, the disc just about has enough to carry it, and you can be sure of a very sweet and gentle encounter with characters that remain as funny as you remember from childhood, with some softly wonderful hand-drawn artistry that proves this is what Disney does best!
Animated Classic or Back To The Drawing Board?