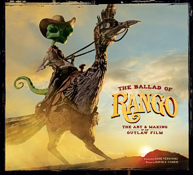 By David S Cohen
Foreword by Gore Verbinski
Insight Editions
March 1, 2011
Hardcover, 156 pages with over 300 full color illustrations
$39.95
---
---
How better a way to keep the often bizarre – but absolutely brilliant – visions to be seen in director Gore Verbinski's new collaboration with Johnny Depp, the animated picture Rango, fresh in our minds than with Insight Editions' latest Art Of… compendium, The Ballad Of Rango: The Art And Making Of An Outlaw Film?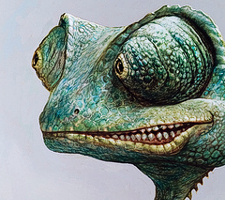 That's a very apt description, actually, because Rango is quite unlike any other animated film you're likely to see this year, or possibly have seen ever before. Seemingly coming out of nowhere, the film marks a major first in that it sees Pixar's original parent finally enter the feature animation realm. Back in 1984, Pixar was of course the fledgling computer animation division of LucasFilm, whose Industrial Light & Magic visual effects department was the new kid – and quickly king – in the business. Star Wars had set a new template for quality VFX, with pioneering CG sequences, such as the Genesis terraforming of a new planet for Star Trek II: The Wrath Of Kahn in 1982, being seen as the way forward.
Despite this early success and much interest, Lucas' graphics department had to be sold off, the departing unit renaming themselves Pixar and set to change the future of animated film. Back at ILM, computer graphics continued to pop up in various films, from the stained glass warrior of Young Sherlock Holmes, to the wonders of a liquid-metal assassin in Terminator II, before the dinos of Jurassic Park changed the industry in 1993, some two years before Pixar were to debut their groundbreaking Toy Story. With the two companies so intertwined in their history, it was quickly expected that ILM would enter the feature animation fray, but despite an abandoned attempt to reanimate Frankenstein, the company has largely remained content to provide extraordinary effects for blockbuster films as the undisputed leader in their field.
Arguably Lucas' own Star Wars prequels featured as much animation as a fully-animated feature on the short end of the spectrum, and so the timing must have seemed right for ILM to create the completed frames for a feature movie. But why Rango? The answer seems to lie with director Gore Verbinski, he previously of the underrated and hilariously dark Mouse Hunt, the spooky The Ring series and, of course, the phenomenally successful first three Pirates Of The Caribbean pictures. Wanting a change of scenery from the exhaustive process of shooting Pirates 2 and 3 back to back, an animated film would at least keep the director out of the water, and who better to provide the images to his warped vision than the company that set sail on those seafaring adventures?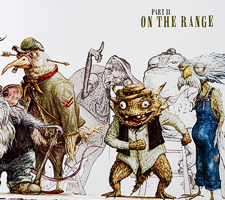 It's this combination of talents that truly sets Rango apart from the crowd, with Verbinski also pulling on board another trusty collaborator, Jack Sparrow himself, Johnny Depp (himself no stranger to animation as a veteran of Tim Burton's Corpse Bride and Alice In Wonderland). With all three in the mix, Rango becomes its own animal, and the resulting film really is like nothing experienced before (the closest approximation I could find in its acknowledged Chinatown-like story of power and corruption was Who Framed Roger Rabbit). Verbinski's handling of the material, Depp's performance bringing the title character to life, and ILM's expertly rendered visuals all work together as a whole in a way that can only recall the uniqueness that Pixar bring to their films.
As The Ballad Of Rango reveals, Verbinski chose ILM precisely because it wasn't an animation studio and, as the book is at pains to point out, this was one of many intentional decisions made so that Rango really would be a creation borne of a previously unknown quantity. And if you think their joint collaboration's final results are anything to marvel at, wait until you get the in-depth peek at the development of Rango, from concept art to final renders, that The Ballad Of Rango provides: page after page of, quite frankly, striking production art, much of it the work of veteran illustrator – and Rango's eventual production designer – Crash McCreery, and the rest of his talented team.
But The Ballad Of Rango is so much more than just a great collection of inspired images: after an (all-too predictably brief) introduction from Verbinski, writer Cohen serves up an excellent account of the film's creation, from its very early concept stage (dating back as far as even before the first Pirates movie) and Paramount's initial involvement, through ILM being persuaded to jump on for the ride, to the eventual animation process. Having storyboarded his films, Verbinski was familiar with this first phase of animated filmmaking, but the usual processes took an unusual turn unlike that for any animated film before it.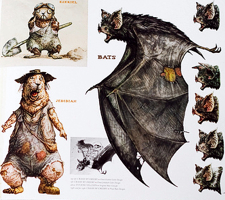 Instead of shooting straight live-action reference or simple vocal tracks, the director assembled his crew and "shot" the film not as a motion-capture exercise, but in an "Emotion Capture" experiment, designed to record the vocals while the cast gave real performances: performances that the animators could then reference directly in shots pre-boarded and directed by Verbinski. The book excellently touches on these aspects, as well as dedicated looks at the different characters and the creation of specific sequences, but if anything feels a little "missing", it's any seeming involvement from Depp, especially given the huge impact his performance has on the resulting film itself.
Other cast members do offer up some interpretation and reports of their experience working on the film, however, and it's always interesting to me to hear both "sides" of a character's being, the voice and the artist. And here the artists certainly get a chance to shine, with the sheer quality of the printing bringing their drawings and paintings to life. I was (perhaps) a little surprised that some of the final render full-page blow-ups didn't look as sharp as I had expected, but rest assured this is restricted to only a few limited instances and that practically the entire book is full of eye-popping visuals so vibrant that one could almost reach out and touch them – and all for a film that wasn't (yay!) even released in 3D!
Also happily, despite the book's title (a cue from the film), we're not offered any flippant or jokesy take on any made up "ballad", such as a feeble attempt to replay the film's storyline with accompanying images that so many of these tomes can resort to as a way to fill pages. Nope – this Ballad Of Rango is simply as good as animation Art Of books get, with thankfully serious and engrossing discussion on the subject by its author, and more than an archive full of really, really great imagery.
---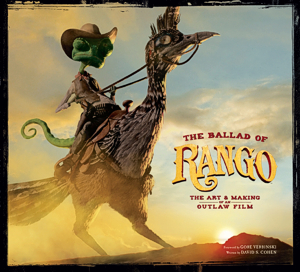 THE BALLAD OF RANGO
is available to buy now from Amazon.com