Marvel Animation (September 22, 2010 – November 26, 2010), Walt Disney Studios Home Entertainment (April 26, 2011), Single Disc (each), 154 mins and 135 mins plus supplements, 1.33:1 aspect ratio, Dolby Digital 2.0, Not Rated, Retail: $19.99 (each)
Storyboard:
A new superhero group is born when Iron Man, Thor, Hulk, Captain America, Wasp, and Ant-Man join forces to become The Avengers.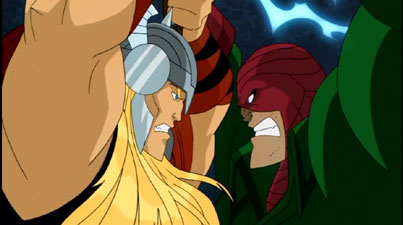 The Sweatbox Review:
Superheroes are everywhere this year. With the glut of films and animated series surrounding them, I am surprised people have not yet gotten tired of them. In the past year alone, we have had almost half a dozen new superhero shows premiering on television. This is from both DC and Marvel, propelled by their parent companies WB and Disney. Marvel in particular has seen a great surge in animated properties in the past few years with <Wolverine and the X-Men, Iron Man: Armored Adventures, and The Super Hero Squad Show in 2009. That doesn't even include the animated DTV releases for Hulk and Thor that have come out or been announced recently. In theaters, we have seen Iron Man come out twice, the Hulk being reinvented, Wolverine coming out with his own movie and have seen more X-Men, Thor and Captain America films just this summer. Those that have followed the news know that Marvel has been planning an Avengers film for years and it was recently announced that it would finally come out in 2012 (the first Marvel Studios production to be distributed theatrically by Disney). It is no coincidence then that Marvel and Disney have partnered up to increase awareness of the property through not just one but two animated series featuring characters from the upcoming Avengers movie.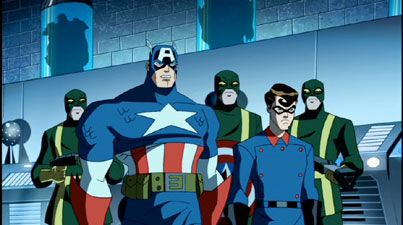 The Avengers: Earth's Mightiest Heroes premiered last fall on Disney XD with a series of mini-episodes that aired throughout the channel's programming lineup. Together, they gave fans an introduction to the world of the Avengers and the heroes and villains that inhabit it. In this new series, The Avengers are made up of a core group of superheroes that include Iron Man, Hulk, Thor, Captain America, Wasp, and Ant-Man. While the first three are familiar faces to many fans, the last two are less-known to non-comic book devotees. However, both were introduced in the comics in 1963 and have made regular appearances in Avenger-themed comics and animated series ever since. These mini episodes alternated between the different characters, but when placed in order gave us the important highlights of each character's life, struggles, and challenges. This all led up to the official two-part series premiere called Breakout when the heroes gather together to fight against the villains that have escaped from four S.H.I.E.L.D. high-security prisons. The micro-episodes have been gathered here in order for each character instead of alternating between characters like in the original broadcast and they are featured as follows: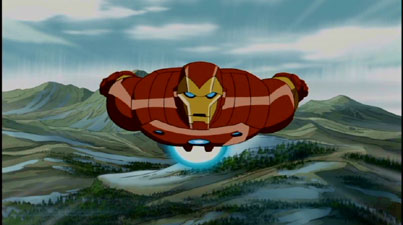 Iron Man Is Born! – made up of Iron Man is Born! , HYDRA Lives! , Behold, the Mandroids! , and Nick Fury, Agent of S.H.I.E.L.D.
Thor The Mighty – made up of Thor the Mighty, The Siege of Asgard, My Brother, My Enemy, and The Isle of Silence.
Hulk Versus The World – made up of The Coming of the Hulk, Hulk Versus the World, This Monster, This Hero, and Beware the Widow's Bite.
Meet Captain America – made up of Meet Captain America, The Red Skull Strikes! , If This Be Doomsday! , and Lo, There Shall Come a Conqueror.
The Man in the Ant Hill – made up of Wasp and Ant-Man episodes The Man in the Ant Hill, Enter the Whirlwind, The Big House, and Welcome to Wakanda.
As mentioned, the series actually begins with the two part episode entitled Breakout. In this episode, our heroes (minus Captain America who is still frozen in ice at this point) who have been battling villains around the world finally come together to defeat the supervillain named Gravitron who has escaped from a maximum security prison run by S.H.I.E.L.D. However, the only way to defeat him is to unite their powers so that they can be a match against Gravitron's superpowers. After becoming a team, the show develops in the second volume as the team moves into Tony Stark's mansion in New York (Some Assembly Required) and continues to expand with the addition of member Captain America (who is discovered frozen in the Arctic in Living Legend) and allies Black Panther (Panther's Quest) and Hawkeye (Gamma World). The characters also get a chance to develop and my favorite episode for this is Some Assembly Required when we get inside the Hulk's mind as we get to see Hulk and Bruce Banner's internal dialogue. Another great episode is the two-part Gamma World episode where we go deeper into Black Widow's deceit and Hawkeye's attempt to understand what happened.
Volume One
Iron Man Is Born!
Thor The Mighty
Hulk Versus The World
Meet Captain America
The Man in the Ant Hill
Breakout: Part 1
Breakout: Part 2
Volume Two
Some Assembly Required
Living Legend
Everything Is Wonderful
Panther's Quest
Gamma World: Part 1
Gamma World: Part 2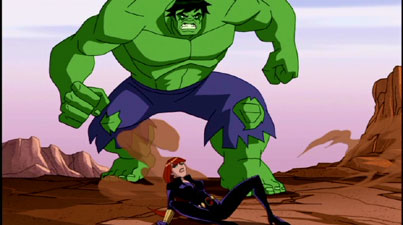 Is This Thing Loaded?
Aside from trailers for Thor, Cars 2, Phineas and Ferb: Across the Second Dimension, Thor: God of Thunder (Video Game), Captain America: Super Soldier (Video game), and the new The Lion King release, each volume also features a short featurette about the show. Volume one features "New Looks, New Heroes" (7:33) which features supervising producer Joshua Fine and story editor Christopher Yost talking about how the characters evolve for the second season of the show. Volume two features "New Stories, New Threats" (5:59) which basically hints at what is in store for season two of the show. While I appreciate the inclusion of some special features for the show, the two featurettes basically serve as extended commercials for season two of the show. Unfortunately, it doesn't actually address what you may have just watched or are about to watch in volumes one and two. Instead, it actually gives spoilers that aren't even in episodes from these two volumes. They should have had a spoiler alert, but I guess you're warned if you're watching a special about season two of the show.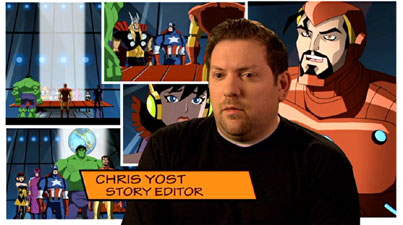 Case Study:
These two volumes are being releases as single one-disc volume sets. This is unlike the previous X-Men: TAS that was being released in two-disc sets. They are both official "Marvel DVD Super Hero Collection" releases and have a large banner at the top of each disc highlighting the name. Volume one features the four well-known superheroes – Thor, Captain America, Hulk, and Iron Man while volume two (which is named after Captain America) adds Hawkeye and Black Panther to the mix. While Wasp is included on the back cover of volume one, full-fledged Avenger Ant-Man is nowhere to be seen. The DVDs are housed in standard black Amaray cases.
Ink And Paint:
The video transfer looks great for these two releases. The series is being released here in its original widescreen aspect ratio (approximately 1.79:1). The animation for the show is really great and is a modern and clean take on the comics. It stays away from being too stylized as Super Hero Squad Show or even the latest Iron Man show.
Scratch Tracks:
The audio tracks for this release are being featured with an excellent Dolby Digital 5.1 track. The show features some great sound effects (explosions, fights, etc…) and some good rock music too. Only an English track is available, although both English and Spanish subtitles are offered.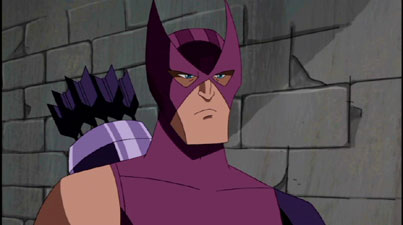 Final Cut:
The Avengers: Earth's Mightiest Heroes has been a great show to follow on Disney XD. The show is trying to be in the same serious vein as the popular Justice League series which ran on rival Cartoon Network. Unlike The Super Hero Squad Show, the show is aimed at an older and more sophisticated audience while still being accessible to older kids. I can imagine that with the release of Captain America and Thor, the popularity of the show will increase as it goes into its second season. It is a good show and it has done a great job at keeping the story moving while developing characters at the same time.
Animated Classic or Back To The Drawing Board?