Five years after he attended the high-speed North Carolina premiere of the original Cars in 2006, Josh Armstrong returns to the Animated Views fold to bring us coverage of a recent promotional event held to promote the upcoming release of that film's sequel, Cars 2. Gentlemen…start your engines – and click to enlarge these exclusive photos!
---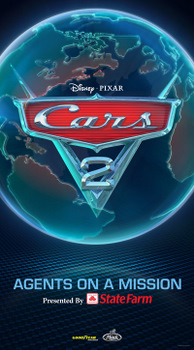 Among Disney's marketing tools, one of their favorites is the themed tour, particularly for films from Pixar Animation Studios. Whether letting folks cook with Ratatouille's Remy or fly a house – well, chair – with Up's Carl Fredricksen, the studio goes to great lengths in immersing potential audiences into the worlds of Pixar's characters. Of course, families interacting with Disney characters and settings is a tradition spanning back to the days of Walt Disney himself. But it is one thing for a theme park employee to dress up like an anthropomorphic mouse. More complicated is figuring out how kids can interact with characters that happen to be cars.
Enter the Cars 2: Agents On A Mission tour. Sponsored by State Farm Insurance, the tour features life-sized replicas of the film's characters Lightning McQueen and Tow Mater. Created for approximately $140,000 – $150,000 each, they are the largest production radio-controlled replica cars ever built. While the vehicles in the 2006 Cars: Road Trip promotional tour were gasoline-powered, each new vehicle is powered by four automotive-style batteries at 48 volts, able to run 30 minutes at its full 10 mph speed. Due to the replicas' unique scales, all the exterior pieces were crafted from scratch, as no "off-the-shelf" car parts would work. Goodyear even fabricated special tires to fit McQueen. During the sculpting process, each vehicle's body required 6 to 10 days, with a total of 1,000 – 1,600 man-hours. Once the vehicles were carved in foam via a 5-axis mill, fiberglass molds were created, from which the final bodies were produced (StateFarm.com).
On March 22, 2011, the cars arrived at the Mall of America in Bloomington, MN. This public appearance launched a road trip with stops scheduled in 30 North American cities. It was only fitting that one of those public appearances be in North Carolina on May 26 – exactly five years since Disney/Pixar's Cars premiered in Concord, NC.
From Thursday, May 26, to Saturday, May 28, McQueen and Mater appeared at the 17th annual Food Lion Speed Street festival in Charlotte, NC. This marked the third time replicas for the characters visited the Tar Heel State. After posing for pics at the film's 2006 premiere, the duo returned that year for the Food Lion Auto Fair at Lowe's Motor Speedway, September 14 – 17, in Concord. Unlike their appearances in 2006, when they were joined by Sally Carrera, McQueen and Mater were accompanied this time by British secret agent Finn McMissile.
Unfortunately, McQueen wasn't the only "lightning" at the event. Friday, May 27, began much like the Friday of the Cars premiere: cloudy with a promise of rain and excitement. Quickly, McQueen, Mater and McMissile were remote-controlled to their marked areas, displayed side-by-side. In anticipation of rain, they each wore a cover, to be removed only when instructed by Disney representatives. Although the event was scheduled for noon until 7 PM, the light rain and thunder was enough to delay the cars' unveiling by at least an hour.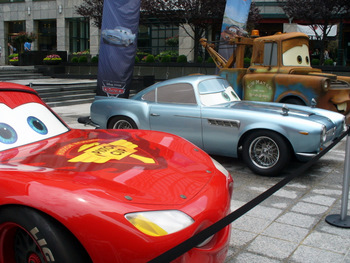 In the meantime, attendees lined up, each receiving his or her choice of a magnet or keychain featuring one of the three characters. Every person was also given a special "Agent I.D." game piece, to be used at Disney.com/Agents for a chance to win one of 18,000 prizes – including, appropriately, a car. In what gradually became an amusing sight gag, crowds of folks consistently gathered and then disappeared at the sight of a few rain droplets. However, the sun eventually began to shine. About 30 minutes afterward, the tour employees received the news that they and all of the visitors had been greatly anticipating: "Uncover the cars."
Excited chatter could be heard throughout the crowd, as people raced with their cameras toward the scene. Hurriedly, the employees uncovered the characters. McQueen and McMissile were then treated to a special waxing, while Mater – needing to look run-down without wax – was instead greeted by several photographers. Interestingly, Lightning was sporting a look different from his last appearance. On his hood, the Rust-eze logo was replaced by a Piston Cup as well as a tribute to Doc Hudson, voiced by the late Paul Newman in Cars.
One by one, attendees in line were able to stand beside each vehicle, as a tour representative took a photo. With the cars fully displayed, the crowd steadily increased. Children were especially eager to see their favorite Cars characters "in-person." The only smiles larger than those on the kids' faces were the ones sculpted onto McQueen, Mater, and McMissile.
Overall, the Cars 2: Agents On A Mission tour offered a memorable time for families. While their presentation was delayed due to a drizzle, the characters' time to shine – literally and figuratively – was worth the wait. Lightning McQueen, Tow Mater, and Finn McMissile all stood in fine form, ready to continue their journey until reaching San Francisco, CA, on June 25. If the Agents On A Mission tour's goal was to entertain kids of all ages while increasing anticipation for the Pixar sequel, then "mission" accomplished!
---
Click to enlarge the following photos of the Cars 2: Agents On A Mission tour, taken Friday, May 27, 2011:
---
---
For a behind-the-scenes glimpse of how Disney brought the Cars 2 replicas to life, check out Jim Hill's interview with Jay Ward.