Hanna-Barbera (1969-1970), Warner Home Video (October 19, 2010), 1 disc, 88 mins plus supplements, 1.33:1 original full frame ratio, Dolby Digital 1.0 Mono, Not Rated, Retail: $14.98
Storyboard:
Scooby and the Mystery Inc. gang take on an assortment of would-be ghosts and ghouls in four more episodes from the original incarnation of the long-running series of series.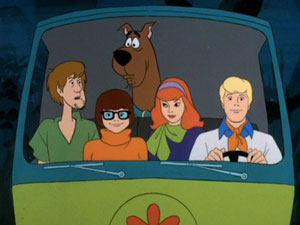 The Sweatbox Review:
This is the latest volume of Warner Home Video's latest attempt to sell you more episodes from the 1969 show that launched Hanna-Barbera's immense franchise. Long-time DVD collectors may scoff at these single-disc volumes, since anyone Scooby-obsessed likely already has the Complete Seasons One and Two set; but more casual fans or those on a budget may enjoy getting just a sampling of episodes at a fraction of the cost. This disc contains four episodes (numbers 13 through 16), running in order of broadcast continuing from the previous three volumes.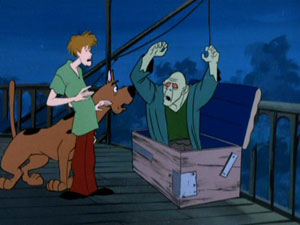 Which Witch Is Which – The witch gets top billing, but the zombie henchman is the more memorable image from this episode that takes place in a swamp. The gang takes "a shortcut" following an unsuccessful fishing trip, and ask said zombie for directions, resulting in a fright for all. Once they find a more human fellow to talk to, they find out about the witch who has set up residence nearby. With most of the denizens of the small town all scared off, Mystery Inc. must get to the bottom of the mystery of the witch and her zombie.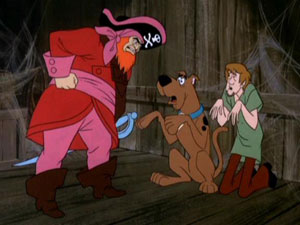 Go Away Ghost Ship – The head of a steamship line is victimized by a ghost ship captained by Redbeard The Pirate (Ghost), and Fred figures he could use the gang's help. Whether aboard a pirate ship or in a dark cave, Mystery Inc. has its work cut out for it in this pretty standard episode.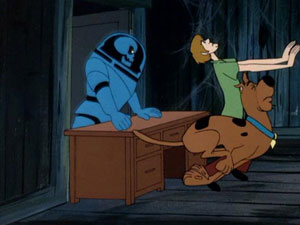 Spooky Space Kook – I always liked this kooky outer space ghost, certainly one of the more memorable ghosts to have ever come up against the Scooby gang. The skull-faced alien astronaut, with his glowing footprints and UFO, have been scaring the local townsfolk, and Freddy smells a mystery in need of the gang's talents. The abandoned airfield provides an interesting setting, too, making this a fairly unique episode in appearance if not in plot.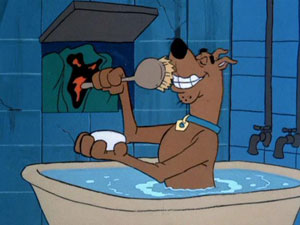 A Night of Fright Is No Delight uses that old horror cliché of someone being offered an inheritance if he can spend one night in a haunted house. Fred Flintstone did it too, as did numerous others in old black and white movies. Here, it's Scooby of course, with a chance at getting a fortune and the spooky old mansion that he must slumber in. Two green phantoms scare up a merry chase, affecting the Mystery Inc. gang, as well as several other potential prospects, all relatives of The Colonel. All that chasing leads to a cave beneath the mansion, where more shenanigans are afoot.
I love watching these old shows, where the formula was there, but it didn't yet seem overly formulaic. Just imagine you're seeing Scooby-Doo for the first time, and these episodes are downright entertaining. (But do try to forget that there is usually only one real suspect, and try to act surprised at the end of each story.) We may all be familiar with these characters now, but back in 1969, kids were just getting to know of Shaggy's appetite and Scooby's cowardice, and those nutty chases were more exciting than cliché. These were good for kids then, and good for kids now, too.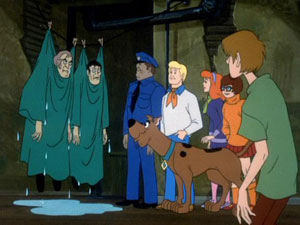 Is This Thing Loaded?
There are no extras pertaining to the series in question, but Warner does provide us the sixth episode of Scooby And Shaggy Get A Clue, entitled Lightning Strikes Twice. It's actually somewhat decent, and certainly puts a new spin on the Scoob, as he and Shaggy head to outer space in search of the answer to a series of mysterious thunderstorms plaguing the Earth. Video is 4:3, with audio in 2.0 Dolby Surround.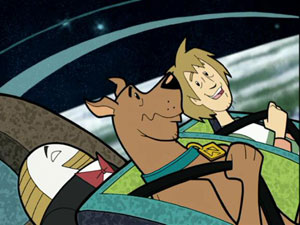 Trailers that start the disc include those for Scooby-Doo!: The Mystery Begins and Scooby-Doo: Abracadabra-Doo. From the special features menu we get more for You're A Good Man, Charlie Brown and Scooby-Doo And The Samurai Sword, plus Hot Wheels: Battle Force 5 toys.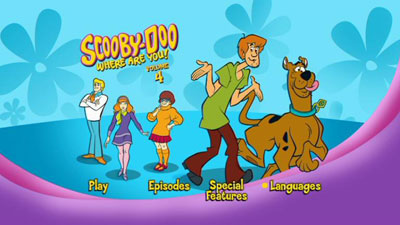 Case Study:
Eco keepcase.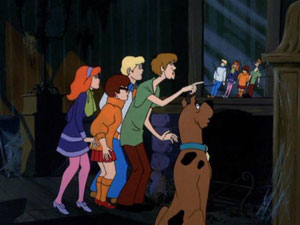 Ink And Paint:
These are likely the same transfers we've seen before, providing the best video quality ever seen for these episodes. They're not really perfect, though, being a bit soft at times, and of course the normal defects of cheap TV animation are present, with some dust present. The episodes are nicely devoid of scratches, though, and overall these look better than one might expect. In some places, you can make out the brush marks in the special effects or backgrounds.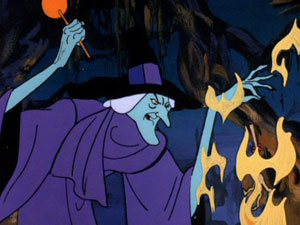 Scratch Tracks:
The mono sound is clear, without distortion, but certainly in a limited range. French and Spanish tracks are also available. There are English and French subtitles.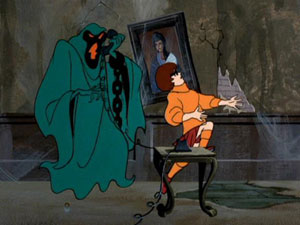 Final Cut:
Discs like these are meant more as impulse buys than as planned additions to prestigious collections. There's nothing wrong with that, though, as bigger fans can still find the complete season sets. Some may find the addition of a Scooby And Shaggy Get A Clue episode enticing, while others may simply want a few classic episodes to show the kids. Whatever the purchase reason, there's nothing offensive about this disc, so long as you understand its purpose.
Animated Classic or Back To The Drawing Board?