Warner Bros. (2002-2004), Warner Home Video (November 9 2010), 2 discs, 86 and 93 mins plus supplements, 1080p high definition 1.85:1 widescreen, Dolby Digital 5.1 and DTS-MA 5.1, Rated PG, Retail: $24.98
Storyboard:
Scooby, Shaggy, Daphne, Thelma and Fred bounce into three dimensions by way of perfect live-action casting and a dose of doggone CGI trickery, for an initial adventure that has fun with the series' past, and a second film that successfully gets away with repeating the formula.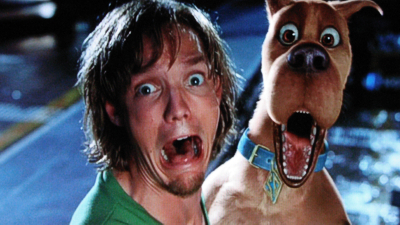 The Sweatbox Review:
The Flintstones have a lot to answer for! Back in 1994, just as the computer graphics of Jurassic Park made everything doable onscreen, the long-gestating "live-action" adaptation of Hanna-Barbera's groundbreaking cartoon sitcom (the first and most substantial animated show in primetime back in the 60s) finally hit our screens. The casting had been much discussed, with fan favorite John Goodman as Fred ensuring that, whatever we thought about the other names playing the characters, at least the show's lead was the natural choice. As with Jurassic, anything that wasn't human was a mix of ILM's still-then unbelievable CG magic and super-detailed puppetry from Jim Henson's Creature Shop.
Unfortunately, despite all the frenzied hype and technical expertise, the eventual movie turned out to be something of a damp squib, only realized by most audiences after they'd already laid out their hard earned cash to watch it, and an inevitable – but actually more cohesive – sequel, Viva Rock Vegas, almost disappeared without trace. But The Flintstones did make a rock pile of moolah, and the studios did what they always do: they gave us more of the same, again and again, leading to a new sub-genre of "live-action" films featuring CG adaptations of brand-recognisable cartoon animals. Garfield, Alvin and the Chipmunks and, just this summer, Marmaduke were all given starring vehicles, with The Smurfs and Yogi Bear's inevitably misguided new takes already on the way.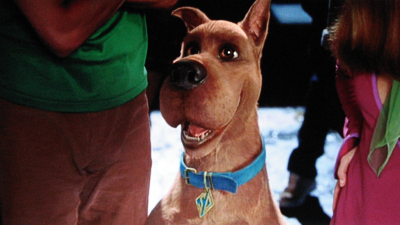 In amongst the early burst of these films, Warner Bros. had hit pay dirt with Cats & Dogs, and even though the film had featured any established characters, it was clear to the Studio that these kinds of films were the new de facto standard for the modern family film template. A live-action Scooby-Doo, based on the popular and very long running cartoon mystery show, was announced and turned out to be quite a smart choice of property to adapt. With a largely human cast, the film could rest on an ensemble, while taking some heat off of the computer rendered Scoob, and much fuss was made of the CGI Great Dane when images first appeared, not least because he was the first really major character to go through the transition from traditional, hand-drawn 2D to 3D computer graphics.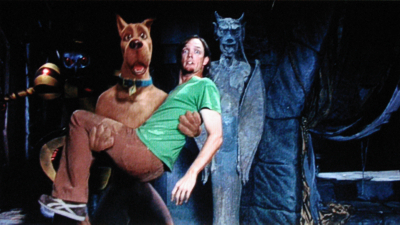 Heading up the production would be director Raja Gosnell, here helming his first truly major visual effects picture after a couple of comedies and before heading on to other live/CG films Beverly Hills Chihuahua and the upcoming Smurfs. Much has been made in recent times about several aspects of Scooby-Doo's Mystery Inc. group, not least the potential of leader Fred and boffin Velma's sexuality, or the questionable attributes to stoner Shaggy's "Scooby Snacks"…all undoubtedly innocent ingredients in the original shows but given a modern day, post-revisionist re-evaluation that typically leans humorously on the more risqué characteristics.
Gosnell apparently wanted his Scooby-Doo to be a movie for the kids who had grown up with the show and were "ready" to discover the "truth" about those kinds of rumors, but Warners, with their eye on a family franchise, made sure that any such moments of potential sacrilege were left on the cutting room floor (during production, Gosnell insisted an "adult" cut of the film would be more in keeping with his vision). It's certainly not clear whether his cast were in on the joke or not: to their credit Freddie Prinze Jr, Sarah Michelle Gellar, Matthew Lillard and Linda Cardellini all play the characters straight and without, or so it seems, a hint of irony. Lillard especially is great as Shaggy, almost as good as a CG version of the character would have been, and it's somewhat apt that he is now stepping into the legendary Casey Kasem's shoes to provide the voice in current animated shows.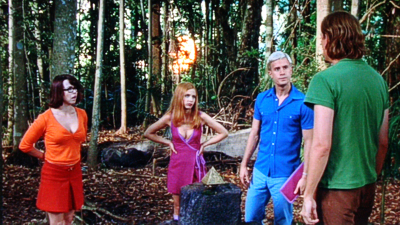 Scooby himself makes the translation as well, though there's a slightly unhappy cross-breeding going on between making the CG character look like his animated incarnation and a real dog. It works well enough for the confines of these two adventures, even if Scooby looks a little younger than he does in the classic cartoons, for some reason I can't quite put my finger on. But in all other respects this is Scooby-Doo as we remember it, with all the regular (and intentionally formulaic plot points) mixed in for good measure, from the initial introduction of the only person that the bad guy could possibly be (until they're unmasked as someone else completely) and the moments when Shaggy and Scoob head into the dark to do their own investigating, to the final dénouement, when the real bad guy is revealed and would have probably "gotten away with it if it wasn't for these meddling kids!"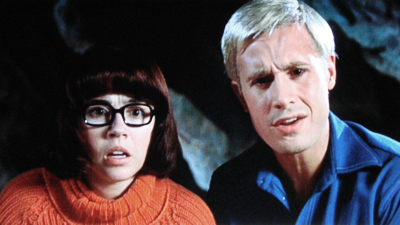 In the first film, things pick up just as if this were just another episode of the regular TV series (in fact, an accusation many critics made toward the film was that it was little more than just that, stretched to feature-length), though I was pleased that Scooby-Doo didn't take the more obvious route, as is the case with so many new takes on older characters, in attempting to churn out a poorly conceived, retro-fit origin tale. As such, we're straight in on the action, as Mystery Inc. solve yet another faked crime, but this time with another consequence: Velma, already feeling like the undervalued member of the group, snaps at Fred's taking credit for the resolution of the case, leading to the team's break-up, only for them to all be individually invited to the haunted amusement park Spooky Island…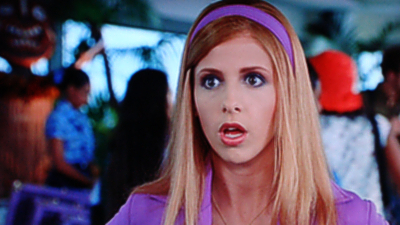 It turns out that visitors to the park are placed under a demon spell as revenge for the owner, played by British comic Rowan Atkinson, building a theme park on the sacred isle. It's not long before Mystery Inc. is back in business, trying to uncover whether this is all real or if it's a scam…and who could be behind it: a very funny final joke, when revealed, that pays tribute to the classic series as well as lambasting one of its most derided characters. Although the film almost splits itself between wanting to stay true to the originals while appealing to today's audiences (the heaviest instances of which are various R'n'B takes on the classic theme tune, which I ultimately didn't mind), it is all very much in the Scooby-Doo mould, and despite a critical panning back on release, remains a jovial and at times rather exciting family picture that entertains on a broad scale.
Two years later, the gang were all back in place to do it all over again for Scooby-Doo 2: Monsters Unleashed (in fact, the poster's contractual credits essentially read like a cut and paste of the first film's primary crew). As a result, consistency is the name of the game, though one gets the feeling that, as with Tim Burton's Batman Returns, Gosnell was given more freedom to turn in his kind of Scooby-Doo movie, and the final product is noticeably and predictably bigger in concept and execution, right from the city-swooshing opening titles. Actually, Burton is a good name to bring up here too, because the returning composer David Newman's score is very much in the Danny Elfman vein, and there's definitely a leaning towards a Burton-esque aesthetic in the production design.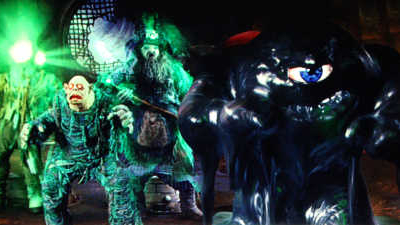 This takes in several of the gang's old foes from the original cartoons, who find themselves reanimated to join a mysterious opponent out to discredit Mystery Inc. and put them out of business for good. As before, the story is actually a lot more plotted than it would usually need to be for a breezy family film, but this is what holds the interest throughout. It wouldn't be right to offer the film up as an example of a sequel that bests the original in the way Godfather II, The Empire Strikes Back or Toy Story 2 did, but it has to be said that everything about Monsters Unleashed is more assured, from the performances from the actors now more comfortable in their character roles, to the integration of the CG Scooby, which is genuinely ingenious at times.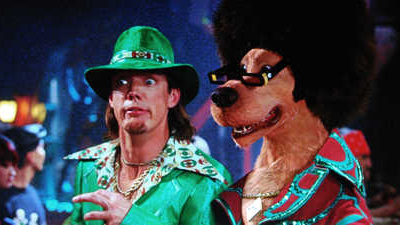 Okay…so you can knock me for appreciating these films for what they are if you like, but I genuinely had a fun time with both Scooby-Doo and Scooby-Doo 2: Monsters Unleashed in the theater and now on this great value double feature disc. Of course, we can be cynical and say that such things are made only for franchise reasons, but don't forget that the original series has been through multiple incarnations itself, and not all of them as successful in terms of what these films get right. I do think there's a place for the return of some characters to be introduced to new audiences, but the trick is in which characters to pick.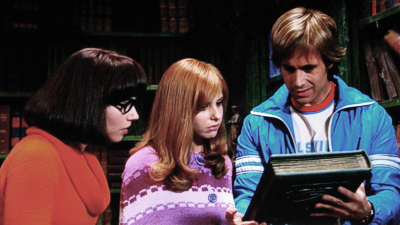 A third film was mooted, but eventually the Studio decided on a recent pair of direct to video "prequel" movies, which I haven't seen although I do think they've got the CG Scooby looking more like the Scoob of old there. These translations don't always work (and we're in for some truly dire and profane interpretations of other characters over the next couple of years!), but Scooby and the Mystery Inc. gang did at least get a decent treatment for these two theatrical outings. It might have been fun to see Gosnell's more edgy approach, but ultimately Scooby is successful as it is for a reason, and to tinker with that might have derailed things too far. As examples of the live/CG hybrid movie, these Scooby-Dooby-Doo just fine!
Is This Thing Loaded?
Although Scooby-Doo has been previously released on Blu-ray in the US, I believe this marks a first for the film's sequel, Monsters Unleashed on the format. As such, fans will be pleased to know that the first of the two discs included here basically is a replica of that original release, with all the bonus features from the initial DVD and BD intact, while the second disc has also been given a fair share of Scooby Snacks of its own, all again seemingly from the previous DVD edition.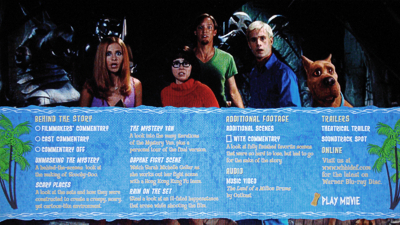 First port of call on Disc One's Scooby-Doo is a feature-length Filmmakers' Audio Commentary with director Gosnell and the producers, who start the conversation by remarking they had the idea of doing a live-action Scooby-Doo in 1994…gee, right after The Flintstones was a hit, I guess!? The track is a little fragmented because the producers have been recorded separately from Gosnell, and each party seems to be interested in speaking about different aspects, often coming from their own directions. But it's a worthwhile track, with a good amount of information coming through despite some stretches of silences from the participants, and interestingly they touch on how the initial plan was to use a real dog with a CG mouth, and the tease of an animated show opening, which was ultimately discarded.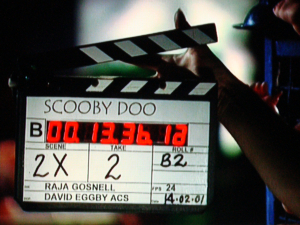 As if that weren't enough, a second feature-length Cast Commentary with the four primary Mystery Inc. members is a lot of fun, if ultimately throwaway. This is a much more knockabout discussion with four people who obviously got on like old friends on the set enjoying a viewing of the finished film, remembering various production anecdotes. There are some silences again, and a little repeating of some information, but it's overall just amusing to sit and watch the movie with its cast members, who are obviously still having fun. There are more comments in the standard definition Unmasking The Mystery behind the scenes featurette, which is your typical EPK collection of talking head soundbites and on-set filming footage, but at 22 minutes it's more interesting than usual, and packs a lot in.
A grouping of four more production featurettes (all SD 4:3) take a look at specific aspects of the film's making, from the Scary Places (4:22) approach to the set design's live-action but cartoon appearance, and The Mystery Van's (1:01) various incarnations and final film version, to Gellar's choreography for a Daphne Fight Scene (2:26), and Rain On The Set (1:17), a quick peek at the ridiculously wet conditions the crew had to withstand during the shoot. A series of seven Deleted Scenes feature the aforementioned animated opening, which sounded great but turns out to be more than a little disappointing in actuality. I can see why it was cut, since it sets the characters up in a different way and invites unfair comparison to the original series.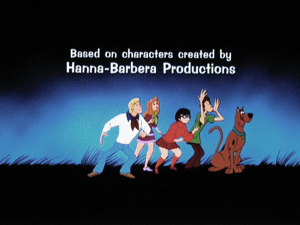 Not only that, but the modern version of the Scooby-Doo theme, which works fine in the movie as an end credit play-out, just doesn't make for a good or authentic fit with the old-school animation, created by Kurtz And Friends. Some other moments are clear as to why they were also lost along the way, but more fun are a couple of hints at the more "adult" tone that the film was originally going to be headed, even if some of the rumored stoner gags that were filmed are still a no-show. With optional commentary by director Gosnell, these scenes add up to a spooky thirteen and a half minutes, again in SD only. Rounding things up is a Land Of A Million Drums music video, by Outkast and featuring Lillard in character, and most welcome and unexpected is the film's original theatrical trailer (in 16:9), accompanied by a 15-second TV spot for the soundtrack album.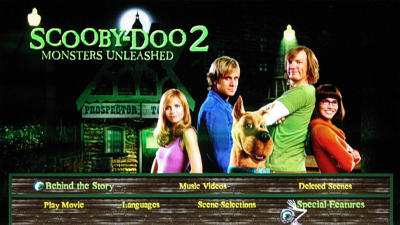 On Disc Two's Scooby-Doo 2: Monsters Unleashed, things are a little sparser, but that's understandable given that about as much can be said about a live-action Scooby movie has been covered on the first disc and the space is better saved for the disc's DTS soundtrack. Behind The Story's three featurettes offers up the Scooby-Doo Triple Threat clip (10:20), a "dog's-eye view" at the moviemaking process, covering the set design, stunts and the digital effects, explaining how Scooby and Shaggy were able to interact more this time around. True Ghoul Hollywood Stories (5:45) is a bunch of rather unimpressive fluff that seeks to "profile" some of the monsters' backstories, though I'd have preferred a serious look at these characters from their original cartoon appearances and how they've been reversion for the movie.
Better is The Dancing Dog (5:30), which elaborates on how Scoob was inserted into the disco sequence, though it's otherwise just a montage of shots. A pair of music videos feature Thank You (Falletin Me Be Mice Elf Again) by Big Brovaz (3:35), a typical R'n'B track and video (featuring movie clips and more dancing Scooby) that's not as fun as the disco sequence in the actual movie, and Simple Plan's Don't Wanna Think About You (3:50), which as a parody of Jack Bauer's 24 action design, is fun, even if I don't really get the connection and wonder why they went with SP as the logo when surely it should have been SD in keeping with the movie the song is ostensibly promoting?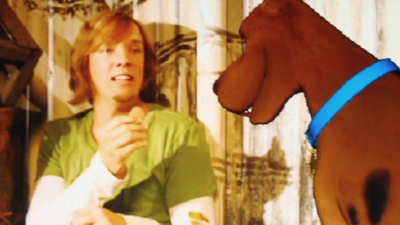 Lastly, another bunch of seven Deleted Scenes (7:15) makes up for the lack of interesting production material, with a welcome optional commentary from Gosnell that comes closest to providing anything astute. One or two lines aside, there's no reason to keep any of these but they're nice to see, although again it's rumored that there was more that ht the cutting room floor, including an entire sub-plot that had Fred and Daphne getting engaged. As before, all the extras here are presented in standard definition only, though image quality on the whole is more than acceptable. Also, I should make a quick note that, at the end of the second film, the now pretty dated GameBoy Advance secret code sequence has been left intact: not an Easter Egg extra per se, or worthwhile, but nice for those that remember it being there.
Case Study:
Warner has been doing a good job of bringing these double feature discs to the market, providing a cheap way for those wishing to upgrade from DVD to Blu-ray without busting the bank, though like the Studio's Archive Collection, they're pretty basically designed to a template. A minor bugbear of mine is inferring that a first film in a series had the number one in the title, such as has been adopted here in the disc's front cover title: "Scooby-Doo 1 & 2 Collection". A previous DVD double feature presentation got it right, and with better cover art that replicated the theatrical posters in Warners' regular half-and-half covers, as Scooby-Doo / Scooby-Doo 2: Monsters Unleashed, which at least the spine correctly goes for here. But the rest of the sleeve is rather boring: just Warners' basic metallic background with the standard double feature layout, the Family Double Feature banner along the top and bonus/credit listings for both films on the reverse. Perfunctory, but not much more unique to the films than the standard template approach, while the equally metallic-print disc art just features each title on their label sides, but it does the job for those that probably already have these on DVD.
Ink And Paint: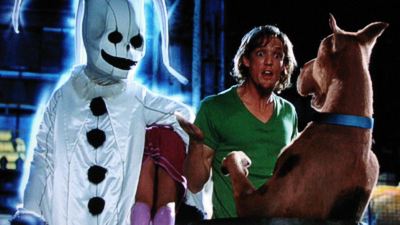 So far, it's been a bit of a coin toss as to whether you'll be lucky and really appreciate the detail that Blu-ray can bring to catalog titles or be stuck with a murky transfer that adds little to the original DVDs, which makes it pleasing to say that Scooby-Doo on Blu-ray Disc is certainly in the former category. Very likely to be the same transfer from its previous BD release, it's a film-based image to be sure, but some very minor speckles on some optical shots and a little gate weave apart, it's otherwise sharp and doesn't suffer from the usual problems that can plague prints. Monsters Unleashed in is BD debut is even better, being what looks to be a digital transfer, with no print marks, solid stability and bright colors that pop without being over vibrant (please note that the frame stills in this review are not indicative of the discs' picture quality).
Scratch Tracks:
Scooby-Doo comes loaded with its original Dolby Digital 5.1 track from the DVD and original BD release, and as such there isn't really anything to complain about or overly praise. It's a fun mix to start with, and though an uncompressed DTS track would probably notch up the separation a little more, this is as good as Dolby gets, and it all sounds as high-energy as it should.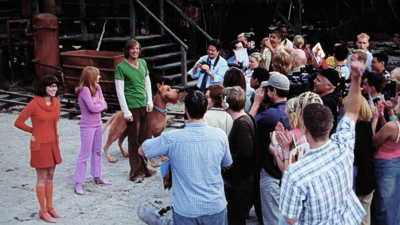 Monsters Unleashed, despite the slightly less energetic approach to a sequel, has been treated to an uncompressed DTS-HD Master Audio mix, which suitably adds a little more punch to the soundtrack, though not quite as much as I would have imagined given the amount of physical activity and mayhem going on at any given time. Both tracks pleasantly surprised me, though, in their more quiet moments, when David Newman's score was able to come through a little more. English, French and Spanish dubs and subs are optional, but there's no Spanish dub on Scooby 2.
Final Cut:
For Scooby fans and those with these films on DVD looking to upgrade to the HD versions, you can't really go wrong with these two movies and their debut in a price-conscious double feature pack. Although the sleeve is no frills, both movies are treated to their own platters for a two disc set that also carries over plenty amounts of supplements, meaning that the very reason for another purchase – better sound and audio plus the maintaining the original extras – has been met. With great performances true to the originals, the Scooby movies make for fun viewing for older fans of the series and those new ones for which this may be their introduction to one of Hanna-Barbera's longest lasting series. As such, they're among the most creatively successful of the litter of live/CG hybrid pictures of recent times, making them well worth a light-hearted look.
Animated Classic or Back To The Drawing Board?