Animation Legend Bill Plympton is set to spread his wings over at the Chuck Jones Gallery in San Diego, where a reception and exhibition will be held to celebrate his latest animated feature, Idiots And Angels, on Friday, July 23, from 7pm. Full details can be read here:
Animation Legend Bill Plympton to Spread His Wings
Chuck Jones Gallery Hosts Reception & Exhibition
Friday, July, 23rd
San Diego, CA—The Chuck Jones Gallery at 232 Fifth Avenue, in the heart of San Diego's Gaslamp District, will be the scene of a 'heavenly' exhibition as they welcome two-time Academy Award-nominee Bill Plympton in a special appearance by the artist Friday, July 23rd from 7 to 10pm. Long considered one of animation's premier auteurs and artists, Plympton will be the focus of his first gallery exhibition in San Diego. Idiots and Angels is Plympton's most recent feature length hand-drawn animated film that will be premiering this fall in select theaters nationwide. Original drawings by Plympton from the film Idiots and Angels along with his original work for such popular short films of his as Guard Dog (Oscar nominated,) Horn Dog and Guide Dog will be the focus of the exhibition and sale.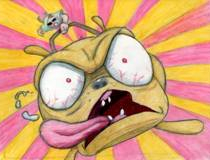 Known for his irreverence and intellect, the emotional core of Plympton's films often focus on the state of humankind and the responses to the forces of our nature that not only impede but also propel our future stories. His hand-drawn films are complex, oblique, off-center dark comedies. When queried several years ago what his next feature would be, Plympton replied off-handedly that, "it would be about an angel who didn't want his wings, and as we discussed the idea, I really got to like the concept. That night, in my hotel room, I started to explore the dramatic possibilities of a reluctant angel."
Born in Portland, Oregon and educated at the School of Visual Arts in New York City, Plympton has called New York his home since 1968. Early in his career he designed magazines such as Cineaste and Film Society Review while contributing illustrations to the New York Times, Vanity Fair, The Village Voice, Screw and House Beautiful. His cartoons appeared in such magazines as Rolling Stone, National Lampoon, and Glamour. In 1975, in The SoHo Weekly News, he began Plympton, a political cartoon strip. By 1981, it was syndicated in over twenty papers by Universal Press.
In 1987 he was nominated for an Oscar for his animated short Your Face. In 2005, Bill received another Oscar nomination, this time for a short film Guard Dog. Push Comes to Shove another short film, won the prestigious Cannes 1991 Palme d'Or.
After producing many shorts that appeared on MTV and Spike and Mike's, he turned his talent to feature films. Since 1991 he's made nine feature films, six of them, The Tune, Mondo Plympton, I Married A Strange Person, Mutant Aliens, Hair High and Idiots and Angels are animated features that he has hand-drawn himself (they require over 70,000 drawings!)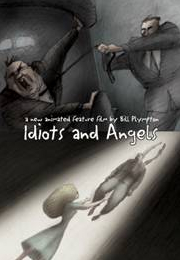 About the gallery: The Chuck Jones Gallery, located in the heart of San Diego's historic Gaslamp District at 232 Fifth Ave., is the destination for art collectors and visitors from around the world. Owned by Linda Jones Enterprises, the publisher and distributor of the art of the legendary animation creator and director, Chuck Jones, it is the only gallery in San Diego devoted to the art of the animated film. Included in the on-going display is art from all major animation studios as well as original paintings and limited edition fine art from a variety of internationally known artists and photographers whose work is entertainment related. For more information please call the gallery at 888-294-9880 or online at ChuckJonesGallery.com. Blog: Chuck Redux.