University Press Of Mississippi, known for its extensive line of comics-related books, has just announced a new book featuring the writings of Peanuts creator Charles M. Schulz, entitled My Life With Charlie Brown. The publishers feel that this book constitutes something akin to an autobiography, given how some of the pieces do trace Schulz's life and certainly share his thoughts on his beginnings as well as the genesis of his characters, plus other commentary on subjects ranging from comics to Christianity. Included are book introductions, newspaper articles, and more.
---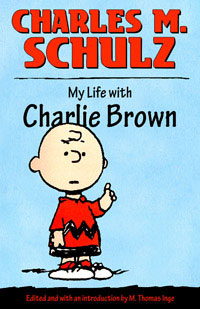 My Life With Charlie Brown
By Charles M. Schulz
Introduction by M. Thomas Inge
University Press of Mississippi
ISBN 978-1-60473-448-5, hardback, $25
Charles M. Schulz, Peanuts creator, was also masterful essayist.
While best known as the creator of Peanuts, Charles M. Schulz (1922-2000) was also a thoughtful and precise prose writer who was able to explain his craft in clear and engaging ways. My Life With Charlie Brown (University Press Of Mississippi) brings together his major prose writings—many published here for the first time.
Schulz, one of the most widely known and beloved figures in comics history, authored autobiographical articles, book introductions, magazine pieces, lectures, and commentary throughout his career. These pieces shed new light on the themes of modern life, philosophy, and religion that are interwoven into his adored, groundbreaking comic strip.
Edited and with an introduction by comics scholar M. Thomas Inge, this volume will serve as the touchstone for Schulz's thoughts and convictions and as a wide-ranging, unique autobiography in the absence of a traditional, extended memoir.
With the official approval and cooperation of the Schulz family, Inge draws on the cartoonist's estate, archives, papers, and correspondence to collect the comprehensive nonfiction output of the cartoonist. The project includes newspaper articles about the creation of his characters, comics criticism, introductions to bound Peanuts volumes, essays about his philanthropy, his commentary on Christianity, and other pieces.
Taken together, with Inge's contextual annotations, My Life With Charlie Brown will reveal new dimensions of the legendary comics creator.
Charles M. Schulz created the popular comic strip Peanuts, which appeared in over 2,600 newspapers and in over seventy-five countries. M. Thomas Inge, Ashland, Virginia, is Robert Emory Blackwell Professor of the Humanities at Randolph-Macon College. He has edited or authored over sixty volumes, including books on Schulz, the comics, William Faulkner, and Oliver W. Harrington. Inge is the general editor of two UPM series, Conversations With Comics Artists and Great Comics Artists.
Read more about My Life With Charlie Brown at the University Press Of Mississippi website.