Studio Ghibli (1988), Walt Disney Home Entertainment (March 2, 2010), 2 discs, 86 mins plus supplements, 1.85:1 anamorphic widescreen, Dolby Digital 2.0, Rated G, Retail: $29.99
Storyboard:
Two young sisters meet helpful spirits of nature that help them cope while they wait for their mother to come home from the hospital.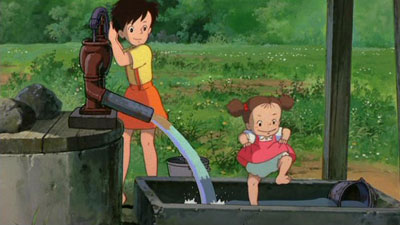 The Sweatbox Review:
Following his rather adventurous features Nausicaa and Castle In The Sky, Hayao Miyazaki set out to create a film set in Japan which could be enjoyed by all ages. He wrote My Neighbor Totoro himself, intending it to be a gently told yet harshly true-to-life tale that juxtaposed our everyday reality with magical creatures. The mix of themes provides the film its uniqueness, and has had some critics hailing it a classic.
Oddly enough, it was originally double-billed in Japan with the Ghibli film Grave Of The Fireflies, a devastating World War II film. This may seem like an odd couple, and indeed it was; but there was a reason for it. Simply put, My Neighbor Totoro was seen as a financial risk. The idea was to get the publisher of the well known Grave of The Fireflies story to produce a film version which Ghibli would animate; and then pair the two films together to enhance the potential viewership. Predictably, the double bill was not entirely successful, as the two films had wildly different tones and targeted different types of audiences. Still, each film is now seen as a classic, and Totoro has in particular endured as a merchandizing success in Japan.
Two sisters, eleven year-old Satsuki and four-year old Mei (played by real-life sisters Dakota and Elle Fanning), move to the country with their father, while their mother (Philippines performer Lea Salonga) recuperates from an illness in a nearby hospital. They are quick to explore their new surroundings, including their new character home and the surrounding yard, while admiring the rice fields just across the road. Early in their explorations, they encounter little fuzzy black creatures in the house, which they learn are "soot sprites," and thus they are introduced to the magic present around them. The soot sprites are the least of the wonders they encounter, however.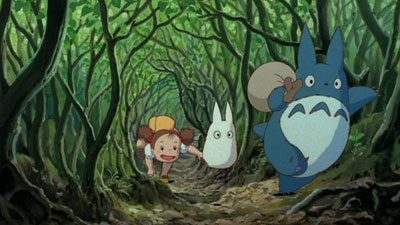 Their father (Tim Daly) works at a Tokyo university, and as he commutes there daily by bus and rail, this leaves the girls plenty of time for looking around their new place. One day, Mei spots a pale, translucent creature; and then a larger blue one joins that one. Mei gives chase to them, and her chase eventually leads into a tunnel formed within the foliage. She finally emerges into a large cavern where sleeps an immense creature similar to the smaller ones she followed, that we come to know as a Totoro. Mei befriends the creature, and later falls asleep, only to be discovered later by her sister and father. Mei relates her story of the Totoro, and surprisingly her father believes her, explaining that she has met a spirit of the forest.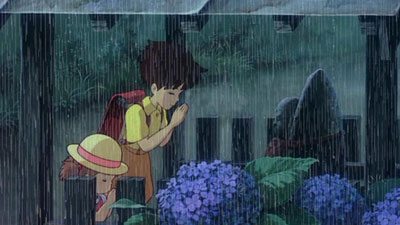 Vignettes of Tatsuki and Mei at the school, and talking with their neighbor "Granny" follow, leading to a more magical sequence where the two sisters try to bring their father an umbrella. While waiting at a bus stop, they end up meeting the huge Totoro once again, and encounter a "cat bus." Their relationship with the forest spirits pays dividends when they wish to have some acorns sprout, and more importantly later on when Mei goes missing while trying to walk all the way to the hospital to find her mother. Mei's disappearance follows the receipt of a disturbing telegram, which gives the story some sudden emotional weight. The drama of the search, and the question of the mother's health, provides all the conflict the story needs. There are no villains here, no bullies to be defeated. There are only the everyday fears of loss and mortality to be conquered. In the end, the girls maybe didn't really need the help of the forest spirits, but they did have their burdens eased. With the recent experiences behind them, they are more ready to face future challenges on their own.
Miyazaki excels at keeping his stories planted in a true sense of reality while adding in fantasy elements. The incredible occurrences in My Neighbor Totoro are presented matter-of-factly, as characters who feel very "real" are allowed to experience fantastic occurrences with little fanfare, grounding the film while at the same time making the audience accept what they once thought to be impossible. It's a neat trick.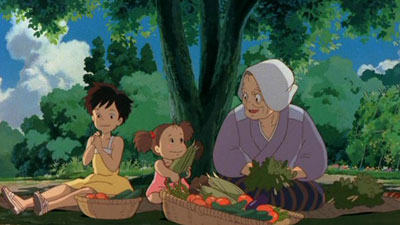 This simple movie generally keeps a quiet tone, and its plotting may be described as leisurely, but I found the time spent with this film passed surprisingly quickly. What allows this to happen, of course, is the appeal of the characters. When you spend time with people you like, time never seems to drag. In the end, this feels like a minor film by a great filmmaker; but as its fans will attest, it has an unassuming magic that gives it appeal that goes beyond trying to impress anyone with quick edits or stunning visual effects. In truth, the animation is not all that impressive, and the muted colors do not seem to be trying too hard to overwhelm anyone with their splendor. The real special effect here is storytelling, performed by a master.
Is This Thing Loaded?
For bonus material, Disc One only has Previews, including those for Beauty And The Beast: Diamond Edition, Toy Story 3, and the current wave of Studio Ghibli DVDs. Further Sneak Peeks available from the menu include those for the Toy Story Blu-rays, The Princess And The Frog, Tinker Bell And The Great Fairy Rescue, Ponyo, Disney's Friends For Change: Project Green, an anti-bootlegging spot called Genuine Treasure, Disney Movie Rewards, and Disney Blu-ray. Unlike the other Ghibli DVDs in this wave, there is no introduction by John Lasseter (there was none on the 2006 release, either).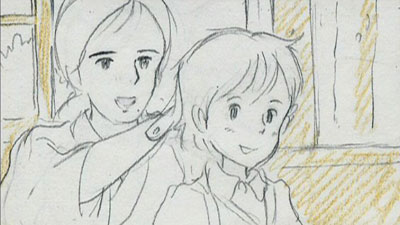 On Disc 2, just as on the 2006 DVD release, one can view the Complete Storyboards for the film, while listening to it in either Japanese or English, with subtitles available in English or French, as well as English captions.
For new stuff, we have to check out "The World Of Ghibli", which expands into a nice assortment of extras. "The World Of Ghibli" is divided into two sections. Behind The Studio has materials that are in Japanese, with English or French subtitles, beginning with three short featurettes using interviews with director Hayao Miyazaki and producer Toshio Suzuki. In Creating My Neighbor Totoro (2:58), Miyazaki discusses how My Neighbor Totoro began as an idea for a storybook, and fifteen years later became an animated film. Creating The Characters (4:25) has Suzuki and mainly Miyazaki explaining how the characters were conceived and presented, and what Miyazaki's influences were. In The Totoro Experience (2:00), the two men describe how the film's initial unsuccessful theatrical run was not unexpected, but how its later popularity came as a surprise.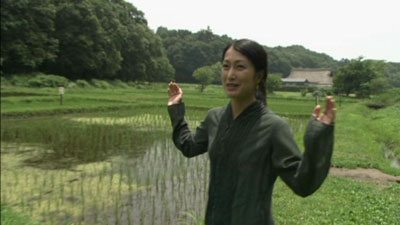 Producer's Perspective: Creating Ghibli (1:24) may be brief, but it does contain some essential information, as Suzuki explains the origin of the Ghibli name, and how it is pronounced. The Locations Of Totoro (28:34) is a generous excerpt from the Japanese documentary The Scenery Of Ghibli. This excellent travelogue visits Sayama Hills and the Tokyo suburbs, exploring the land, creatures, and people of the area, and nicely compares everything to what is so accurately captured in the film. Scoring Miyazaki (7:19) is repeated on the other Ghibli DVDs in this wave, but it is still a nice interview with Miyazaki's composer Joe Hisaishi.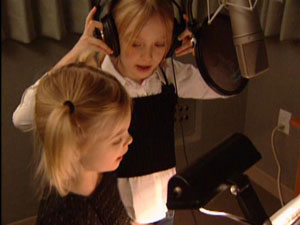 This section ends with two more holdovers from the 2006 release. There is the Original Japanese Trailer (1:49), as well as Behind The Microphone (5:39), which has some enjoyable comments by the Fanning sisters, Lea Salonga, Tim Daly, and Pat Carroll.
From another bonus menu entitled Other Ghibli Worlds Preview, Disney tries to promote its simultaneous Ghibli releases by including some of their own special features: Creating Ponyo (3:57), Creating Kiki's Delivery Service (2:26), and Castle In The Sky: Character Sketches (2:47).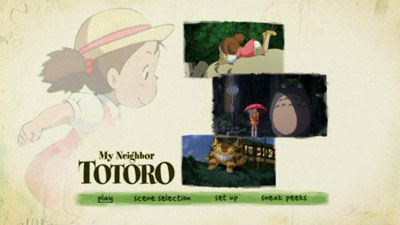 The final section in the "World Of Ghibli" bonus features is called Enter The Lands, which provides an interactive map with narration as the viewer is allowed to go through the lands and learn about the stories, characters and objects from Ponyo, My Neighbor Totoro (with a character quiz), Castle In The Sky), and Kiki's Delivery Service. There are further icons on the main map that go with other Ghibli movies, but these are not yet selectable, assumedly until the next wave of Ghibli DVDs hit.
Note that this release does not have the opening and closing animation without credits, which the previous Disney DVD did include.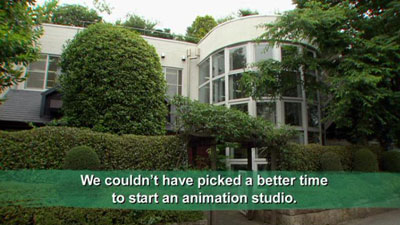 Case Study:
The standard keepcase (with tray) comes with an embossed slipcover. Inside are a "collectible litho," and an ad for Disney Blu-ray. Of special note for collectors is that this DVD does have a Disney Movie Rewards code, despite not being indicated on the packaging.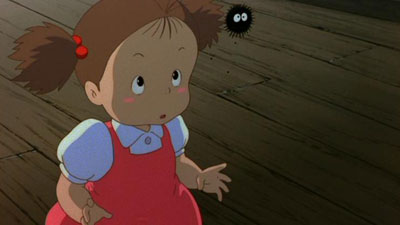 Ink And Paint:
Those accustomed to watching American animation may be under-whelmed by the visual experience of My Neighbor Totoro. Colors are kept relatively muted, and the animation itself is more inventive than smooth. Of course, the Ghibli artists later would prove themselves to be quite adept at lighting up a screen with colors when they wanted to (see Spirited Away), but here the emphasis is on maintaining a realistic setting, in order to have the viewer more willing to accept the unbelievable, as well as to relate better to the two girls. The emotional nature of the film might have been undercut by brighter colors, and so the choice of the director must be respected. Having said that, the DVD transfer is quite good, with no significant artifacting issues. There is just enough grain to make it look like a film.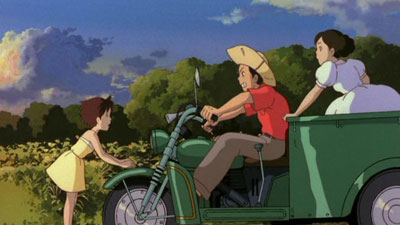 Scratch Tracks:
The English, French and Japanese tracks are all only in 2.0 Stereo. It suits the film, though, as I don't think a really splashy sound mix would have been quite necessary. As it is, the presentation feels quite natural, and there is good attention to ambient sounds, especially when the kids are playing outside. Voices are clear, and the music is lovely. There are also English and French subtitles, and English captions.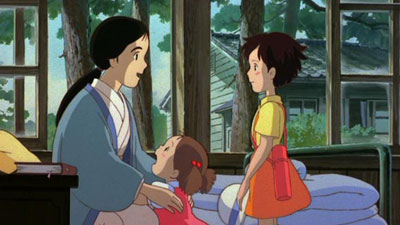 Final Cut:
It was a big deal when Disney first released this film on DVD in 2006. A previous DVD from 20th Century Fox was pan-and-scanned, with a different dub. Just having the film in a well-produced dub, in widescreen, was enough for fans to cheer. Now, with additional and worthwhile extras, this new edition makes for a tempting upgrade. The featurettes with Miyazaki and Suzuki only add up to about a quarter-hour, but the travelogue is a great bonus. And, for anyone who does not have this film at home yet, this is certainly recommended, particularly for families.
Animated Classic or Back To The Drawing Board?