As a tie-in to the upcoming mega-budget Warner Bros. remake of Ray Harryhausen's Clash Of The Titans coming to theaters on March 26, a motion comic-animated sequel story to the original film is about to be unleashed by Eagle One Media. A press release and artwork for Wrath Of The Titans, which was created from an original synopsis by Harryhausen and will be released on March 2, can be seen here:
Titans Return And Clash In All New Wrath Of The Titans DVD!
A Sequel Story Inspired by Special FX Legend Ray Harryhausen's Clash of the Titans!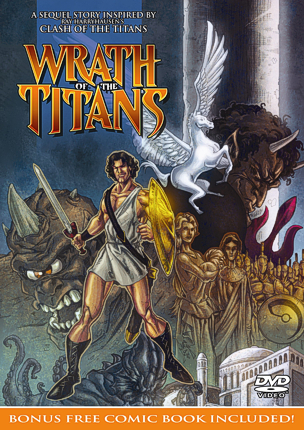 Eagle One Media is proud to announce the upcoming release of Wrath Of The Titans on DVD March 2, 2010. With a story developed under the guidance of Ray Harryhausen and presented as a unique motion comic film, fans of the beloved original motion picture can immerse themselves again in the further adventures of hero Perseus and his winged horse Pegasus in anticipation of the upcoming theatrical big budget remake of Clash of the Titans on March 26, 2010. The DVD will also include a special bonus 28 page comic book with a tie-in story.
Five years have passed since the legendary Perseus defeated the evil Gorgon Medusa, killed the Kraken and assumed the crown of the kingdom of Argos. Things seemed idyllic throughout the land for its citizens and recent news of an apparent heir has put everyone in a celebratory mood. Yet lurking in the shadows is the one being in Argos simmering with hate and discontent. Calibus, once though dead, was let out of the Underworld by Hades and looks to take his revenge. Perseus stole his bride, stole his position, stole Zeus' favor, and now Calibus looks to take it all back. And with the news that a baby boy was born to Perseus and Andromeda, he is chilling that dish of revenge…
The Wrath Of The Titans DVD is a revolutionary convergence of animation and comics. It utilizes the storyline, art, and dialog from Washington-based Bluewater Productions' just released comic book series and, with the addition of animation, voice-over and music, creates a fast paced video adaptation that takes viewers back to Greek mythological times where the Gods battled amongst themselves and heroes fought unimaginable creatures. This motion comic production joins Eagle One Media's other available motion comics such as Street Fighter, based on the worldwide popular Capcom video game, and Voltron: Defender of the Universe, based on the popular anime television series. All of which are available on DVD or for download through iTunes, Playstation Network, and other media distribution platforms.
Eagle One Media, Inc. is a multi-media company, producing animated motion comics based on globally recognized, licensed properties for the retail market. The company has recently released animated motion comics on DVD and through digital download, based on Street Fighter, Voltron: Defender of the Universe, and The Terminator. Eagle One Media's Street Fighter and Voltron motion comics were recently broadcast over several weeks on the popular Syfy Channel. Eagle One Media also offers hundreds of comics from numerous publishers that are available for download from its website and releases feature length films on DVD such as Dragon Blade: The Beginning – the world's first 3D computer animated martial arts feature film – and Dragon Hill, the GOYA Award winning and European hit animation film from Milimetros Studios, along with the upcoming horror film Zombie Apocalypse.
Bluewater Productions Inc. is one of the top independent production studios of comic books, young adult books and graphic novels. Bluewater publishes comic books in partnership with entertainment icon William Shatner, legendary filmmaker Ray Harryhausen and celebrated actor Vincent Price. Additionally, Bluewater publishes a successful line of biographical comics.